Despite standing squarely in the national basketball spotlight for the last five years, Jahlil Okafor has more than lived up to expectations so far in his young career. He was ranked the No. 1 player in his high school class for four straight years. He won an Illinois state title and was a McDonald's All-American as a senior. Last year at Duke, he was named the ACC Player of the Year and to the All-America First Team, winning a National Championship in the process. And in just a few days, the talented young center will become one of the top selections in the 2015 NBA Draft.
Not bad for a guy who won't legally be able to drink for almost 18 months.
Okafor is not your average 19-year-old basketball player, though; he's got a prolifically large set of hands and a low post game years ahead of his peers, among many other skills. In an age where centers continue to move farther and farther away from the hoop, Okafor is a true throwback player who can score at will with his back to the basket (an NCAA-best 66 percent from the field last year).
He can pass out of the post. He can run the floor. Basically, he gives you everything you'd want out of a center from a skills perspective, but with the requisite athleticism to thrive in today's NBA.
We had a chance to chat with Jahlil earlier this week on behalf of American Express Home Court Advantage Rookie Draft Desk Series about the draft, Kobe Bryant, his first NBA paycheck, the Duke haircut, and whether he believes in the almighty Based God.
Interview by Doug Sibor (@dcsibor).
Are you excited to play as yourself in NBA 2K16? When you're not playing as your new team, what team/player will you be playing as?
I am looking forward to it, that will be fun. I usually play as Golden State or the Bulls, but really I like to use everybody.
There are a lot of NBA stars past and present with Chicago roots. Where does Chi-town rank nation-wide for hoops? What's your All-Chi Starting Five (including yourself at center, of course)?
I think, yeah, Chicago is the best basketball city in America. In terms of a five, I'd have to go with Derrick Rose, Dwyane Wade, Isiah Thomas, and Jabari Parker. 
Describe Coach K in one word.
Perfect. He knew what I needed, he did everything he said he was going to do for me, he always had my back and supported me. He knew exactly what I needed and my year at Duke was the best year of my life, so he was perfect for me.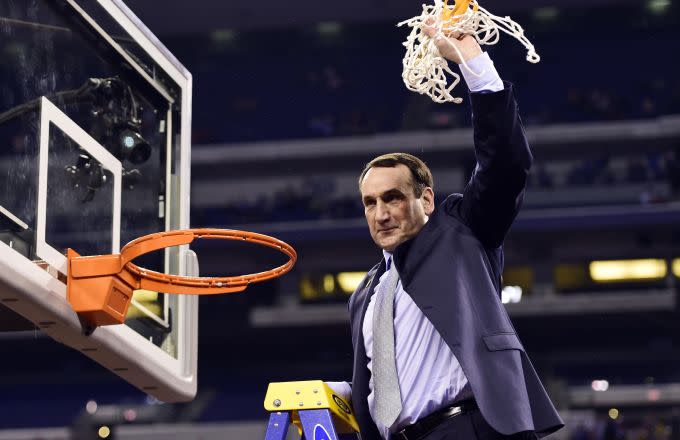 This year's NBA Finals featured two teams "going small." What do you say to people who claim the NBA center position is dying?
I think saying that the center is "dying" is a dumb argument, since this year was really the first time somebody has won playing "small ball." It's definitely cool what Golden State did, but I still think you need big men.
Do you have any special plans for draft day?
Not really. I just am going to watch with my family and wait and see what happens.
One time I palmed some medicine balls, just because people wanted to see if I could do it.
Your hands are as huge as they are famous. What's the weirdest thing anybody has asked you about your hands/had you do to show how big your hands are? Biggest thing you've ever palmed?
Nobody has really asked me anything too weird, but they're just surprised how big they are, how easy it is to palm things, and they like the measure their hands against mine. One time I palmed some medicine balls, just because people wanted to see if I could do it.
Besides house/car for your dad, what's the first thing you're going to buy with your NBA money for yourself?
I'll probably buy something for my puppy. I just got her, she's a Rottweiler​ named Natty as in "Natty champion."
A photo posted by Jahlil Okafor (@bigjah15) on Jun 8, 2015 at 1:27pm PDT
True or False: You've spoken to Kobe Bryant this summer.
False.
Is the Based God Curse real?
I don't want to comment on that [laughs].
Who do you most look forward to playing against?
Tim Duncan. He's a guy I have idolized my entire life.
Which non-Duke player in the draft would you most want to play with?
I'd say D'Angelo Russell. He'd be really fun to play with, he was one of the best players in college basketball last year.
If you could choose any song to play when your name is called on draft night, what are you picking?
"World's Greatest," by R. Kelly. That's my song.
A lot of people seem to have your haircut now. Someone on Twitter called it "The Duke Starting 5" cut. Are you a hair trendsetter? If not, where'd you get the inspiration from?
That name started because when we started the basketball season everyone thought we all had a similar hairstyle. And that all came about because Justise [Winslow] already had that haircut and Quinn [Cook] did as well, but Tyus [Jones] and I come from a completely different environment where we have a barber and just grew our hair out, and then Matt Jones did the same thing. Everyone thought "The Duke Starting Five" was something we planned as a team, but really it was more an accident than anything else.
Tell us a little about your work with American Express.
It's been a lot of fun working with them. I was able to sit down with some of the guys I've been competing with leading up to the draft and tell our story to the fans. I know we all really appreciate it; I had the opportunity to do it with Frank Kaminsky, Karl-Anthony Towns, and D'Angelo Russell—all guys I competed against in college and all guys that I'll continue to compete against on the next level. It was a lot of fun.