On Monday afternoon, Steph Curry beat out James Harden and LeBron James to win the NBA's coveted MVP award: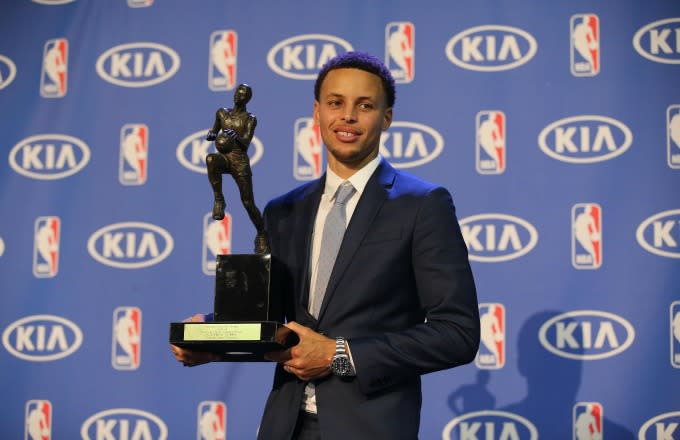 But on Tuesday night, he discovered that, if he doesn't perform like an MVP on the court, the world—and more specifically, Sports Twitter—will hold it against him.
Curry scored 19 points in Game 2 of the Warriors' playoff series against the Grizzlies last night. He also contributed six assists and five rebounds. But he shot just 2-for-11 from behind the three-point line and was outplayed by Memphis point guard Mike Conley, who scored 22 points on 8-for-12 shooting just one week after breaking several bones around his left eye during a game against the Trail Blazers and undergoing facial surgery. So the Grizzlies ended up winning the game 97-90. And because of this, we noticed that more than a few people referred to Conley, not Curry, as the "real MVP" on Twitter after the game.
Something tells us that Curry will rebound from his very un-MVP-like performance last night. We'd expect the Warriors as a whole to play much better in Game 3, too. But for now, Conley—or "One-Eyed Charlie," as Tony Allen is now calling his teammate—is on top of the world. Scroll down to see how many people stole Kevin Durant's line and christened him the "real MVP" last night.
Send all complaints, compliments, and tips to sportstips@complex.com.