As the New York Yankees turn the page on a disappointing 2014 that saw them miss the postseason in consecutive years for the first time in two decades, they also look to embark on life after Derek Jeter. Jeter was more than just the name and face most quickly associated with The Pinstripes, he was a model of consistency. With concern growing over how the Yankees will fill the multiple voids left by The Captain's retirement—a consistent presence at the top of the batting of the order, a clutch bat late in games, and the need for effective leader in the clubhouse—first things first: Who is playing shortstop?
Meet Didi Gregorius. Acquired on Dec. 5, 2014 in a three-team deal with the Detroit Tigers and Arizona Diamondbacks, Gregorius is a young, left-handed batter who has been praised more for his ability on the field than in the batter's box throughout his brief three-year MLB career. But Yankees general manager Brian Cashman sees room for the 25-year-old from Amsterdam, Netherlands to improve into a more well-rounded shortstop. 
Even though Gregorius has some pretty big (Jordan Brand) cleats to fill, he seemed relaxed when we spoke with him last week about meeting Alex Rodriguez for the first time, serving as Pepsi player ambassador for the 2015 MLB season, and replacing the man some know simply as "Jeets." 
Interview by Jose Martinez (@ZayMarty)
How does it feel to be a member of the Yankees and wear the pinstripes? 
For me, it's an amazing opportunity to be a Yankee. I want to get to know everybody since I am with a new team. I want to work hard and try to get a ring. 
Could you tell me about your role as player ambassador for Pepsi during the 2015 season? 
This is my first year with the Yankees and Pepsi reached out to me to be a part of their fan campaign. For me, it's always great to deal with them. We are excited for the season and everything going on, especially with Pepsi supporting us and the MLB.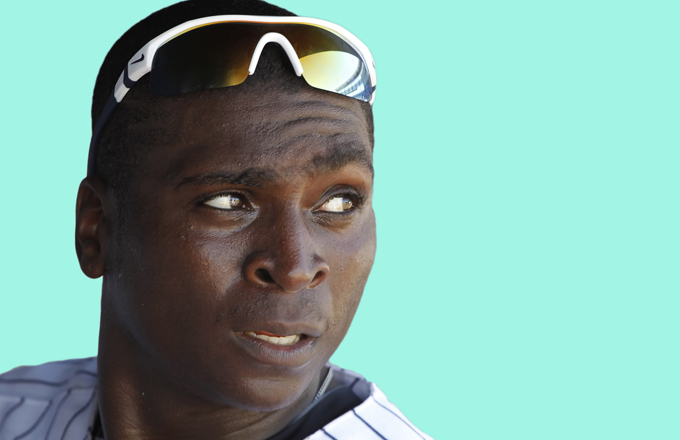 Can you explain the social campaign #YankeesThrill?
Right now, Dellin [Betances] and I are filming webisodes that give fans an inside look at the Yankees and give them a sense as to what is going on with the team behind-the-scenes. 
Do you know what will go into those webisodes? 
It will start on March 22 on Yankees.com. During the season, fans will show their pride, go out there, use the hashtag #YankeesThrill and win some cool prizes to really get a great Yankees experience. 
When you were traded to the Yankees, do you remember what was one of the first things manager Joe Girardi said to you?
He just said that he was excited to have me here and get things going. He knows I'm a young guy and still learning, so I know he's going to help me through a lot for this season and years to come.  
I don't want to brag about being knighted and all that stuff. So, just call me Didi.
The shortstop position is currently kind of congested with you, Brendan Ryan, Stephen Drew and even Alex Rodriguez taking grounders at short. Do you know what's going on with your role on the team? 
Right now, that's not my choice. It's their decision with what they want to do about that. I'm just going to go out there, play my game and leave it in their hands. That's all I can do. 
You're coming into a situation where you have to replace a legend in Derek Jeter, or "The Captain." Is there any nickname that you would like to go by? 
[Laughs]. No, just Didi. I just want to go by Didi and that's it. 
Well, you're Sir Didi on Twitter. Is there any possibility that you would eventually want to assume that nickname? 
Not really. I don't want to brag about being knighted and all that stuff. So, just call me Didi. 
I mean, being knighted is pretty cool. I think you should go with that. 
Nah, I'm just fine with Didi. 
For those that don't know, how did you get knighted? 
It started in 2011 when we went to the IBAF [Baseball World Cup] tournament. We played against 16 teams and went 15-1. We won the world championship, but instead of handing us the money, they decided to knight all the guys who had a clean record. 
That's awesome! I want to be knighted and be Sir Jose. [Laughter]. Have you gotten in touch with Jeter since joining the Yankees? 
No, I haven't spoken to him yet. 
Are you going to try reaching out to him and maybe get some advice? 
If he comes out, I will talk to him. I'm not going to bother him. Maybe he needs this time to relax, be with his family and stuff like that. 
How has it been adjusting to life in New York? 
It has been great so far. I've got nothing to complain about. 
You're down in Florida right now, right? 
Yes.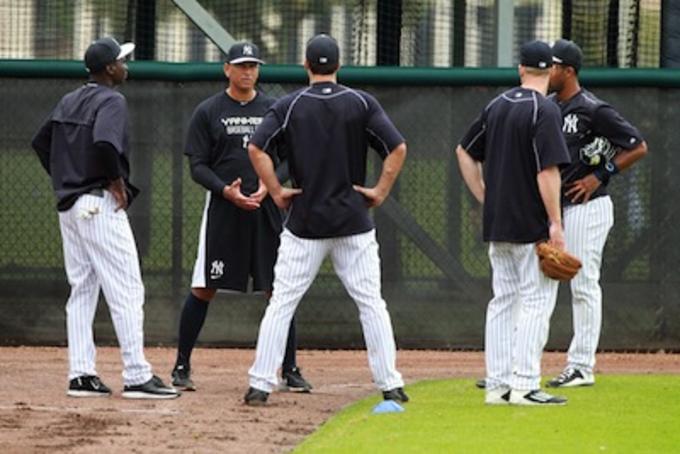 Oh, so you're missing out on all this great weather over here? 
[Laughs]. Yeah. 
The temperature is only in the single-digits right now, but have you been able to really take in the other aspects of living in the city, like the food? 
I was there about a month ago, browsing around with my family. We enjoyed a couple restaurants. There were some good places. 
Do you have a favorite yet? 
Not yet. 
What is your type of cuisine? 
I don't know. I basically eat everything.
Have you had an opportunity to speak with A-Rod yet?
Yeah, I talked to him today [Ed. Note—today, being Tuesday, Feb. 24]
Did he give you any words of wisdom? 
He helped me with hitting since we were doing that on the field today. He talked to me about what I have to do to keep the ball straight, stuff like that. 
What was the first impression you got when you met him?
He's just a guy who plays the game. You know, whatever happened, happened and that's it. He's looking forward to playing this season. When I talked to him, he told me that he was excited to have all of us here and get the season going.
Everyone is going to make comparisons between you and Jeter, but what do you think separates you from him? 
Well, I don't know. I think all players that play shortstop want to play hard and the right way. I don't think there's anything that separates us, to be honest. I know he's The Captain and has done everything, but I'm still learning. Hopefully, I can follow in his footsteps and be as good as him.