The MLS season is underway, and with that comes the annual American soccer tradition of bringing a fresh batch of fading European superstars to the United States. According to Sports Illustrated's Grant Wahl, Real Madrid forward Cristiano Ronaldo could be the next big name to join MLS. David Villa, Kaka, and Steven Gerrard​ have all signed with the league in the past year, but Ronaldo would easily be the biggest name and the most talented player the league's ever attracted.
Wahl reports that after Ronaldo's Real Madrid contract expires in 2018, he's planning on making the move across the Atlantic. Ronaldo, who's currently earning just under a $500,000 per week at Madrid, has been rumored to return to Manchester United for some time. Facing possible offers this coming summer, he spoke last November about his desire to see out his contract with Madrid, and possibly sign an extension. 
"I hope to finish my contract with Real Madrid at 33 and after that we'll see if they want me to stay," he said. "I feel young and still a long way off retiring."
Ronaldo will be 33-years-old when the 2018 MLS season kicks off. Should he sign to MLS, he'd likely become the league's highest-paid Designated Player (meaning he'd be able to command whatever annual salary and not have it fully counted against the MLS salary cap). The Los Angeles Galaxy, New York Red Bulls, NYC FC, and David Beckham's future Miami franchise would be the natural front-runners to land Ronaldo. 
If Wahl's report is accurate, MLS commissioner Don Garber gon' be like: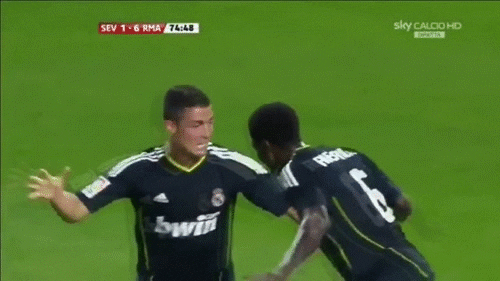 Send all complaints, compliments, and tips to sportstips@complex.com.
[via NESN]