Erin Andrews has a lot of haters on social media. So anytime she's working the sidelines during a big game, there's bound to be dozens, if not hundreds, of people talking trash about her on Twitter. But before Sunday, none of them had been forced to square off with Andrews, Brooklyn Decker, and Chrissy Teigen simply because of something they said about Andrews on the social media site.
But, during the NFC Championship Game on Sunday afternoon, Cassidy questioned why Andrews didn't ask Richard Sherman about the elbow injury that he was clearly suffering from during the game. Her tweet was actually a response to someone else's tweet about Andrews. But Cassidy took it upon herself to tag Andrews—who, not coincidentally, is currently dating Cassidy's ex-boyfriend NHL player Jarrett Stoll—in her tweet:
And Andrews' close friends Decker and Teigen both took note of what Cassidy had to say.
First, Teigen took to her Twitter account to defend Andrews and to call Cassidy out for what she had said:
Then, after Cassidy responded to Teigen with a snarky tweet of her own, Decker referred to Cassidy as #thirsty: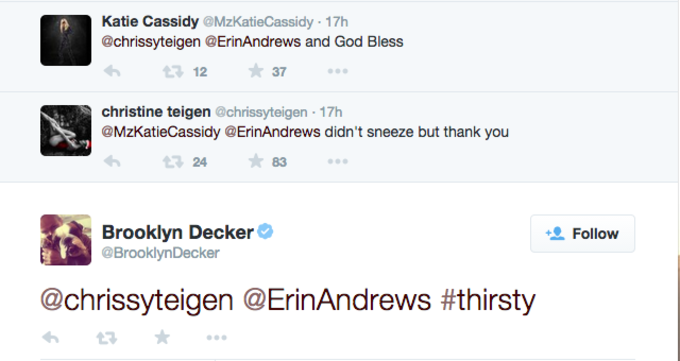 Andrews didn't @ Cassidy directly. But she did get into it with one of her fans:
And Teigen kept things going by continuing to go back and forth with Cassidy:
Finally, Cassidy ended things by saying that she didn't mean her original tweet directed at Andrews to be misconstrued as hate:
And while we're still not 100 percent sure why any of these ladies were so mad, their Twitter beef was almost as entertaining as the Packers/Seahawks game itself.
Lesson learned: Don't mess with Erin Andrews on Twitter. Or else...
[via New York Post]
Send all complaints, compliments, and tips to sportstips@complex.com.