We don't know this for a fact, but we think it's probably safe to say that the NFL has done a lot for Brent Grimes and his wife Miko. Grimes signed a contract with the Dolphins worth about $32 million earlier this year, including $16 million guaranteed. So him and his wife are probably living good—real good—at the moment because of the opportunities that the NFL has afforded them.
But despite this, Miko hates the NFL right now (and hate might not even be a strong enough word!) because of the way that they've treated her, her husband, and others in their position. And she let the world know about it last night by going on an epic Twitter rant that started with her posting this photo on Instagram: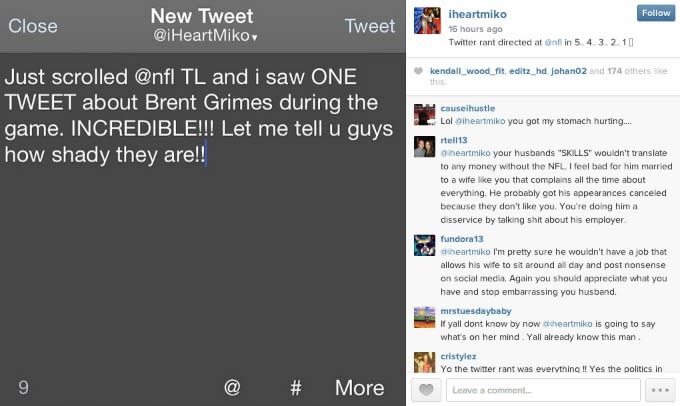 At the beginning of the rant, Miko let her Twitter followers know that her frustration with the league stems from the fact that Grimes was docked some pay last Thursday after he skipped out on a few of his Pro Bowl obligations in order to accompany her to emergency oral surgery:
But she didn't stop there. Things escalated quickly with Miko referring to the NFL as "the SHITTIEST, SHADIEST, DISRESPECTFUL professional sport in the WORLD":
And before long, she was ripping the league to shreds and making all sorts of accusations about everything from corporate greed to domestic violence. Just check out some of the tweets she sent out:
Miko also talked about who she was tweeting for at one point:
Whoa.
At the very end of her rant, she acknowledged that her words probably won't end up changing anything or forcing the NFL to do anything differently:
But if you didn't know how some NFL wives felt before, you do now! And it probably wouldn't be a bad idea for the NFL to reach out to Miko in order to speak with her further about some of the things she said last night. She's clearly got some very strong opinions about the way the league does business, and it might benefit the NFL to hear what else she has to say.
[via Barstool Sports]
Send all complaints, compliments, and tips to sportstips@complex.com.