NBA 2K15
Developer:
Visual Concepts
Platform:
PlayStation®4, PlayStation®3, Xbox One®, Xbox 360®, & PC
If you're a fan of sports games, you're probably also a fan of paying $60 for what many times amounts to a roster update and a few superficial changes. Okay so maybe you aren't a "fan" of this, but you're generally okay enough with it to still hand over three $20's + tax for minor improvements to a familiar formula. You may say you're not doing it anymore, you may make "This is the last time" proclamations, but once the season approaches and you know the newest version is available for purchase, there you are in Gamestop ready to fork over the cash.
In the case of NBA 2K15, I have some good news: Your trio of Andrew Jackson's will be used for much more than just adding new rookies and subtracting the Bobcats.
2K Sports and the people at Visual Concepts have been making one of the best sports games on the planet annually for many years now, and they didn't rest at all this offseason. In additional to the traditional yearly updates, players will notice big (positive) changes to everything from defensive player movement to shooting mechanics to the play structure to the accuracy of the players' faces.
Let's start with what you'll see first: the menus. A lot of people don't put much stock into the 2K menus, but something has to be said for a game that's willing to make changes to a menu concept that's worked well for years. My initial reaction to such change is usually some combination of confusion and anger (I don't like change), but the end result of these tweaks is a slick, beautiful, and equally navigable interface.
But in the end menus are only menus, and you don't buy sports games for menus. You buy them for fun modes and compelling gameplay. And NBA 2K15 has you covered. The basic gameplay concepts you've grown to love are still there, but 2K has added over 6,000 new animations, 100+ unique "size-up" dribble moves, and several big innovations to increase realism and keep players from driving to the hoop every play with LeBron or draining every three with Kyle Korver.
The biggest of these gameplay innovations can be seen on defense. Not only is it harder to "stick" to an offensive player by simply holding down the "Intense Defense" button, but gamers now have the ability to read players' footwork and tendencies to better stop drives, closeout on jumpers, and play passing lanes. This also opens up a lot of options and increases court spacing for the talented defensive-minded gamer, although it does make playing quality D right off the bat a bit harder (I found myself defensive-sliding about 10 feet out of position more than a few times). 
On the other side of the ball, 2K has added new shooting mechanics, an improved shot meter, a new play system, complete pass control, multiple resolutions for dunks (i.e. throwing the ball into the hoop like Blake Griffin if you don't make it to the rim), and increased post-up control, among other things. The new shot meter would've been a huge step forward in itself, but coupled with automatic and strategic play calls and the multitude of new controls, the changes to this year's gameplay are leaps & bounds ahead of previous versions.
But where are you going to use all of these new additions to the gameplay? Oh, right–the modes! This year's edition takes a lot of the previous ideas and fully fleshes them out; giving gamers an almost scary amount of replay value and time to waste mastering everything the game has to offer. The MyCAREER mode now allows for players to scan their faces into 2K15 using the Kinect and the game's Facial Mapping technology, letting each of us live out our greatest NBA fantasies with a character that looks almost exactly like us (or a horrifying basketball-playing monster if you choose to move while scanning yourself). The MyPARK mode is far deeper this season, MyTEAM returns with a new Challenges mode, and the MyLEAGUE and MyGM modes allow for a near-insane level of customization and depth. They've even added 11 more Euroleague teams into the mix, bringing the total to 25. Fantasy draft with no salary cap, 20 percent easier simulation results, and a league that's cool with any trade I propose? Don't mind if I do.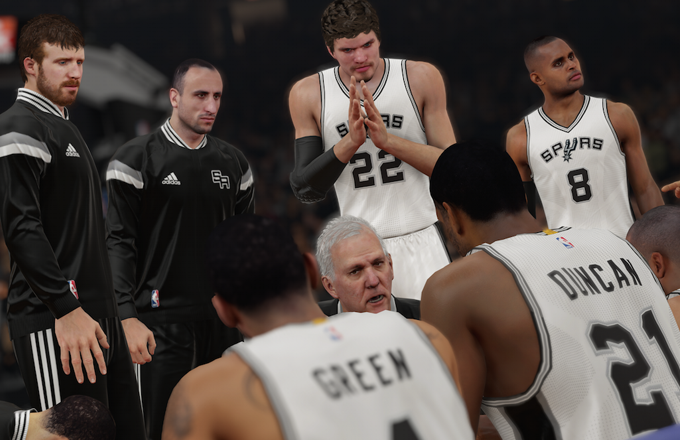 As far as graphics are concerned, the game is still impressive. Player models look fantastic and true-to-life, and as always the presentation of their product is top-notch. The much-beloved Player of the Game montage is back and as beautiful as ever, and Ernie Johnson and Shaq are even included as integral parts of the pre-game team breakdown loading screen. And although there are areas where things could be tightened (faces when speaking still look a bit cartoonish and there are some jaggies around player models during introductions), overall things look too good to have any genuine gripes.
Overall, if you liked the NBA 2K series before, you're going to be more than happy with what you're getting this year. Everything from the gameplay to the menus have been improved, and even the hand-curated Pharrell soundtrack is filled with jams and memorable throwbacks. Is it the best sports game ever made? That's up for debate; Dusty Diamond's All-Star Softball was still pretty dope. But if you are looking for the king of next-gen roundball, we're pretty sure you've found it.