It's the one thing he has to talk about in nearly every interview. He knows it's coming and he has his answers loaded in the chamber ready to fire. We know he's prepared and are well aware that he has been asked about it countless times over the past couple of months. Yet it still must be asked. The question is still written in our Moleskine notebooks because people still want to hear the answer. 
"Tell us about the Paul George injury."
Pacers head coach Frank Vogel has to deal with more than just the stress of leading a team with championship expectations into the regular season without two of its best players. He also has to deal with the media. Everyone from ESPN down to the tiniest local outlet is painting their own picture of what Indiana's season will look like, in some cases months before the team even started training camp. The Pacers are no longer contenders. The Pacers have no chance. The Pacers should tank the season.
But amidst the burning rubble, ash, and scorched earth of these offseason predictions, Coach Vogel continues to preach that his team is still very much in the picture. Really.
We spoke with Coach Vogel—who was made available through his partnership with Dove Men+Care and their "Easy Decision" campaign where Dove Men+Care is helping make fans' Fantasy Football decisions easier via an exclusive hub for tips and live chats with ESPN fantasy football analysts—and asked him about his team's future, America's basketball dominance over the rest of the world, and what got him on the dance floor at Roy Hibbert's wedding.
Interview by Maurice Peebles (@tallmaurice)
I read recently that you're still pretty confident in your chances this season. Part of me thinks this is because LeBron—who is an NBA barometer of sorts—switched teams and it always takes time to adjust to a new cast. Do you think LeBron's choice to switch teams plays into your confidence this season with Indiana?
Frank Vogel: Not really. I don't have a lot of doubt that they're going to be a great team. I'm expecting them not to have much of an adjustment period, especially when you have veterans and the talent they have and a great coach. My belief in my team just stems from what we do here. The pieces that we have in place–we've got our front court rotation in tact in terms of West and Scola at the power forward and Hibbert being at the center spot. And we have our point guard rotation in tact with George Hill and C.J. Watson. So it just comes down to filling the holes at the wing that were left after the injury to Paul George. And I believe we have capable guys when you look at Rodney Stuckey & C.J. Miles being proven veterans still in their prime, shooters like Chris Copeland and Damjan Rudez, and an elite defender in Solomon Hill. I think we have enough at the wing to get the job done and we're going to proceed accordingly.
To piggy-back on the wing position a little bit—where were you exactly when the Paul George injury happened?
I was in the Caribbean on vacation with my family.
Ugh.
Yeah. I just got a bunch of text messages and actually had a friend send video of it so I watched it immediately after it happened and...your heart sinks and you just have great concern for Paul.
Yeah, we wish him all the best. He looked good recently; I saw you in a picture hugged up with him and your team during Roy Hibbert's wedding. So tell us, what song gets you onto the dance floor?
[Laughs.] What song gets me on the dance floor? I don't know if it's a single song. It's usually some people dragging me onto the dance floor.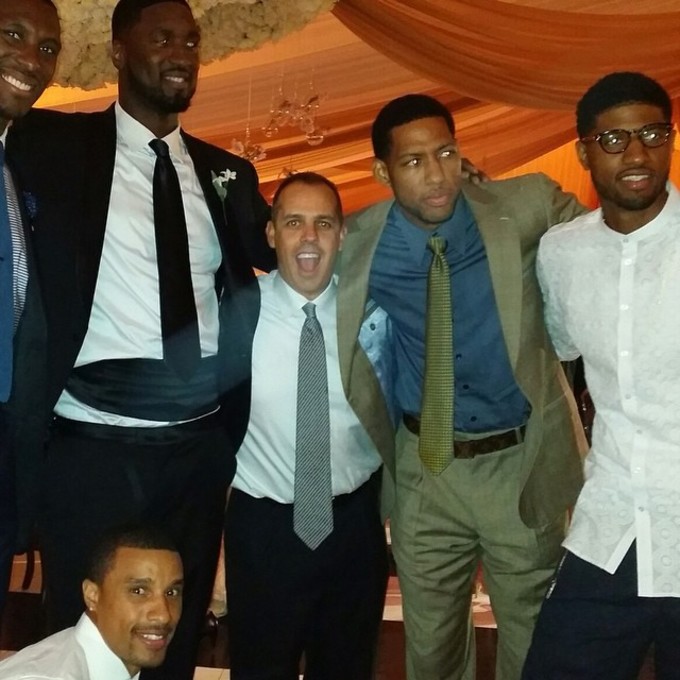 Fair enough. Back to basketball. For the last decade-plus I've heard a lot about the NBA becoming softer, that the center position is dying out, and that the game's becoming more European. You guys have sort of fought against that with having a big man in Roy Hibbert and a strong front line playing what you once called "smash-mouth basketball." With some of the really talented big guys coming into the league like Anthony Davis and Joel Embiid and already-established guys like Noah, do you see "smash-mouth basketball" being more of the league's future than pass-first/shoot-first European style?
Honestly I don't see it as past or future. The game is always going to have teams that play the way we do and there's going to be teams who always play more of a European style. I really think your roster and your personnel dictates your style of play. When you have David West and Roy Hibbert does it make sense to play spread pick-and-roll game when you have those abilities inside? If I had a different roster I might play a different way. The philosophy is the best use of your talent, and I think you always have a little bit of both. 
Speaking of traditional versus European style, I watched most of Team USA's games in the World Cup and was frankly surprised at their level of dominance. Everyone was waiting for the Spain game to happen and it didn't. Do you think USA's dominance with a lesser squad shows that the world has regressed from where they were competing with us several years ago or have we actually progressed to a point where we've just left the rest of the world behind?
I think it's a little bit of both, to be honest with you. Some of the international powerhouses like Argentina and Spain and Greece back in the day, some of those teams may have fallen off a little bit. Just part of the normal ebb and flow of the talent base. But I think what Jerry Colangelo and Coach K have accomplished in terms of creating a system and a style of play that's going to be universal from year to year and not just the way it used to be in terms of putting together random players and practicing for two weeks and tring to play, I think what Jerry Colangelo has done is a big reason why we were so dominant this year. That continuity is very important. And even if you have some different players each year, the system is still the same. And when the system is still the same, I think that brings great strength to what they're trying to accomplish and those guys that played for the team this year really stepped it up and had a great World Cup.
Hardest non-basketball aspect of being a head coach?
Probably being away from my family as much as I am. It's a grind and there's a lot of travel and even when you're home you're in the office from 6 in the morning until 11 at night on game days and you miss out on a lot of things. It can be tough.
Especially when you're finally with your family in the Caribbean and you get news about your superstar player being injured...not easy.
Not easy.
What gets you going before games?
Just the competition. The culmination of all your preparation. From Game A to Game B, your whole focus is on improving your team and what is the next challenge. What does the next team present? What are the solutions to the puzzle? You spend your entire time 24 hours a day thinking about when is the next game, and you put together the plan and that's a lot of fun. When the game's ready to go, it's just exciting to see how all your studying is going to pay off. 
Speaking of finding solutions to the puzzle, what do you think will be the solution to Roy Hibbert's puzzle this year? I know he had a good year overall and the last couple years, actually, but he struggled a bit at the end of the year and heading into the playoffs. What do you think is important for him to improve and what do you expect from him this year?
The thing with Roy is he really didn't struggle defensively for us down the stretch and I think that's going to pick up where it left off in terms of him being a dominant rim-protector. The absence of Paul George and Lance Stephenson and my decision to put the ball in those guys' hands at the volume that I did last year hurt Roy's flow a little bit. Not having those guys here and have more role-player wings I think will make him more of a multiple threat. Not really anything to do with what Roy Hibbert is going to do differently but different situations will lend itself to a better season for Roy.
Lastly, I'm actually a South Jersey guy myself and I saw that you're originally from Wildwood [NJ]. I gotta ask you while I have the time: How do you feel about the Eagles this year?
[Laughs.] I love what they're doin'! I think their players should stop complaining about working so hard, they're 3-0 [interview took place before Sunday]. Something's working right! [Laughs.] I love the innovativeness of Chip Kelly and we got a long way to go but I'm excited about their start.