This past Saturday, Kevin Ward, Jr., a 20-year-old amateur auto racer, died on a dirt track in rural upstate New York after he was hit by a fellow racer, the three-time Sprint Cup champion and NASCAR legend Tony Stewart. Speculation immediately centered on one awful question: Did the titan of stock car racing, known both for his driving skills and his temper, intentionally run over the young racer?
I won't pretend that I know the answer to that question, nor, frankly, should you. Here's a question I do know the answer to, though: Why was 43-year-old Stewart there in the first place? Why was he competing in what ESPN NASCAR analyst and former champion driver Ricky Craven compared to high school-level racing? The simple answer is that Stewart is, like Ward, absolutely obsessed with the sport and loves doing it as much as possible, at any level, at any time.
Stewart began racing in go-karts at age seven (Ward started at age four) and joined United States Auto Club (USAC) racing in 1991, when he was Ward's age. During the course of his career, fans have watched Stewart win races in NASCAR stock cars, Indy cars, midget cars, sprint cars, and USAC Silver Crown cars. He has a total of 12 titles on his resume and has about as much to prove in racing as Kobe Bryant does in basketball.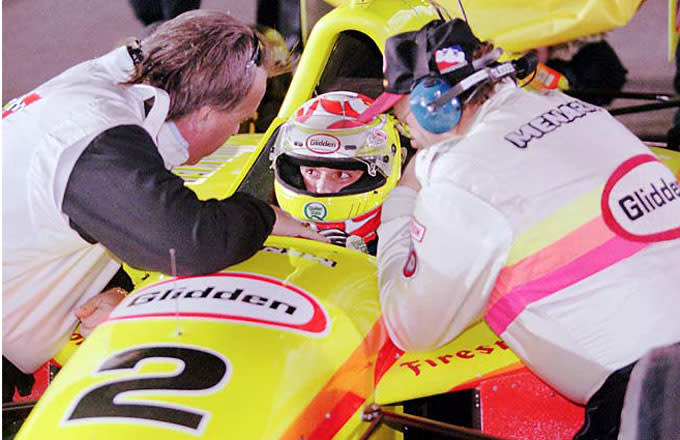 In 2000, he started his own team, Tony Stewart Racing (TSR), and now fields a total of five cars, two in the USAC, two in the World of Outlaws (WoO) Sprint Car Series, and one car for him to use for his own personal entries into sprint racing. He also left Joe Gibbs Racing (JGR) in 2008 and entered co-ownership of Stewart-Haas Racing (SHR), becoming the rare NASCAR owner/driver. He also owns three racetracks: Eldora Speedway in Ohio, Paducah International Raceway in Kentucky, and Macon Speedway in Illinois.
There is absolutely zero doubt that Stewart has cemented his place as one of the greatest to ever get behind a steering wheel. He has no wife. He has no kids. His life literally is racing. But with his accolades comes a list nearly as long of incidents that have given Stewart his short-tempered bad boy image. Over the years he's engaged in verbal and physical altercations with fellow drivers, incidents that fuelled the speculation about his intent this past weekend.
Eerily enough, in 1999 Tony Stewart got out of his car during a NASCAR race to confront Kenny Irwin after a wreck. He stood on the edge of the track as cars drove past to him, and threw his gloves at Irwin's car, nearly getting dragged down the track after reaching into the car. In 2000 Stewart  and Jeff Gordon exchanged curses in the pits, promising to put each other into the wall next time they came across each other on the track. In 2002 he hit a photographer following a bad race at the Indianapolis Motor Speedway. In 2012 he threw his helmet at Matt Kenseth's passing car (below), after the two were involved in a late-race crash. And in 2013 he rushed younger driver Joey Logano, who had blocked him during a restart. It reached a point where it didn't truly feel like a complete NASCAR season without some sort of Stewart blow-up.
"Smoke," as Stewart is known to fans, has acknowledged multiple times that his actions aren't acceptable. He's said that he doesn't like the person he becomes when he's overcome with rage. He's previously sought out anger management, and at one point, he even moved out of racing Mecca Charlotte back home to Columbus, Ind. in an attempt to learn how to better collect and control himself. Still, his temper continues to flare, even during his extracurricular races, many of which have purses of less than $3,000 and include drivers with much less experience, competing on vastly different talent levels. 
Last year alone, Stewart got himself in trouble a few times. In July at the same Canandaigua track​, Stewart blamed himself for a 15-car wreck that left 19-year-old Alysha Ruggles with a compression fracture in her back. A couple weeks later, he was involved in a crash that had him tumbling through the dust, an incident he repeatedly told media wasn't a big deal. Then in August, at a sprint race in Oskaloosa, Iowa, he suffered a broken leg (below), which took him out of racing NASCAR racing for the remainder of the season. Yet, Stewart continues to moonlight.
During his time with JGR, Gibbs did not approve of these extra races. This factored into his decision, along with his loyalties to Chevy (Gibbs was switching to Toyota) to pair up with Gene Haas and Haas Automotive to create SHR. Since then, he's been driving as much as he possibly can. In 2012, he participated in 90 total races (including the 36 Sprint Cup events) and, before he was injured, had scheduled to drive in more than 100 in 2013. Although the level of competition is much lower than what Stewart is used to racing in, it's not like he's winning every race. In the 10 TSR dirt events listed on his website from the past two years, he won two. It's that exact tenacity and ferocious competitive spirit that have made people question Stewart's continued participation in these races, and has now brought about questions of whether his fiery spirit pushed him into intentionally hitting Ward Jr.
Of course the truth is more complicated. Take a look at how these sprint cars and races operate, and keep these facts in mind as the speculation about Saturday's tragedy continues (via world-sprintcar-guide.com, circletrack.com, and kwch.com):
Sprint cars have an extremely limited view. The cars have high hoods, gigantic wings on the roofs that sit low (specifically limiting the right front corner view), bulky roll cages, and rock screens further obstruct sightlines.

Safety devices surrounding the driver's head and neck restrict peripheral vision.

The driver is wearing a full-face helmet, which often has "tear-offs," plastic sheets that can be removed if they get too dirty.

Sprint tracks are not lit like NASCAR races. There is enough light for the drivers to see where they're going and see the other cars, but the races are usually dimly lit.

Sprints cars usually have more than 800 horsepower with no clutch or gearbox. Acceleration pedals usually have straps to keep the driver's foot on the pedal when the cars drive over bumps.

Sprint car steering is dependent on acceleration, meaning you direct the car with the throttle. Generally, if you give the car gas on a bank, it kicks out the rear and pulls left.

Typical Sprint cars have solid/straight rear axles and locked differentials, which provide less traction and make it more difficult to turn.

Sprint cars often use gigantic staggered rear wheels, with the right wheel bigger than the left, giving the car left-running bias.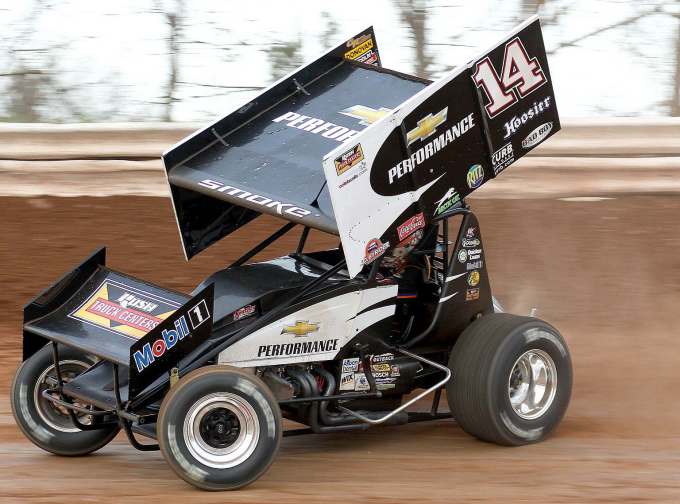 Saturday night, during lap 14 of a 25-lap race, Stewart was fighting for space with Ward as they came around turn two. The cars made contact, and Ward's car caught the wall. He spun around next to the barrier and flopped back down on four tires. Ward got out of the his car and walked along the dirt track, angrily pointing and searching for Stewart. Multiple cars passed Ward under a caution flag, some low, some toward the middle of the track, as Ward continued walking. At this point, the cars should be idling around the half-mile oval at around 30-40 mph. Ward spotted Stewart and began to walk farther down into the track in an attempt to confront the veteran racer. After having to step back to avoid the No. 45 car, Ward moves farther toward the path of Stewart's car. It's then that the rev of an engine is audible, and Stewart's rear right tire, which is much bigger and wider than the front tire, hit Ward, dragging and throwing him forward.
Here is the footage of the collision: (WARNING: Explicit content)
Charges have yet to be filed against Stewart, but the Ontario County sheriff has announced that his office will continue to investigate the incident for two more weeks. According to The Sporting News, officials have a second video view of the accident. Stewart did not race in last Sunday's Sprint Cup at Watkins Glen, and has already decided he will not race in this weekend's sprint race at the Plymouth Speedway dirt track, which would have been an Indiana homecoming of sorts. He has not announced whether or not he will race at Sunday's Sprint Cup race in Michigan, which would be another lost opportunity to to win a race and get him into the Sprint Cup Chase.
Barring an admission of guilt from Stewart, it's likely we'll never know exactly what happened this past Saturday. Still, this situation begs a response—from sponsors, teams, and NASCAR—to address issues that have repeatedly been brought up before. Should NASCAR drivers, who have so much to lose in sponsorships and team responsibility, be allowed to race outside the elite league? What is NASCAR going to do about drivers exiting their cars on live tracks? What is the protocol for allowing or disallowing drivers to compete in NASCAR following this type of accident?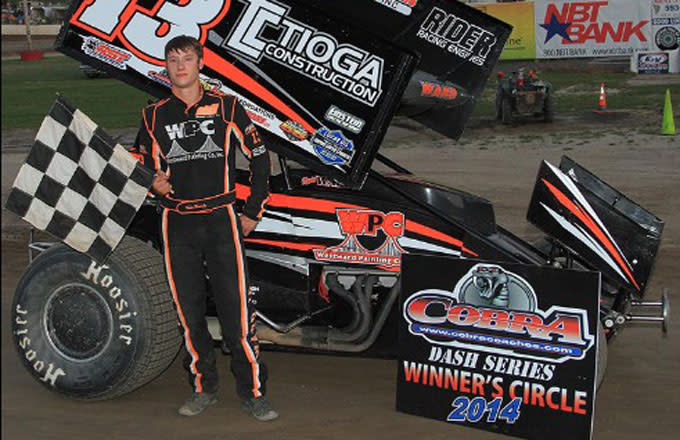 The tragic irony of Saturday's race is that Kevin Ward, Jr. seemed a lot like Tony Stewart. Their passions for driving started early, and they both grew up in small towns as they hustled and wedged their way into a sport that requires convincing sponsors to give you money. Although nobody can predict what could have come in the future, Ward's record (six championships and 250 wins in go-karts, 2010 Empire Super Sprint Rookie of the Year, four ESS wins) proved that he was on a positive path. And, as partially seen in that horrific video, he expected to win and did not approve of people who kept him from doing so. Even his Aunt touched on his fire in a Facebook post in which she called Stewart a "dickhead," saying, "My nephew was one of a kind, a true race car driver, a piss head and a sweetie all in one, a young man who will truly be missed by many!" It is a heartbreaking catastrophe that this is the way the world got to know Kevin Ward Jr.