Daniel Sturridge is starting to realize that now, as a 24-year-old budding superstar for Liverpool FC and England's national team, absolute openness works. His spotlight has gotten brighter, but Sturridge hasn't always agreed with the lighting. As a 13-year-old, Manchester City paid up to $337,000 for his services. By 16, he was training with their starters. By 18, he was scoring Premier League goals. But when Liverpool FC signed him in 2013 for $20.2 million, he had been through three clubs in five years, and had earned a reputation as a self-described "closed book."
Since signing with Liverpool FC, he's bloomed. Given a consistent starting spot for the first time, his subsequent 35 goals in 49 club appearances has him more willing to share himself with a new wave of fans and journalists who are suddenly interested in—and not annoyed by—what Sturridge has to give.
The key for Sturridge: you just have to be your 24-year-old self. Because that self actually has the same interests what every 24-year-old reader of Complex does, in no particular order: Drake, Kanye, LeBron, dope clothes, and loud opinions. He rocks Red October Yeezys, has a take on "Control," and has a 55-hour mix uploaded on his SoundCloud. He's as relatable as the plug.
It's when matters get bogged down by the sometimes monotonous life of professional soccer (not every great athlete needs to be as self-obsessed as Jordan or as disciplined as Kobe. It's a long season, bro) that the banter becomes boring, your gaze and tone become less interested, and the Internet starts calling you mean things.
Sturridge insists he's not "greedy," "stuck-up," or "arrogant," as has been suggested. He's just a hypebeast living in the body of the best striker in England.
Now at Liverpool you are the main man. Who are you looking to on the squad to give you more support up top?
I wouldn't say I am the main man. A lot of people seem to be saying that to me at the moment. I just look at it like this: it's a team game and I am one of the players that has to go out there and do a job. For me that is football, they always elevate people to be the main man, the go-to guy as they call it.
We have a very star-driven sporting culture.
I don't shy away from that. There's gotta be a main man in teams, and if people are saying that it's me it's me isn't it? But I don't look at myself that way. I'm a very humble and normal person, and I just go out there and do the job the best that I can do it.
I know Drake is someone who you've hung out with and supported before. What is your favorite Drake song?
It's difficult, the synergy between Drake and our generation, my generation anyway, in the sense that his music is vulnerable, he's very open, and you can connect to it. Like "Started From The Bottom" for instance. Not many people would have thought about that, even though it is a simple song.
It's a corny line.
But it resonates with everybody. Like "Worst Behavior," it's the same. "Trophies." These types of songs.
What clothing brands have you been following or watching?
I used to like, I still like Rick Owens to be fair. I like Neil Barrett.
You're more into the high end stuff. How are you influenced by that?
There was a shop in Birmingham called Autographs, where I'm from in Birmingham. My uncles and dad used to shop there. They played professionally too. When I started I went to Autograph and they had brands like Rick Owens. There are loads of brands, like my go-to brands that I will go to if I want to buy jeans, like DSquared or Balmain. They are the only two I ever buy because it fits just for me.
What is your go to sneaker?
It depends like, I mean I am obviously with Nike. I like Roshes—those are the most comfortable. I'd probably say high end wise, branded, I'd probably go with there is this pair of Balenciagas I've liked for ages. They are just comfortable. You know like when you have worn something in? But the comfort is still there.
Is Kanye influencing how you dress? He's been so prevalent in fashion just over the last few years.
I think Kanye West is, people don't give him the credit he deserves for what he has brought to our generation. Even though people say, "Oh he goes on a rant and he talks about, in this and how he is so clever." For me, he is everything he says he is, but everybody doesn't like hearing that and because he is so open about it. People don't take him seriously, but for me the Yeezys were the most influential trainer. Besides Jordans.
Do you have a pair?
Yeah, the red Yeezys. For me, besides the Jordans there isn't a shoe that is more influential than the Yeezys. I think the Yeezys are more influential than the Jordans.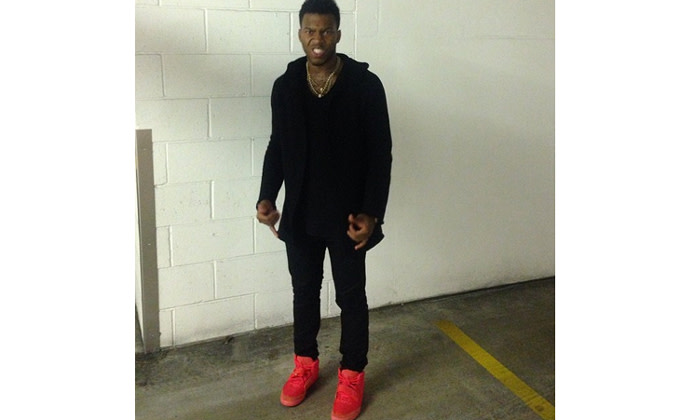 When Kanye said "these Yeezys jumped over the Jumpman," on "New God Flow," would you agree with that?
If we are talking pricing, then yes.
You mentioned that Drake is kind of the leader of our generation musically. But people could argue that Kanye has that.
Fashion wise, yes.
But you think that on the music side Drake is the one taking it?
Let me put it like this. I'm 24. Musically, I think Drake—in my lifestyle and how I live. When I listen to a Drake song, I get what he is saying when he is talking about the women, and he's talking about. It's the fact of how real he is. The honesty. When he's talking about, "they don't have no rewards for that, trophies." When he's talking about the fact that he's trying to take care of his family.
I'm saying for Kanye West, when I was in school, I used to listen to College Dropout, that was my album.
Since College Dropout is your go to Kanye album, you didn't really like Yeezus?
No, I did like Yeezus, But I feel like Kanye West is someone that innovates and his sound will catch on. Like for me, Kid Cudi doesn't get respect for his music and I love Kid Cudi.
I bought every album. Just the song "Balmain Jeans" alone has been replayed on my iPod. I love it. That's why I think you listen to Kid Cudi. "Red Eye" with Haim is one of my favorite songs. Amazing.
So you like progressive hip-hop?
I like every type of hip-hop. I might like a Kid Cudi song or whatever, but I can listen to a Lil Durk or a Chief Keef. But, generally I think that New York has a lot of music that I find influential to be fair. Like, in terms of music, people say that New York doesn't have their own sound.
There's no one carrying the mantel.
Yeah, but I disagree. At the end of the day, there is a lot of trap based stuff, there is a lot of diverse stuff. Drake has his own sound, Kendrick Lamar [has his own sound], a lot of DJ Mustard's production is being used a lot, and Mike WILL Made It is being used a lot. These aren't New York producers.
Then there's Chicago too.
Chicago has the drill scene. It's fair to say that all these different factions have producers. I'm not disrespecting New York producers. I just find that maybe New York hasn't gotten the respect it deserves because people are used to a certain type of music from New York and people don't like the fact that people aren't rapping like Cam'Ron or Biggie or Jay Z or 50 Cent. But our generation is different, it's not the same. It's not about killing people anymore or selling drugs and all that. People don't resonate to that as much as Drake or Kendrick Lamar, because they aren't talking about violence.
If you're in a club, what's the one song you need to hear from the DJ? Like, you're yelling at the DJ like, "Play this song or I'm killing you."
I said something on my Twitter the other day when I said that UK music doesn't get the respect it deserves on the U.S. shores. On that note, I'd probably say in a club, I wanna hear some Fekky, I wanna hear some Wretch 32. Have you heard the song, "Don't Waste My Time"? I have to hear "Don't Waste my Time" by Krept and Konan. Those two songs for me are songs that should and would be successful in the U.S., given the platform.
In the U.S., it doesn't get that reception. There's a stigma that some rap fans just don't like how they sound on the mic.
How I see it, if [American] men talk to [British] women [in the United States], they like the accent, no? So why don't they like the rapper voice? What's the difference? If you hear a female talk from the UK, I like her accent.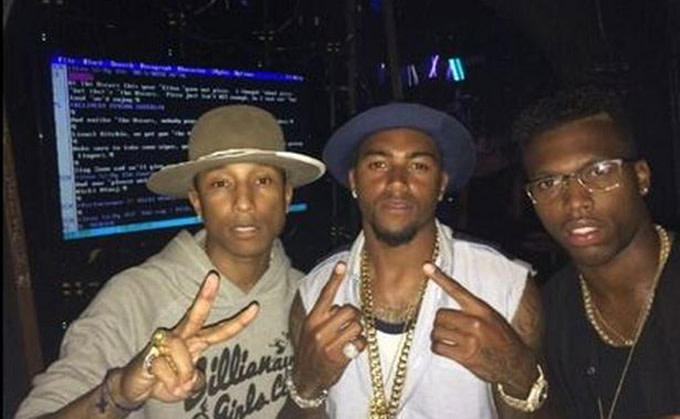 You have a very diverse taste, and it's very aligned with what young people like. They don't like, necessarily, one specific thing.
That's why I say, if you look at so many different artists from so many different places, you can't choose one. I think Nicki Minaj has won, what, 3 or 4 BET awards in a row now?
Are you looking forward to the Nicki Minaj album, because she's gonna drop something pretty soon. You saw the "Anaconda" cover?
I mean, I'm not a Barbie fan so I wouldn't say I'm looking forward to it such.
Did you see the cover?
No. I haven't. But i think that for me, Nicki Minaj has obviously taken female rap to the next level. I think that if you go before her, I don't think anybody for me on a personal level will ever be as great as Missy Elliott. And I think that if you put down hits, whatever generations, whether Missy Elliott got No. 1s or not, I don't care. But videos, nobody beat her videos. Her videos were next level.
[Shows Sturridge "Anaconda" cover]
I mean you look at her, that Carribbean vibe. I think she's Trinny. Caribbean vibe, like you see Rihanna. It's very vibey. I like that. I'm from Jamaica, that's me. That's why I'm saying, I carry myself, I'm vibey.
How would you characterize yourself, the way you carry yourself. Not only on the field but off it as well? Is there a certain style you think you represent?
No. I'm me. I'm saying that I like to enjoy myself. The way I am as a person, I like to enjoy myself. I like to express myself. I take care of myself, in terms of how I dress, and the way I carry myself. I don't want to be a role model. I'm not saying I'm a role model. I don't want people to say "he's a role model" because nobody's perfect. I'm not trying to quote J. Cole or something—with Missy Elliott.
I don't want to be a role model. I'm saying that the way I am as a person, I want to—in terms of fans—I was one of them. I'm trying to give power to the people. I'm part of them. But I feel that as a professional footballer I realize that there shouldn't be a gap between us and fans. Because I was them before. I was that kid.
And at the end of the day, you're a 24-year-old who has common interests with the same kids who are enjoying the game.
I think that it's important to keep the culture. I'm not trying to be like "Okay, I'm a footballer." I'm not a footballer, I'm just a person who plays football. But I love music, I love fashion, I love going to nice restaurants and eating good food. As well as going to, maybe, not a top restaurant and going to a normal place on the corner in a park somewhere. Or meeting my friends and chilling like a normal dude.
I find that the more and more that you're open—I was a closed book before. When you're a closed book—I'm trying to think of who I can compare myself in, in terms of music, but I can probably say there's people who are a closed book. And then they become more open and start to be more vocal, and people are like "Oh, it's like that."
I think Kendrick Lamar might be like that.
Yeah, you can see the way he is, where at first he maybe wasn't being, "I'm the best." Then all of a sudden he started doing songs like "Control." People were like "Oh, okay." And for me, I look at it in the sense of, I'm a normal guy. And because sometimes I'm straight-faced and maybe not as open, people are like, "Who's this dude?" For me, I'm one of the people. I'm a normal dude. I'm approachable. I talk to fans all the time. I chill with them. But I do like going to Fashion Week every now and again. Do you know what I mean? I do wanna go and be over with a rapper and have a chat, or take a photo with somebody. I think it's normal.
In life, you should appreciate what you have. And at the end of the day, whatever circles you're in—I carry myself the same way I would if I'm with my friends at home that I would if I was chilling with Drake. That's how I see it. It should be no different. Obviously Drake's my favorite rapper, or one of my favorite rappers. I'm like, "Cool man, this guy's amazing." Just like I'm sitting there talking that about Drake, other people could be doing the same about me.
I look at it like this: We're all the same. Regardless of whether you're famous, whether you're a rapper, whether you're a singer, we're all influential people. We have to carry ourselves in a manner in which the generation after us are going to be able to look at us and say, "I wanna be like him." And I'm not talking about drugs or alcohol—I don't wanna be a role model. I don't think any of us should be. We didn't choose to be role models, we chose to do a job we love. I love to play football. Drake loves to rap. Actors love to act. I find it like this: In terms of football and the way I carry myself, I'm an open book.
What's one thing over the course of the season—either on the field or off the field—that you're setting your mind to, and you know you're gonna accomplish?
I'd probably say I'm a lot closer to my dream that I had when I was a child. So I wanna be, as I said—I put on Instagram when I said—I wanna be able to look back and say I truly made it. And for me, I don't feel I have, to the level of which I wanna hit. Where I'm at right now might be good enough for some people. It's not for me. So how I look at it is, I wanna be able to look back and say I hit the levels—at the end of this season, I wanna be a lot closer to where I was before the start of the season.
Can you articulate that level you want to be at?
No, I can't. It's something inside me that I have to keep close to my heart. I know what it is. Some people will say you're at that level now, which is good, and you should be happy and content. I give thanks to God for everything I'm blessed with now. But there's no harm in wanting more.