I've been in Los Angeles for about three weeks now, and I have two basic observations about the auto culture here: First, the cars make up the most incredible and diverse collection I've ever seen on the day-to-day in a city. Second, the drivers behind those cars absolutely suck. Not the type of NYC-driver suck, which just equates to asshole drivers who piss you off every two minutes and usually doesn't mean they're fundamentally poor drivers. In L.A., the people just seem careless. They're aloof, which makes the jam-packed roads extremely dangerous.
In my short time here,  my girlfriend's car was rear-ended, my co-worker's car was rear-ended, and a car I was going to buy was hit in the driver's side door. Which is why it didn't surprise me one bit to see a lightly wrecked BMW i3 electric city car caged up at the RDBLA collision center in Hollywood this weekend. By my calculations, and by my Google searching, I believe this to be the first crashed BMW i3 that the world has seen.
This is a big deal for three reasons: It's only been about three months since these things were delivered to customers, there was a lot of worry about the structural integrity of the car's carbon fiber makeup, and the car only earned 4/5 stars in its NCAP crash test rating. However, fortunately for those involved, and unfortunately for the curious, the accident wasn't severe enough for the car to test its real-world crash capability. It appears that it was a big enough to ruin the front bumper and knock out the fog light (seen in the passenger seat), but small enough not that it appears not to have compromised the frame or main construction of the 81-mile-range, 170hp car. We've reached out to RDBLA, but we have no other information on the incident at this time. 
As for more details on the car itself, the first thing that pops out at you is the custom matte paint job. It looks like it has 19-inch Giga Alloy Turbine wheels, as well as the leather and wool combo interior, which leads us to believe it has the Giga World trim, a $1,700 package. The mega city car runs on a synchronous electric motor with a 22-kWh lithium-ion battery and starts at $41,350 MSRP. If you drive longer distances and want the 650cc gas-powered Range Extender, that's going to cost you $45,200 base.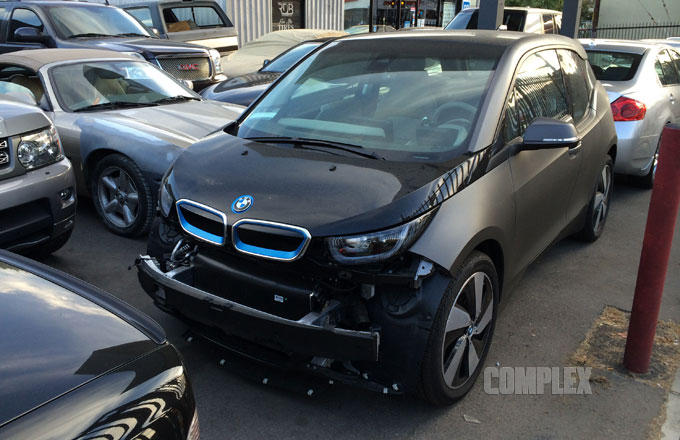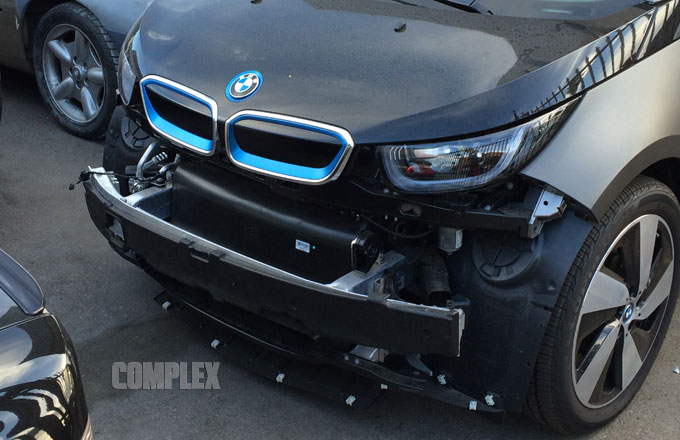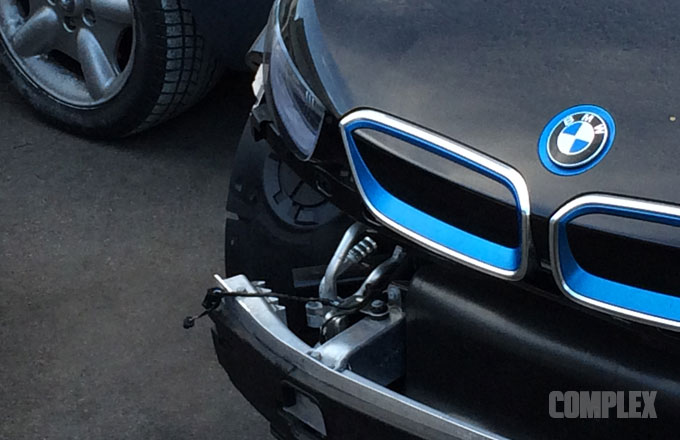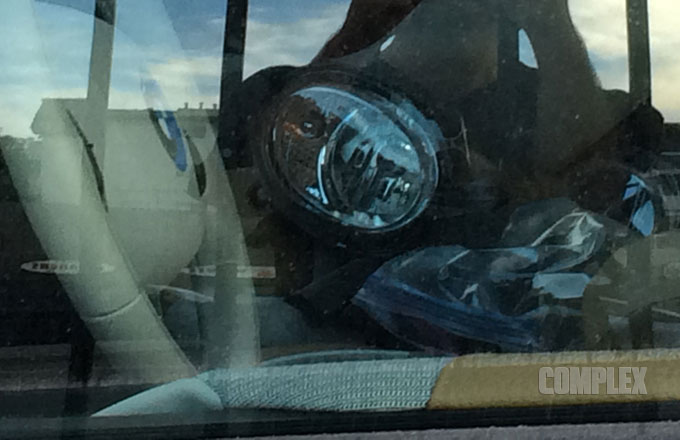 And just for reference, this is what the nose of the i3 is supposed to look like: