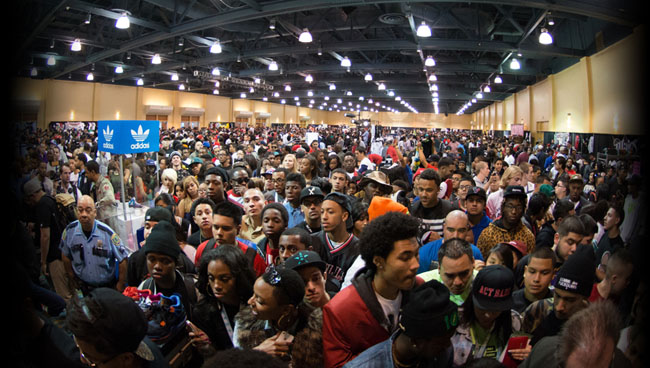 words // Nick Schonberger
On Saturday, July 27, 2014, I turned left from 54th Street onto New York's West Side Highway, navigating a herd of youth wearing mesh shorts, Elite socks, and Jordan IIIs. Each of the teens carried a bulging duffle bag with squared edges poking through the nylon revealing the bounty—covetable, saleable sneakers. They were heading to Yu Ming's undeniably successful SneakerCon; I was driving across the GW Bridge to sit beside a friend's pool.
The scene, though undeniably impressive, wasn't enough to challenge my sedentary plans. The allure of new sneakers, once so present in my mind, is more limited than it once was. My interests are decidedly niche, decidedly against the grain of the mainstream, and, thus, at odds with the culture represented by the burgeoning business of sneaker conventions.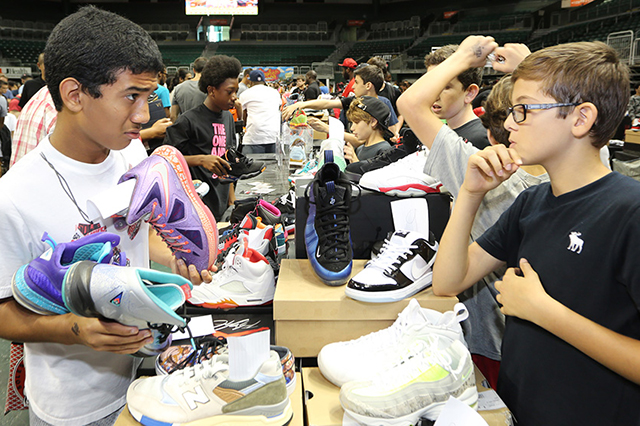 Sneakers, by and large, have been part of my life since the early '90s. Here's a hackneyed anecdote: I got some Jordan VIs, believed I could fly, and fell in love with footwear. However, it wasn't really MJ who captured my attention, it was the athletes on my favored court (tennis) that did: Andre Agassi, Michael Chang, Jim Courier, and Stefan Edberg. As my tastes shifted away from the majority (at least in sneaker terms), so too did intrigue in a community.
Forums, no doubt, provide access to information. Still, these hubs of online conversation also established a clear hierarchy of good, better, and best. The forums defined what its readers believed important, and in some respects, narrowed which models were celebrated. There remains a certain nostalgia (on American soil, anyway) for the '90s, something I can't quite stomach—the decade being so remarkably commercial and so decidedly corny. And, then, when the boards are transferred to IRL meetups in form of conventions, a shirtstorm of unpalatable circumstances collide in a room filled to the brim with people.
Are Red Octobers really worth $4K? Should certain recently released KD colorways garner trade values approaching $800? It all seems so volatile, so predicated on short-term memory, so insane for a guy whose prize sneaker possession is a pair of DS 1986 New Balance 428 basketball shoes in the Dallas Mavericks color scheme.
Blame all this sour outlook on generation fragmentation. While SneakerCon was raging in NYC, across the pond in London, Crepe City was quietly doing the same. Meanwhile, Erik Fagerland, co-owner of Sneakers n Stuff, Instagramed a series of images from his secret Swedish storage unit—including a pair of Nike Air Grudge, a middling '90s runner that nonetheless inspired a certain degree of envy. You see, Erik was digging for old shit, not trading in new hype, and that differentiation is key to establishing why I love sneakers, but won't engage in conventions.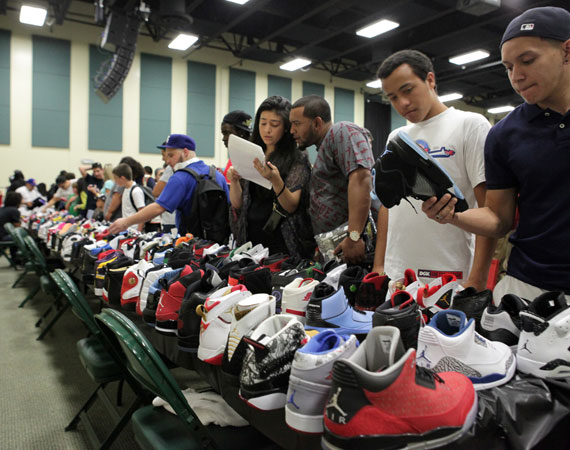 I collect. No way around it. I have, in my 30-odd years, bought some serious stuff at auctions, loaned said serious stuff to museums, and invested heavily in requisite storage and insurance. Sneaker collectors, by and large, don't seem to bring a secondary, curatorial view to their hoarding. Nobody keeps provenance (the story of ownership), and aside from internet ready acronyms—DS, VNDS, etc, etc—there is no clear process of condition reporting. Sneakers, then, despite all the cash potential and coverage from the Matt Powell's of the world (and belief in a 'sneaker stock market'), still lags behind the collection of other ephemeral objects (rubber and such will degrade, the circumstances of production are also tied to a specific moment in time, etc, etc) in formality. Unlike, for example, a high level event like the New York's annual Winter Antique Show, where all objects on the floor are vetted, sneaker conventions resemble car boot sales.
Sneaker Conventions are the lifeblood of contemporary sneaker culture. Good friends and smart minds (Yu Ming, Steve Mulholland, etc.) recognized the value of the events to not just the growth of their businesses but to encouraging larger groups of kids to feel comfortable embracing the hobby. Hats off to them, I applaud from the sidelines.
There is a cyclical nature to the world represented by sneaker conventions. As one model (i.e. Dunks) falls out of favor, another comes to replace it. The events are solid testaments to immediate trend: What is hot, RIGHT FUCKING NOW. And, the gatherings are also indicative of current values. Do, for example, stories matter anymore? Are young enthusiasts interested in sneaker history, do they thrive of "knowledge" about the who, what, why, and where of the Air Max 1, Air Jordan XI, or, even, the Nike Kobe 4? Or, are these kids simply there to trade a few kicks, share a few laughs, and revel in a space that speaks their language—unadulterated and devoid of brand programming. They'll cough up cash for the moment's coolest, and perhaps a few months later package that buy with another shoe to get hold of the latest and greatest. It's all fun, but I'll never likely know.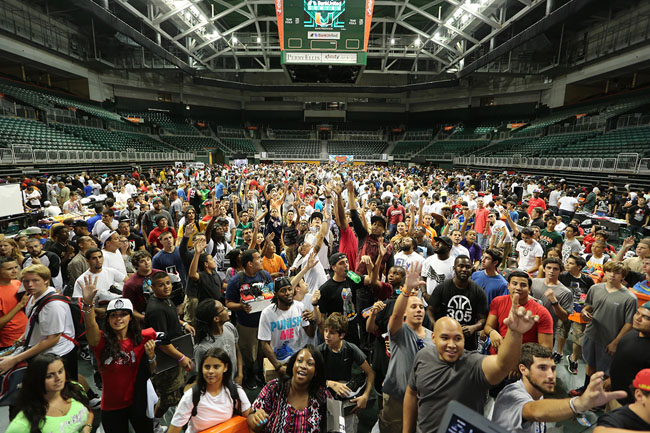 Once an irregular thing, sneaker conventions are flourishing all around the country. Boston, Houston, even LONG ISLAND! Mindbogglingly mainstream! Frighteningly familiar! There are so-called SNEAKERHEAD MOMS (better or worse than soccer moms?) hunting down "rare" pairs. It's all too much. It's all too fast. It's all too beanie baby-era eBay.
Sneaker collecting needs more structure. It requires the same informed tone that gave rise to forums, but in new, fresh spaces. Collectively, we need to want to know how to best store shoes and to distinguish between what is best for rocking right away and what will stand the test of time (both physically and culturally).
Sneaker culture is maturing, over a decade in the public eye now, and as such the events remind that whereas folks my age bought and wore what we liked; today's sneakerhead is a cutthroat bred of little hustler, recognizing opportunity and $$$ at every drop. There's got to be a middle ground, a place where quick cash and long range views coalesce and push a more varied sneaker agenda. Until that happens, I'll be at home during conventions.