1.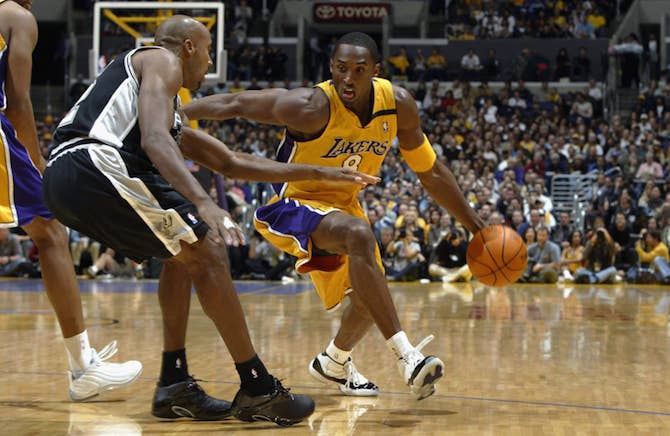 by Nick Engvall
His legacy on the basketball court will land him in the NBA Hall of Fame, but Kobe Bryant is also one of the most important athletes in sneaker history. Bryant wore some of the most revered basketball shoes in adidas' catalog when he helped carry the "Feet You Wear" technology era, with styles like the KB8 (now known as the Crazy8) and KB8 II (now known as the Crazy II). Fast forward a few years down the line and a Nike sneaker deal, and the Black Mamba's Nike Kobe 4 and Nike Kobe 5 helped Nike redefine what a basketball shoe could be. You could easily credit Nike designer Eric Avar taking Kobe's passion for soccer for bringing low-top basketball sneakers back.
It was in between those years in 2003 that became one of the most important parts of Kobe's footwear legacy. After the summer of 2002, Kobe paid a reported $8 Million dollars to get out of his adidas contract. However, the stipulations of the buyout stated that Kobe couldn't sign with another brand until 2003. For sneaker enthusiasts, that meant the 2002-2003 NBA season would be unlike any we'd ever seen. One of the league's greatest players had no footwear contract and could wear any shoe he wanted to play in. In honor of his recently announced retirement,  take a look back at some of the shoes worn on court from Kobe Bryant's Greatest Sneaker Season.
Nike Air Force 1 Mid
2.
It's no secret that Kobe Bryant is a fan of the Air Force 1. But the lack of a footwear contract meant Kobe could show his love for the classic silhouette even on the court. See guys, the AF1 Mid isn't that bad.
AND1 Desire Mid
3.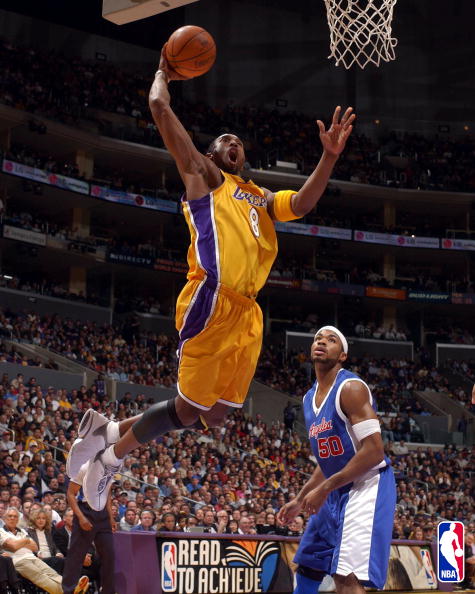 AND1 was a serious contender back in the early 2000s, so it would make sense that Kobe gave them a shot too. This deal would have been interesting, if for no other reason than the Kobe trash talk tees that could have occurred. Kobe's trash talk game is second to none. Well, maybe one.
Air Jordan 6 Low "Black/Silver"
4.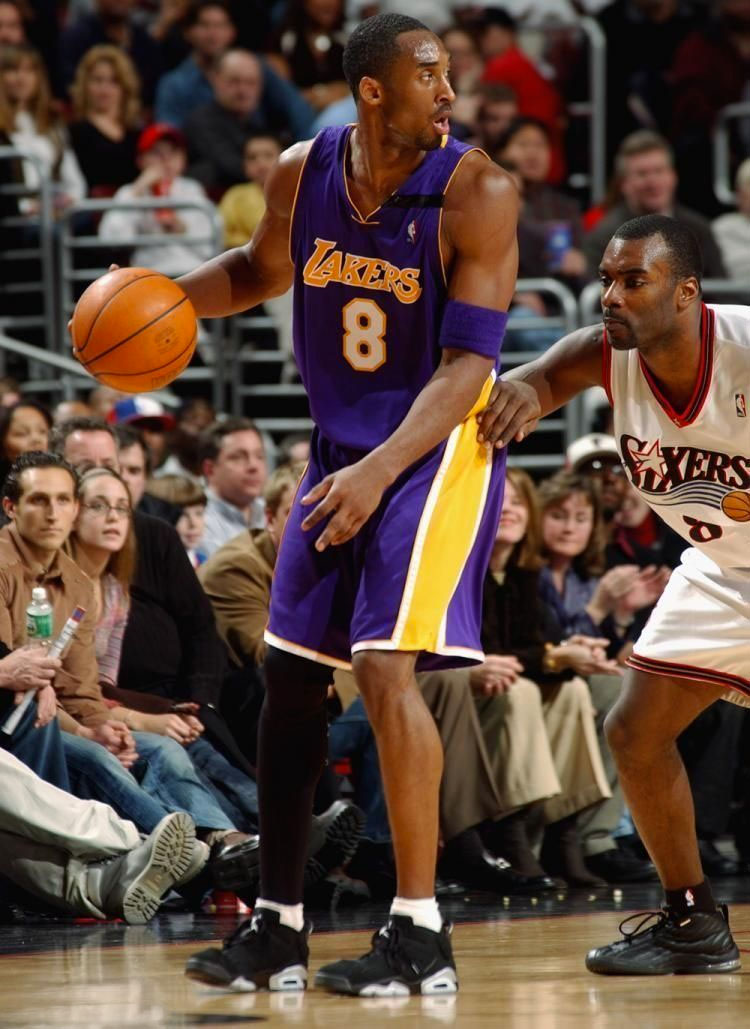 Seeing as how Kobe Bryant's game was modeled after the GOAT, it's kind of obvious that we'd see him in Air Jordans during this season. But this general release Jordan 6 Low was kind of surprise considering all of the player exclusives that we've seen pop up in the years that have passed.
Jordan 17 Black/Silver
You can never go wrong with black, especially when you're The Mamba. The general release Air Jordan 17 wasn't a frequent choice for Kobe, but it's memorable nonetheless.
Reebok Question "Black Toe"
6.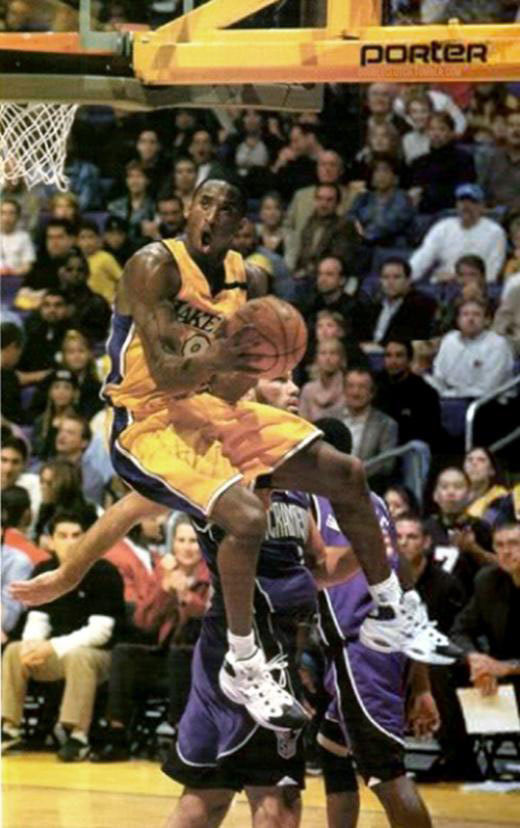 Another iconic sneaker in a timeless colorway. Kobe's appreciation for general releases is something the new breed of sneakerheads could learn from.
Converse Weapon "Lakers"
7.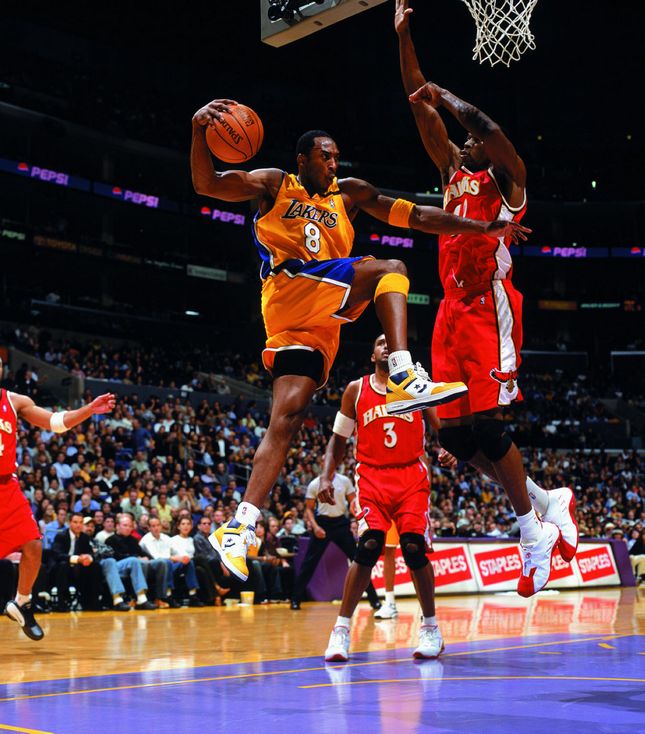 The Converse Weapon is one of the most iconic sneakers to ever wear the purple and gold accents of the Los Angeles Lakers. Kobe lacing them up just further reiterated that point. It also reinvigorated the Lakers fans passion for footwear by connecting different generations. 
Air Jordan 17+ 
8.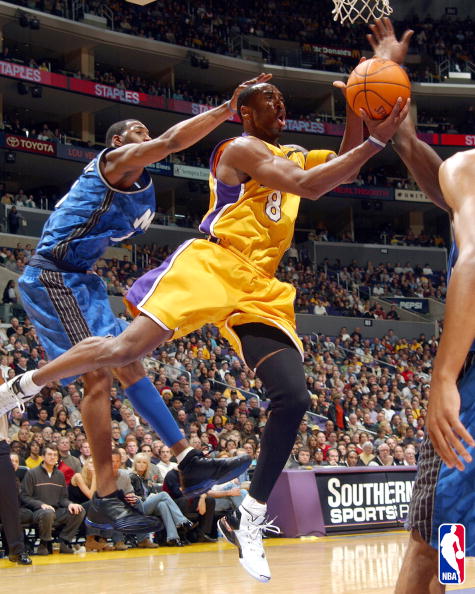 The Air Jordan 17+ is probably the most sought after "plus" model in the Air Jordan line. As one of the last sneakers that Jordan played in, and one that Kobe Bryant also laced up during the 2003 season, it's always going to be a true collectible. It might even be part of the reason sneaker customizers seem to be so obsessed with "croc skin" designs. But they'd probably never admit that.
Air Jordan 12 "Flint Grey"
9.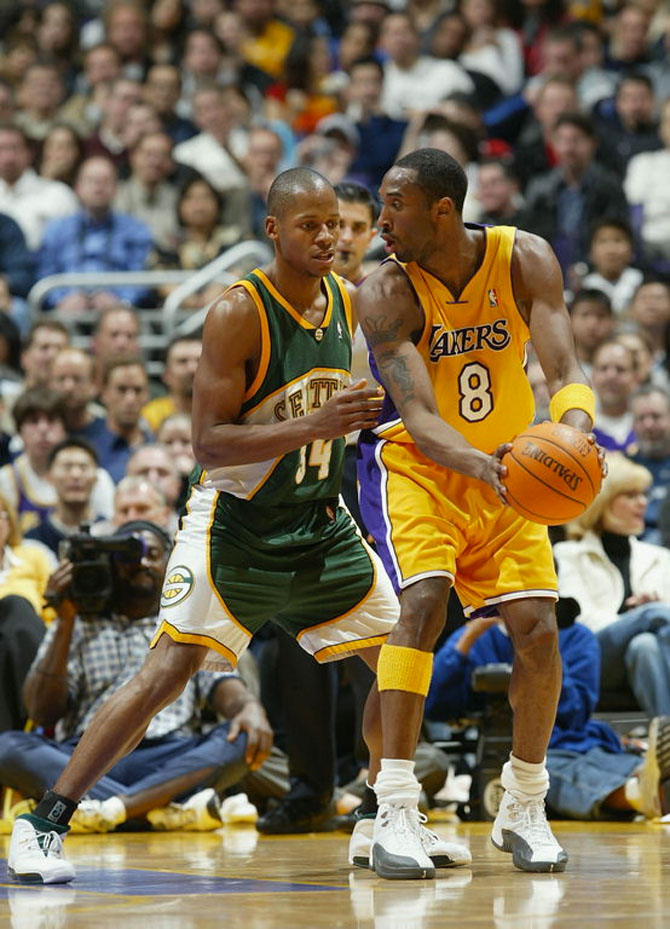 In terms of color coordinating, the Flint Grey Air Jordan 12 was about the only shoe in Kobe's year of greatness that never really tied in. Obviously the 12 is a classic, and at the time, the retro colorways were limited, but Kobe could do whatever the hell he wanted, so that's what he did.
Reebok Answer 4 "Purple"
10.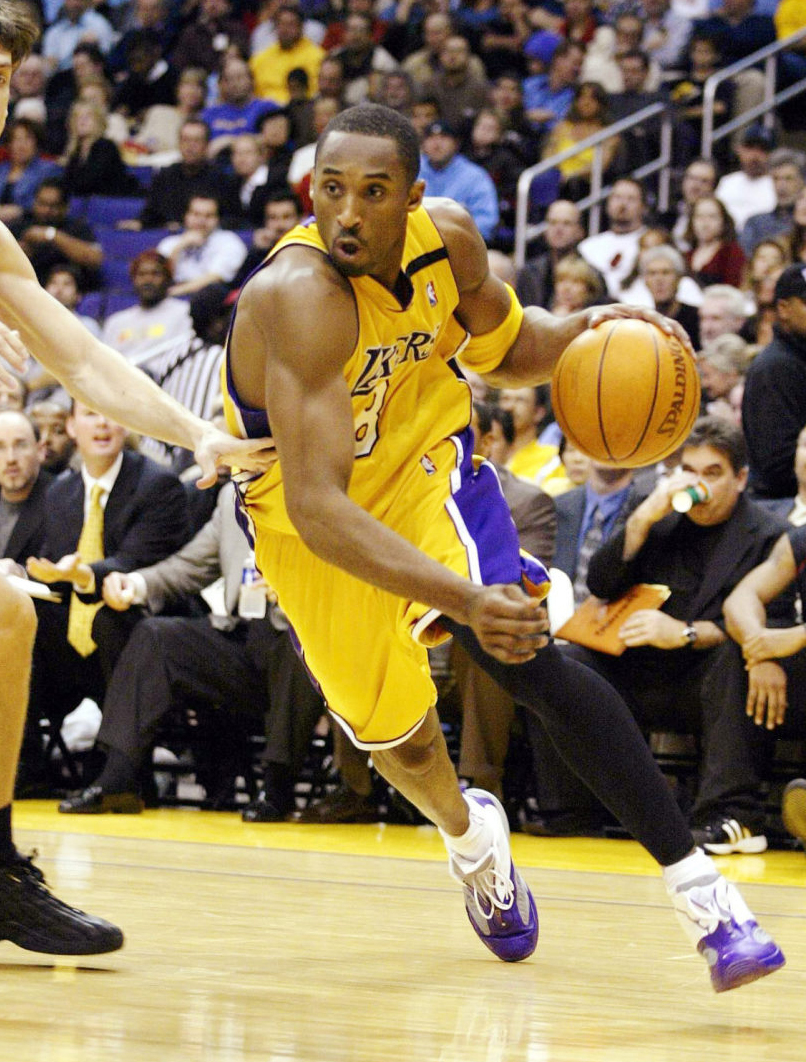 It may seem like an odd choice now, but Kobe Bryant's choice to wear the Answer 4, despite having just defeated the Allen Iverson-led 76ers the year prior, was just strategy. Kobe's 2003 season was filled with negotiating with brands and testing footwear. His choice to play in the Reebok Answer 4 just shows how serious the competition was back then.
Air Jordan 12 "French Blue"
11.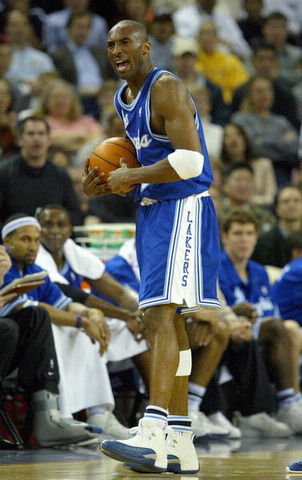 The fact that the French Blue Air Jordan 12 happened to match the throwback jerseys the Lakers wore in 2003 just solidifies that it was one of the greatest eras ever. Dipset would be proud.
Reebok Question "Purple Toe"
12.
This player exclusive colorway was so good that Packer Shoes retroed them in 2013 as a part of the "For Player Use Only" pack. 
Air Jordan 3 "True Blue"
13.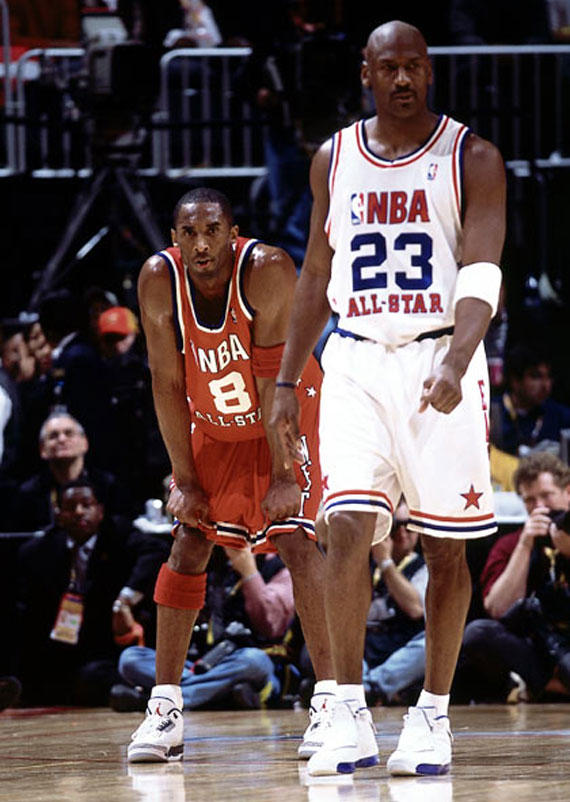 If you are reading this site, you already should know about Michael Jordan's last NBA All Star Game in 2003. After declining offers from Allen Iverson and Tracy McGrady to give MJ their starting spot, Jordan accepted Vince Carter's last minute offer to start. Kobe honored MJ by breaking out a pair of True Blue Air Jordan 3s and the dunk-fest began.
Reebok Question "Yellow Toe"
15.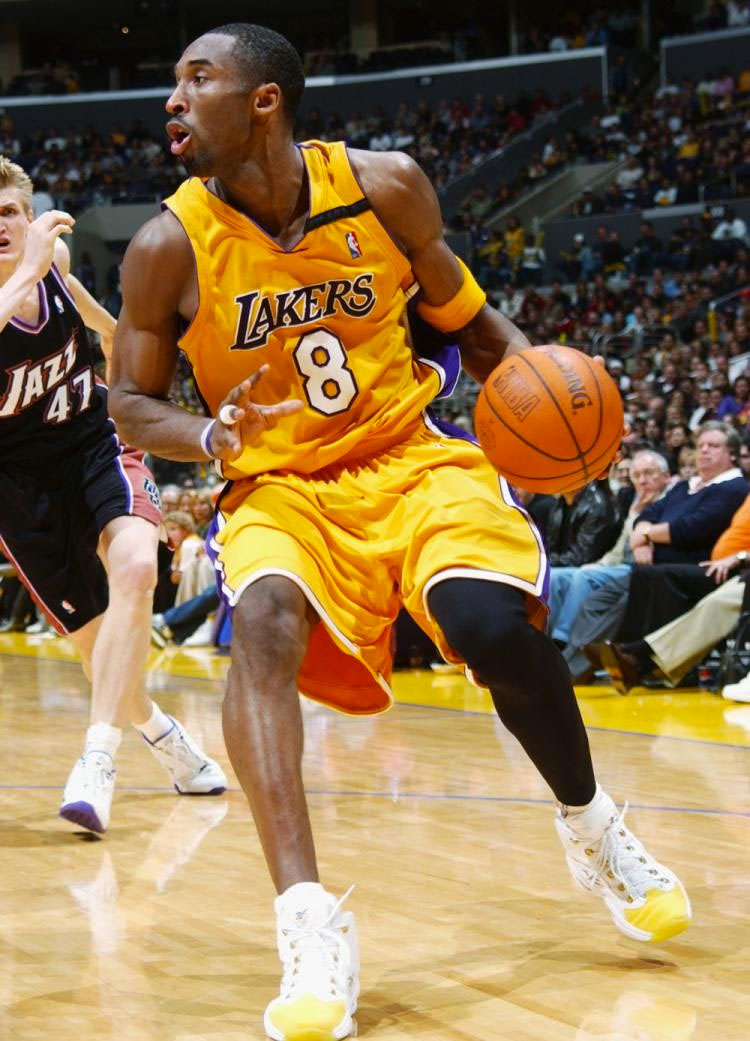 Everyone remembers the "Purple Toe" Questions thanks to the retro version, but Kobe also laced up this "Yellow Toe" version in 2003. Someone tell Reebok we need a retro of these too.
Nike Air Flight Huarache PE "Home"
16.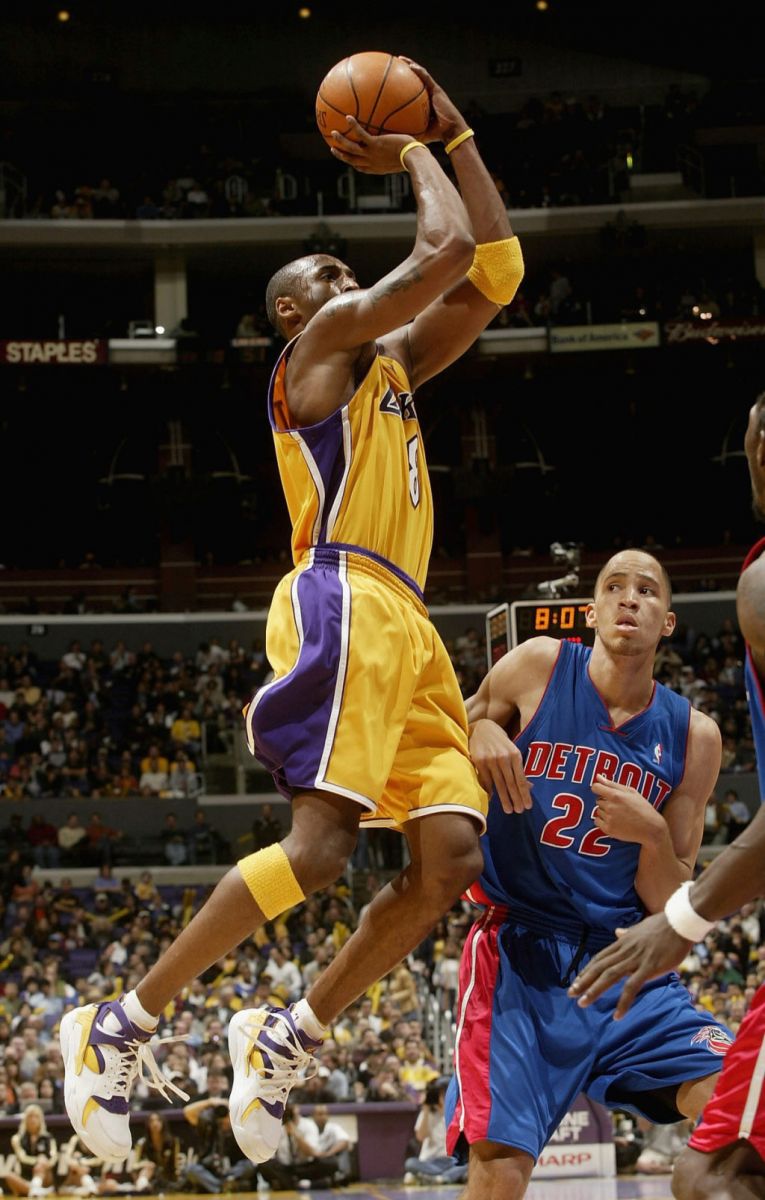 Move over Fab Five, The Mamba is taking over the sneaker history books.The Air Huarache BBall is still regarded as one of the best basketball sneakers of all time, and Nike created this PE colorway for Kobe late in the season. It was so good, he ended up wearing it regularly, and even had a black variation the following season. 2015 finally saw a retro version release. 
Air Jordan 7 Home PE
17.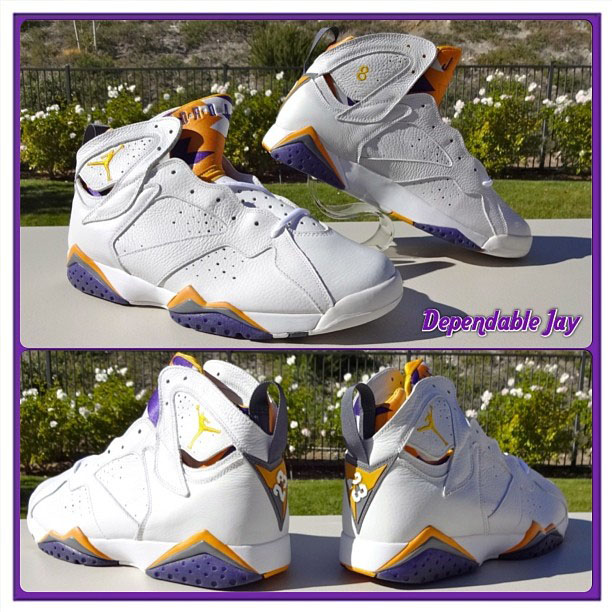 The only down side to the "Home" Jordan 7 Kobe Bryant PE is that Kobe didn't wear it enough, preferring to go with another Jordan PE more frequently.
Air Jordan 11 "Concord"
18.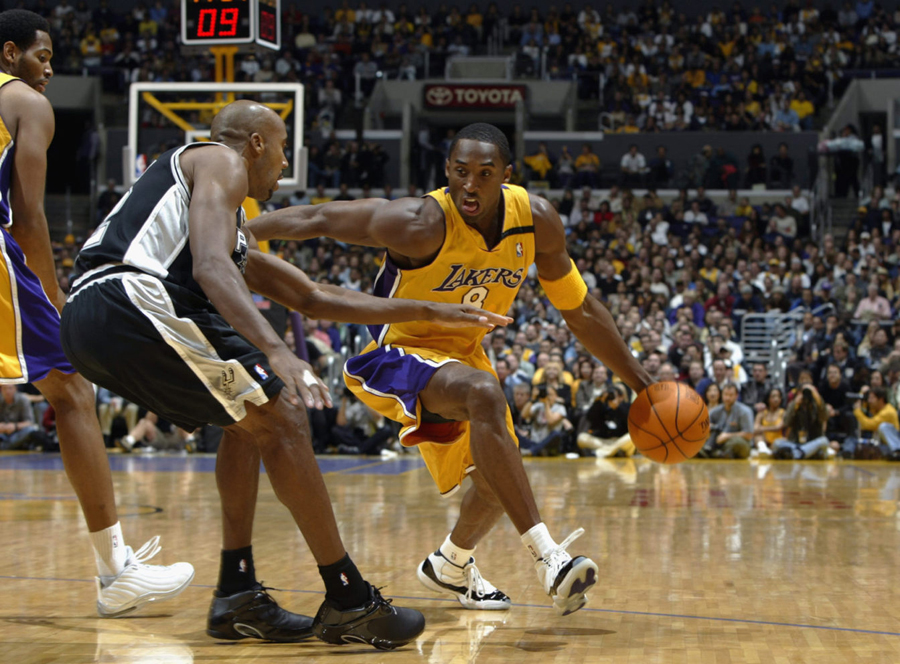 Often described as the perfect shoe, the Concord Jordan 11 is uncomparable and Kobe Bryant is just one of the many future Hall of Famers that have laced up these kicks over the years. 
Air Jordan 7 Away PE
19.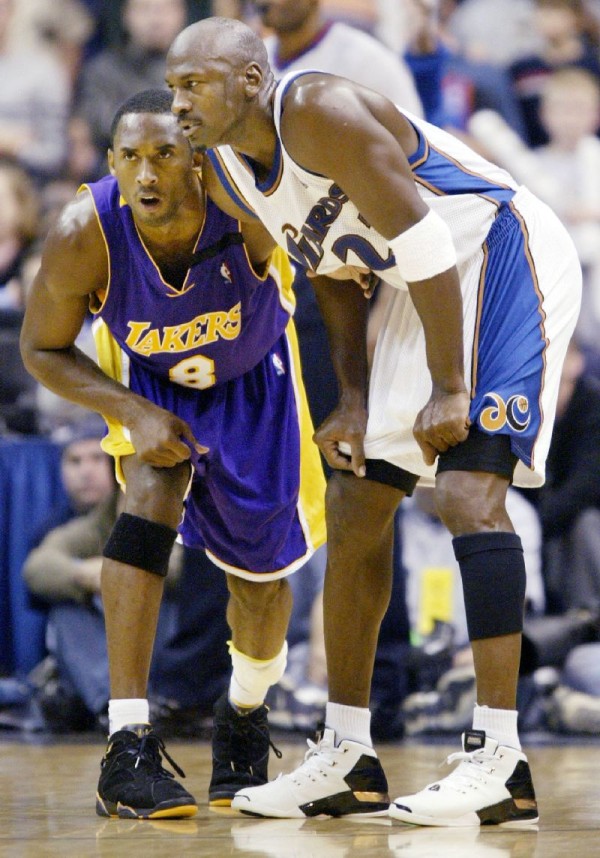 The Air Jordan 7 has always been one of the most popular Jordans to play in because of its Huarache sockliner, but the collectibility of the 7 comes from its PE variations. Kobe Bryant had one of the best versions back in 2003 with the all black upper and purple and gold accents.
Air Jordan 8 White PE
20.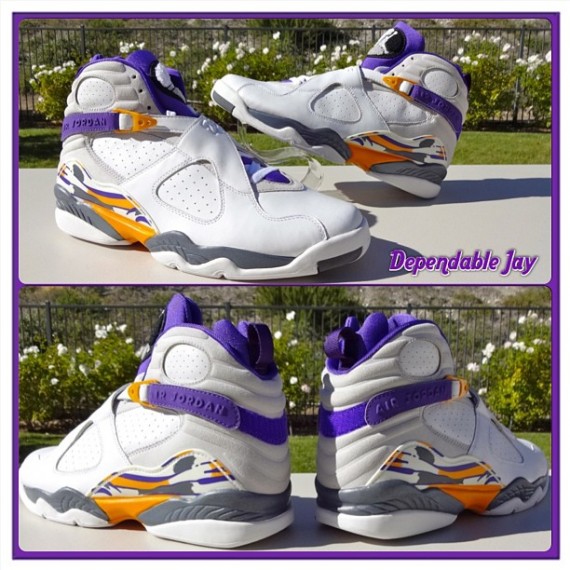 Whether he was hitting game winners, lighting up Michael Jordan, or carrying the Lakers through the NBA Playoffs, Kobe often laced up the Air Jordan 8. The white based "Home" player exclusive Jordan 8 was one of Kobe's go-to choices. You can see why even a Laker hater would have to admit the purple and gold accents are flames.
Air Jordan 3 PE
21.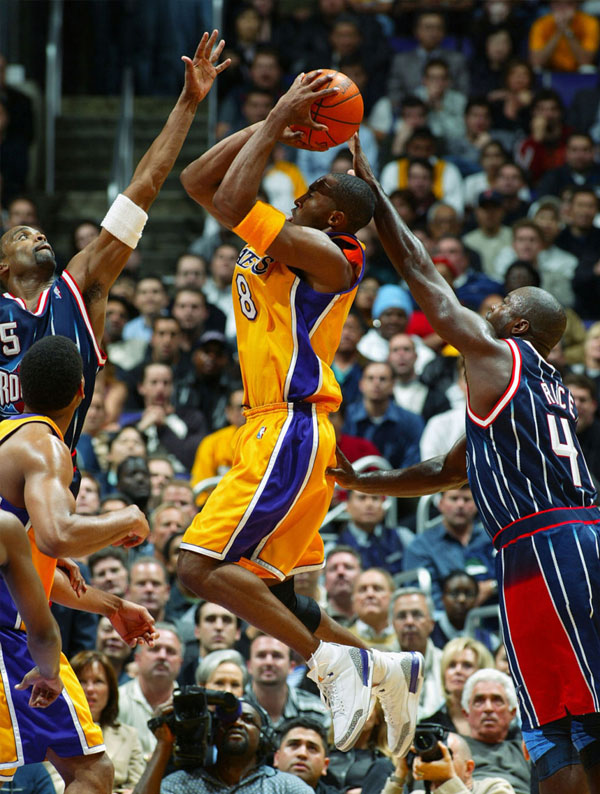 If you're a Kobe Bryant fan and this isn't your holy grail of holy grails, you might want to reconsider your life. The rarity and the ties to two of the best basketball players in history make the Kobe Bryant Air Jordan 3 PE damn near untouchable. And then you start to think of what might of been had Kobe signed with Jordan Brand and not Nike.