words_Nick DePaula
Up until last year, we weren't hearing much about the Milwaukee Bucks.
A stellar rookie campaign from Brandon Jennings, the inside play of Andrew Bogut and a midseason trade for John Salmons changed all of that pretty quickly, as the Bucks enjoyed a run to the NBA Playoffs for the first time since 2006. "Fear The Deer" soon became the story of spring, as the team closed out the year 22-8 and appeared to be well on their way to bigger and better things.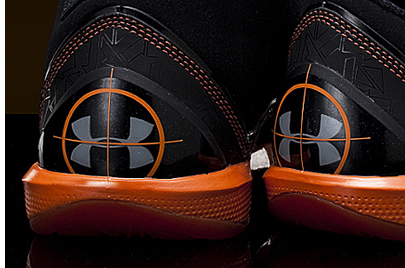 With actual expectations for the first time coming from more than just Scott Skiles, this new season for Brandon Jennings represents having many goals in sight.
NBA All-Star Game in his hometown? Leading the league in assists? Getting past the first round of the NBA Playoffs?
The steps towards those goals have all begun this week, as Jennings and the Bucks begin the long journey through the NBA season.
The Bucks will host the Charlotte Bobcats tonight in their Milwaukee home opener at the Bradley Center, and as a special nod to Halloween, you can look for Brandon Jennings to wear this "Trick Or Treat" Halloween Exclusive version of the Micro G Black Ice.
With a perforated suede upper, patent leather toe and Black Ice graphic-laden forefoot strap, the "Trick or Treat" Black Ice feature the familiar festive colors of black and orange.
Along the heel counter, you'll notice a crosshair scope, as Brandon will be keeping his goals in sight as he takes the floor hunting.