words // Nick DePaula
When it was first reported yesterday that Kansas freshman phenom Andrew Wiggins has a ten year, $180 Million endorsement offer from adidas Basketball awaiting him the second he turns pro next spring, my initial reaction was that isn't anywhere close to what he should be expecting.
The $140-$180 Million suggested range sounded exceptionally high to me, and several sources at multiple brands have told me the same thing.
This isn't the first time that rumored deals have been exorbitantly exaggerated, as we saw similar overestimations when Derrick Rose was looking for his contract extension, but where did the headline grabbing $180 Million figure come from? 
It all apparently stems from this alleged memo from adidas Group CEO Herbert Hainer, addressed blankly to a Wiggins representative, which Sole Collector has exclusively obtained below and has also confirmed to be entirely fake.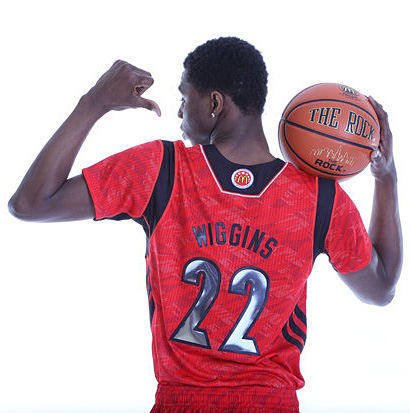 "There is a fraudulent letter that claims to be from our company offering Mr. Wiggins a contract. Any reasonable review of the letter would determine its lack of credibility," an adidas Basketball spokesperson told Sole Collector this morning. "Beyond this, we do not comment on rumors or speculation about potential partnerships."
The undated hoax letter, from a brand CEO to an amateur athlete, would undoubtedly be a major violation during the window in which Wiggins was deciding on which college he would attend. That should of course be red flag #1 as to the letter's lack of authenticity.
In the sports marketing world, an undated, unaddressed memo outlining a $180 Million offer with a $60 Million window range to an amateur athlete would never exist under any circumstance, let alone be hand-signed by a CEO. The brand has been aware of the hoax letter, and says it had been circulating around adidas "for months," according to an adidas spokesperson.
Even though Wiggins chose the adidas-sponsored University of Kansas for his lone college year, I think it's definitely too soon to say adidas is the frontrunner simply because of that. That would be an entirely naive way of framing things. By all accounts, he simply picked the best college fit for himself, and I don't place much stock in his school choice impacting his sneaker deal one way or another.
There's also the fact that while Wiggins has been clearly pegged as the next big thing, he'll still be expected to dominate this upcoming college season before seeing a massive endorsement offer. 
"There's a huge difference in what a brand would offer him if he goes out and averages 30, or if he just puts up 17 points and 6 rebounds," says a brand source. "There's also still the possibility that Julius Randle could go first in the draft."
As loaded as the 2014 NBA Draft class may be, Wiggins also faces stiff competition for sneaker dollars from current NBA players that have expiring endorsement contracts.
In terms of the overall landscape next summer, I'd expect Kevin Durant to be the main prize brands are fighting over. He's the one that can be expecting an offer north of $150 Million. The many Chinese brands, as well as Under Armour, are looking for an established star at this point and would be more apt to overspend for a star in his prime like KD, or even a rising star like Kyrie Irving. Both of those players will be able to make an immediate impact on day 1 were they to switch brands and leave Nike. The thinking that Under Armour would "open up the bank as much as they possibly can" for Wiggins has also been flatly denied by several sources.
It is more realistic that the race for Wiggins will be between Nike and adidas only. Reebok was a major factor when LeBron was weighing his offers in the spring of 2003, and helped to raise the price of his Nike deal to $90 Million over 7 years. With adidas now owning Reebok, they are not expected to be pitching Wiggins.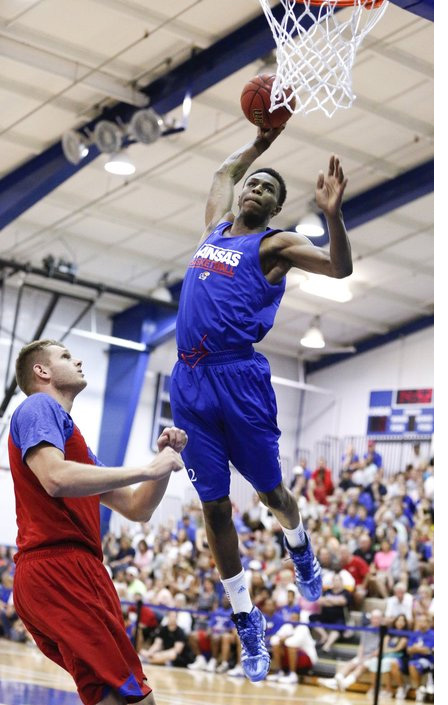 Nike will perhaps face a bit of a repetition issue with both Wiggins and Durant playing a similar scoring style, but they also know how valuable Wiggins could be at adidas and would hate to see him go to a competitor that's made huge strides in both footwear and athlete signings in the past three years.
Chris Grancio and the adidas Sports Marketing team have done a great job of building around NBA starting point guards, and Andrew Wiggins would now be the missing piece for their stable of athletes. They have Derrick Rose, John Wall and Dwight Howard as key brand assets, and Wiggins would be a great complement as a scorer. They haven't had a great wing scorer since Tracy McGrady, and it's arguably one of the most impactful positions in terms of sneaker influence.
In terms of total dollar value, there's no doubt Wiggins will be expecting a high number this spring, I just don't see it topping $100 Million over a 7 or 8-year term, and certainly don't see it going as high as $180 Million. That number has only been floated by the fraudulent memo seen below at this point, and there has been no mention of that range being realistic, according to multiple brand sources.
For reference, Russell Westbrook got less than $5 Million per year on a 5-year deal last fall to lead the Air Jordan. Blake Griffin got less than $5 Million per year on a 6-year deal last September to join Jordan Brand. Both players were offered more by a Chinese brand and had several US brands pitching them as well.
I think it's more fair to say Andrew Wiggins could be looking for something in the $6-$8 Million range per year on a deal that spans seven years in length. While not as sexy of a number as $180 Million over ten years, an endorsement contract worth nearly $60 Million in total is certainly still substantial for a rookie.
One thing we know for certain is that next summer is going to be a legendary class for sneaker brands. Wiggins, Julius Randle, Jabari Parker, Dante Exum, Marcus Smart and several other rookies will be great brand signings wherever they go. Then, you have Kevin Durant, Kyrie Irving, Paul George and a few other current NBA players with expiring current sneaker deals that will be huge needle movers as well.
I've always been of the belief that players absolutely matter to a brand's overall market share and position in the basketball footwear landscape, and next summer could be a transformative year for a few brands looking to grow in this space. What that means for Andrew Wiggins in terms of sheer dollars, we'll have to wait and see, just don't expect it to be $180 Million.