1.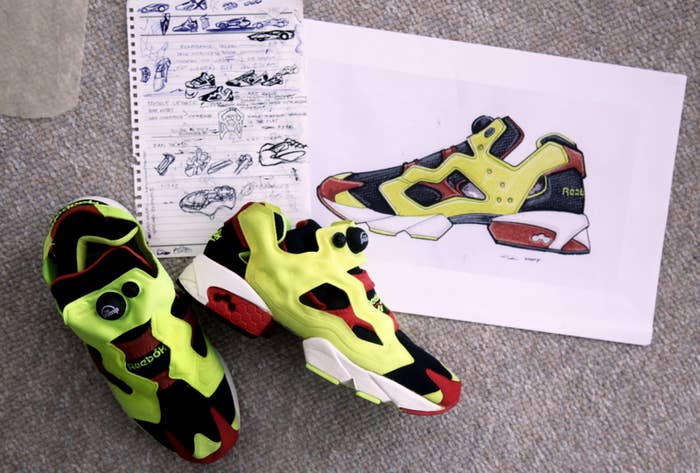 words // Zack Schlemmer

images // Jotham Porzio
There are a few recognizable names you always hear when the subject of great sneaker designers gets brought up.  Tinker Hatfield, Eric Avar, Jason Petrie...you probably know these guys, but there are many other designers that go unheralded.  Perhaps the most legendary sneaker designer that you've never heard of is Steven Smith.  An almost 30 year veteran of the footwear design industry, Steven has worked for numerous brands and created some of the most timeless silhouettes ever. 
Let's start with New Balance, where he landed his first shoe design gig right out of college in 1986. His resume there reads like a who's who of your favorite New Balance retro models: the 574, 996, 997, and 1500 just to name a few.  Who knew that one guy designed all of these classics? 
Next up for Steven was a one year stint at adidas, where he helped launch the Torsion technology in basketball shoes like the Artillery—one of the coolest late 80's models from the Three Stripes.  He then headed over to Reebok where, among many other things, he helped create Instapump technology, DMX cushioning, and even the Vector logo.  Oh, and he also designed a little shoe called the Fury.
The adjective "iconic" probably gets thrown around a bit too often when talking about sneakers, but the Reebok Instapump Fury is indeed a certified icon of footwear design. (After all, not just any sneaker makes it into the Design Museum of London.)  The Fury is so futuristic that many still don't quite understand it, so you can imagine how it blew minds back in 1994.  It has received numerous re-releases and new colorways throughout the years, but Reebok is bringing the Fury back in full force for its 20th birthday in 2014.  The celebration started with the accurate-to-the-original reproduction of the 'Black/Citron/Red' colorway that just dropped earlier this month, and then continues with a series of 27 collaborative versions throughout the year with Reebok's Certified Network of global retailers.  Definitely not a bad way to highlight one of the brand's most important models of all time.
After Mr. Smith's prolific years at Reebok, he went over to FILA briefly, and then on to Nike where he designed some of the best mid-to-late 90's running models like the Zoom Spiridon Cage, Air Max 2009, Shox Monster and many from the Bowerman series.  He's now back at adidas where he's helping develop the miCoach technology—which means he's a fellow Portland resident with us here at SC headquarters.  Steven was kind enough to invite us into his home for an exclusive look at some of his amazing sneaker collection and some choice pieces from his career.  Since the Instapump Fury celebration is on, today we'll take a look at some of his original prototypes—many never before seen—and hear the history of the shoe directly from its creator. 
2.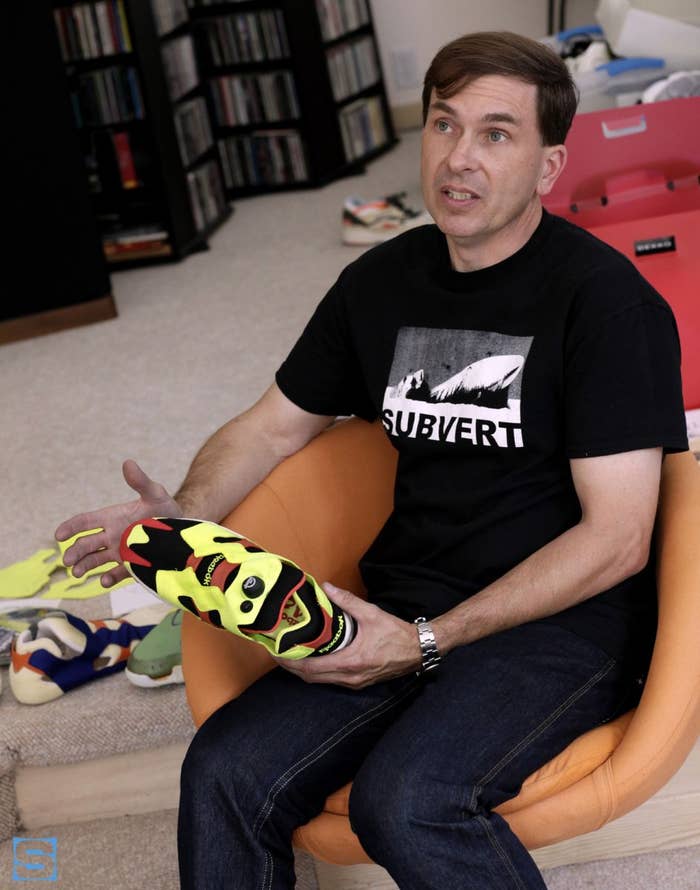 On his standout moment for the shoe:
Steven Smith: One of the highlights for me was, I was watching the MTV Music Awards, and Steven Tyler comes out in the Furys…WHAT!?
Zack Schlemmer: So had you always been an Aerosmith fan?
SS: Oh, huge!  "Oh my god! Steven Tyler's wearing my shoes! Coolest ever!"
So finally (friend) Rick Nielsen (of Cheap Trick) was like, "Hey, we're touring with Aerosmith, do you want to meet those guys?"  "What do you think! (Laughs) What do you think!?  So, I finally meet Steven Tyler and I'm like, "Dude, I made those shoes!"  I said, it was so cool that you went out and you actually bought them, because we didn't give them to him—you didn't do that back then.  And he goes (Steven Tyler voice) "Ohh those shoes were the best ever, man!  So then he left me the most insane voicemail at Nike. "Dude, you got me through the 90's, those were the most badass shoes ever, those Reebok Furys, I just wore 'em until they fell apart, and I just wish I could get some more!  Whaaaa!" (Laughs)
3.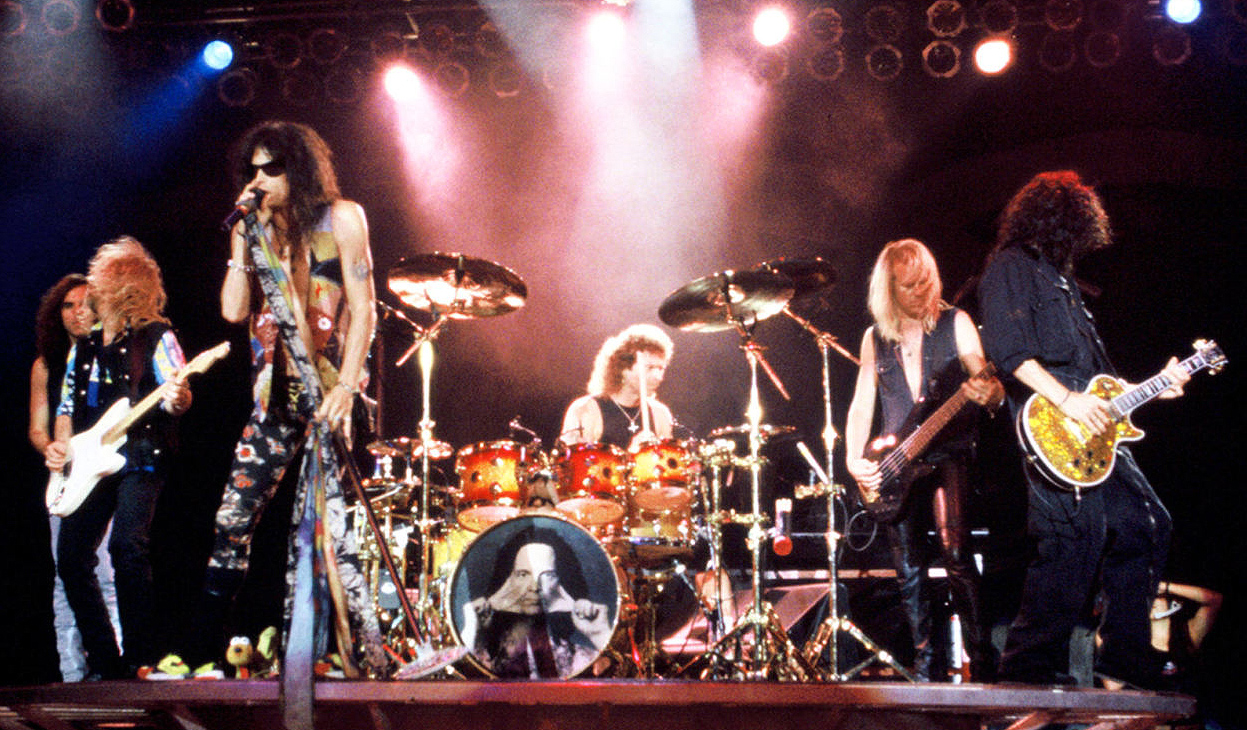 Steven Tyler rocking the Furys on stage (image via Yahoo!/Getty Images)
On the Graphlite Road - the predecessor to the Fury, and the birth of the Fury:
When I was working on that is when I sketched the Fury – I sketched this two part midsole.  Steve Liggett, who was in charge of our Advanced Concepts team, said, "Don't do it, it's gotta be like a striptease, the girl doesn't take off all her clothes at once. Go back, fill it back in on one side, and then the next one is the one where we'll blow everybody's mind."  And I was like, "Yeah but I want to do it now!"  And he goes "No no no, patience! Let it develop and let it build."  So that's where Litch (Paul Litchfield) and I went back and started talking about integrating the Pump into it, and I did this sketch, it's literally a thumbnail—that's how I draw—of the Fury.  And I drew the bladder spread out, and that was it.  It pretty much became the shoe…one little sketch.  But it was a huge project to build and engineer it.
4.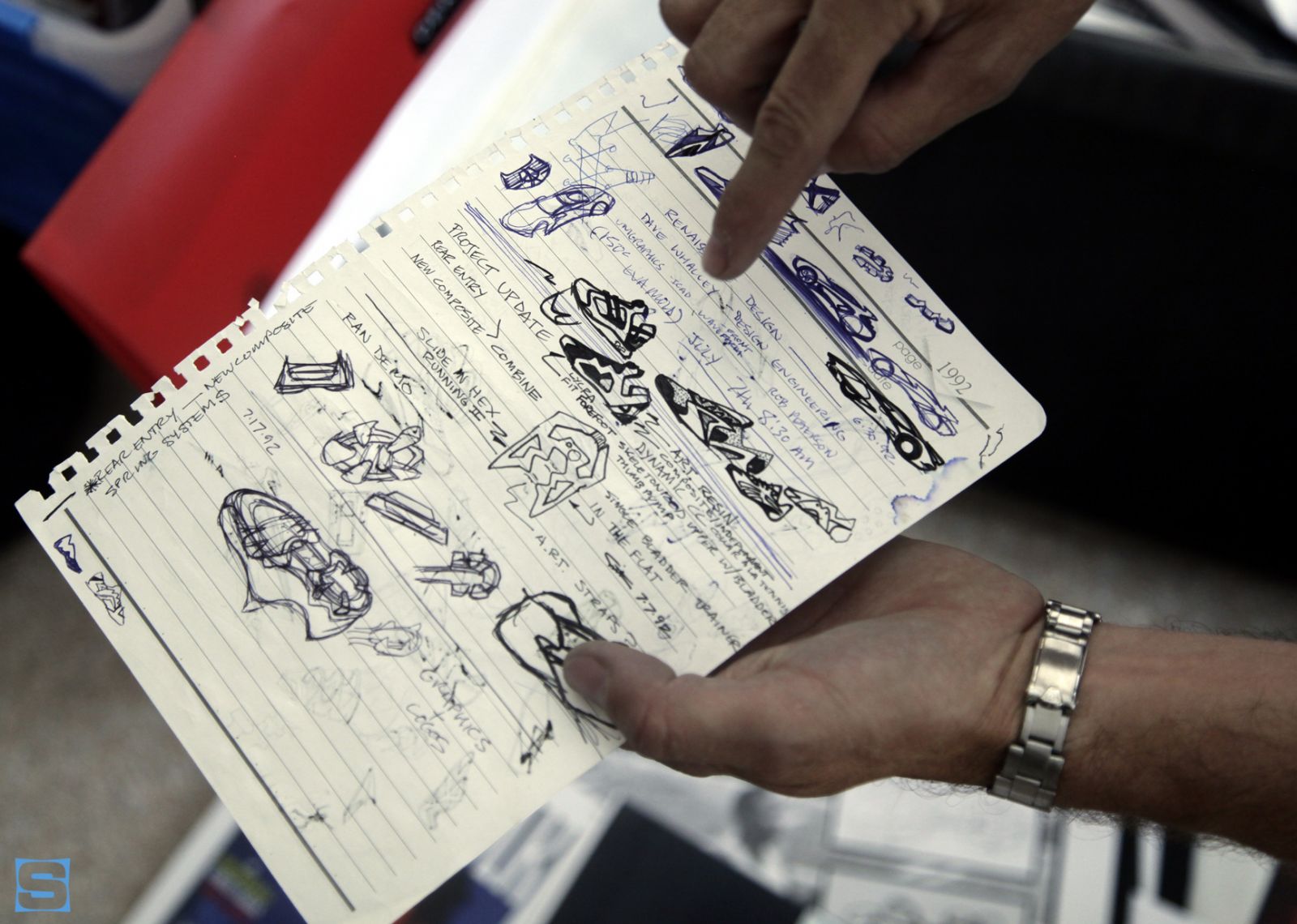 original design sketch of the Fury
5.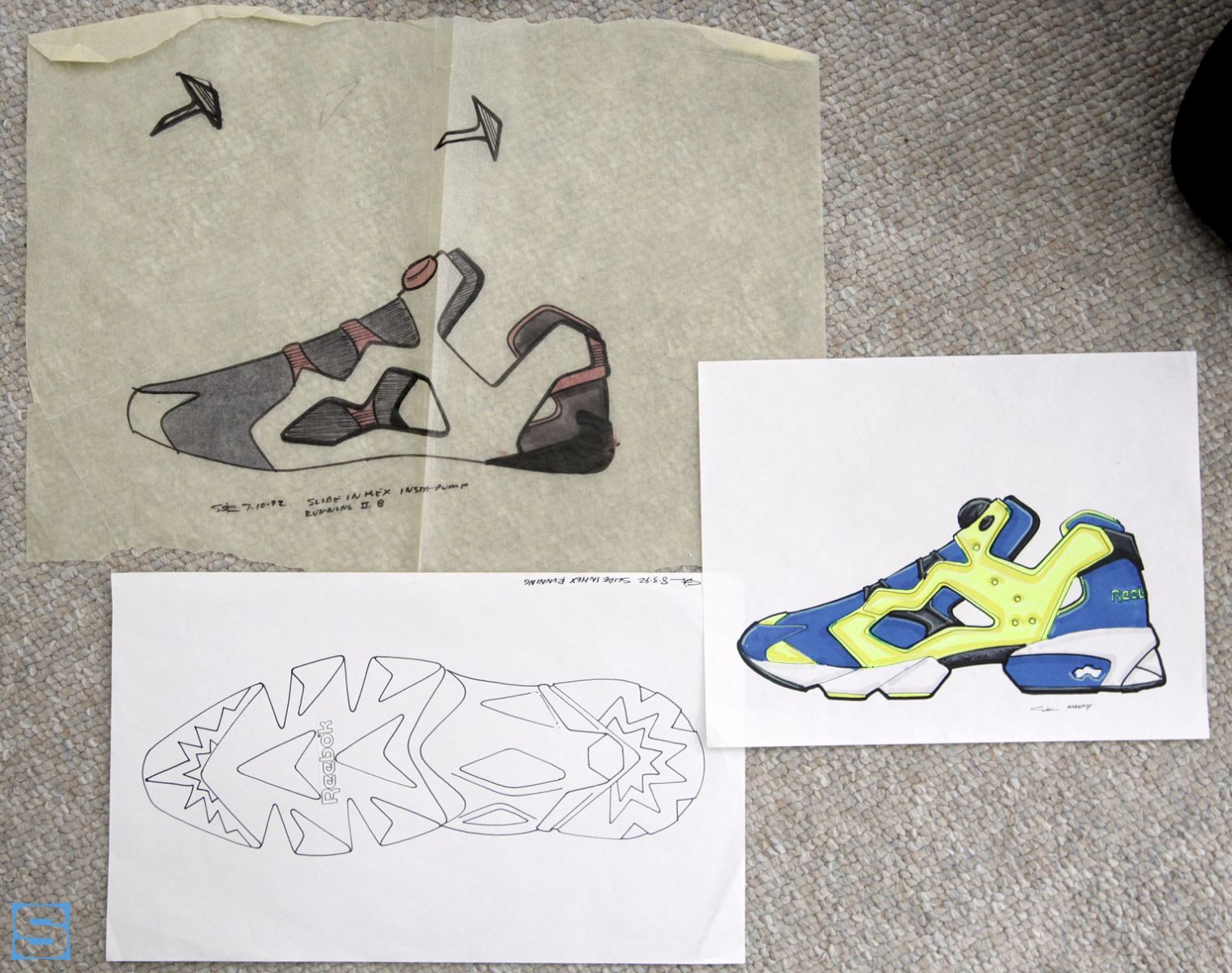 early renderings and outsole design
6.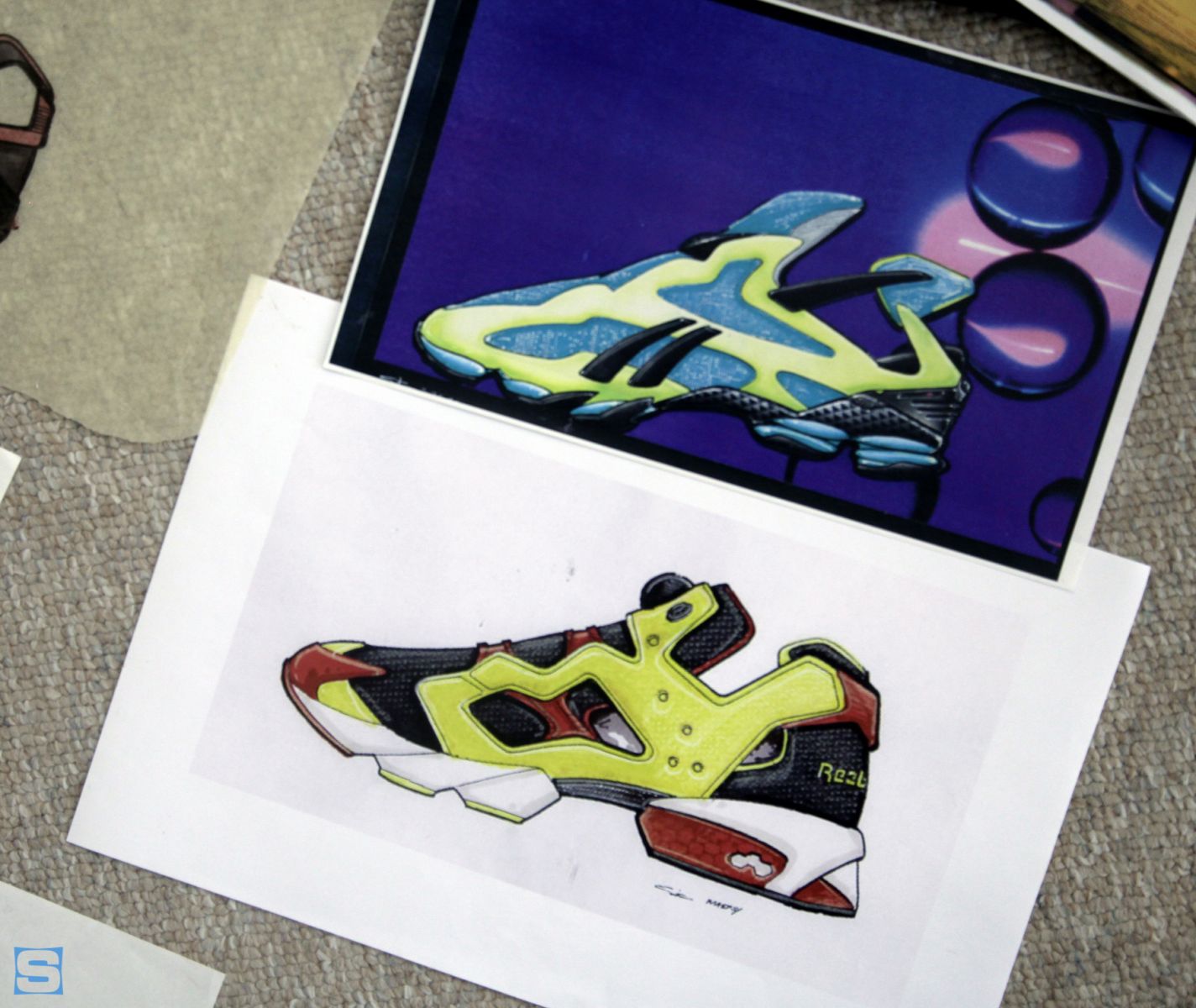 7.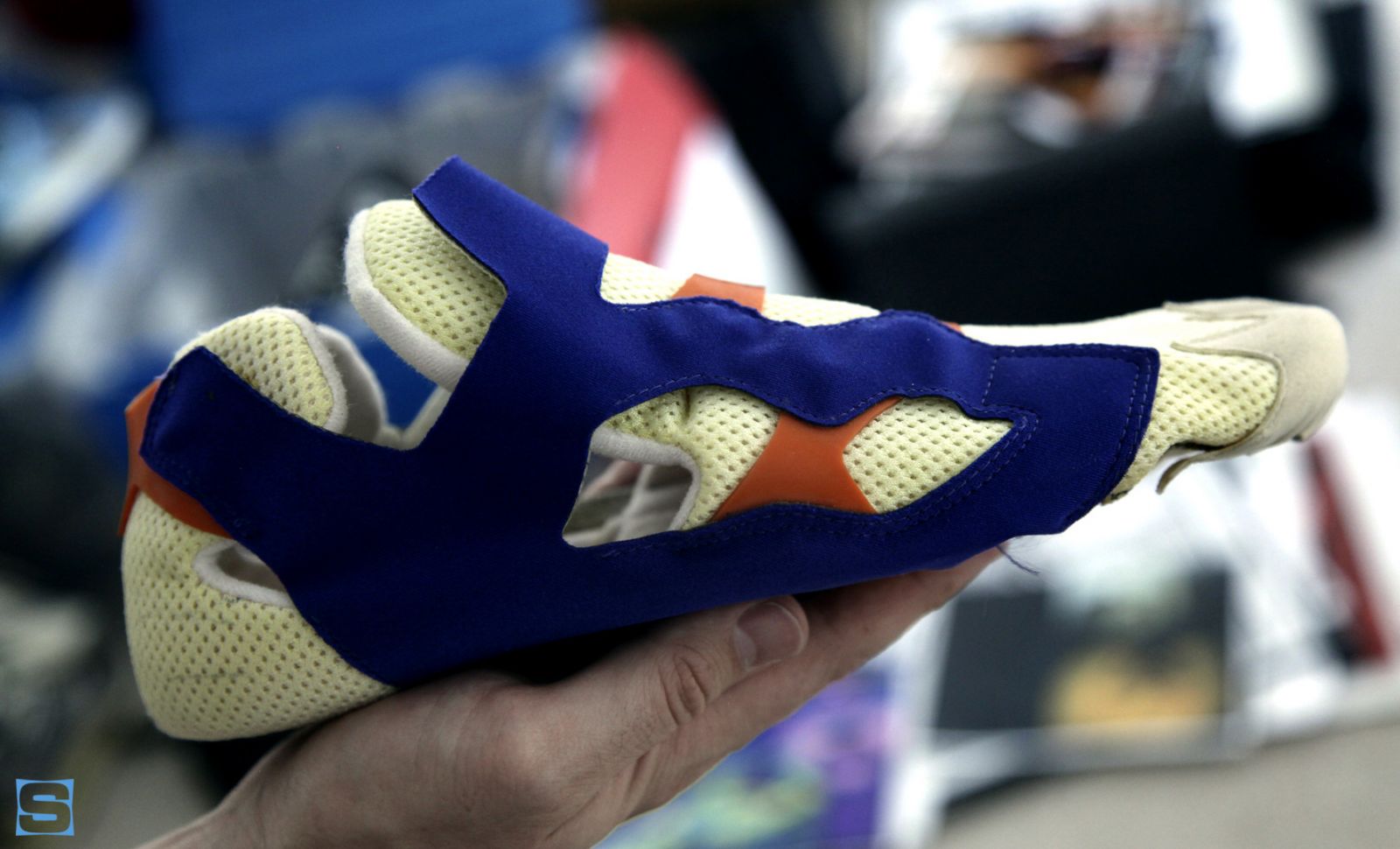 8.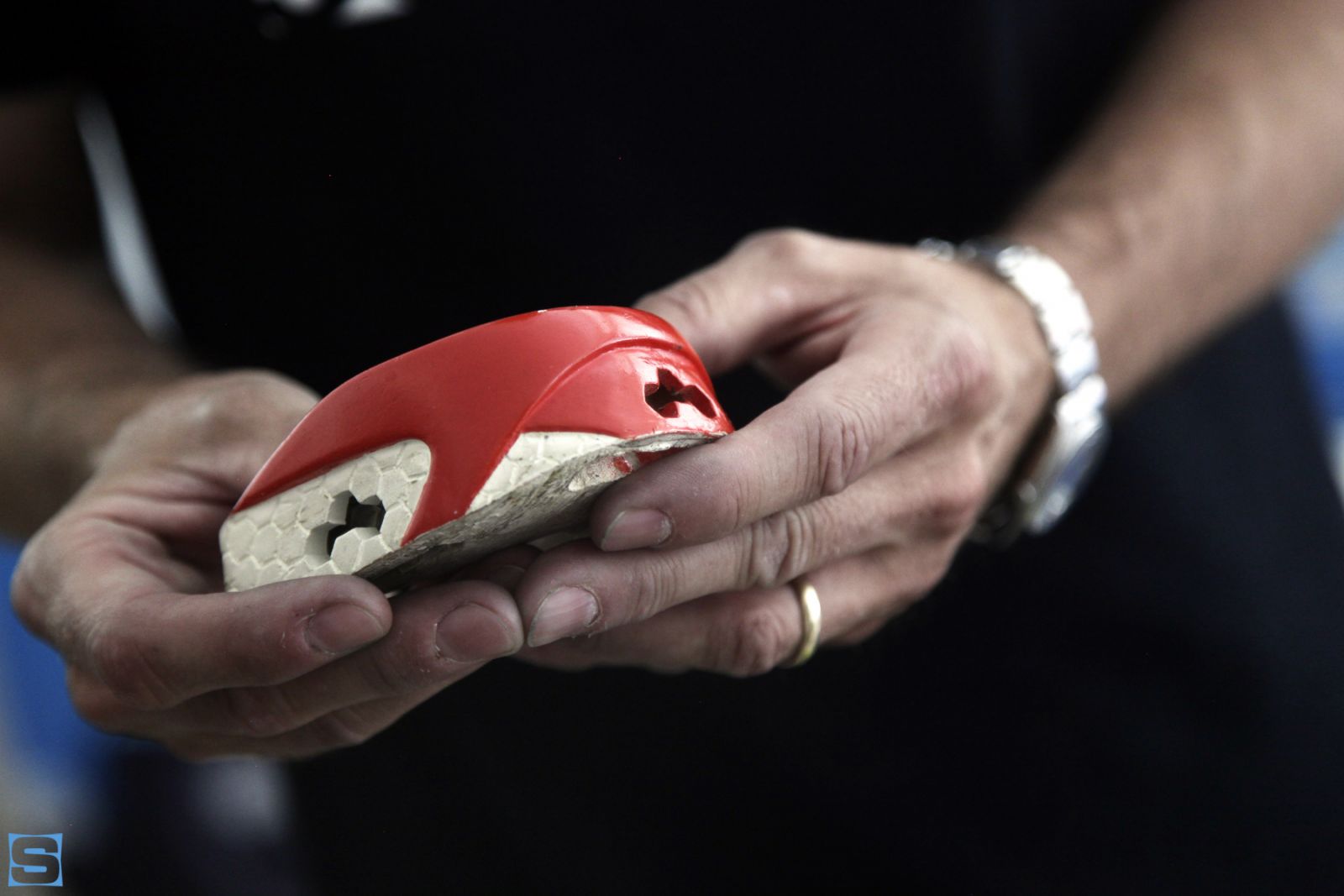 9.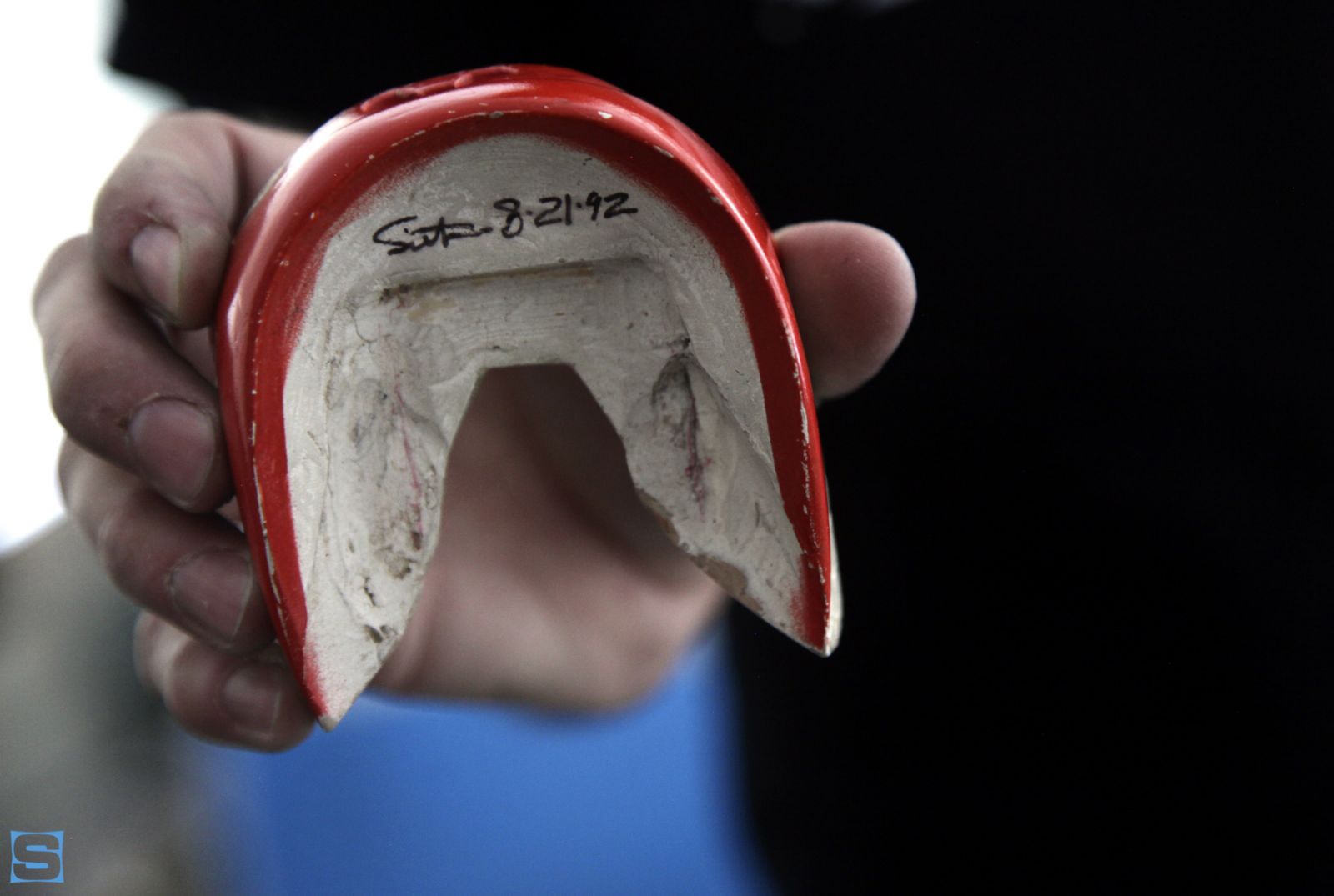 original hand-made mold of heel design
10.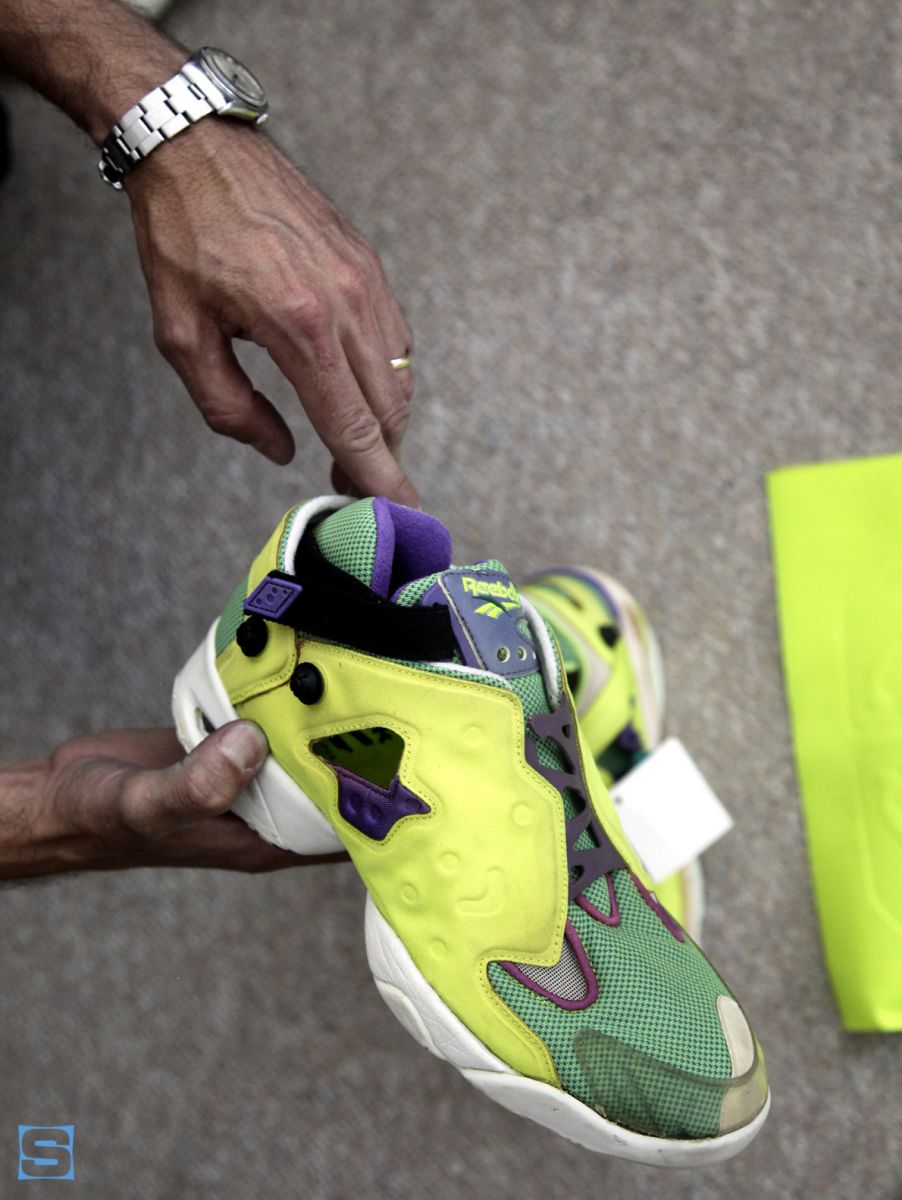 "Fury Tennis" prototype, designed after the release and success of the Fury runner
On the atmosphere at Reebok in the early 1990's and brand president Paul Fireman:
It was a good time (at Reebok), because for true innovation and great breakthrough design, I always say you need a "willing victim," and Fireman was great for that.  He was one of the best guys to ever work for, because he was this incredible stream-of-consciousness thinker, and he would always be like, "What if you did this? What if you did that?"  And you'd go do it, because he empowered you to do it.
11.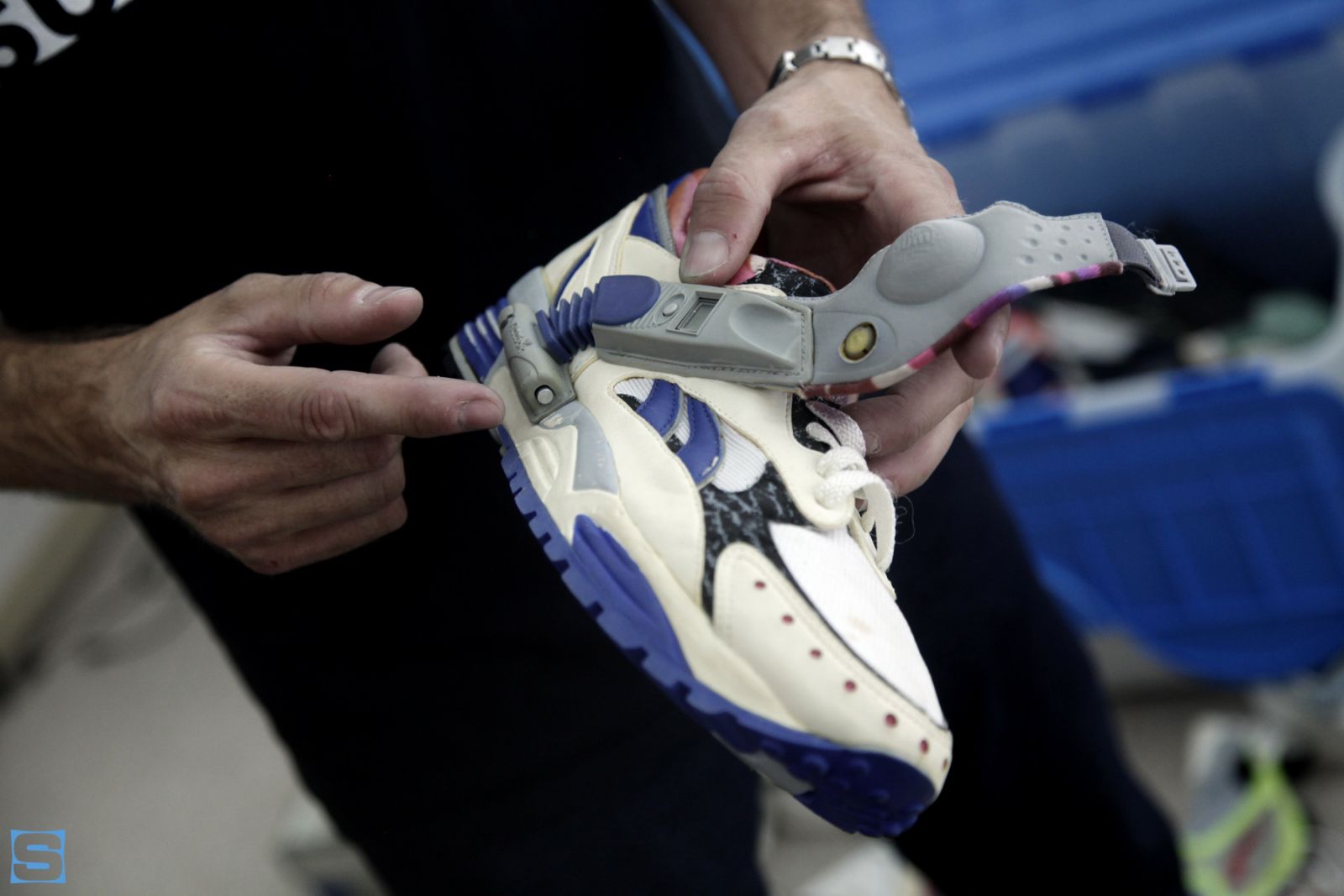 prototype of shoe with Pump cushioning in the sole
12.

"Fury II" prototype
On the creation of the Instapump technology:
The Instapump started out when we were in a meeting talking about the (1992) Olympics.  And Fireman just went, "Guys stop! We have the Olympics coming up and we need something special! I had this vision: Guy comes up, starting blocks, stops, bends down, pff! pff! - tops off his shoes…boom! Wins the gold medal.  What do you think?" And we're like, "Oh, yeah that would be cool". And he's like, "Go do it!"  (Laughs)
Litch and I went to this medical device manufacturing show, and we found this mini electric pump.  So I took that—it was for fluid transfer—and kind of cobbled this thing up, and I put a switch on it and there was a battery. We found out the pumps were like 89 dollars a piece.  So we were like, well that's not happening! (laughs)
So Litch and I were avid mountain bikers and we found this company that was doing these inflators for mountain bike tires and we went and met with them and they worked with us to develop the special head for the Insta-flate, I liked this (pump device) because being a Star Trek geek, I kind of made a mini phazer (laughs).  So yeah, there's a piece of Reebok history.
13.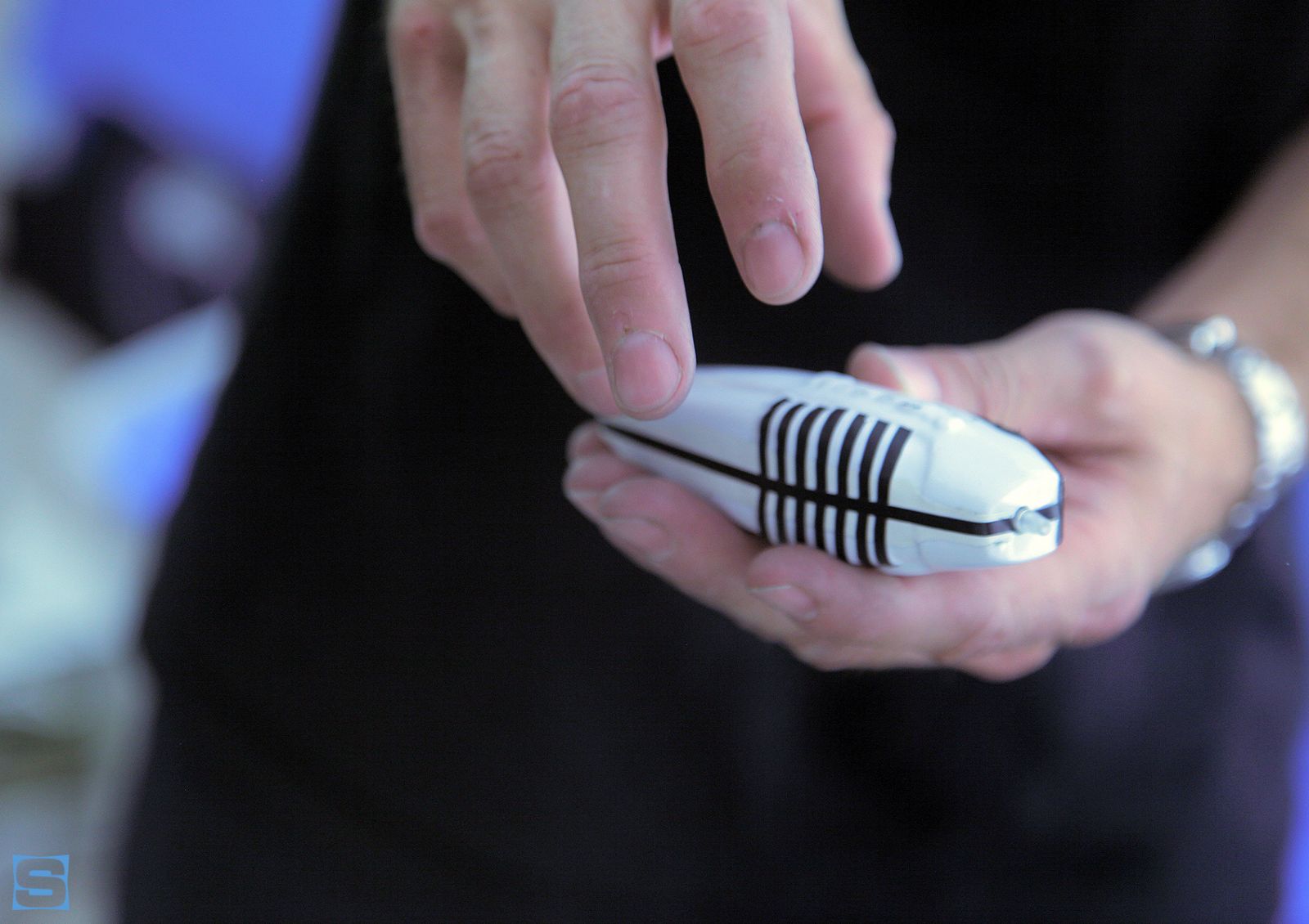 14.
final Instapump gun
Inspiration for the Fury's design:
The Fury is my homage to the Super Comp.  That was the New Balance I knew (as a kid), with these radical colors.  I always loved that because it looked like your feet were on fire. Because it went yellow, orange, then red across the upper.  And so I thought, I'm gonna do a shoe like that.  We were struggling on what to do with the tip (of the Fury), and if you go back to those old New Balances they have that split tip as it came around on the top of your toe, and so if you look at the Fury, it kind of has that little snake tongue tip.
15.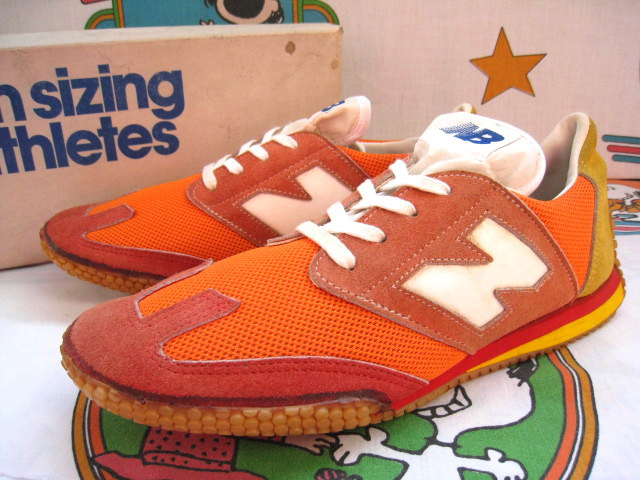 New Balance Super Comp (image via sumally.com)
ZS:  Did you design the original colorway too?
Yeah, again it was that homage to the Super Comp.  It's a famous story… Us on the operations side worked independently from the business side.  Like a real think tank, separated in our own building for design. So at some point we had to intersect the product line (management and marketing) with our stuff.  Fireman had us go meet the marketing guys and show them the shoe and they were like "Whoah!! That's too loud, we can't do that!" And I'm like, "What are you talking about? This thing should be in your face. We're gonna come out with this thing that is gonna blow people's minds.  And if we're gonna do it, you gotta go all the way. You can't go half-assed."  (Marketing guy:) "No, No No. Why don't you go back and do me one that's blue and grey? -- And I was like, "I've done that, I've worked at New Balance before!" (Laughs)  And to make him happy I did that blue, grey and black one, the second colorway. I was like, are you happy now?  "Oh yeah, this is really going to sell." I was so mad, I went home and sprayed them with grey primer—the whole fuckin' shoe—I threw them down on the marketing guy's desk and was like, "There you go!"  And he thought they would sell: "You mark my words, that conservative colorway is going to outsell the radical one at least 60/40."  It was the exact opposite, the red yellow and black outsold that one about 65/35. 
16.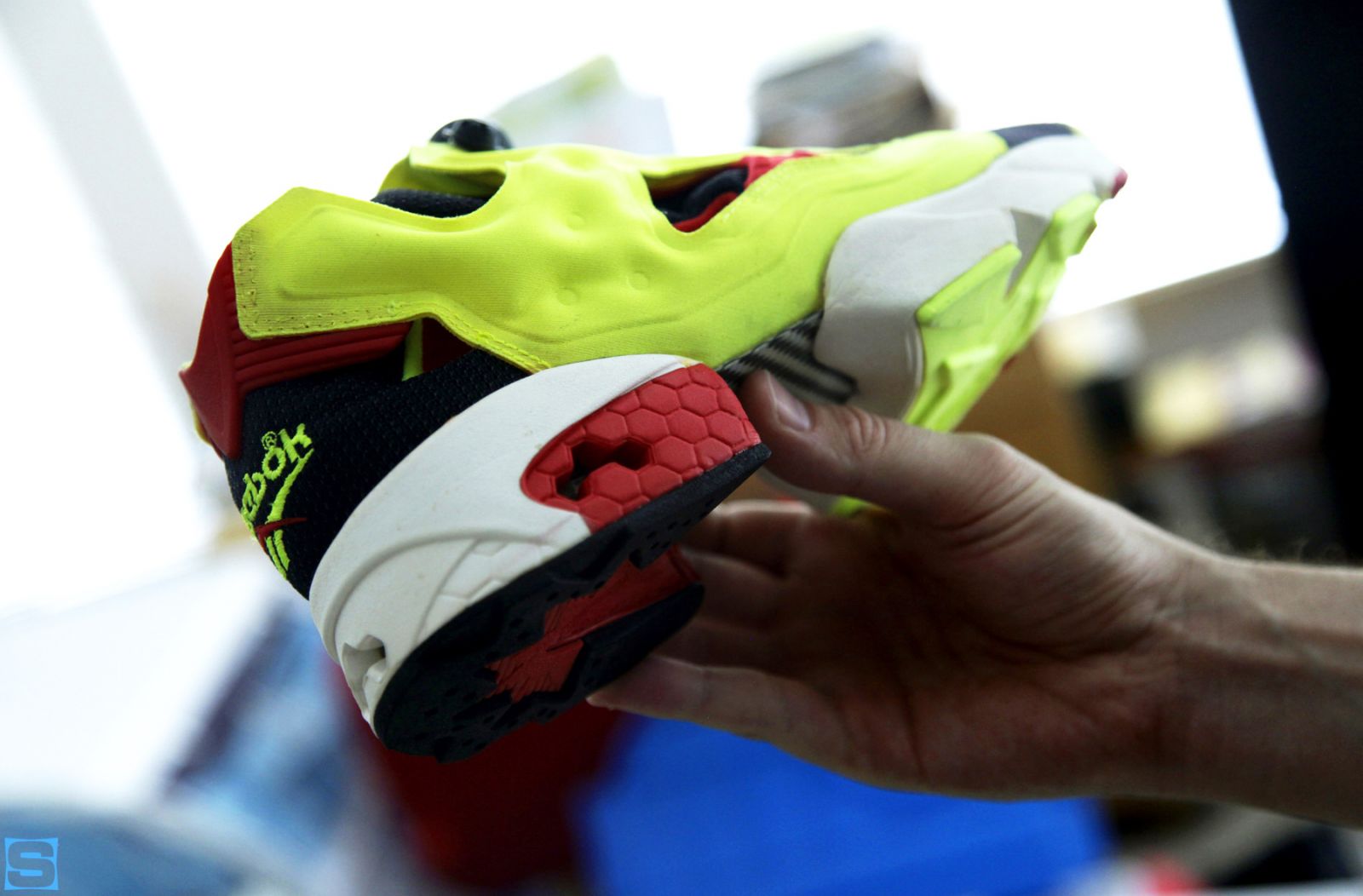 The Instapump Fury:
It's one of my favorites because it's had a life of its own, and there was a lot of blood, sweat and tears that went into it.
17.