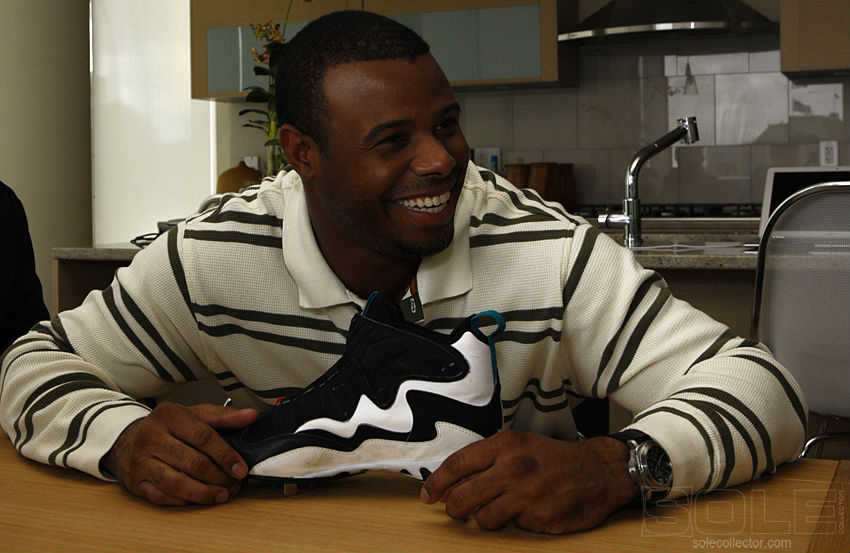 KEN GRIFFEY JR. : THE BROADWAY KID [PART 1]
words // Nick DePaula

interview // Nick DePaula & Zac Dubasik

photography // Steve Mullholand
It's not too often that you get to talk to one of the greatest athletes to ever play his sport – who also happens to be a proud owner of 10 Gold Glove awards and has jettisoned the most career home runs of any current ballplayer, and he says things like, "I'm just a normal dad with an abnormal job." But such is the life of Ken Griffey Jr. He's humble, content and proud, definitely. He's aware of what he's accomplished, but not eager to tell everyone else in the room. Having grown up around the Major Leagues as a youngster with a professional-playing pops of the same name, Junior was used to the bright lights, big ballparks and attention to come, even before it was his turn.
After starring at Archbishop Moeller High School in Cincinnati a decade after his father won back-to-back World Series championships with the Reds, there was no mistaking the future for Ken Griffey Jr., as he was selected as the number one overall draft pick in 1987 by the Seattle Mariners. What was to come could only really be classified as a perfect storm moment. Just as we saw how seamlessly the worlds of heroic on-field performance, a glowing personality and a legendary signature sneaker series could align perfectly for Bo Jackson and Michael Jordan a few years before him, Junior was primed as the next in line to overtake yet another sport while repping the Swoosh. With Nike's Tracy Teague working overtime to design both his on-field cleats and off-field turf kicks, Griffey went on to enjoy one of the most iconic signatures series of the 1990s. He was undoubtedly the first to make baseball shoes fashionable for everyday wear.
With his career now winding down after reaching nearly every statistical milestone imaginable sans an ever-present-in-baseball asterisk, we caught up with Ken Griffey Jr. on an expectedly dreary September Saturday afternoon at his downtown Seattle condo. Unlike most of our one-on-one interview formats, the hour-long conversation was fortunate to have an added bonus in the mix, as we also had Tracy Teague, now Creative Director of Nike Basketball, and Lynn Merritt, Nike's Senior Director of Basketball Development, on hand. Merritt has long worked in the realm of sports marketing for Nike and has been instrumental in the signings of some of the brand's biggest athletes, while Teague has designed many of the brand's most notable cleat and turf models from the '90s. Though modest when it came time to talk about his legacy and conversely beaming when discussing his wife Melissa and three kids, Trey, Taryn and Tevin, Ken Griffey Jr. feels privileged to have enjoyed a long-lasting career that has earned him fans across the globe.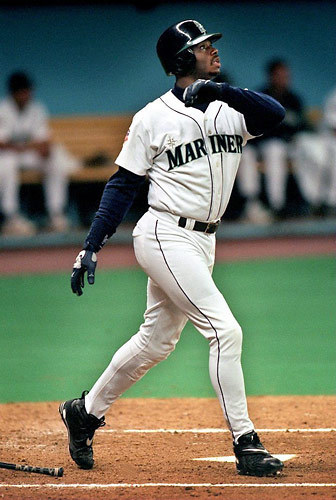 Zac Dubasik: We all know you got started pretty early with your pro career, but when did you realize that professional baseball was going to be something you were going to be doing?

Ken Griffey Jr.: Probably from day one. Having a dad who played professional baseball, you always want to follow your dad's footsteps. When football season came around I played football, and when basketball season came around I played basketball, but for the most part I knew I wanted to play baseball. That was an easy decision. Plus, I wasn't really that big. I think my junior year of high school I was about 143 pounds. [laughs] I ended up coming back as a senior weighing about 190, but by that time I had made my mind up that football wasn't going to be the choice for me.
ZD: How important was your off-season training for you at that point?

KGJ: During the first couple of years, not too bad, I was still a teenager! [laughs]

Nick DePaula: What were you doing with your training at the time? Going from 143 to 190 pounds is quite a jump.

KGJ: Ah man, I just had a growth spurt. That was it. There wasn't anything that I had done really. At that time, my dad didn't believe in lifting a heavy amount of weights because he knew that I was going to play baseball. I'd go into the weight room with the football team and do half the things that they were doing because I knew I wasn't going to play. [laughs] For the off-season, it was really just riding bikes and hitting for the first couple of years. Then, it got to the point where I was gaining weight and getting bigger, and I had to start lifting, which was quite an achievement for me. [laughs] I have a younger brother who played at Ohio State, and he just got big real quick. He went from 140 as a senior to about eight weeks later like 180. I didn't even recognize him when he walked into the locker room. I was like, "Who is this bald guy standing at my locker lookin' at my stuff?" He turned around, and I was like, "Ooooh! I know who that is." [laughs]
ZD: What was it like being that young and under the spotlight already?

KGJ: You know, it's one of those things where it's not normal. For me, it's not normal anyway, but I think of myself as just an ordinary person. I tell all of my kids that I'm a normal dad with an abnormal job. That's it. I don't consider myself different than anybody else, I just happen to be fortunate enough to play baseball and do something I love to do. That's about it. If you ask all of the coaches and parents who I've had contact with, if they didn't see me on TV, they wouldn't know who I was.
ND: And once you got to the pros, how did your off-season training evolve? Most people that we talk to say once they got to college they really started to learn to train, but of course you took a different route.

KGJ: Now, strength and conditioning coaches give you a pamphlet, and if you can't follow that, then you don't need to be doing anything. [laughs] It's simple, they have pictures and they tell you where they want you month by month. By the time you get to spring training they expect you to be at a certain point. They start you off in late October, and by the time you get to Christmas you're in high-intensity training, and then they throttle it down and build it back up right before you get to spring training. The toughest part is probably the whole month of December, and after that it's less weights and more running.
ZD: How important do you think those programs have been to the fact that you're still playing?

KGJ: They've been pretty good. I've been fortunate enough early to not have many injuries. Lately, these past seven years I've had a few setbacks. For the most part, my conditioning and what I need to do has changed and is now less weights and more bike. It's more speed training as far as on the bike. No pounding, so I try not to run on the treadmill. It really ranges, though. We'll ride the bike for only 15 minutes sometimes, and that's my workout for the day, or we'll sit there for an hour and 15, and it's like a nice pedal through town.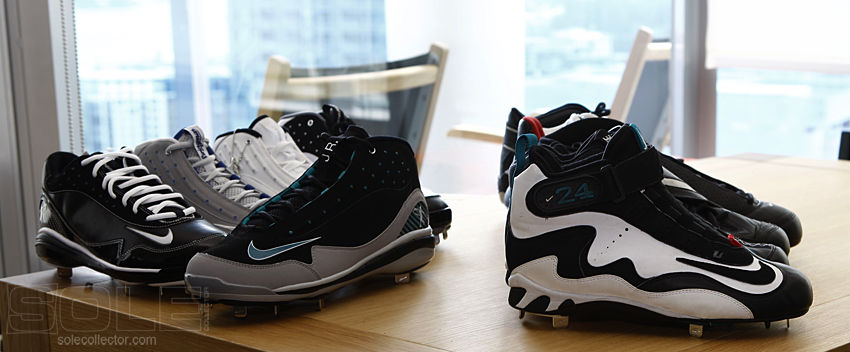 ND: Obviously when you were coming up, you were such a big name already, but how'd you first get involved with Nike and how'd that relationship evolve?

KGJ: Well, it was a shoe that every kid in America wanted. I was 14 and we happened to play basketball, and my dad was a big Dr. J fan and he grew up wearing Converse. His thing at the time was, "I'm not gonna buy a designer shoe." We ended up talking him into it! I had the black, white and red first Jordans and my brother had the white and red. As we got older, right when he got to New York, he was allowed to sign a shoe contract, and he signed with Converse. He brought home that hideous Los Angeles-color sweatsuit, and he was like, "Hey, look what I got y'all!" [laughs] We just both said, "Ahhh man, we're not wearing that!" Before that, they all wore all Rawlings shoes, and it was mandatory. Everyone had to. You could screw the spikes out as one, all the spikes in the front were connected, and the whole plate would just pop out. They were kangaroo leather and something else. The funny thing is my dad still had a pair around, and we had "Turn Back The Clock" day, and I was going to wear them. We ended up, after a couple of years, talking him into signing a Nike contract, which is funny because he can honestly say he had the first Nike contract in the Griffey household. From that point on, we would have shoes come to our house and we were always just Nike.
ND: And when was it brought up that you were going to start having your own line of shoes, and what was that like for you?

KGJ: It was a little weird, because I kept telling my mom as a kid that I was going to have my own shoe after Jordan had his. I was like 14, "I'm gonna have my own shoe!" She was like, "Yeah, whatever." You know parents. [laughs] When they finally came up to Seattle and they talked about it, the first thing I did was call my mom and say, "Well mom, I got my own shoe." She just started laughing. It happened, and I was pretty excited about it happening. For me, the loyalty was the key. We had some ups and downs, but for the most part, Tracy and I had some ups and downs.
Tracy Teague: So when we were working on baseball, this was right when Junior was starting to blow up. We did the Show High and we were doing some hi-tops, and what we saw was that we couldn't make 'em bright enough for these guys. It was not just him, but there were some other guys that kept telling us, "You gotta give us more; you gotta give us more."

KGJ: Our team was navy blue, and I'm wearing royal blue hi-tops. [laughs]

TT: That's when we did the Diamond Fury. We did royal blue and they had lime green on them. Everyone is wearing navy and Junior comes out rocking royal. When we did this, everyone would gather up in Portland, and we'd talk about busting out and doing these one-year looks, doing something really wild. Junior was one of the main guys that we worked with when we were doing that. He was real instrumental in getting the Diamond Fury over the top. We had the first one and then the Diamond Fury II, and he was going to be the guy that was really going to help us push the Diamond Fury II. Of course, the first game we give them to him was up here in Seattle, and he was 0-4 or whatever, and he's like, "Forget that, I'm out. No hits in these." That was the quote. "There's no hits in these." [laughs]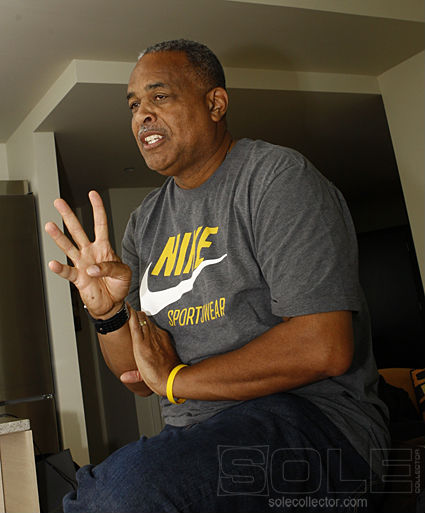 ND: Did the story go differently? [laughs]

KGJ: Probably not. There might have been a few different words in there. [laughs]

Lynn Merritt: You can even reel it back just a bit, because there were four guys that we were looking at. Bill Frishette kind of told us, "These are the guys you need to cruise around and kind of see which one is going to be the future of Nike baseball."

TT: We knew we wanted to blow something up, but we wanted to do it with one guy.

LM: Right, so it was Bonds, Frank Thomas, Dave Justice and Ken. I went around and visited all of 'em. I kind of liked Dave Justice, 'cause he was married to Halle Berry at that time. [everyone laughs] For a minute there. But by far, Ken was the most youthful and gave Nike the width to be able to do a lot more than some of the other guys. Plus, his talent was skyrocketing.

TT: If you guys remember, the first commercial that Junior did for us was for the Diamond Fury cleat.
ND: Do you remember any of the specific things you were looking for or you asked for once you guys started talking about your first shoe?

KGJ: Just make it loud. At that time, I wanted to be different than everybody else. I think that was the one thing that I wanted. A big ol' Swoosh on there, too, and I wanted a strap. I think I was really adamant about the strap.

TT: When we were developing his first shoe, you were supposed to come out in them the next year, and you kept killing us so bad, saying, "I gotta have 'em, I gotta have 'em." We said we'd make you some, but don't wear 'em. It was right before the Playoffs when you guys were playing New York.

KGJ: But what happened?

TT: Well, the cover of Sports Illustrated. [laughs]

KGJ: Exactly. Which is my favorite cover.

TT: So we made those in the sample room at Nike. We just said, "Try these out, see if they fit and everything." Me, Mark Kavanaugh and Chris Crawford the developer are in Charlottesville, Virginia, working back there with their football team, watching your game. You take off from first base after you hit it into left field and you're rounding into second and planting. Everyone else is thinking, "God I hope he scores," and we're all thinking, "God I hope his shoes don't explode." [laughs]
ZD: How important was it for you that there was a turf version available aside from your cleat so that your fans and even you could wear it off the field?

KGJ: Having a shoe and only wearing it for baseball didn't really work. I don't think it would've worked for me or for Nike. They put a turf bottom for me to work out and be able to take batting practice, and that was really the most important thing. It just went on to retail, and to be able to do other things in it and be fashionable wearing them with jeans—I was really adamant about that.
ND: When that first shoe was coming out, Penny, Michael and Charles also had their own shoes, but did you expect your line to grow and become such a big hit?

KGJ: Nobody is gonna take the place of Mike and Bo. Those were just the guys that were up here [points high], and we were all somewhere below. Those guys built Nike. To be able to work with a company that has a track record for both great athletes and great people was easy. Nobody was gonna be able to take the place of those guys, and I don't consider myself anywhere near them. Everybody knows the Michael Jordan commercials and everybody knows the "Bo Knows" ads.

LM: But people know the "Hit It Here" ads, too, Ken.

KGJ: Ah, I don't know.

TT: Oh come on. I would say that it's pretty rare that you can be synonymous with a game like baseball. If you were to ask five people then, "Give me the name of somebody that is synonymous with baseball," this guy is gonna come up.

KGJ: I'm telling you guys, I'm just a normal guy with an abnormal job.
ZD: You were talking about both Michael and Bo, and those guys both have buildings at Nike named after them, and so do you. What'd that mean for you when you got your building?

KGJ: It was quite an honor. I was quite shocked. It was very humbling that a company that I represent on and off the field would throw a building up for generations of future Nike athletes to come visit. The only thing I'm upset about is Lynn ain't in my building. [laughs]

LM: Man, I could have a nice corner office in there. [laughs]
ND: And what was it like working on all of those commercials? You were even showing up in some of Penny's commercials.

KGJ: Well I lived right down the street from Penny. We actually lived in the same development at the time. I had a lot of guys from different sports living near me. Dee Brown, Dennis Scott, Penny, Shaq was my neighbor, Mark O'Meara, Lee Janzen. Tiger spent a whole ton of time at my house, too, 'cause he couldn't cook at the time. [laughs] So he would just come over to my house and eat all my food. Sammy Duval, a waterskier, all of these guys lived right around me in Florida, so it wasn't a problem if you needed golf clubs or a basketball. [laughs] Work on your jumper, you go to Penny. Work on your rebounding, you go to Shaq. 
Be sure to check back for Part 2 of our interview with Ken Griffey Jr., where Ken discusses the models in his iconic signature series.