words & interview // Nick DePaula
26 bones. 33 joints. More than 100 muscles, ligaments and tendons. 
All that combines together to make up just one human foot. 
For Ross Klein, Lead Designer of the new 10.7 ounce Under Armour Anatomix Spawn, he wanted to tackle building a shoe based on the principles and needs of not just a specific player or sport, but also around the human foot itself. 
To get a full breakdown of the latest shoe from Under Armour Basketball, which launches September 1st, I caught up with Ross Klein earlier in the week over the phone. Check out the performance insights, many inspiration sketches and loud layered colors of the new Anatomix Spawn ahead in this exclusive interview.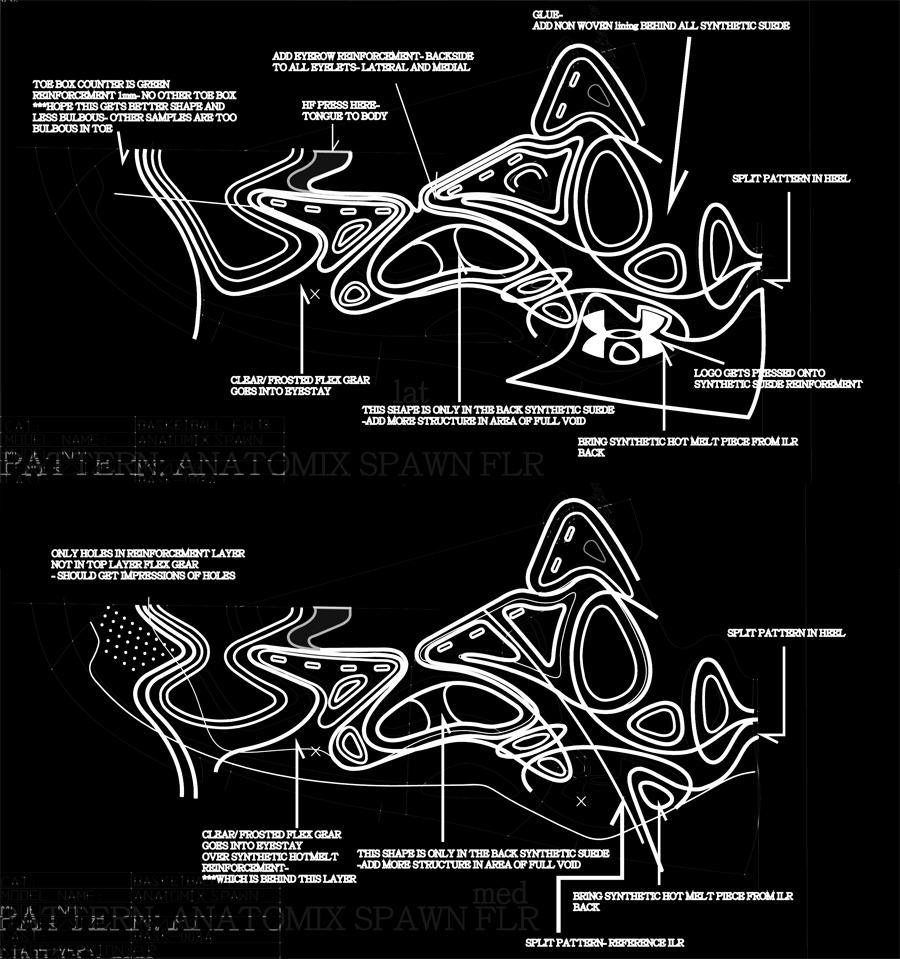 Nick DePaula: Last fall, you had both the Spine and the Charge, which were more visual stories in terms of cushioning and support. Here, it looks like you guys are focusing more on fit and having the shoe play closer to the ground. Can you just talk from a high level about what the approach this season was as you guys began to build the new Anatomix Spawn?
Ross Klein: Like you said, fit is a focus and fit is pretty inherent at Under Armour. It's becoming so meaningful that we really look at every shoe we create at the high pinnacle level of performance and we're measuring every single part of it. We looked at the last, and a big thing for us in basketball was to improve that and create a fit that had zero dead space. One big portion for myself and the team, is that once we started to slim out the last and work on the initial pullovers, we then looked at any area of the shoe that we could pinch and take more out of. We re-worked the pattern and re-worked the last to get a customizable fit. "Conforming" and "pliable" were really the key words all while we worked on this shoe.
NDP: Once you got into actually creating the look and the design, was there any point of inspiration or anything that you wanted to particularly go after?
RK: Yeah, and when you see the shoe, it has an emotional quality to it and obviously sparks some communication. For us, when we looked at fit, like we do with a lot of other shoes, we're looking at the foot itself. The reason why the foot looks the way it does, is because it works the way it does, and it's that very simple idea that meant a lot to myself and the other designer that I work with, Tom Spence. We started to really look at how students in college look at the foot and how professionals look at the foot. What does it mean to them? We got a bunch of different perspectives from other people and were learning a bunch on our part. We came up with the philosophy that the design should really wrap and mimic around the foot.
NDP: The upper obviously has a lot of different molding for support and then layers of mesh in the relief zones. Can you talk about any of the specific zones that you really wanted to focus on here?



RK: We worked with quite a few material vendors to really dial in this upper pattern, and in the shoe, you're going to see several overlaps and then some more stagnant areas. One material can use different densities and thicknesses throughout, with different strength qualities, and when they all act together, they get much stronger. When they're more separated, that area will be more elastic and flexible. Very much like the foot, when you look at the ligaments, the muscle, tendons and all of these different parts, we tried to replicate that here for a high performance basketball shoe.
NDP: I've seen some feedback online that's compared the upper to Hyperfuse. What makes this different and what have you thought of that comparison?
RK: It might seem like a similar construction to the Hyperfuse, but with a hot melt like this, it's just a way of layering a synthetic. I'm actually talking to you right now from a materials library at our headquarters, and there are hundreds of vendor books that use hot melts that I'm going to be looking through after we're done here. The key trigger for us was further developing the hot melt itself, and that makes it more special to us. As a company that's known for materials and as a company that gets down with the makeup of the materials, that's something that we catered to on this one. Fit is a sensitive feature to high level athletes, and when people are putting on the torque and forces onto these shoes, the performance and the value of these materials is inherent in the product. It's a big key feature for this shoe.
To continue reading, click on Page 2 below.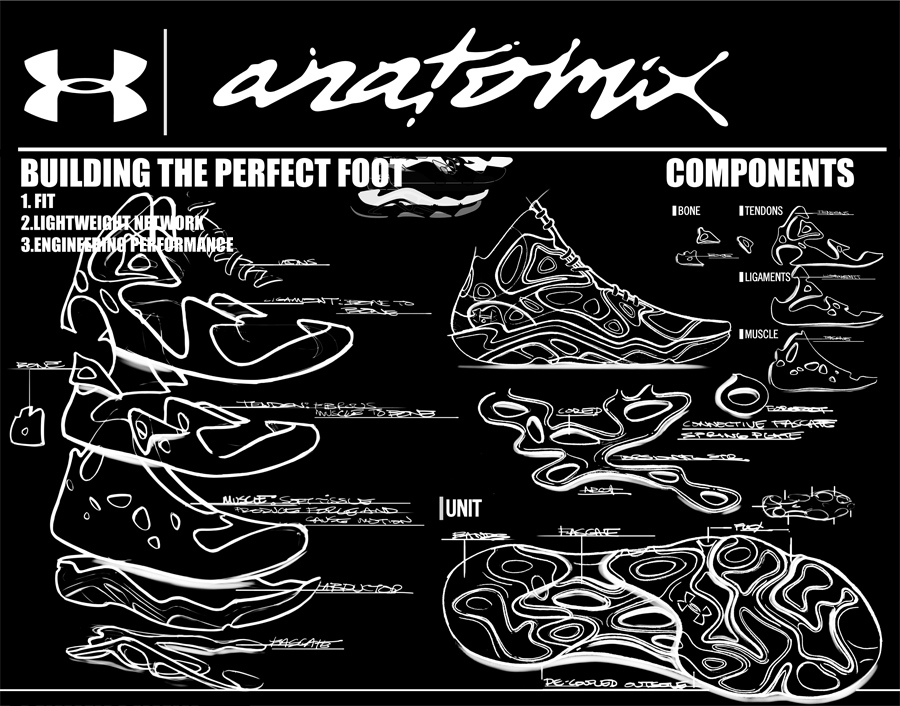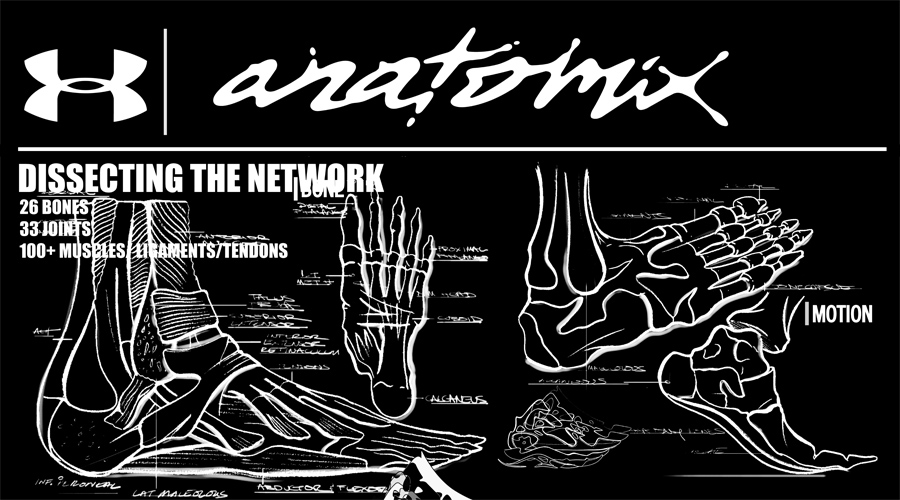 NDP: I assume you guys were on a 14-month timeline or so. How far back did you show the shoe to the players, and what was their initial feedback along the way?
RK: We showed the shoe to guys back in February. From there, this is actually the most rounds of weartesting and pullover adjustments that we've ever done in a shoe, and for us, this is standing as our highest performance basketball shoe on the market when it arrives. We wanted to make sure we were getting feedback from as many people as we could from the high school, college and pro levels, so that we could tweak and make sure that these worked for a variety of different players. We did six or seven rounds of testing, and some would be quicker and some would be more lengthy, depending on the fixes or adjustments we were looking to test out. The great thing here is that all of our athletes have been playing in it so far this summer, and that lends that credibility to the performance of the shoe. We have other shoes in the line, but they've all wanted to wear Spawn.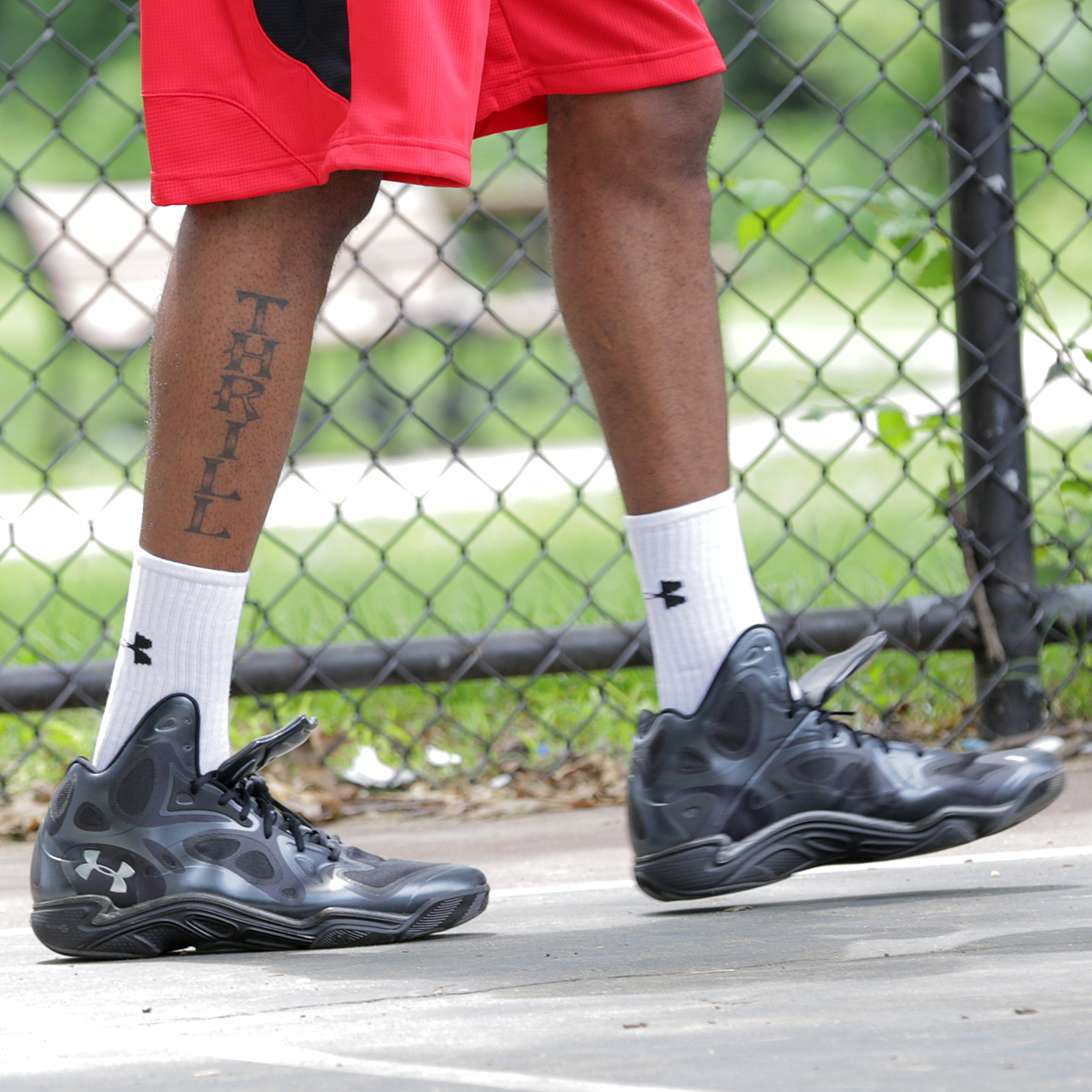 NDP: Something I noticed from the samples is that the outsole appeared to change along the way, and there's more rubber coverage added in now. Can you walk me through the outsole design, the different zones of it and how things progressed along the way?



RK: Sure, and for the outsole design, we really wanted to core away where you're not having as much ground contact. We did a lot of slow-motion tests to see if there are some parts where you're really not applying as much contact, and then in the other zones, we wanted to make sure things were as natural feeling as possible. You'll see that a lot from us at Under Armour, with shoes like the Speedform, where we've taken an approach of minimalism. Here, we see the basketball market and the people we're focusing on as these extremely fast, agile types of players. We wanted to cater to that, and the types of herringbone you're seeing on the outsole, we went through three or four different types, to find out what would be specific to basketball and also have great durability. You'll see across the shoe different thicknesses and depths, and we went through a lot of tests to see what's going to stick to the floor and deflect easier. We went with a rubber that's a little softer, so that the traction on a court is unbelievable, but it's not too soft, so that it can still hold up great outdoors.
NDP: One thing that seems different from last year, is that with the Spine you guys had some more tame colors that came out at retail. Here, you guys are going way louder. Can you talk about that color approach this year and what we'll be seeing ahead?
RK: Yeah, and definitely on our side on the product creation team, we're always excited to be doing things that are more radical and different. We also heard the same things from our athletes too. They wanted something that was a little more unique and a little different, and caused for more personality within the shoe. We really hooked up our Elite 24 versions with apparel as well, and that stems from a company-wide approach.
NDP: Is there any particular one, whether it's from the launch batch or some of the player versions, that you think best showcases the shoe?
RK: In terms of my taste and the feedback I've heard from other people, everyone is onto the hyper colors. They're all really bold, and I think people are gravitating towards all of them. The one that highlights the shoe probably the most, is the blue and red one that's going to be included in the launch. They just seem to work really well.
To continue reading, click on Page 3 below.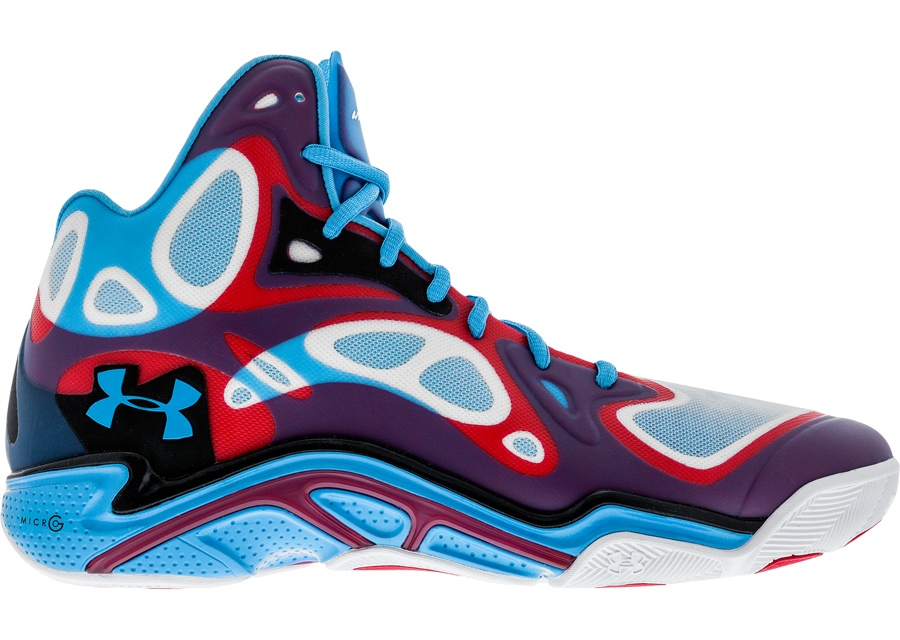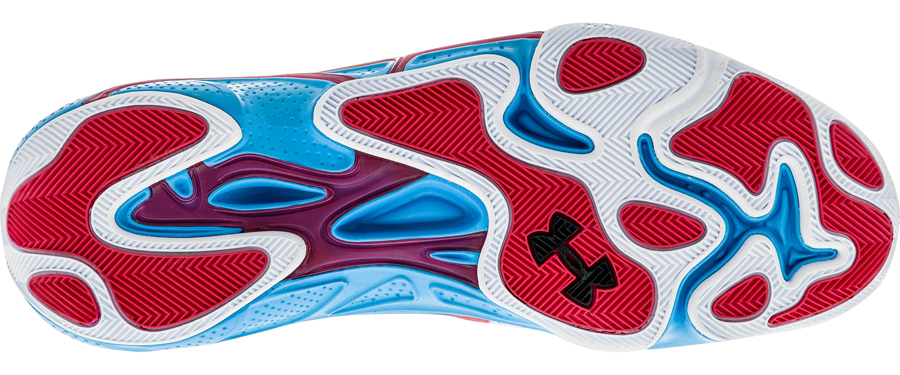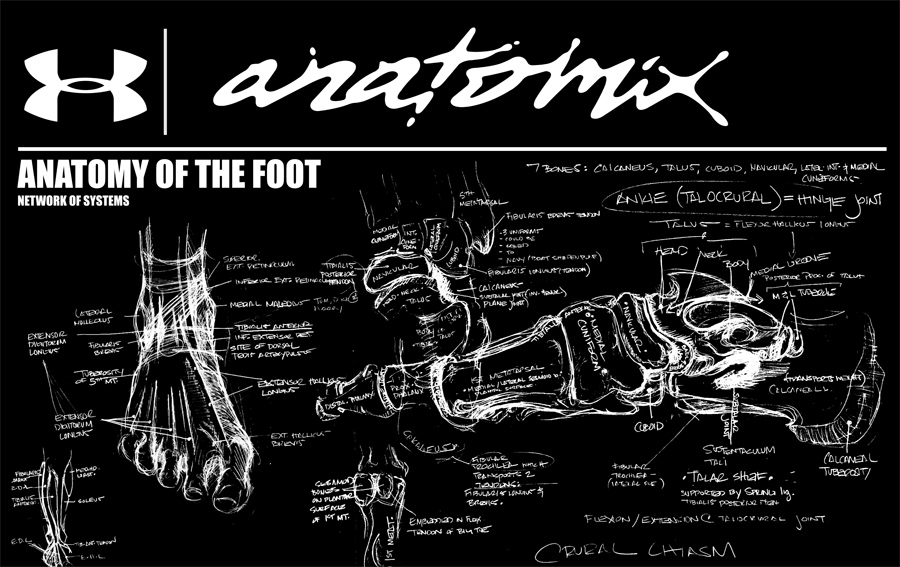 NDP: A lot of things going on in the industry right now are really focused and centered on weight. Was there a weight target in mind going into this?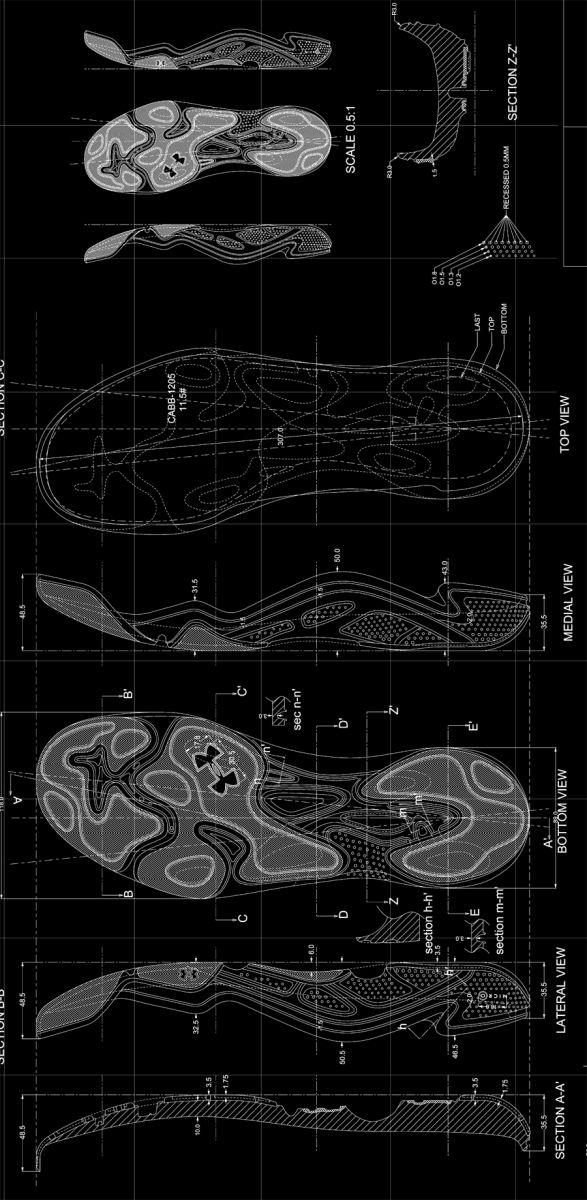 RK: We talked about weight a ton, and everybody plays the weight game now. We made sure that our principles were fit, performance and speed, and the lightweight aspect wasn't the only focus here. We knew inherently that if we're building it the way we had been talking about it, that it would be light. The shoe ended up at 10.7 ounces, which is a great weight, but we also wanted to make sure that it's strong, and that it's going to have great support when our guys are playing in it.
NDP: Last year with the Spine, the cushioning platform was a little more visible, and here you guys have Micro G again, but for somebody that sees a photo online of the shoe, what are the cushioning elements that they might not notice at first glance?
RK: We used Micro G in the Spine as well like you said, but you're right, it's not as visible as the 2-core process last year. The reason why, is we focused a heavy amount on taking a lot of stuff out with the segmented outsole. You're also going to see that TPU chassis that runs from the lateral side and then underneath the foot. That really provides torsional strength, allows you to be a little flexible too, and then you're not seeing it, but under the rubber in the forefoot there are two anchor points for that chassis that help to provide some snapback once you're flexing from the forefoot and taking off. Another thing within the shoe is the insole, and we're using a molded Micro G insole across the whole sockliner. There's also a cored out full Micro G midsole that is more cored out and anatomically built.
NDP: Other guys like Kemba and DeAndre have been playing in the Mid, and I noticed Brandon was wearing a Low version of the Spawn in a cool green camo colorway. Do you know what the plans around the Low are?
RK: A big thing this year for us, is that what you're going to see the athletes wearing, will for the most part also be what you're able to go and get. Whether it's a limited run or a little bit bigger, that's a philosophy that we're headed towards.
NDP: Last year with the Spine, there were some cool "Maryland Pride" colorways that the Terps wore and then also some other college Pes. Are there any particular ones that you're really looking forward to for this season?



RK: There's quite a healthy program that's set up for special themes and different retailers. We have things for Maryland of course, and then we'll have things spanning several months as well for all of our teams.
NDP: For somebody that's jumping in and seeing that you had Spine last year, with Charge as well, and now comes Spawn, can you just speak to a brand and category view of where Basketball is headed and what people can expect the design language and feel to be going forward?
RK: The thing about us is we're very adaptive. The main thing is fit. Right now, creating no dead space in the shoe is one way of tackling it. How our category and silo is set up, we're all going to be centered around that. We've gotten very specific about what that feel is and what great fit can be, and what you're seeing in terms of visual, identify, and construction from those three – Spine, Charge and Spawn – they're all a bit different. In terms of the visuals, we have room to build on every one of them. They're all great avenues that are very proprietary to Under Armour. 
For additional colorways of the Anatomix Spawn, click on Page 4 below.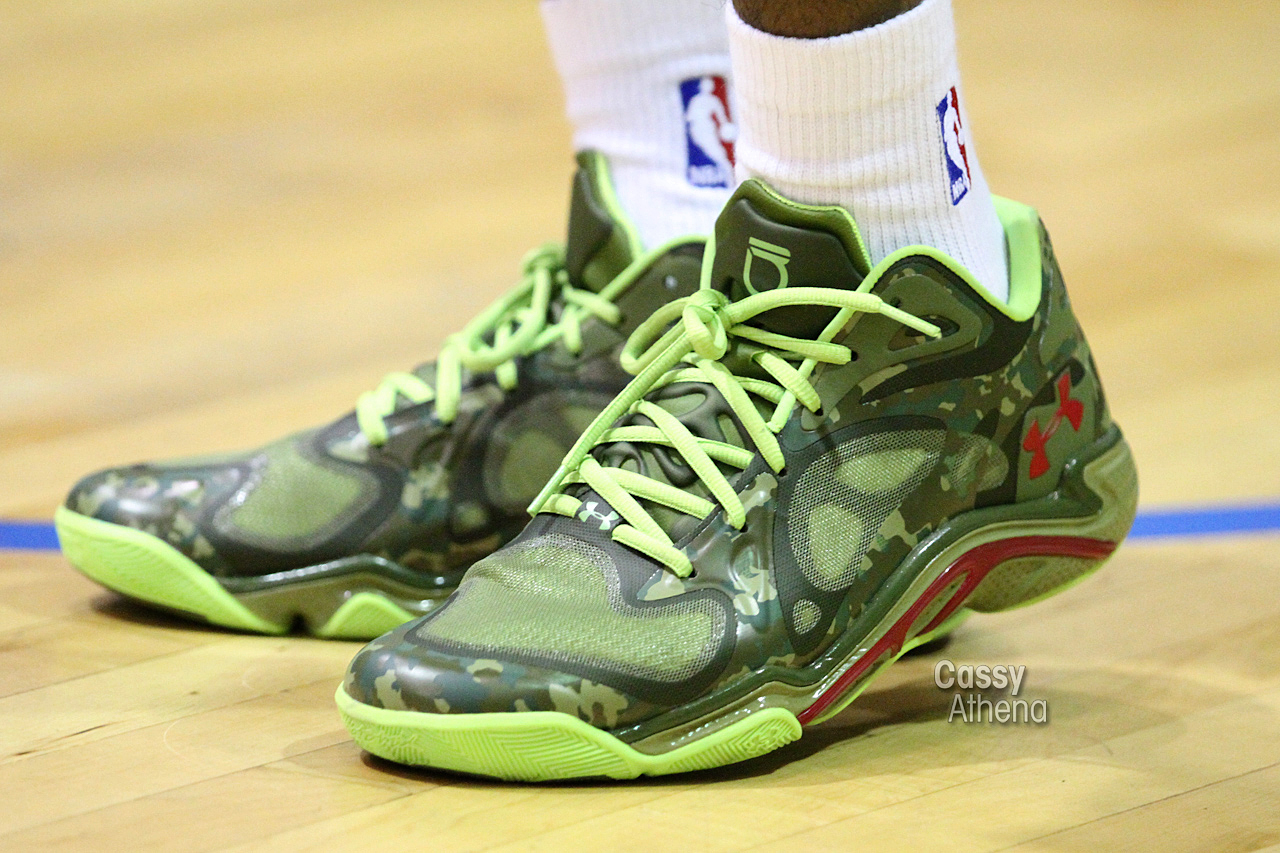 Under Armour Spawn Anatomix -- Blaze Orange / Indigo / Velocity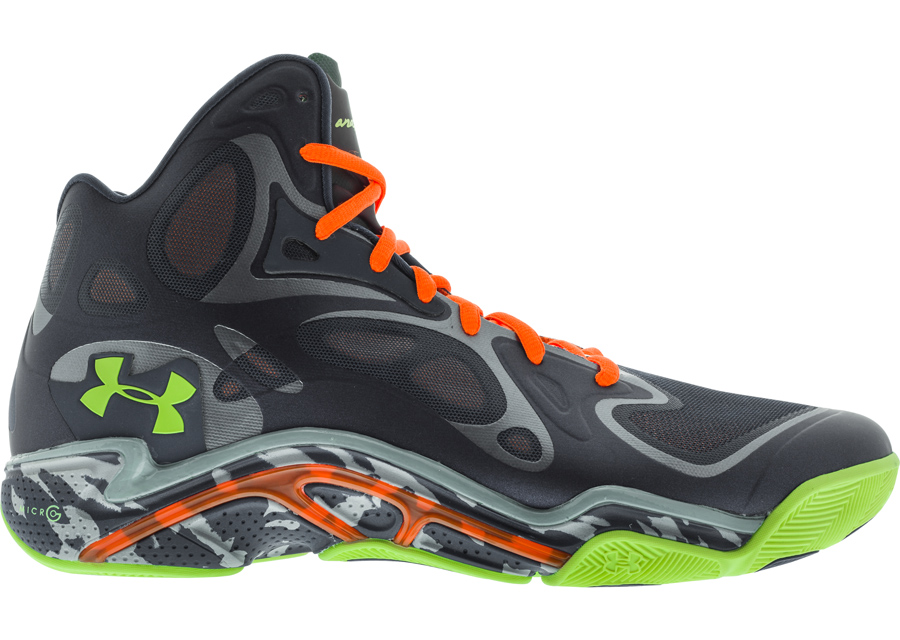 Under Armour Spawn Anatomix --  White / Black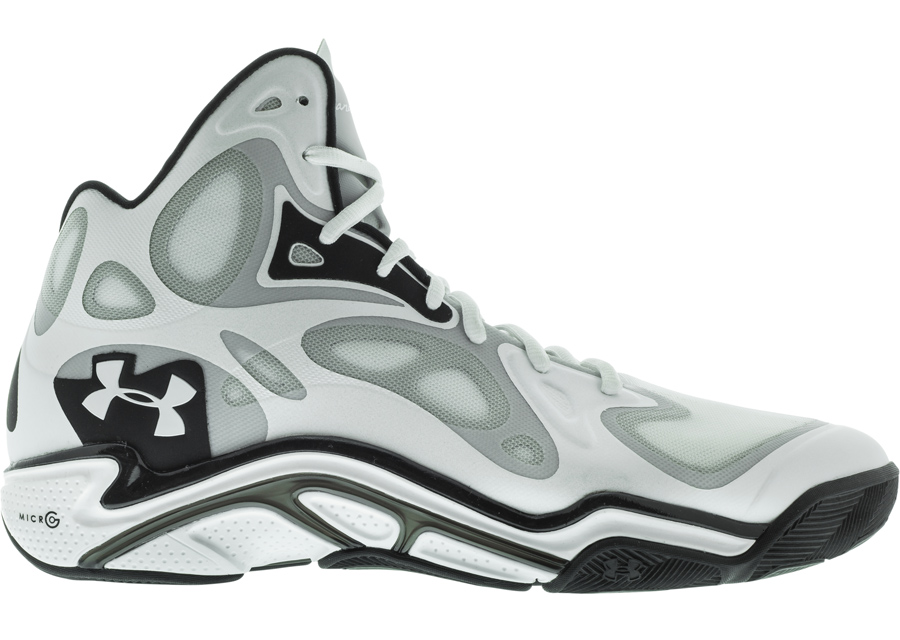 Under Armour Spawn Anatomix -- Pinkadelic / Systematic / White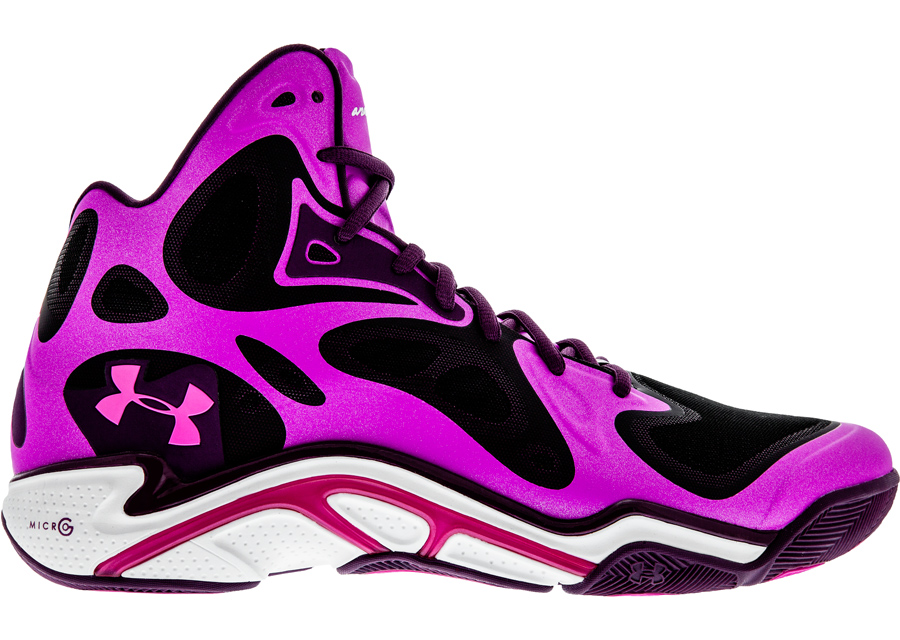 Under Armour Spawn Anatomix -- Red / White