words & interview // Nick DePaula

photography // Steve Mullholand
For more on the "Oregon" Jordan IV, check out Issue 42 of Sole Collector Magazine featuring Tinker on the cover, available now at Foot Locker and newsstands.
What long ago set Tinker Hatfield apart from other designers in this industry was his insistence on storytelling. He was the first to bring an additional layer of meaning to an upper (something even as simple as sampling inspiration from an athlete's favorite car). The first to move beyond pure function and splash an ounce of Michael's own personal life onto a shoe by using cues from a nickname that only his closest friends called him.
Tinker's touch has always been about leaving a lasting story in the products he pens. As the decades pass and future generations still gravitate to his most iconic models, the stories have lived on and will continue to live on to be discovered.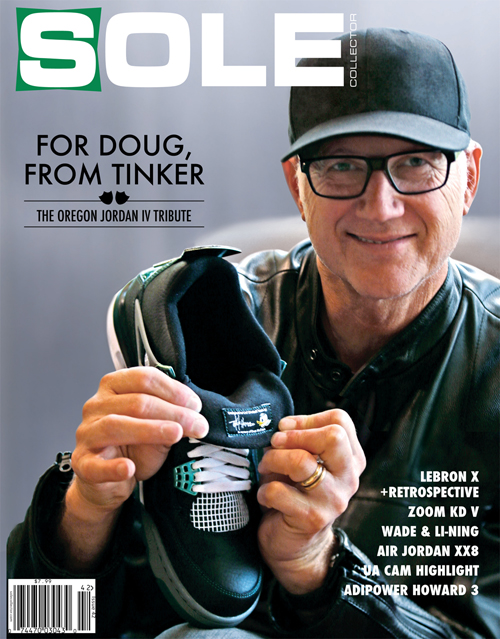 Even with that legacy locked up, Tinker still loves to design with a story in mind, and he's bittersweetly most proud of the backstory found within his recent take on the Air Jordan IV.
A former University of Oregon athlete himself, Hatfield has long treasured his connection with the school and the Ducks' athletic program. For more than 30 years, he's continually made the 90-minute drive south on I-5 to cheer on newer generations of Ducks athletes. Oftentimes at football games, he'd be seated right alongside his very best friend Doug McClain. Linked since childhood when Tinker was just three and Doug five, the two enjoyed a close friendship for five decades, went on to attend college together and eventually raised their families together in the Portland area.
Created by Tinker Hatfield exclusively for the University of Oregon football team, this Air Jordan IV also tells a story about the passionate and roaring fans that sometimes go unnoticed and who've always been there for the Ducks, like Doug McClain. Read on for a firsthand account from Tinker about how the special-edition Jordans he's made for the U of O began, and how this one, for Doug, takes on even more meaning and holds a special place in his heart.
Nick DePaula: How did the idea first come about to do Jordans for the University of Oregon? This will be the third year of game shoes now after the IXs and IIIs.
Tinker Hatfield: Phil Knight is super excited about this because it's possible to do, and yeah, this is the third year that we've done it. I'm the one that picked the shoe each year. I actually had an ex-U of O football player that was interning here in the Kitchen help me do the colorways on the III. I gave him some direction, and he got to work on it to make these two colorways work out. It's a pretty cool story. A former football player did the colors on these shoes that only football players will get, and that makes it a cool thing all the way around.
NDP: When you picked the III, was the idea just to have something comfortable and versatile for guys to kick around?

TH: Yeah, and I was looking for something that would work too for some of these bigger guys that they're cramming into busses and meeting rooms. Let's not put them in a shoe that's too stiff and maybe has too much componentry. Sometimes high-performance shoes aren't the most comfortable shoes just to lounge around in. The Jordan XI to me is like that. That's such a high-performance basketball shoe, but to me, I personally don't find it to be that comfortable just to lounge in or walk around in. I think it's one of the better shoes that we've ever done in terms of playing. With the III, they play fine, but if you choose your materials wisely, they're also just real soft and easy to wear – more comfortable for, in this case, the intended use, which is to just travel as a team. We actually did it one year for Oregon State too, with the Jordan IX, because it's a relatively simple upper that you can just wear around.
NDP: Why did you make two versions of the III? One for the football team and one for the Ducks student section, which was a first.
TH: Well, the III pissed me off. I will tell you that. We made up, I believe, around 300 pairs of these. And the idea was to give them out to the Pit Crew, which is a special group of students at Oregon. They have an organization, an email list and a set of rules and regulations that they follow. It was my idea, and we worked with the President of the Pit Crew. I said, "You know, you're trying to figure out all kinds of ways to incentivize students to show up at football games and basketball games. But that's kind of easy, 'cause everyone wants to go to the football games, of course. [Laughs] Really what you want to do, is to get the Pit Crew to grow and have some kind of incentive to show up at women's volleyball and tennis and track meets and actually increase the student attendance for all kinds of sports on campus." That's what I told them and that's why I did it.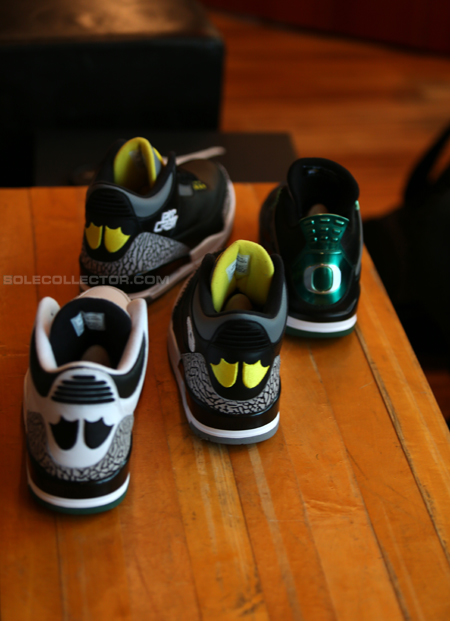 So we did the shoes and we sent down a bunch of them. We had rules about who was going to get them. There was a point system, and you go to X number of events to get a certain amount of points to then get the shoes. Unfortunately, they handed out a bunch to their top people in the Pit Crew, and immediately, eight of those pairs went right on to eBay. Immediately. In other words, the kids saw the monetary value. When that happened, I didn't release any more of the shoes. I still have the rest. I needed to have the conversation with them where I said, "Look, we didn't make these at our cost for that to happen." It's hard to stop that from happening of course, but I just figured I could nip it in the bud by not releasing any more pairs. The black IIIs that say "Pit Crew" are for non-athletes. They're not part of NCAA Division I sports at the University of Oregon. They're a group of students that come and support the athletes. The Pit Crew comes and gets crazy and jumps up and down during the games.
NDP: That's how I was when I was there.
[Everyone laughs]
TH: Exactly. And that's cool. So we were thinking it was innovative for us to say, "Well, they're not athletes, but they're part of the world of sports." To me, that was an innovation that we came up with, to reward them for what they do and also incentivize them to do even more of it at other sporting events. We sent the shoes down there, then all of the sudden, the pairs go out and some of the students immediately put them on eBay and one of them was asking for around $6,000. I don't know if anyone ever got that much, but still, I'm like, "Well that's bullshit." Quite frankly. That's just not how I envisioned it. I was thinking these students would be so into it, and they're going to get these and that's something they'd keep forever. There's not gonna be another batch of pairs ever made; that basically made me re-think that model.
On the other hand, what's really great – and NCAA rules kind of help us on this – is that we made roughly 300 pairs of the white IIIs. It was during the same season, and we worked with the team and the head coach Chip Kelly was super excited, and the equipment guys were super excited. We gave them out to the football team, and in order to protect a person's NCAA status, they would hand them out every week for the players to wear and then ask for them back, so that the football players aren't tempted to try and do the same thing the students did and sell them.
Because guess what? You can attach a monetary value to these shoes that would make them a giveaway item to a NCAA Division I athlete, and if it's below a certain amount of money, there's a formula that makes it ok because they're for athletic use. But if you're an NCAA athlete, you can't profit off of things you're allowed. You can't sell the tickets you're allotted; you have to give them away to your family or friends. Each football player gets four tickets I believe. If the team wins an NCAA championship, in any sport, everybody can get a ring, but it has to be within a certain range of cost. So lets say a star athlete got a pair of these white IIIs and then he put them on eBay and sold them for $6,000; not only does he potentially get eliminated from college athletics, but his program could go on probation.
They're smart down there at the University of Oregon, and Chip Kelly is smarter than just about anyone I know. He has the equipment guys hand out the shoes on a Friday, they travel and all wear them to their game, and then when they get back on Sunday, all of the shoes go back. They have a cubicle for each guy's shoes, and they'll sit there until the next time they get handed out. It's pretty smart, and it's pretty cool in my opinion because they don't end up becoming a commercial opportunity for anybody. It's really an honor thing.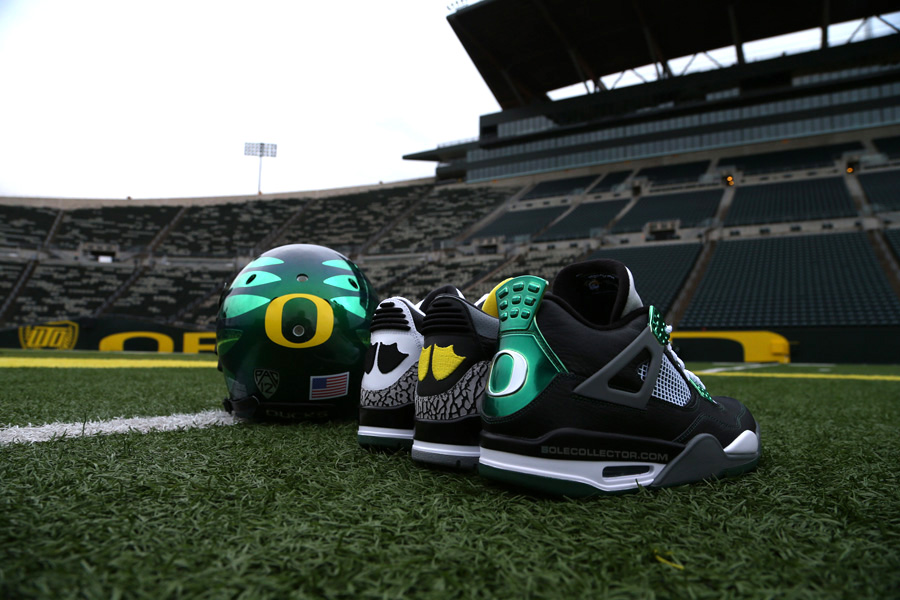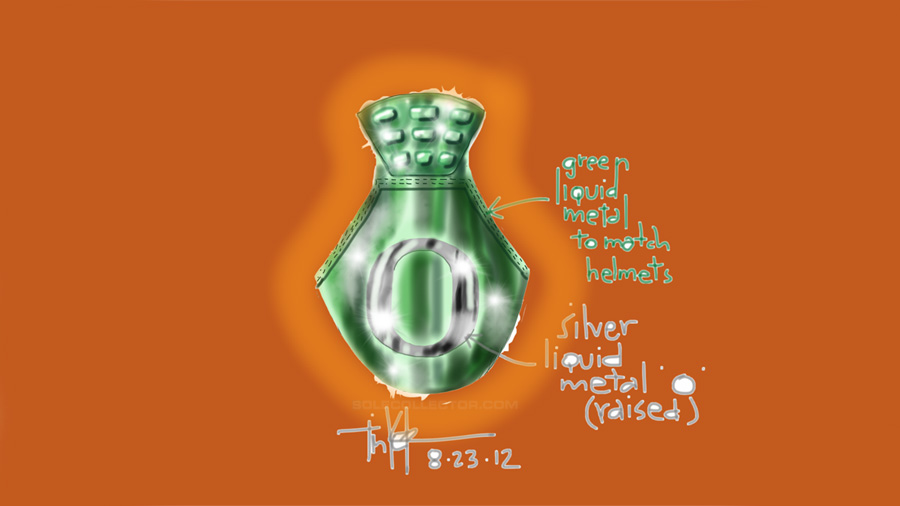 NDP: How were the shoes given to the team last year? It seems pretty obvious that they all probably went nuts right away.
TH: Last year, Chip had actually had their white IIIs for a couple of weeks before giving them out. After a big win, he's all excited and the equipment guys are excited, and they hand them out. And the players just go bonkers. This is something that doesn't happen at any other school that we know of. Maybe it does, but certainly I'm not aware of it. Nike doesn't do it at any other school. Maybe adidas does, who knows, but maybe not the same. [Laughs] So they hand them out to the team. And Chip doesn't do it at the beginning of the season. Everyone knows now that maybe some special shoes are coming, but these are for travel shoes, and every game is actually a travel game. The way college football works today, all players stay in a hotel the night before a game, even for a home game. At Oregon, they don't wear a suit and tie like some schools. They wear comfortable sweats and their travel shoe. They all wear the same thing, and it's all about being a part of a team. Chip Kelly is smart, and if these guys are traveling on a plane, sitting on a bus or sitting in a meeting room, he doesn't want these guys to be uncomfortable or in painful clothes ­– let them wear a really nice sweatsuit, all the same, and then some comfortable shoes.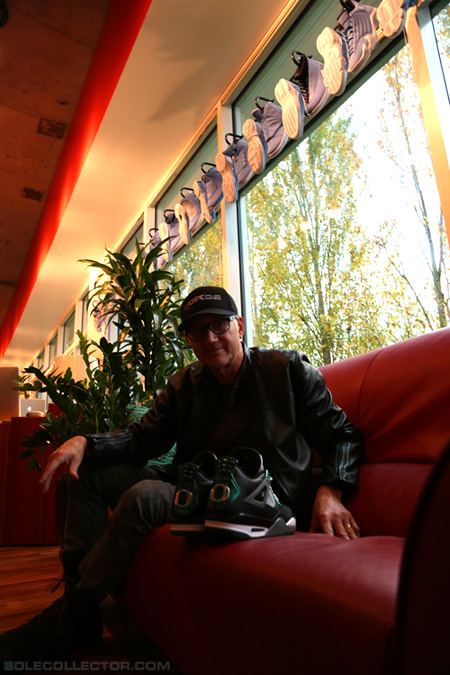 One time after a home win, the team goes running into the locker room after going through the tunnel, and they're excited 'cause they won. There's a lot of high-fiving and back slapping, and it's really a cool thing. Phil Knight likes to go and check out the celebration after, and sometimes I'll go and tag along. Some of those players know who I am and some don't, and the coaches all do. So I get to shake hands, and Chip comes over to me after he had addressed the team and said, "nice work" and those kinds of things. It's a post-game pep talk, and then he always ends it by telling the players, "You know, the only way you guys are going to lose games in the future is if you beat yourselves."
Part of that, is he's got this beautiful saying that you must "Win The Day." Every day. When you get up in the morning, you eat properly, you go to class and do your work and then you come to practice. You have to win every part of every day, all the time. That's how you get really good, and that's one of the reasons why Oregon is so good. So he's got this "Win The Day" thing, and then they always will remind these guys at the end of the schedule for the week. He says, "Ok, so we've got tomorrow off, except for film session. Then, we've got a light practice on Monday, and Tuesday we're going to go hard. Oh, and by the way, stay out of trouble, because it's about how you behave all the time." So he gives that whole message, and everyone goes wild.

Then, after that, Chip comes over and he's laughing. He goes, "I gotta tell you something; it's so funny. The first time we gave these shoes out a couple weeks ago, the kids are all going crazy. Especially the guys from L.A., Texas or maybe even Portland," he said – guys from areas that are more into the sneaker culture, as compared to guys from more rural areas. He said everybody was super excited and they've got their shoes and they're comfortable. Then he's telling me about how they all went to the airport the next week, and they all have the shoes on. He's not really paying attention too much, and they all line up and then go to get on the airplane. They charter a big-ass Delta airliner, and they're all marching out two-by-two out to the plane.
Chip likes to lead them out to the plane, and he's marching along and along, and he tells me, "Then I turned around to say, 'Lets go guys!' and there was nobody behind me." [Laughs] He looks back, and about 100 feet back are the first two guys and the rest of the team. He said they were all walking slowly on their heels and all flat-footed. [Laughs] He's like, "Well, what are you guys doin'?" The guy in the front says, "Coach, we don't want to crease our new kicks man!" He just couldn't believe it, and he's laughing while he's telling me all of it, but he's still like, "Come on." [Laughs] So he didn't hand them out the next week and made them all wear their regular Nike shoes then. Well, the guys all like their Nikes, but of course they wanted to wear their Jordans. Nobody gets 'em but Oregon, but that was just the funniest thing to me.
NDP: Well that goes to show how much they liked them.
TH: Totally. So this year, I didn't pick out a shoe or anything. It was getting close to the start of the season, and I got a call from Chip Kelly. He goes, "So, uh, when are we gonna get our shoes?" I said, "Well, I don't know." [Laughs] I hadn't even done any. He says, "Well, these kids are gonna want a new set of Jordans." You know, there're new kids this season. I just said, "Well, you told me they were walking funny so I figured I wouldn't do it." This was all over the phone, so he didn't see me wink, but I was just messing with him. [Laughs] Then he goes, "No, no. We want them!" After that phone call, I picked out the Jordan IV, versus the III the last year, but I hadn't really figured out how I wanted to do it. Instead of going to a younger designer, I wanted to do this one myself.
I don't usually get involved in retro shoes much, because I feel like I'm supposed to be designing the new performance shoes all of the time. But this one I wanted to do because I had this idea about trying to reflect some of the design of their crazy new helmets. I wanted the hero of this particular version to be the chrome, and that's directly related to the University of Oregon coming out with the chrome helmets this season. Each one of these heel parts and eyelets are hand-painted. If we ever get into a full-scale production process for this two-paint application, it's really difficult.
I didn't know if we could do it or not at first, so I turned to Tiffany Beers here in the Kitchen, who is such a fantastic developer and very clever. I said, "Look, I'm going to draw this one up, and you tell me how quick it would take to turn it around and get it done." What we did was got the same company that paints the Oregon football helmets to paint these parts. It's the exact same paint. It's a true hydrochrome, and they do their own formulation to get this just right. It has to have a little bit of elasticity and the ability to withstand impact during football games, and they really work hard to come up with it. So the parts came from Asia, to a hydrochrome company in Newberg, Oregon. They painted the parts, and then the parts went back to Asia and got assembled.
Below: Tinker's "Oregon" Jordan IV rendering, done on his iPad over a photo of his desk.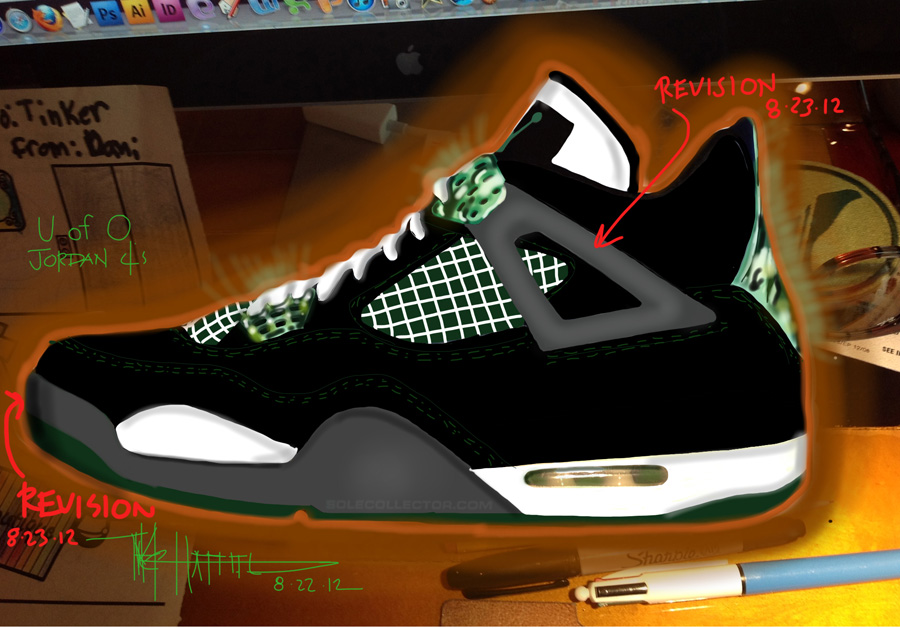 TH: I wanted to do the shoe for two reasons. One, I just felt like not only was I going to pick out the shoe, but I also wanted to do a slightly different variation maybe than what anyone else would do. I thought, well, since we did the helmets, I can work on the shoes the same way. Then, there's a second reason, which is a cool but sad story. A few months back, my best friend from when I was two years old and he was four, his name was Doug McClain, had passed away. We grew up together and our parents went to college and coached together, and we had grown up together and raised our children together. He went to the University of Oregon and graduated, and then went to law school in California and came back up to Oregon after that. I stayed in contact with him all through the years, and I'll be damned if he didn't have a heart attack this year and then get a blood clot to the brain right after that. He died. Just on the eve of his retirement.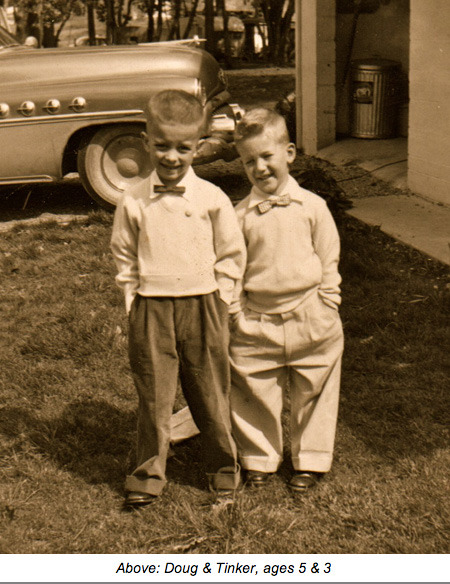 He was healthy all the way up 'til then, and it was totally a shock to everybody. He was a good athlete and a huge Duck fan for 30 years. He was going to away games and home games with his wife, and our season tickets were all in a row. At Oregon football games, unless I was on the sideline, we'd all be sitting right there together. We'd go to away games together too. For him to die like that, it was just a shock. Since he was such a big Duck fan, and since I'm the one working on these shoes, I can do whatever I want on this kind of stuff, and I decided to have this label made up in memory of Doug McClain. This is the first time in my entire history of designing a shoe that I decided to put my own name on a shoe. What I thought would be cool about this was that I could dedicate this shoe to Doug McClain, but without my name on there, there's no attachment or meaning to who Doug is. So it says "Designed for the University of Oregon football team by Tinker Hatfield. In memory of Doug McClain." Even though I don't like to put my name on stuff, this time, I felt it was appropriate. I think it's a cool story.
When I went down and personally gave Chip a pair of these before the rest of the team, I told him the Doug McClain story and gave him a little printout and photos of me and Doug when we were kids. There's a photo of when I was three and he was five, and another of Doug and me with our wives at the Rose Bowl. I gave Chip all of that stuff and a short bio of who Doug was and what he meant to me. He ended up reading that to the team.
When I explained it to Chip, he's really big into this kind of stuff. He likes to find teachable moments. He likes to teach the guys how the world works and how you can be successful, happy in your own skin and things like that. He's always looking for teachable moments, and not just to make them better football players, but to help these young people grow up. I thought this story was actually one of those teachable moments. These guys have no idea who Doug McClain is, yet he's been watching them in the stands for 30 years. Sometimes it's kind of cool maybe, for them, to stop and think about the fact that it's not just about them, but it's about all of the people in the stadium.
Everybody has a story, and here's one. It's a teachable moment to say, "Hey, it's not just about you." I told Chip about that, and he's naturally about that. When they went to the National Championship game two years ago against Auburn, the night before the game, he showed them a movie about a boxer out of Boston called The Fighter. That particular movie was a teachable moment for these guys about perseverance, problems and growing up in a tough neighborhood and what it took for this guy to become heavyweight champion of the world. Chip is naturally into things like that, and he's also really into "Support The Troops" initiatives and things like that. He really talks to these guys a lot about people, and this was just another one of those things.
It was meaningful to me to somehow honor Doug McClain. That's why my name ended up on there, and it's a story about me and Doug McClain and our friendship. It's not earth shattering, but it's a nice little vignette about life and honoring people around you, and I think that narrative is sometimes overlooked by people. It may not be about world-famous people, and it might just be about a loyal fan of theirs, and a loyal friend of mine in this case. I was really excited to do it. Chip read it to the team and Doug's name is on them, so that's cool to me. When one of the players first posted them on Facebook or wherever, they actually showed that label.
Of course, for the people that were commenting, nobody was asking, "Well who the heck is Doug McClain?" They were all saying, "When are they going to come out?" [Laughs] For these, it's really not about that. It's not about Nike making some money or driving demand, so much as it is about doing something special for the University of Oregon and finding some of these teachable moments and having it be something that you earn. These guys work hard, and they didn't get the shoe until a little bit past halfway through the season. They don't want to give them to them too early. They want guys to play hard, and then say, "You know what, you guys have done well and we want to finish out the season and we love what you've done. Here're some shoes." That's pretty smart, and it's a cool way to do it. It's not like if you go to the U of O, you get cool shoes at the start of the season. Maybe if they're not playing very well, maybe they don't get the shoes.
NDP: When Chip called you, do you think he was nervous that you weren't going to have a shoe this season?

TH: He was wondering. [Laughs] But Chip is a great guy and he's really easy to talk to. He's absolutely a nightmare to talk to for the media, because he doesn't want to talk to the media. When he does, it's these really short wise-ass clips, which I think is hilarious. I wouldn't call it begging, but he called me and said, "Well, when are the shoes going to come?" [Laughs] It was cool, 'cause he knows now that when we do this, this is not part of the contract. There's no contractual obligation by Nike to do any of this kind of stuff. That's all done because we want to help the program, and Phil Knight is certainly interested in that. It's now become an opportunity for us to be innovative and have that spill over into other things that we might do. Now, you're probably going to see chrome make its way into other projects now [that] we know that you can do chrome and have it be elastic enough that it won't crack.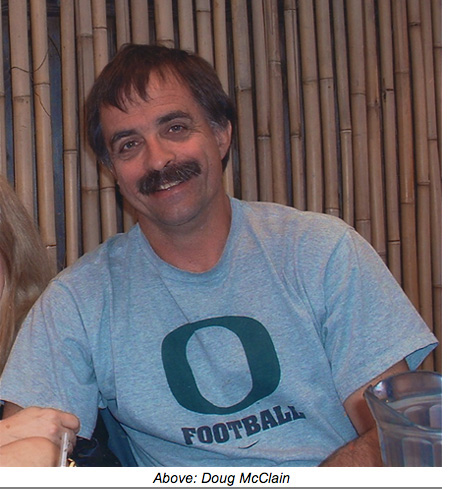 NDP: So if Chip is calling you to ask about them, I assume tons of other people are calling to ask for them once they've seen them?
TH: Oh yeah. I get calls from all types of celebrities when these types of things get out. It's kind of weird, but it's also fun to say, "Well, this is really only for people that are into it." These are limited edition for a reason. We don't want to sell them, and we don't want to give out too many. There's a bit of a strategy behind this. It's more specific to the University of Oregon than it is to the sneaker world, and that makes them pretty rare. [Laughs]
Steve Mullholand: Anything that's that rare and connected to a program like that, and also on a silhouette like the III or IV, it's over.
TH: I think everybody needs to earn these special things, and that's why sometimes I have a hard time just giving things out to VIPs or celebs. I had people calling me up, and I know where they went to college. It might be a pro player, a rapper or some TV or movie star. I know a lot about them, and they're asking me for University of Oregon football shoes. I've gotten a zillion phone calls on these Jordan Chromes already, just like I did on the IIIs last year, and I'm going, "Wait a minute, didn't you go to Syracuse? You want to wear a U of O shoe?" Or someone else called me, and I know for a fact, and I'm going, "Dude, you went to USC." [Laughs] "I've seen you standing on the sidelines at USC, and you want a U of O shoe?" I just think that's hilarious. I'll more often than not still send them, but that's funny to me.
NDP: Is it safe to assume that this might be a series that we'll probably see continue?
TH: Well, I don't think you can assume that. So far, we've done it three years in a row, but every year is a new year. I'll probably wait for that phone call next year. [Laughs] I don't want people to take it for granted, though. When we do something special, it's actually easy for people to take things for granted. I don't want that. We did the IX, the III and now the IV, and it remains to be seen if I'll do another one.
I don't want people to take it for granted, but chances are we probably will. [Laughs] I don't want to say for certain though, because I don't want people to take them for granted. Phil could call me up and say, "You gotta do it." And then yeah, probably I'll do it. [Laughs] He's probably the main reason that the University of Oregon is one of the best sports schools in the nation. He was the one that came to me and asked me to do this. We wouldn't go to the lengths that we do without his urging and his vision to say, "We need to do something for these guys to help level the playing field against some of these bigger schools in bigger markets, the SEC or California." That's a good reason right there, and it's almost an experiment. Through branding, marketing and cool stuff, whether they're uniforms and helmets, or shoes or whatever, can that be a part of the success profile of a major university? I would have to say that it has been.
Below: Tinker, Doug & wives at an Oregon Football game.