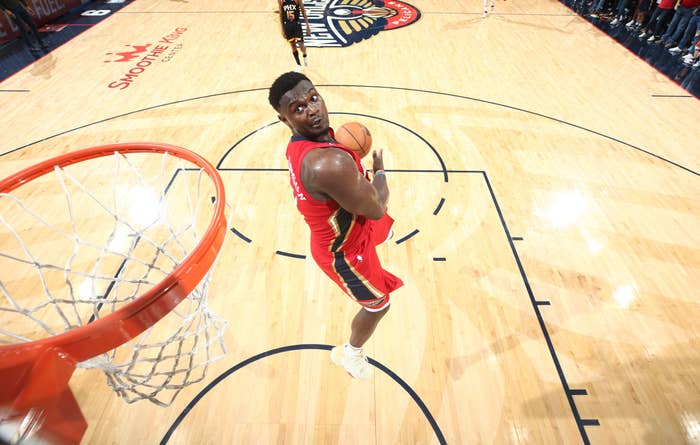 It's Friday afternoon, the calm before the NBA All-Star Weekend storm, and despite being sidelined with a hamstring injury for what would've been his second All-Star Game, Zion Williamson is in good spirits. 
He's one of the endorsers of Starry, the new official soft drink of the NBA, WNBA, and the G-League in North America. The lemon lime-flavored PepsiCo soda, which was announced in January after the company discontinued Sierra Mist, replaces Mountain Dew as the league's official soft drink. Fans can expect to see the beverage's branding on full display throughout the weekend's action, namely tonight's Starry-sponsored 3-Point Contest. 
Ahead of the weekend's games, we sat down with Williamson briefly to hear his thoughts on (literally) following in Michael Jordan's footsteps, the importance of showing up to a game in a good outfit, and the possibility of some day shaking up the dunk contest. The interview has been lightly edited and condensed for clarity.  
How does it feel to be the face of Starry? Did you ever admire other athletes who endorsed sodas growing up?
Where do I start? I would start with the second part of your question. Michael Jordan being the face of Gatorade, I did notice that growing up and that was dope. Derrick Rose doing...I can't say that one, I'm sorry. I'll say Michael Jordan doing Gatorade. And to be the face of Starry, when I think of Starry I think of something like myself. Starry just hits different.
You've been with Jordan Brand for about four years now. What's it like representing the greatest player ever?
Being with Jordan Brand is surreal because Michael Jordan's my favorite player, so for him to look at me and say he wants me to be a part of his brand, it's a dream come true. And then for him to give me a signature sneaker, it's one of those things that I didn't even dream that big.

You mentioned he's your favorite of all time. Do you have a top three favorite Air Jordans ever?
My favorite Air Jordans of all time, top three would be, one would be the Jordan 13 "He Got Game." The "Cool Grey" 11s. And I would go with the 1s, 'cause that's the shoe he started a new swag culture with, the 1s.
I feel like the tunnel fit is something I've been seeing you come with more and more of them. How important is it to show up in something, you know, you feel confident in, you feel good in?
I got to thank my friends Axel [Nyembwe] and Rico [Brown] for that. All I used to wear was sweatpants, but those two really taught me a lot about fashion and finding my own style. So there are times when I walk into the tunnel and I'm like, "I really feel good. I got to go out tonight." I would say my favorite fit this year would be my Dickies fit that I had my career high in.
And lastly, I feel like the dunk contest, it could use a little bit of re-energizing. Would you ever want to do it?
I'll think about it. I'll put heavy consideration into doing the dunk contest. I feel like if I am going to do it, I'd probably do it next year.