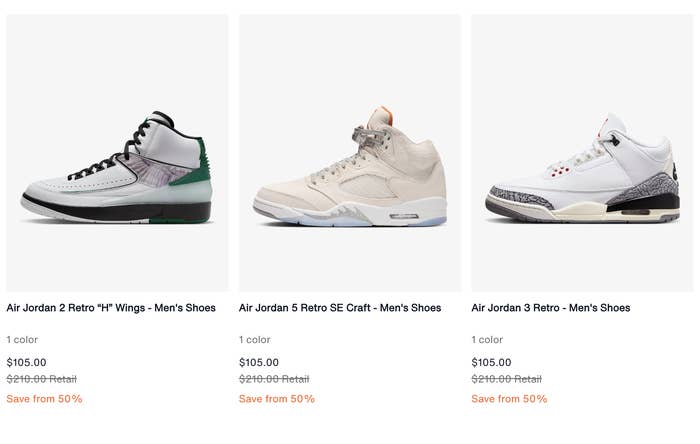 On Tuesday, Nike quietly rolled out an online refurbished sneaker program that was previously offered only at select stores.
Dubbed Nike Refurbished, the site offers a digital version of the initiative that Nike introduced in April 2021 as part of its ongoing Move to Zero mission. Made up of returns, exchanges, and shoes with small imperfections, the Swoosh has given a second life to sneakers in categories ranging from men's and women's performance shoes to lifestyle and Jordan footwear.
"Nike's goal is a circular, zero carbon, zero waste future," the brand said in a statement. "While Nike Refurbished footwear is available at select Nike stores, we are also testing offering Nike Refurbished products online to extend the life of authentic Nike product at a value price."
Each sneaker offered via Nike Refurbished is given one of three condition gradings: Like New, Gently Worn, or Slightly Imperfect. Once a shoe has been determined to be eligible for the Refurbished program, it's cleaned by hand by what Nike describes as a team of experts and ultimately given a condition grade.
Nike defines Like New as perfect or near-perfect with no flaws or marks of wear. Gently Worn is given to pairs that are in "great condition" with visible light wear or small imperfections. Lastly, Slightly Imperfect sneakers are those that have no signs of wear but may have small stains, marks, fading, or other aesthetic blemishes.
Due to the nature of the sourcing, only select sizes and colors in certain models will be available at any given time. Nike encourages shoppers to check back frequently for updates to the stock.
Discounts vary depending on condition, but some prices are marked as much as 50 percent off their original retail price. Although the site is currently being flooded with traffic, users can visit refurbished.nike.com to browse the current selection now.