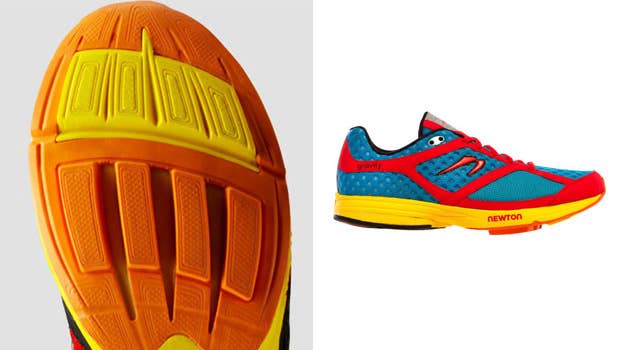 KNOW YOUR TECH breaks down the scientific technology used in your favorite sneakers and activewear. Let's demystify your next purchase: today's technology is Newton Running's Action/Reaction cushioning. Providing a solution for the "flattening" out that is common in most foam, gel, and air setups over time, Action/Reaction is built to last longer and provide protective, engaging cushioning.
What is it? Newton Running says that Action/Reaction cushioning has been described as a "trampoline", only more fun. The responsive technology was developed over a 12 year period, the concept of Action/Reaction builds upon Sir Isaac Newton's third law of motion, stating that "for every action, there is an equal or opposite reaction." The technology brings this to life by providing a boost of forward energy with each stride you take.
How does it work? As a runner's midfoot/forefoot impacts the ground, Action/Reaction tech is engaged. Its membrane supports four external lugs which absorb the shock and store the energy, which is then used to propel the runner forward. Instead of using excessive muscle power to push off, Action/Reaction's lugs expel the stored energy for forward propulsion.
Notable Products: Gravity Performance Trainer, Motion Performance Trainer, Terra Momentum All-Terrain Trainer
Bottom Line: If you're tired of replacing running shoes due to worn-out cushioning, consider Action/Reaction technology.
[Newton Running]
RELATED: Newton Running Unveils the 2013 Sir Isaac S

RELATED: Everything You Need To Know About the Newton Terra Momentum