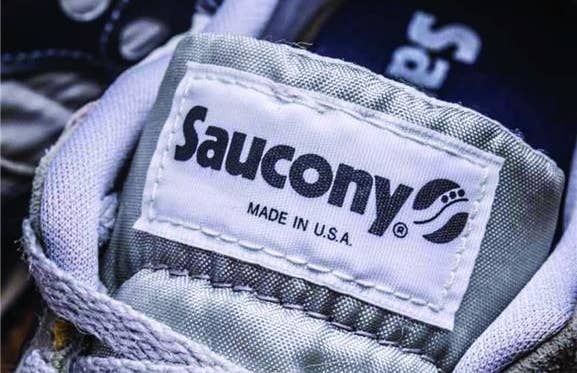 Sock-uh-knee. Suh-co-knee. No matter how you grew up pronouncing it (the correct pronunciation is "sock-uh-knee," by the way), you've heard of the Boston-based running brand. Maybe you've even owned a couple pairs of Jazz 81s or Grid 9000s in your day. But a Saucony in sneaker of the year conversations? That's not the norm.
Enter Jae Tips, a Bronx-born creative who released his first Saucony collab, a Grid Azura 2000 covered in the entire color wheel, this past May. His sneaker is part of those debates.
"I feel like that's something that's been very lost in shoe culture, especially from a design aspect. There's a lot of safe earth tones. It's a lot of safe grays and blacks," Jae Tips told Complex ahead of his collab's release back in May. "But I want to break people's necks. I want people to say, 'Did you see what that person's wearing?' That was my vision before I even got to anything else."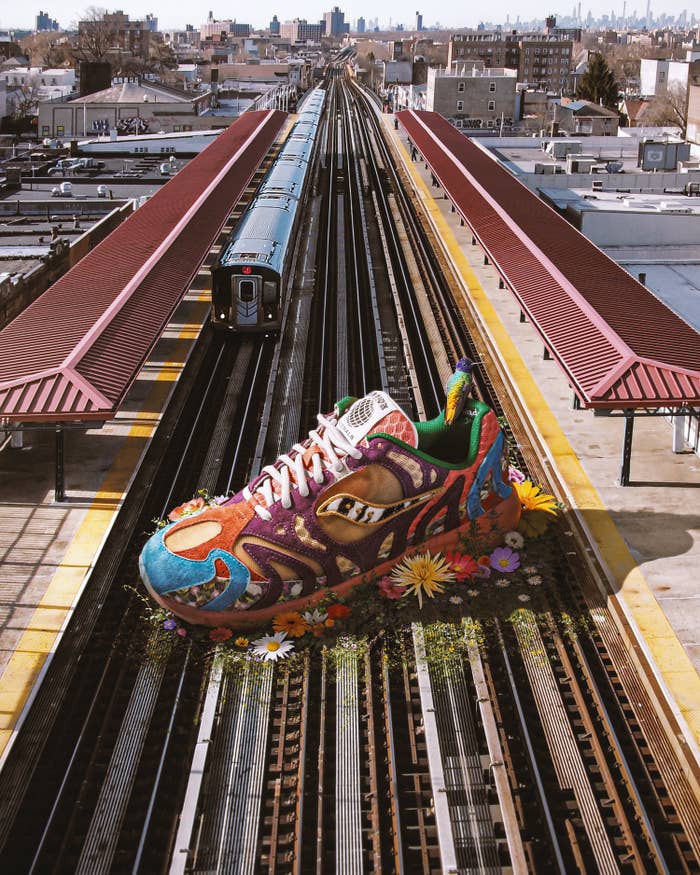 But Jae Tips isn't Saucony's only collaborator doing great things right now. Over the past few years, the brand has shifted its focus, tapping into more under-the-radar creatives within the industry, and it's making some noise because of it.
"The brand has real credibility, a loyal following, but so much opportunity to expand with new consumers and communities," says Saucony CMO Kathryn Pratt. "It's in this unique spot of being a 125-year-old challenger brand."
Yes, this year Saucony turned 125 years old. That's a lot of history to pull from. But the brand isn't just leaning on its extensive timeline and recycling old campaign imagery. Over the past few months, the brand gained momentum by expanding its collaboration pool beyond boutiques like Bodega or Packer Shoes (who have done plenty of great work over the years in their own right), and tapping into independent creators for its lifestyle collaborations. From Jae Tips' colorful Grid Azura 2000 to tonal pairs of the Jazz 81 with Trinidad James, the formula is working.
"I think these types of projects can sometimes be viewed as special projects or side projects when I think they can be put more toward the forefront and lead the brand messaging," says Pratt. "They shouldn't be ancillary. They should be a central part of the communications strategy."
A pivotal figure in orchestrating these shoes is Jason Faustino, who joined the brand in December 2018 as the global marketing manager of Saucony Originals, the arm of the brand dedicated to its retro sneakers. In January 2023 he began his role as senior global marketing manager of collaborations. Rather than fully overhaul Saucony's approach, he aimed to retool it.
"I actually don't believe in overhauling. There's always good in some things. It's just about refining them or adding energy toward it," says Faustino. "So even if it looks like I was the one that changed things here, I think the market was moving in that direction in general. It probably hit harder coming from me. I was a former retail partner of the brand, and I'm voicing that that's not the only type of partner that we should be working with."
Before his time with Saucony, Faustino co-founded New York City sneaker boutique Extra Butter. The shop is responsible for memorable Saucony collabs like 2014's "Space Snack" Shadow Master and 2016's "For the People" Shadow 5000. Faustino's time on the other side of the industry has been beneficial in how he approaches working with each designer today.
"Jason is one of us. And that's why it's so beautiful to work with him, because he knows what that feeling is supposed to be," says Trinidad James, who has collaborated with Saucony since 2021. "He knows the feeling that we want to give the consumer."
Saucony's current collaboration strategy is similar to what's worked in recent years for New Balance. Former business unit manager of global collaborations and energy Joe Grondin and company retooled the brand's collaboration strategy to introduce bubbling creatives like Joe Freshgoods and Salehe Bembury into the fold, and not simply rely on sneaker boutiques and bigger brands. Faustino says seeing what New Balance has been able to accomplish was encouraging.
"It's really exciting and plays a major part in the ability for other brands like us to have success against the 'giants' and shift the balance within the industry," says Faustino. "Brands and creators play a huge part, but so do the consumers. If there wasn't the desire for newness from them, it wouldn't be successful."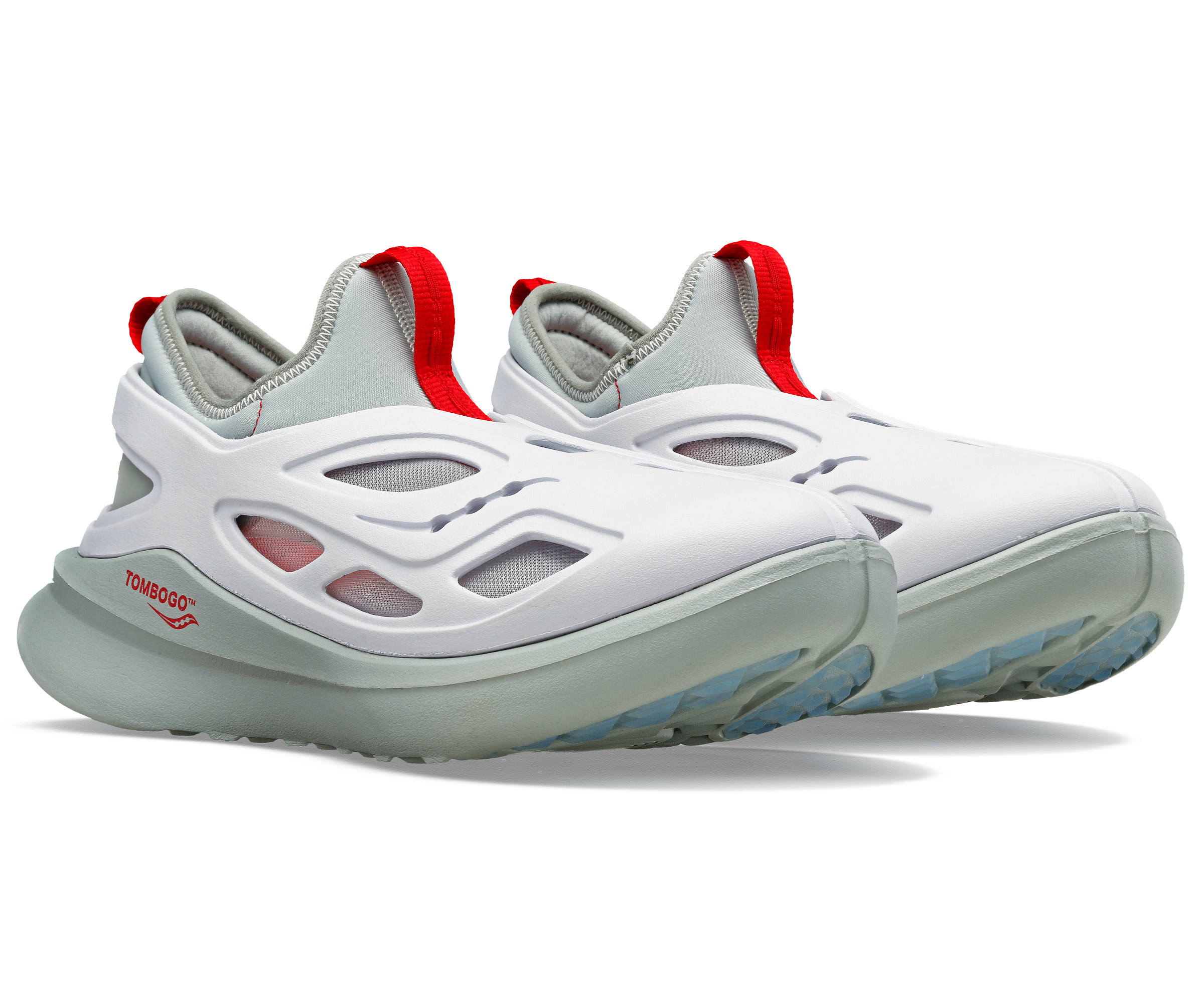 Which brings us to the present. Saucony's roster of collaborators continues to grow. And each one gets to tell their own story, overseeing every piece of the puzzle from the silhouette to the imagery.
"There's just a different lens on the storytelling. Every little detail that goes into those styles, there's meaning behind it," says Pratt. "It's not just about what looks good or is a trending color. And I think that is what consumers are responding to the most."
For Jae Tips, that meant covering a Grid Azura 2000 in various colors and materials from purple suede to zebra print. In the campaign imagery, a giant version of his shoe was placed on the tracks of a Bronx subway station to nod to his upbringing. He didn't just want to release pairs online. To promote the sneaker in person and meet fans, he went on a tour around the United States that started at a flower shop in New York City and ended at Wish in Atlanta.
"I just really wanted to make sure that nobody could say, 'I wish they would've done this,'" Jae Tips told Complex back in May.
Trinidad James and Asha Paul's label Hommewrk has released four colorways of the Jazz 81 since the partnership kicked off in November 2021. Each colorway nods to different elements of life in Trinidad and Tobago, from blue taxis to the yellow lunch pail he carried to primary school. The artist says that he has a long history with the brand. Its sneakers were the affordable option for his family when they first immigrated to America, so he wore them often.
When it came to his execution of a classic model like the Jazz 81, Trinidad added a unique spin in the form of semi-translucent TPU material to the toe. Rather than steer him into a different direction Faustino and the Saucony team embraced the challenge.
"We hadn't quite seen that. And then we were tinting this color—it wasn't just clear, and we had to consider fog and all this stuff," says Faustino. "It was something that we took a lot of pride in, obviously, to figure out."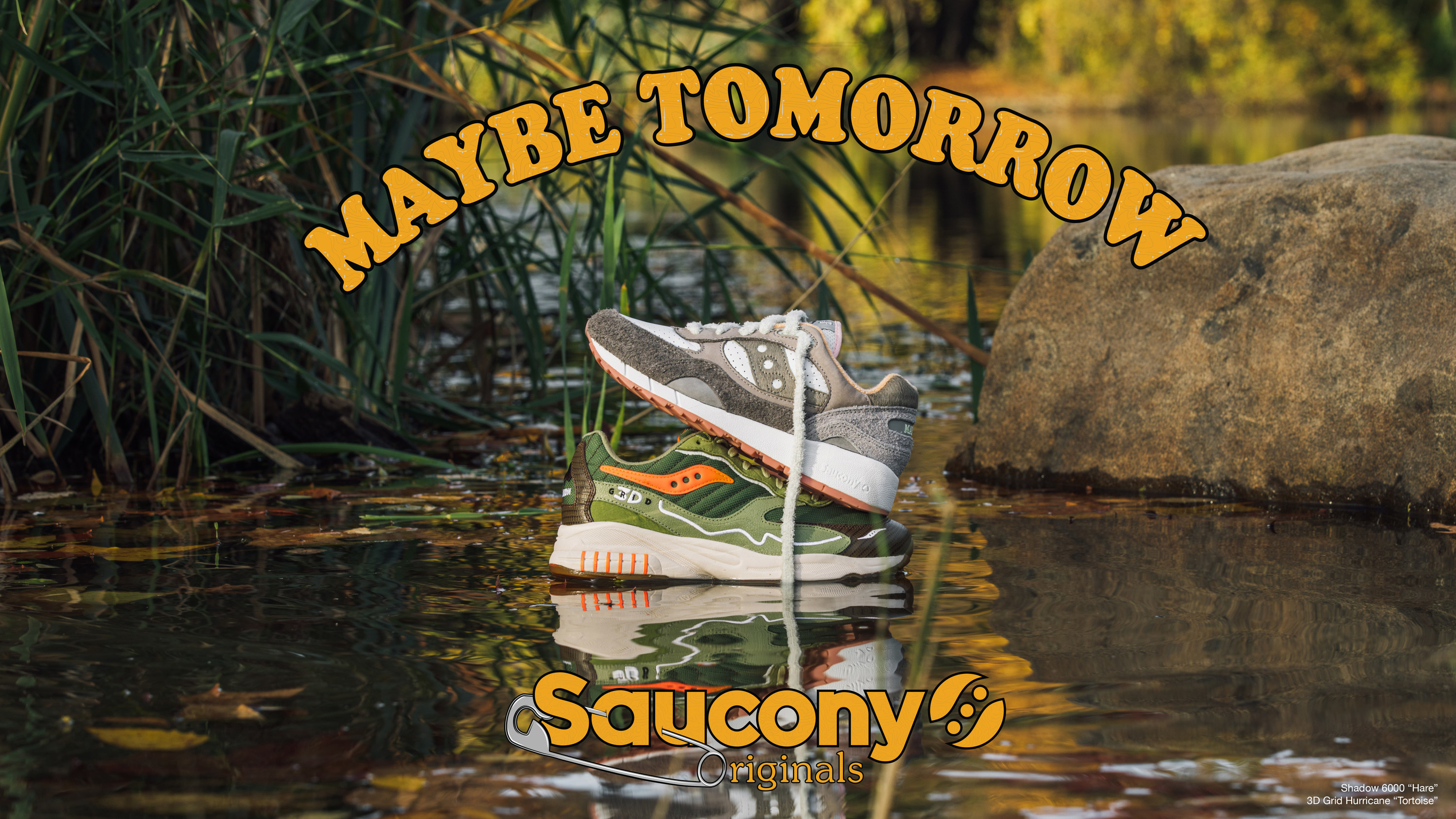 Mark Nguyen's Maybe Tomorrow is a Los Angeles–based brand founded in 2017. It released its "Better Together" two-pack in 2022, a 3D Grid Hurricane and Shadow 5000 inspired by the fable "The Tortoise and the Hare." Like many of Saucony's current crop of collaborators, it was Nguyen's first sneaker collaboration.
"Working with Saucony has been like working with friends and family," says Nguyen. His upcoming release, a white canvas pair of Jazz Courts packaged with pens and pins, is in a completely different lane than his first work with Saucony. It allows buyers to essentially create their own sneakers. "They allowed me to be unapologetically me and let me explore all my creative ideas. This being my first time working on a shoe, they were able to teach me a lot along the way and helped bring my ideas to life."
One of Saucony's latest reveals will be a Grid Shadow 2 channeling sandy beaches from Jordan Page's Colour Plus. That's the first of three colorways inspired by various hiking terrains that will be hitting stores across the remainder of 2023. Page's first project was a cream and tan Jazz 81 he says was inspired by a pile of paint palettes he saw while walking the streets of New York City. His latest sneaker will be debuted during Paris Fashion Week.
"Besides my family, I don't think I've had any entity place this much faith in me. And it's a little scary, but it's something I'm ready for, because how else are you gonna get to the next level," says Page. "Creative people are freethinking, free flowing, free spirited. You want to be able to do as much creatively as you can. And Saucony has really allowed me to do that."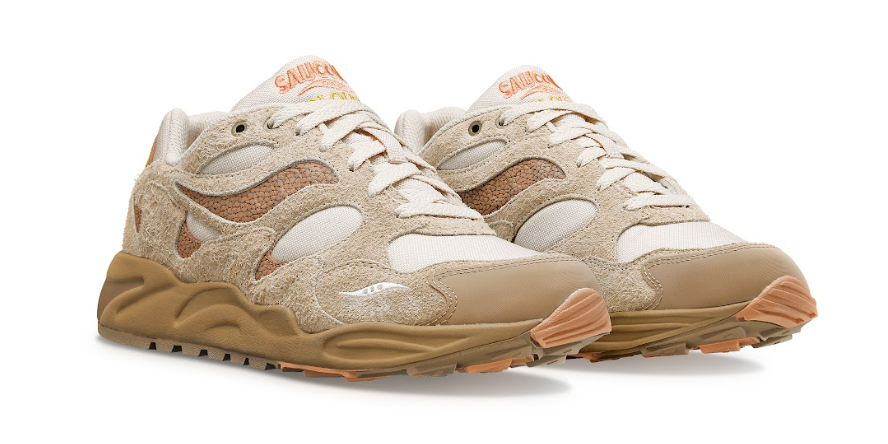 Other collabs have included the Butterfly, a rubber slip-on akin to the Yeezy Foam Rnnr or a pair of Crocs with a neoprene bootie, by Bay Area label Tombogo, which debuted at Tombogo's New York Fashion Week presentation in February 2022. Integrating a rollout into a fashion show was another first for Saucony. In December 2022 former Jordan Brand designer Frank Cooke released a Jazz 81 with bright purple and pink suede paneling that told the story of his desire to own a pair back in the seventh grade. To further the story, Cooke looked to the community. Pairs were also gifted to arts students at a Boys and Girls Club in Tallahassee, Florida.
Pratt says that we can expect to see this collaborative approach bleed into other areas of the brand, like its performance running category and community-based initiatives, moving forward.
"It's on us to make sure we aren't creating those barriers and presenting both sides of the brand," says Pratt. "We won't force it with collaboration partners. But we just continue to see it more and more that it's all one thing in a lot of ways."
One example will be from Bimma Williams' creative agency Claima. Williams, a former product line manager at Saucony, designed a Grid Hurricane set to release later this year. As part of his project, Saucony will be donating to All Hands Raised, a racial equity–focused nonprofit based in Oregon. $5 from each pair sold will also be donated to the nonprofit.
"I was always empowered to try my ideas when I first started out at Saucony. This encouragement really fueled my visions to do better, to crack the code, and to find my voice," says Williams. "It is nice to see that even after all these years the brand continues to uphold these values. We are not only bringing forth products that our consumers would enjoy, but integrating stories to inspire meaningful change."
In totality, it's a diverse roster of talented individuals that Saucony can build with. The next step will be keeping up the momentum. For Faustino, that means continuing to tell meaningful stories and diving deeper into a 125-year archive to unearth silhouettes like the ProGrid Triumph 4. In 2024 the brand is set to reintroduce the Matrix, an outdoor runner from the '90s. Enough collaborators expressed interest in working on it that Saucony decided to bring it out of the vault.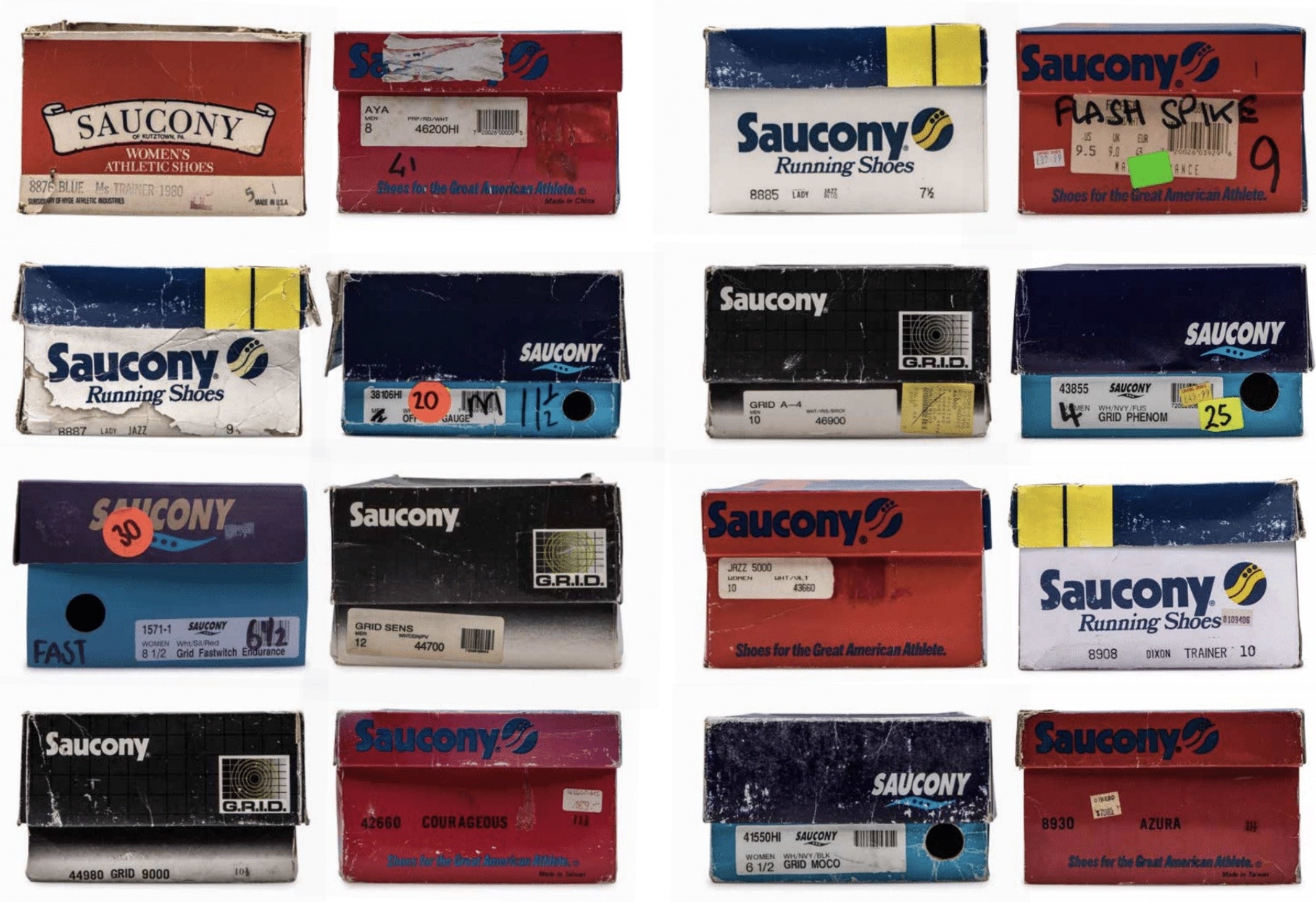 "I always felt Saucony was a little bit underrated but had an incredible archive," says Faustino. "There was tons of untapped potential to start digging into the archive and putting a little bit more energy into the brand."
Pratt also sees a promising future, as long as the brand keeps embracing its unique position in the footwear market.
"There is room for everyone and there's no stop to the growth," she says. "There's something really cool about the quirky and embracing that and not shying away from it. I think it will just help us resonate even further."