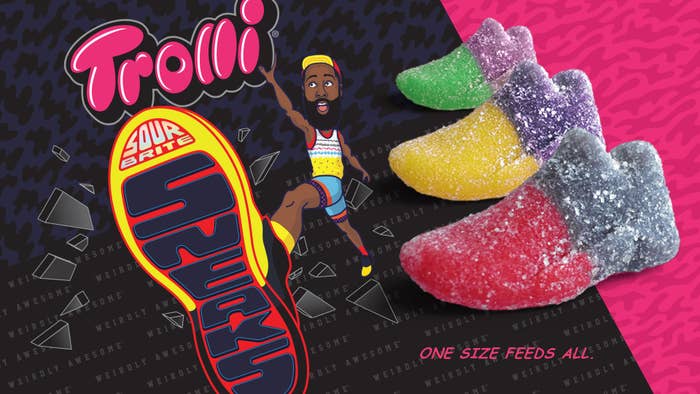 James Harden is one of the most recognizable and marketable players in the NBA today. A typical perk of being a perennial MVP contender is having your own sneaker, and Harden has earned just that with his Adidas signature line. Now, he has the unique honor of also having his own signature candy to snack on off court as well.
Continuing a partnership with Trolli that began back in 2016 with the release of Trolli Sour Brite Weird Beards candy (modeled after his facial hair), Harden and Trolli expand on their line of unconventionally shaped gummies with Trolli Sour Brite Sneaks candy. These sour candies are shaped like sneakers and, whether intentionally or not, vaguely resemble the Adidas Harden Vol. 1. 
Each bag of Sour Brite Sneaks will feature three flavors: Blackberry/Strawberry (grey/red), Lime/Raspberry (grey/magenta), and Berry Punch (purple/yellow). The three, two-toned options symbolize Harden's frequency to drop triple-doubles on the court. The 3D candies will even come in left and right shoes to complete your own pairs. 
Look out for Trolli Sour Brite Sneaks to be available at 7-Eleven locations starting in March with a wider release at additional select retailers set for May 2018.