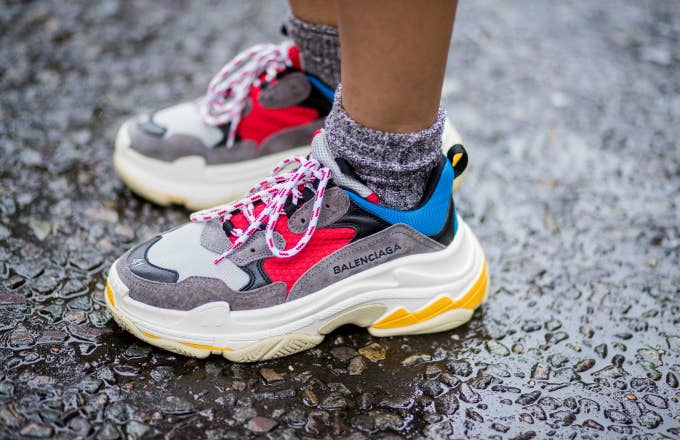 A trend in the sneaker world that seems to be happening often these days is brands doing their best to outdo the other with a version of what can essentially boil down to the same basic concept. Take for example the seemingly never-ending creation of sock sneakers, or the recently popularized chunky "dad shoe" trend most connected to the Balenciaga Triple S.
Highsnobiety took a look at today's trend of sneaker copying and what it could mean for the future.
For instance, there is the blatant "knock-off" that creates what is essentially a cheaper version of a popular shoe a la the copious amount of fake Yeezy 350 V2s that have flooded the streets due to the model's high demand and low production numbers.
"The word 'knock-off' is quite pejorative. It's packed with a lot of meaning, and part of that meaning is opportunism by people who are less creative, and the need the creative ideas of another to make any product at all." Senior Menswear Editor of WGSN Brian Trunzo explained.
Other forms of copying include "homage" sneakers, made popular by brands like Hender Scheme that resemble notable models without blatantly copying them stitch-for-stitch, as well as "the commercial play," which refers to brands creating their own version of a product that references a popular footwear trend like knit-constructed or "dad shoes."
At the end of the day, playing off a current trend is a quick and easy solution to bring in some extra dollars if you are one of these brands, but it also creates an issue of stagnant designs and oversaturation in the market as well. Despite the blatant copycats that some of these brands produce, it is certainly not something that is going to go away any time soon.
For Highsnobiety's full analysis, check out the feature here.