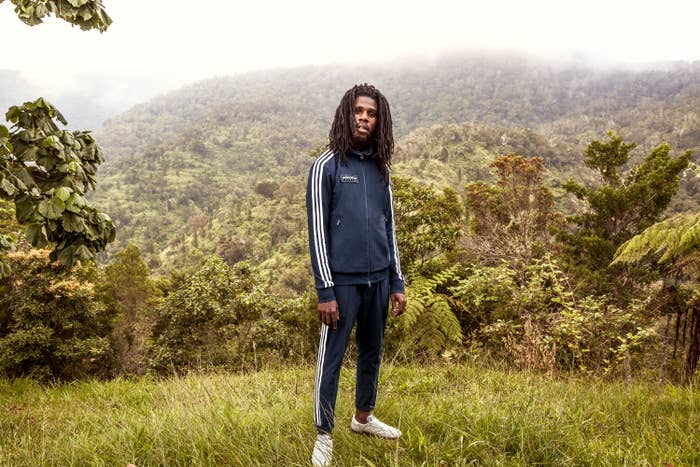 Bob Marley was able to impact the world through his powerful music, but his generation of Jamaican roots reggae artists were also one of the first subcultures to popularize wearing Adidas in a non-athletic fashion. Just Google "Bob Marley Adidas," and you'll see plenty of black-and-white photos of him wearing sneakers and track suits with the Three Stripes on them. His influence, along with other musicians during his era, hasn't gone unnoticed when it comes to the way people dress in 2017, and Adidas' Spezial line, which is run longtime Adidas employee and consultant Gary Aspden, is referencing the Rasta look for its Spring/Summer 2017 line. It's also something that fans of Adidas, both new and old, need to pay attention to.
As for the line itself, it consists of a handful of reworked and retro sneakers from Adidas' history, along with tracksuits, parkas, soccer shirts, and more in a lookbook that's modeled by contemporary reggae artist Chronixx. If you're wondering why you should be up on Spezial if you started wearing the brand with Yeezys or Ultra Boosts, it's a modern interpretation of what makes Adidas so great, and grime artists like Stormzy and Giggs — who have influenced the likes of Drake — have been wearing the line lately. It's also insanely popular in the UK, with people lining up for days for new sneakers. It's been tough to get in the States, but the brand's US website will carry it, along with the flagship stores. It's also bringing together people who love reggae and football (soccer), instead of finding ways to divide everyone.
We spoke to Aspden about this season's collection and its importance to reggae, football culture, and Adidas, and here's what he had to say.
For the kid who got into Adidas through Kanye West, why should they pay attention to Spezial?
Adidas is a broad church and tries to cater to a lot of different audiences through different collections. Spezial is a niche line that is primarily aimed at people who are true connoisseurs of the brand and are interested in its cultural and design history. Spezial is essentially Adidas referencing itself: It borrows from the archive of Adidas design language from the '70s and '80s to create a modern range. On the apparel, we'll often take classic archive Adidas pieces as a foundation, but use better fabrics and amended cuts to create something that is functional for now. The Adidas rain jackets we wore in the '80s had a timeless look, but they weren't breathable. We have fabrics that function far better than that now that we can substitute without compromising the identity of the garment.
Will we ever see a Spezial shoe with Boost?
Boost is for me the best footwear technology on the market right now and is a very different proposition to EVA. Boost really has turned the industry upside down, and I believe it has been one of the key elements in the recent rise of Adidas. We have very deliberately not used Boost in a Spezial shoe to date for a number of reasons. We are referencing a particular era of Adidas and are not convinced that introducing Boost into that would be in keeping with that design language (unless we find a way to put it inside the shoe in a way that doesn't disrupt the look of the outer midsole). With Spezial, we want to celebrate the aesthetics of "vintage tech" like Dellinger Web, interchangeable suspension plugs, and color-blocked midsoles.
Jamaica's the big influence in this season's range. Was it inspired by Bob Marley's massive love for Adidas and football?
I am a huge fan of Bob Marley (I don't trust anyone who isn't), and it was him and his peers who were the first people as far as I am aware to adopt head-to-toe sportswear as a look off the field, way before hip-hop and rappers took on that look. The apparel range uses a graphic that says "Two Elevens Clash" in reference to the clash of two subcultures: Jamaican roots reggae and British football "Casual" culture. Both have a strong connection to Adidas. On the surface they can appear to be very different, they actually share a lot of commonalities, and we wanted to focus on people's similarities rather than their differences. Both of these subcultures are essentially motivated by music, football, and fashion.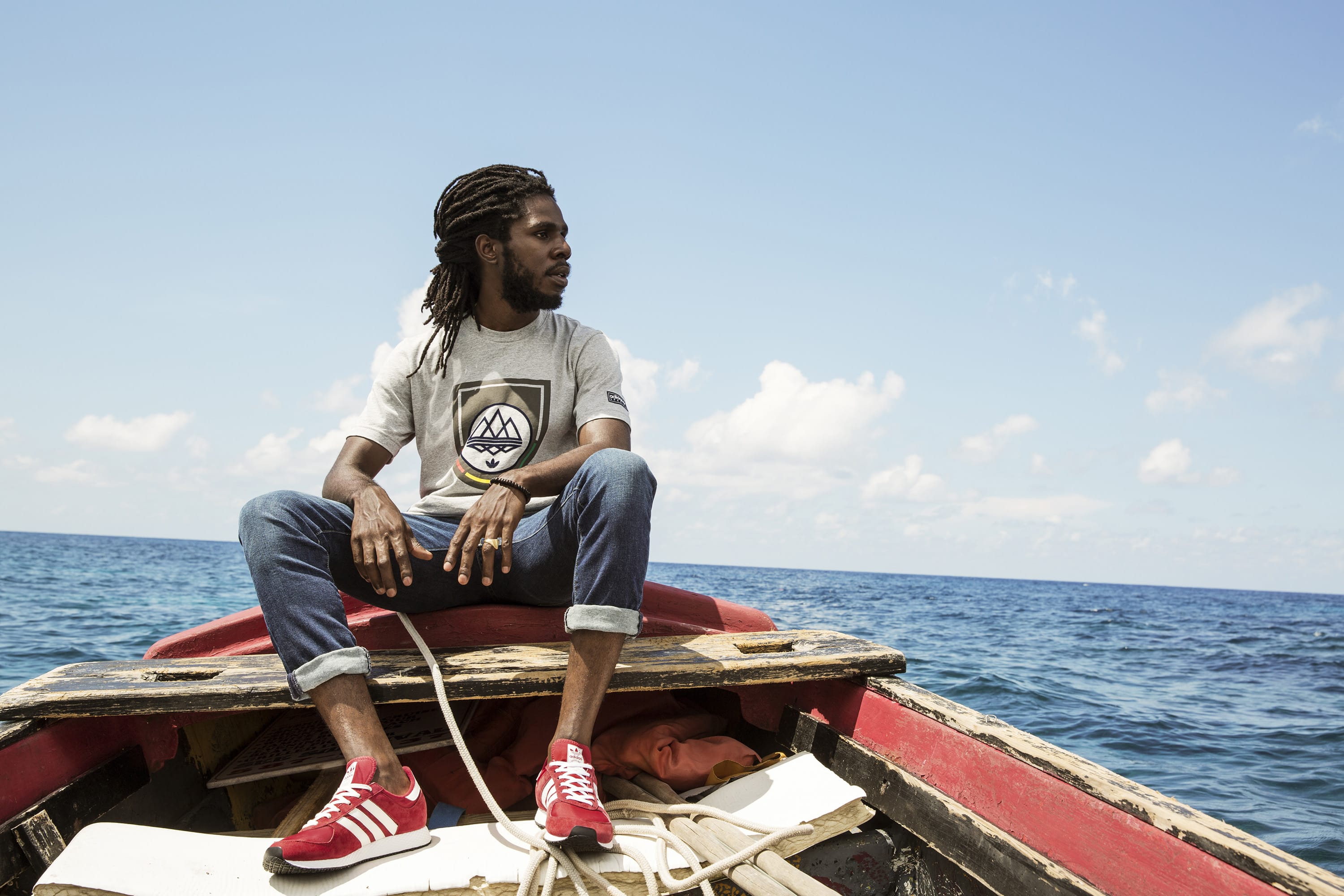 Why did you pick Chronixx to model this season's collection?
I wanted to center this collection around someone from a younger generation who personified the values of that period, and Chronixx fits that perfectly. Chronixx has worn Adidas since he first started out and has been wearing Spezial products for a little while now. He creates a modern version of classic roots reggae. For me, what he's doing is not a revival, but an extension of a timeless sound that went before and in that way he shares a similar philosophy to what we are doing with Spezial.
Stormzy has been seen wearing Spezial recently. How did that happen? Do you see the brand crossing over to the grime scene?
It's hard to say. There are a few artists within that scene who wear it. Kano was wearing a Spezial tee when he received his MOBO Award, and Giggs wore a full Spezial tracksuit when he guested onstage with Drake in London the other week. But Spezial product isn't that easily available and it tends to be just with the people who are in the know. There are currently 13 stores carrying it in the UK and much of it sells out almost immediately so it's unlikely many people will discover it incidentally.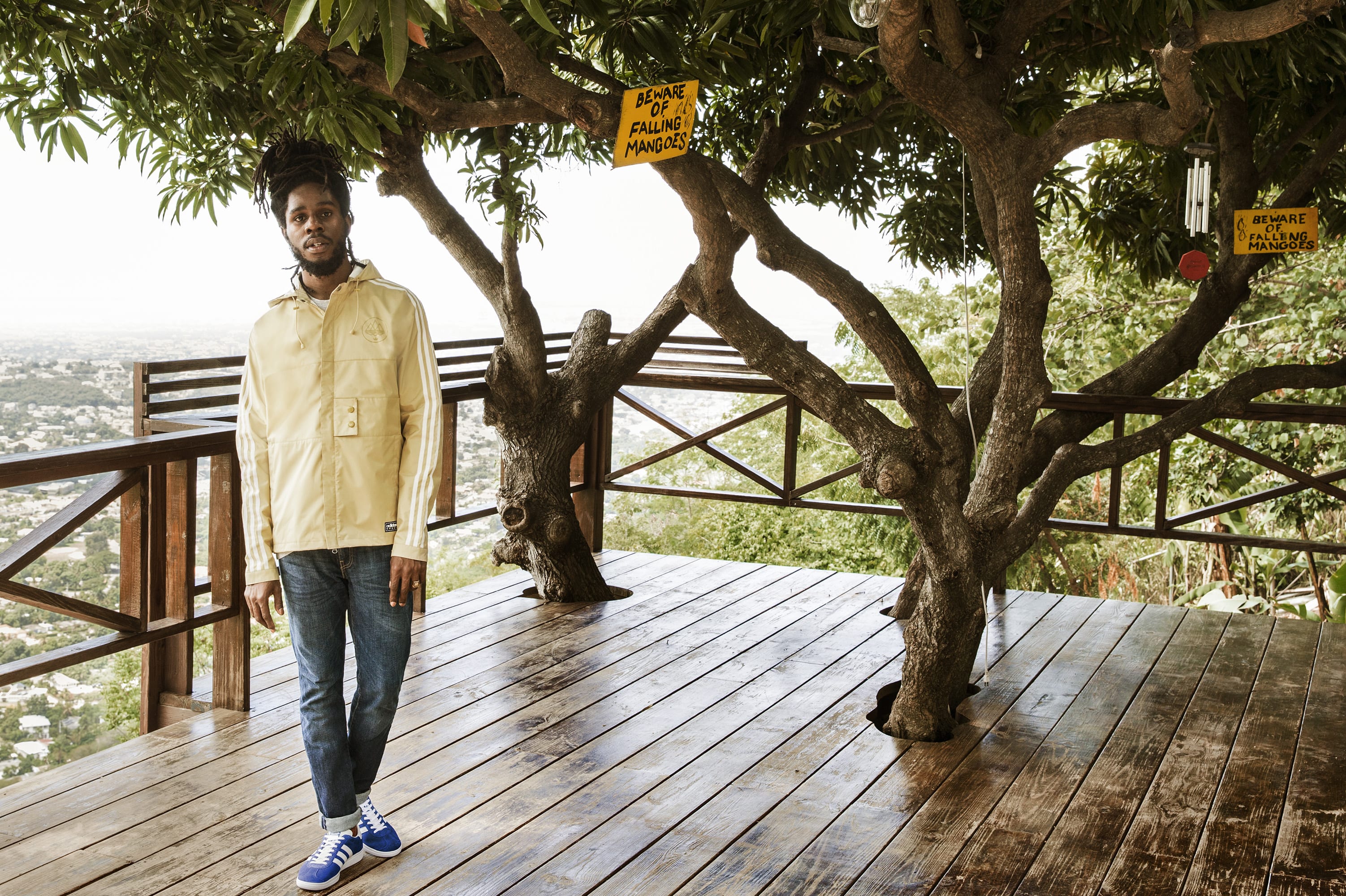 Last season, the Oi Polloi x Adidas  Manchester "Marine" Spezial was the surprise big hit in the range. Do you have any tricks up your sleeve again?
I do, but I can't say anything yet. Needless to say, I am confident that many of Spezial's core audience will be excited by it. The Manchester "Marine" Spezial with Oi Polloi was really well received, as was the GT Manchester Spezial. I wasn't massively surprised by the response to those shoes, as the Adidas Manchester (which I originally worked on in 2001) is now a cult shoe in the UK and has never been overly distributed.
How do you feel about people buying them just to resell?
With regard to resellers, I try not to have an opinion on them without knowing their personal situation and what motivates them to do it. I don't walk in their shoes, although I am very aware that reselling Spezial shoes at massively inflated prices can frustrate fans who are passionate about the range. With Spezial's core audience there is still some communal spirit it seems, and I hear stories about them selling to each other at face value on the Adidas forums. I have huge admiration for those who turn their back on profit to show a mutual respect for each other in that way. It might be that reselling a few pairs is some teenage kids way of being able to afford a pair for themselves so I don't want to pass judgment. I know how it is to love trainers whilst being young and broke and how it is to go to great lengths to get a new pair but I grew up before eBay and the Internet. Having said all that, it might be just someone greedily trying to exploit people's passion for Spezial, which I do not like at all. As I say I can't comment without knowing the bigger picture.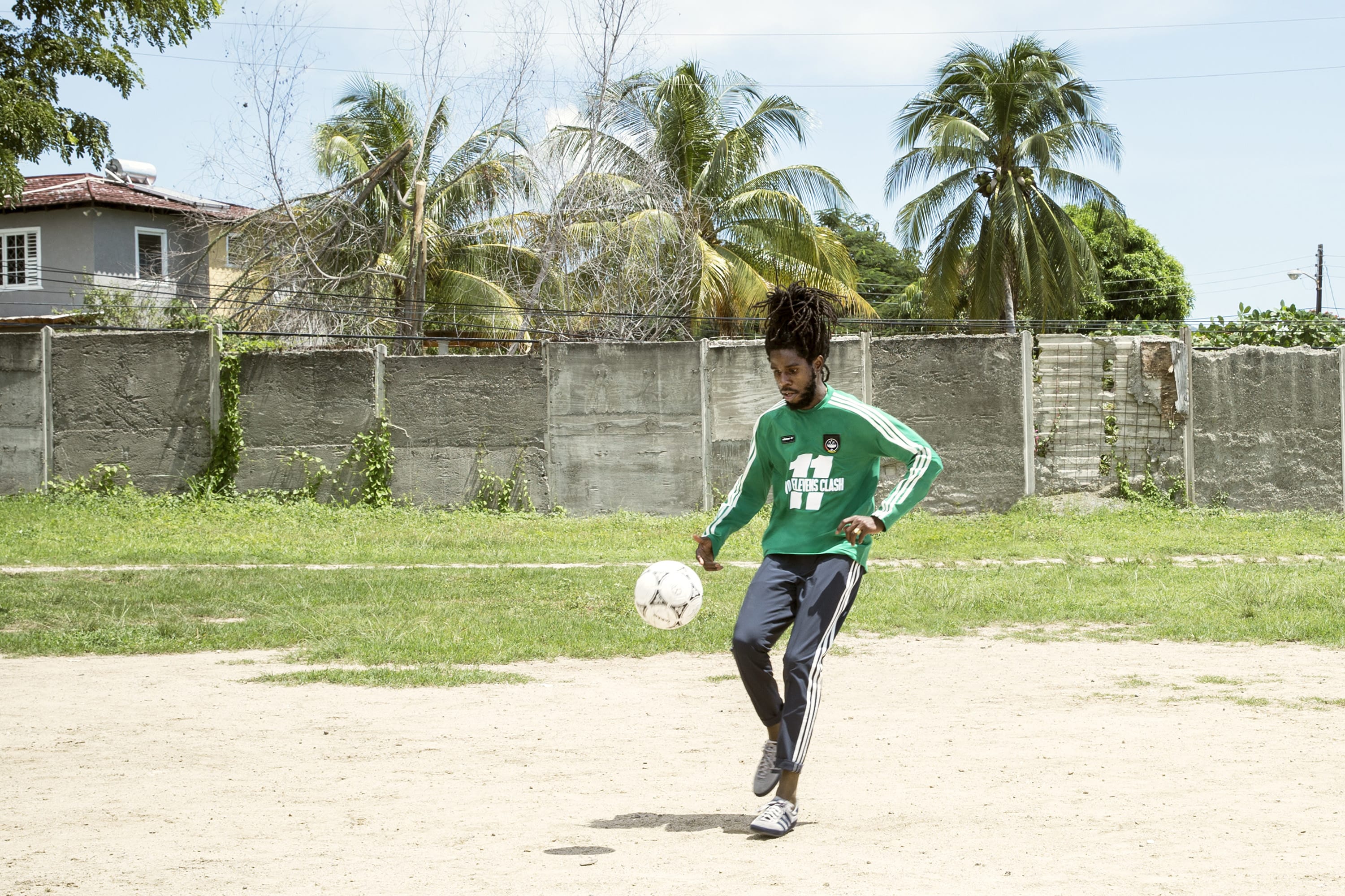 Which was the hardest sneaker to get right this season and why?
The Trainer Spezial. Bizarrely it looks like the simplest shoe of the bunch but I wanted to shorten the toebox (amongst other things). It was originally a shoe that was created by Adidas in the US in the mid '90s but we felt it could be improved with a few tweaks. Moving the eyestay forward unbalanced the rest of the shoe. It was actually supposed to release in Fall/Winter 2016, but we had to carry it over for a season, because we knew we could make it better. I am very happy with the final result. It's understated and subtle and will only be appreciated by people who know their Adidas, which for me personally is just how I like it.