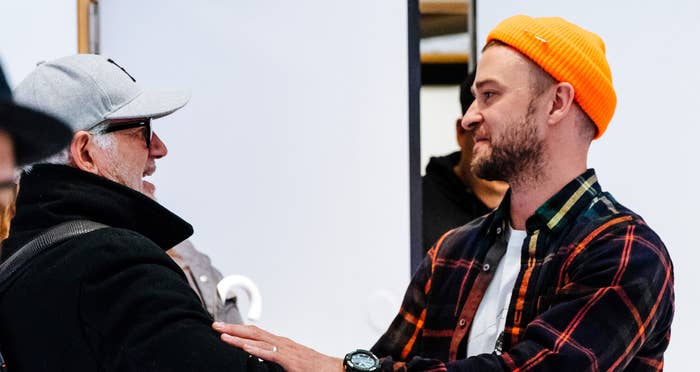 It was a sneaker collab that was equal parts surprising and confusing.
When Justin Timberlake flexed in a never-before-seen Air Jordan 3 PE right before performing as the halftime entertainment at Super Bowl 52, sneakerheads had two pressing questions:
1. Why is Justin Timberlake getting his own Jordan? 
2. Why is Justin Justin Timberlake working with Tinker Hatfield?
Nike's most recognizable sneaker designer recently shed some light on working with the pop star on a Jordan collection. "The reality is that we are looking at ways to interact and collaborate with different kinds of influencers," Hatfield said. "Athletes of course are still going to be big for us, but entertainers are mingling in and out of sports culture and music culture and all of that."
Only 5,200 pairs of Hatfield and Timberlake's rendition of the Air Jordan 3 exist and are releasing at select stops on Timberlake's Man of the Woods tour. Although the pairing might seem odd, Hatfield is hoping to get to work with Timberlake and other non-athlete endorsers more.
"I've found [Justin] to be a very fun guy and really he's easy to talk to. I actually have an idea that he doesn't even know about and I hope at some point we get to do another project," Hatfield said. "He doesn't know about it yet, because he's busy being Justin Timberlake, but I do hope that there are other entertainers and athletes and people other than designers and artists and everything else that we can continue to weave into our process."