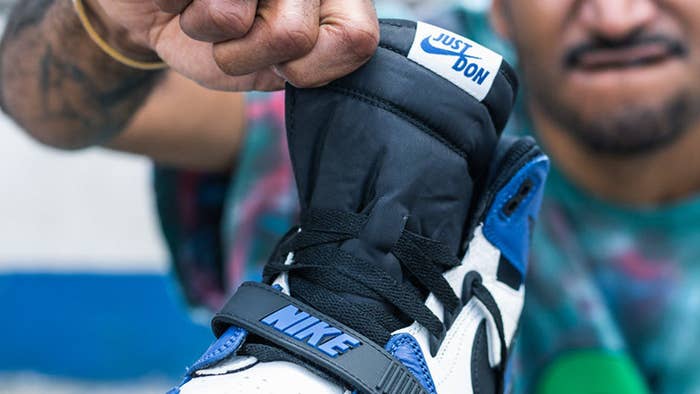 Don C has a bounce in his step.
The streetwear collaborator to companies like Mitchell & Ness, Levi's, and Nike is in Paris to fete his second project with Jordan Brand, the Legacy 312, to a handful of international media. It's less than 24 hours from seeing his friend, fellow Chicagoan and Nike partner Virgil Abloh show his first collection as the creative director of Louis Vuitton at Paris Fashion Week and today is Don's turn in the limelight.
Dressed in green Palm Angels track pants and a tie-dye printed Gosha Rubchinskiy alien t-shirt to match the ghost green colorway of his signature sneaker, Don is flipping the script on reporters asking them what they think of his design.
"You all see my excitement and don't even know. Jordan Brand is what it is," Don says while waving two other colorways of the Legacy 312 and posing for cameras. "I feel fresher at Paris Fashion Week with some Jordans on than I do with some fashion brand sneaker to be honest."
It's safe to surmise that Don is feeling good about how people are reacting to his shoe. This wasn't the case a few months ago when unauthorized pictures of the Legacy 312 hit the web and were ridiculed by commenters on social media and on sneaker blogs.
As the saying goes, you only have one chance to make a first impression. The legacy of the Legacy 312 could've ended right before it even had a chance to begin, but Don decided to take things into his own hands by leaking his own photos.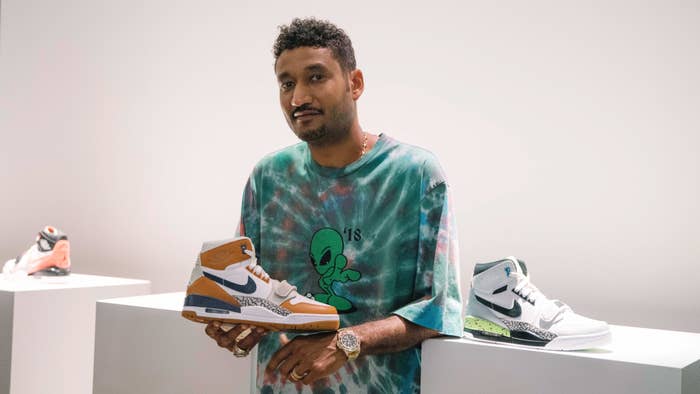 "I did it because it was a picture that leaked from the factory and the shoe looked weak and I felt like I had a better one that I wanted people to see," Don said. "I got in trouble for doing that with the brand but I didn't care because I knew that the other bad picture of it was going to still be floating around if I didn't put that one in the ecosphere."
Don C also looked to his inner circle to get feedback on his shoe. His friend Kid Cudi, who debuted the "Ghost Green" edition, was one of the first to get a pair and wore them during Paris Fashion Week. "He loved them, man. On the rehearsals for Virgil's show, he pulled up in the blue ones too and everybody was like 'What's them?' So I'm hyped that people liked them."
He's only the second non-athlete to design a new silhouette with Jordan Brand, following Spike Lee. Like Spike, he may not have ever scored a bucket in the NBA, but he does represent the Jumpman in his own way, according to the brand's VP of Footwear Gentry Humphrey.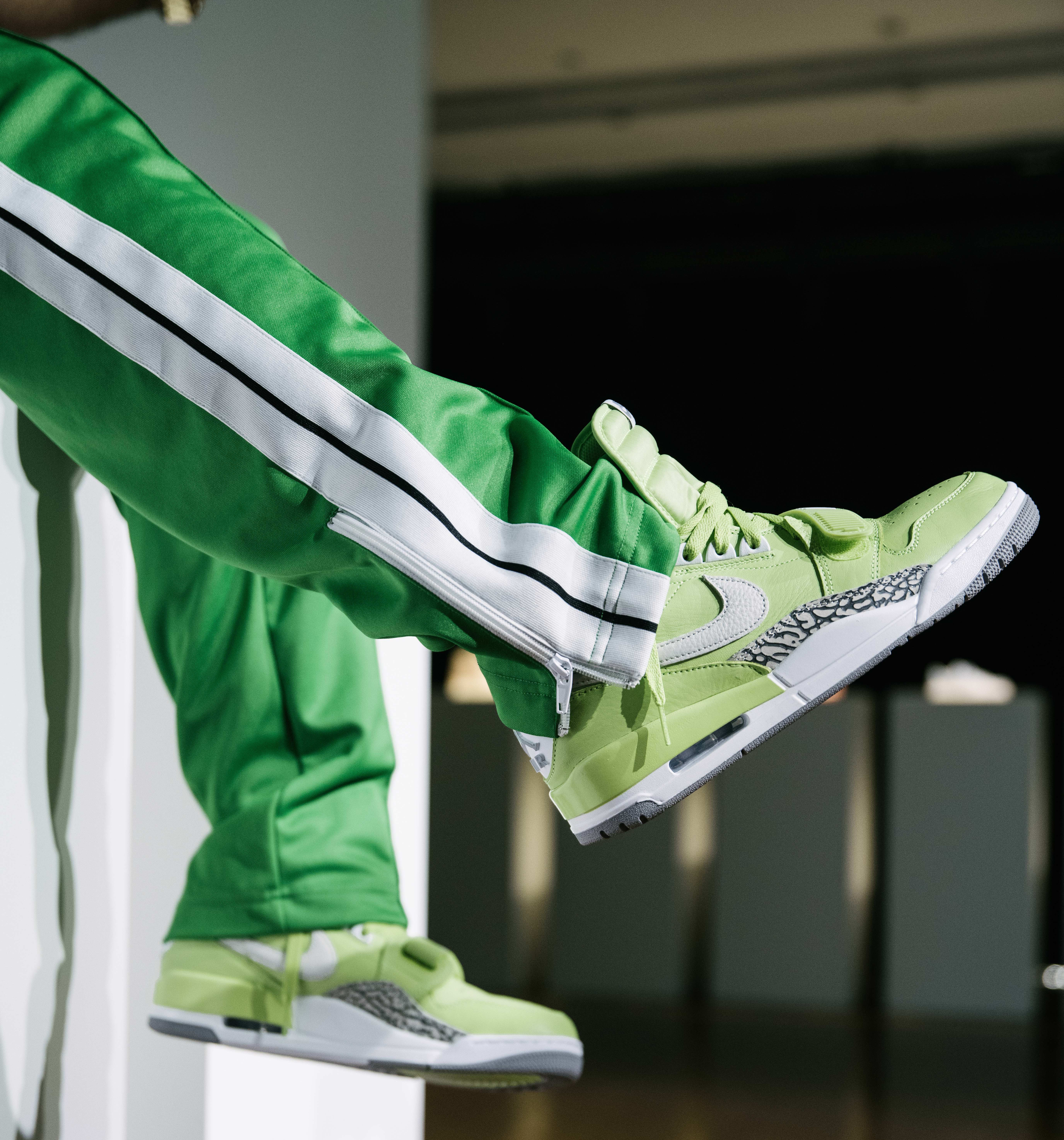 "Back in the day, athletes influenced a lot of kids. Now because of the digital world that we live in, kids have access to everybody," said Humphrey, who recently returned to the brand this year. "Whenever you can align yourself with guys that are willing to push the envelope a little bit and have values, goals, and objectives that line up with yours, it's just another way to stay connected to this younger consumer that we continue to serve."
As for Don, he's happy to be working for the brand that he grew up idolizing on a much larger scale. Unlike his first Just Don Air Jordan 2 collabs, the Legacy 312 will have a slew of colorways and be more widely available at major retailers, with the initial drop coming on July 14.
"I just hope that the new generation now can appreciate the heritage of what the Air Jordan 3s and 1s meant to me and then it can go to the next level and be something new to the new kids on the block," he said.
See Don C. break down his design and influences on the Legacy 312 by clicking the bubbles below: