1.
by Gerald Flores
"There's tons of people that want to help the homeless," said Andre McDonnell standing in front of New York City's Port Authority Bus Terminal. "But, they don't want to deal with the homeless." 
It's 11 a.m. and McDonnell is armed with a 36" rolling duffel bag that's filled with sneakers. His mission for the rest of the afternoon: find homeless people in the streets and inside the bus station to give them to.
"I don't want to do soup kitchens," he says. "I love sneakers. We want to take the sneaker culture and utilize it in a positive way."
2.
It's been three years since McDonnell first took his suitcase full of sneakers into the streets and started his nonprofit: It's From the Sole. He was a team of one at the onset, taking shoes that were donated by friends out to the destitute that were finding shelter in places like Port Authority, New York Penn Station, and Grand Central Terminal. The trio of transit hubs is affectionately referred to by him as the "Love Triangle."
Nowadays, McDonnell has some backup. He makes these runs around the Love Triangle at least twice a week with his partner Ruby Lassi and two other volunteers. The quartet gives out around 20-30 shoes during each go-around.
"This is the city with the biggest sneaker culture in the world. We have an abundance of sneakers here. There's 60,000 homeless people in New York City. What we want to do is use sneakers to help"
According to the Coalition for the Homeless, the number of New Yorkers sleeping in municipal shelters is 72 percent higher than it was 10 years ago, with thousands sleeping on the streets, subway stations, and other public spaces. Surveys show that 60 percent of the city's homeless are centered in Manhattan.
3.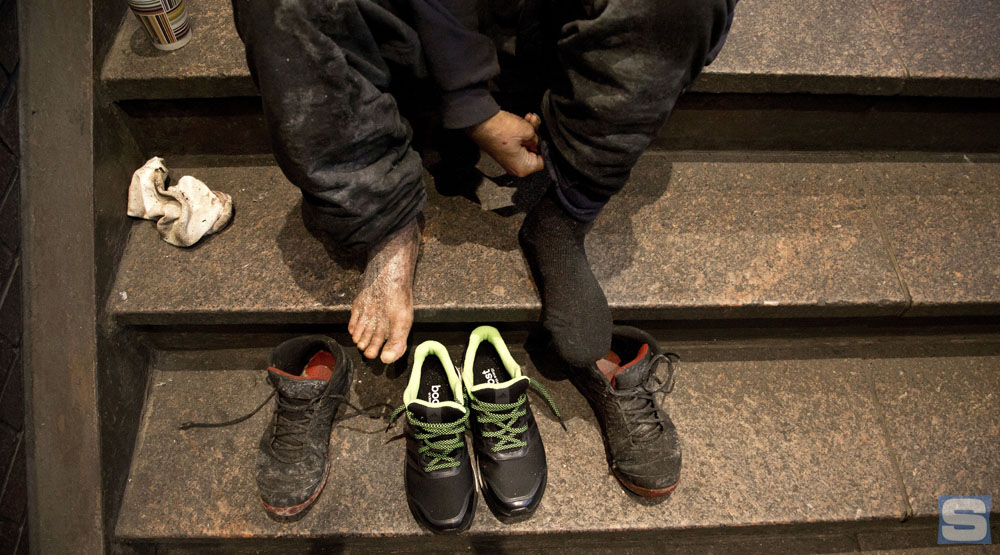 McDonnell, who works full time as a stylist at New York's Atrium boutique, first got the idea of using sneakers to help the homeless in 2012. "I was playing basketball with my boys and I saw a homeless dude with no shoes on," he recalled. "I gave him my brand new pair of sneakers and said to myself, 'I could start doing this.'"
He still remembers the very first time he went out at Desalvio Park in Brooklyn with his duffel full of sneakers. 
"I was kind of nervous in a way because I didn't know how to interact with them. I forgot that they were human just like me and just like you," he said. "They've just probably been in situations that've got them in the condition that they are. They just need a little bit of help. We need a little bit of help too."
Since that day, the founder estimates that the independent organization has given away over 7,000 shoes—mostly through donations from friends in the industry, as well as gifts from a handful of brands like adidas, Vans, and New Balance. It's From the Sole is also in the process of getting its 501C3 tax status, which McDonnell hopes will help in getting brands to work with them more (501C3 means brands can use sneaker donations as tax write-offs).
4.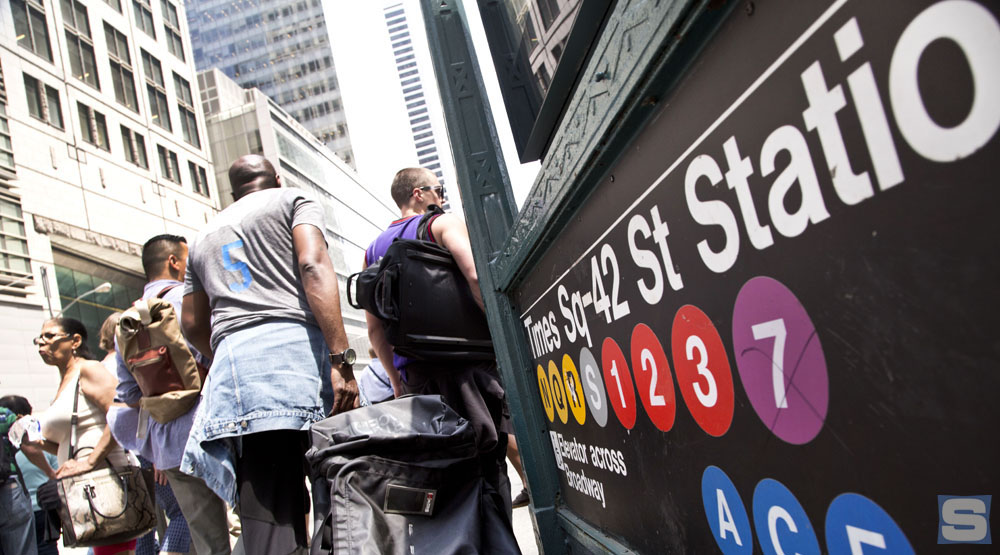 ___
It's now 12 p.m. After handing over a fresh pair of white Air Force 1s to a homeless man that was previously making due with mismatched shoes on both of his feet, McDonnell and his crew are stopped by an undercover police officer inside the South Wing of Port Authority.
"You guys got to go," the cop, dressed like a tourist that might pass through the bus terminal, tells McDonnell. In fairness, suspicion over four men walking into a major hub with black duffel bags might be justified in a post-9/11 New York City, but instead of arguing with the stuffy patrolman, he zips up his suitcase and tells his crew to just circle around the bus station. 
5.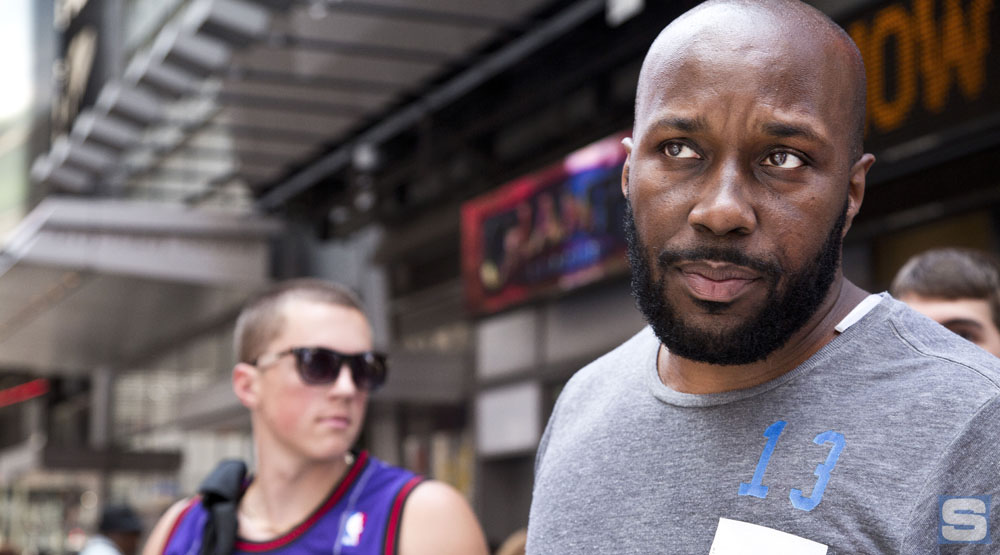 Getting kicked out of public places by police for trying help the homeless happens more often than not, the founder says. 
"I don't argue with them, but we're not going to let him stop the mission either," McDonnell says. "We still got to get rid of all of these shoes." 
He adds that getting grilled by undercover detectives isn't the worst thing that's happened him. Sometimes, trying to give something away to people in need can be way harder than you would think.
"There's a sense of tone and persona from some homeless people. There's people you could tell need your help, but he might have that 'Leave-me-the-hell-alone face,'" he said. "I've been spit at. I've been called the N-word. They've tried to grab my bag. All kinds of crazy stuff has happened." 
6.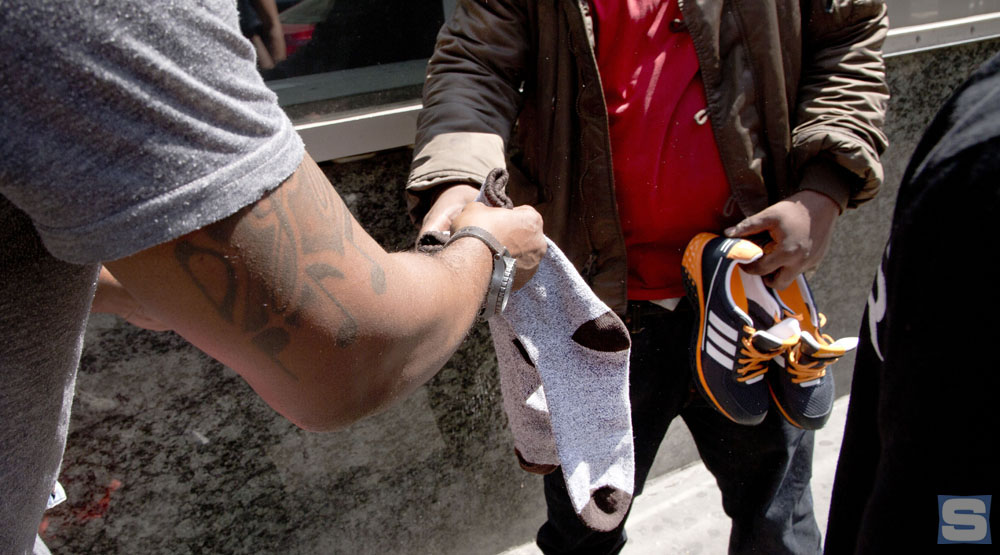 Despite all of that, McDonnell is still looking to grow his four-man operation and use his love for sneakers to help more people in the city. When he's not working at Atrium, he's handing out shoes. If he's not handing out shoes, he's talking about it. He's even taken his side project on his morning commute. Once a week, you'll find him on the subway, dressed in a suit and evangelizing riders about his cause.
"Is there a religious message behind it? Of course there is. I'm blessing people. Things could be a lot worse for me, but I want to give my blessings back."
More info about Andre McDonnell and where to donate sneakers can be found at ItsFromtheSole.org
Gerald Flores is the Editor-in-Chief of Sole Collector. You can follow him on Twitter at @ImGeraLd