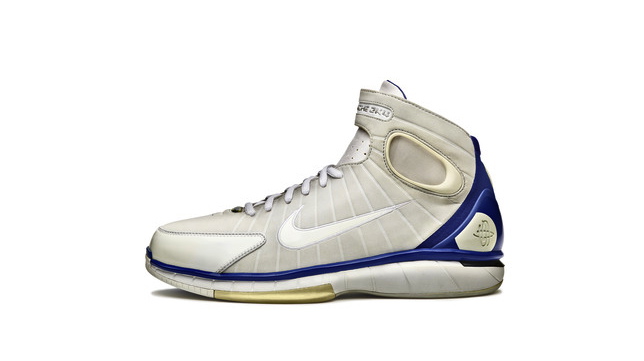 "The idea was to bring back classic basketball design principles in a very modern way."- Eric Avar  
words // Brennan Hiro Williams
In 2004, Nike debuted the Air Zoom Huarache 2K4, a model led by Kobe Bryant in the first year of his new deal with Nike. Designer Eric Avar combined the spirit of the original Air Huarache (a Kobe favorite) with the latest in Nike technology to create one of the most highly regarded court performance shoes to date.
Continuing on with the 20 Designs That Changed the Game series, Nike takes a look back at the 2K4.



To understand how far Nike had pushed the language of basketball shoe design, by 2004 experimentation had almost become a norm, meaning a clean, classic look looked downright subversive.




The Nike Air Zoom Huarache emerged from conversations with lead designer Eric Avar and the rest of the team regarding the nature of bold and expressive shoes of the prior decade. "It was very good for the athletes and for the marketplace, but we questioned whether we were being bold and crazy for the sake of it. How could we return to more purposeful and 'grounded' product?"




Balancing modern and classic was the Nike Air Zoom Huarache 2K4's purpose and Eric and the team had a new kind of player in mind, operating in a zone that was neither Force, Flight nor Uptempo. "From a functional standpoint, thinking forward to the emergence of players like Kobe and his versatility — that was the driving functional inspiration behind the product."




Studying the original Nike Air Flight Huarache's innovation, insights and exoskeleton fit, plus the Air Force 1 from a classic aesthetic standpoint, the Nike Air Zoom Huarache 2K4 made a statement on its own terms, yet was rooted in earlier masterpieces. Having seen tiny swooshes, reverse swooshes and vast swooshes on recent shoes, Eric was keen to return to Nike's roots. "For the 2K4 we were doing a big, old-school quarter panel swoosh to make it loud and proud and bring that back."




The lightweight Phylon sole, low-to-the court Nike Zoom responsiveness, formfitting leather/suede upper and evolved, integrated version of the ankle strap all added up to a new performance standard for Nike Basketball: a shoe built for explosiveness and quickness with a great ride.




As a further nod to its original predecessor, the Nike Air Zoom Huarache 2K4 debuted on the courts of college basketball in March during the height of hype and basketball fervor. Sound familiar? This time young athletes took advantage of modern technology, adding personal words of inspiration to the shoes through NIKEiD.com.




Moving from spring to summer, the Nike Air Zoom Huarache 2K4 would enjoy time on the feet of basketball athletes.




There's a reason it took several years for another shoe to earn the right of the Huarache moniker. With a sleek silhouette that shifted the prevailing mindset, as well as an influence that can be seen still today on Nike Basketball shoes, the Nike Air Zoom Huarache 2K4 sent basketball design down yet another exciting new path.