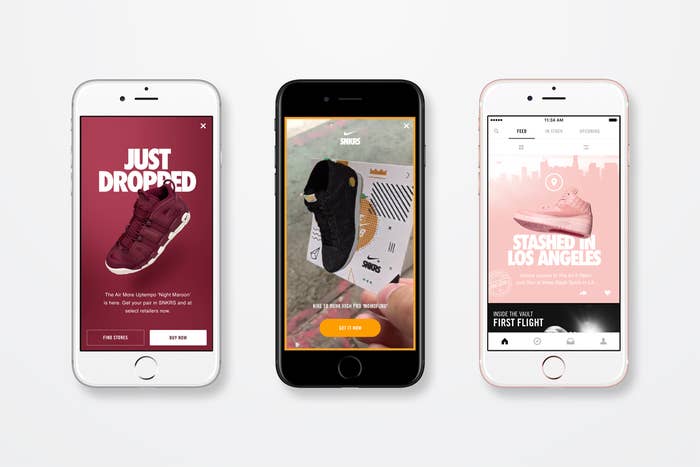 One of the most common complaints about the selling of limited sneakers is how exclusionary it can be with respect to geography. Sure, brands and boutiques making this product more readily available online has leveled the playing field, but those outside of metropolitan centers are often still left out. Nike hopes to address this with Stash Squads, an in-development feature for its SNKRS app that brings shoppers from all over together as teams that can buy shoes together.
The feature is part of Nike's plan to make SNKRS a more robust experience that creates deep connections with consumers by gamifying sneaker buying. The app has already rolled out geo-specific launches called Stashes, which release shoes in small time windows at surprise locations. This adds an element of excitement to the generally mundane process of acquiring footwear online, and it cuts down on bots since it requires more human input, but it only pushes users who aren't in bigger cities further to the margins.
Stash Squads, which Nike says will be available in SNKRS early next year, looks to bring them back in. At a demo for media in New York City last Friday, the brand pitched the feature as sneaker buying as a spectator sport. Here's how it works: A squad leader who is within 100 miles or so of the radius of a coming Stash launch basically sets up a livestream on his or her phone while looking for the shoes. From there, users outside the radius can view a digital map of the city hosting the launch and see leaders looking for the shoes. Four to five users can tap on those leaders to join their squad and watch the hunt live on their phones. When the squad leader unlocks the shoes, the rest of the team can buy them as well.
There is some irony built into the idea of Stash Squads. The feature aims to make sneakers more available, but the overall availability is limited and restricted by nature, as the product launched through the Stash feature has so far been limited, hype fare. But, at least it's a step toward leveling out the playing field from a location standpoint.