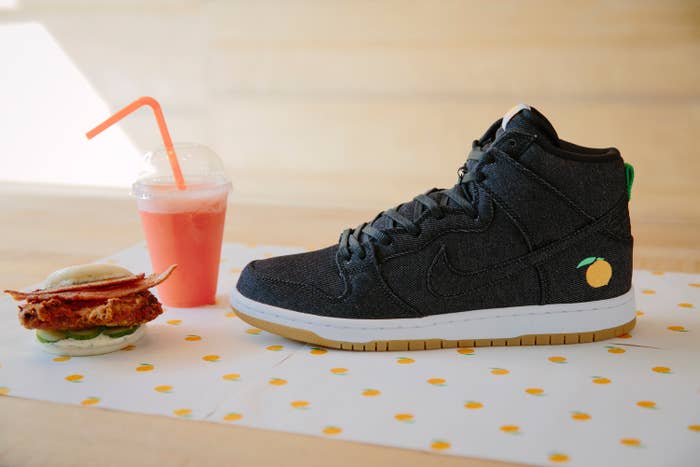 Nike is again switching up the way it releases footwear, this time trying an approach for the launch of the Nike SB Dunk High "Momofuku" that requires shoppers to use an interactive camera function in its SNKRS app to unlock the shoes.
How does it work? App users will have to bring up the sneaker's page and then point the camera on their mobile device at an image of the menu from Fuku East Village or one of the Nike posters pasted outside Momofuku locations in the U.S. (both pictured below). From there, a 3D model of the sneaker will appear that allows users to buy a pair while supplies last.
The Nike SB Dunk High "Momofuku" is a collaboration with restaurateur David Chang, the sneaker referencing his Momofuku group of eateries. The shoes launched first at Chang's restaurants on June 22.
Nike has recently tested new ways of selling shoes through the SNKRS app, using geo-fencing for the Don C x Air Jordan 2 "Arctic Orange" and specific time windows for Kevin Durant's "Still KD" colorway.
Below are Nike's instructions on how to buy a pair of the "Momofuku" Dunks using this new feature:
How it Works
Make sure you have the most recent version of the SNKRS app for iOS.
Go into the Behind The Design post about the Nike SB Dunk High Pro "Momofuku" in the SNKRS feed.
Once inside the post, scroll down until you find the .gif of the hidden Dunk rotating above the background image.
Tap this .gif to open the camera via SNKRS.
Once the camera is open, find David Chang's Fuku East Village menu online (hint, that's it below). Or any of the special SNKRS posters inspired by the menu that are pasted up outside all Momofuku restaurants in the U.S. 
Hover over the menu or poster with the camera and then tap to unlock it. The shoe will instantly pop up on your screen.
If there are still pairs available, the invitation to purchase the Nike SB Dunk High Pro "Momofuku" will appear in your SNKRS Feed and Inbox.