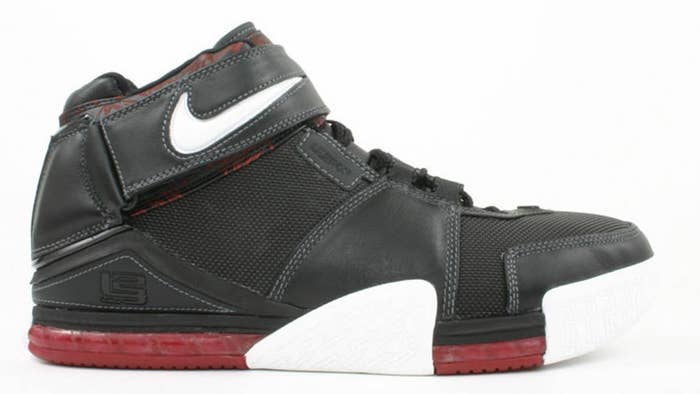 LeBron James' second signature shoe with Nike, the Zoom LeBron 2 from 2004, will re-release for the first time ever in 2022, according to sneaker industry sources. The LeBron 2 retro is slated to release early next September, per a Nike brand document viewed by Complex that details the company's product plans for next year, but its release date could change given how many shoes have recently moved off their original dates.
Neither James nor Nike have confirmed the return of the LeBron 2.
On the tech side, the original LeBron 2 featured a removable velcro strap at the ankle, heel and forefoot Zoom cushioning enclosed in a Pebax shell, and a Xytel midfoot shank. In addition to the mid cut, the LeBron 2 was also released as a low beginning in 2005.
Nike has dabbled in retro LeBron shoes over the past few years, bringing back the Air Zoom Generation, his first signature shoe, for the first time in 2017 and more recently dropping retro versions of the LeBron 3, LeBron 7, and LeBron 8.
There were indications years ago that Nike was planning a LeBron 2 retro, but the samples floating around in that period never amounted to more than samples. In 2014, James himself wore an updated version of the LeBron 2 covered in animal prints. In 2015, another pair surfaced in the "Dunkman" colorway.

It's been presumed for years that Nike's long-term plan with James' line would involve retros of his older models, especially in the wake of the lifetime deal he signed with the brand in 2015. Nike deepened its partnership with James in 2021, naming a massive new building at its Oregon headquarters after him.