1.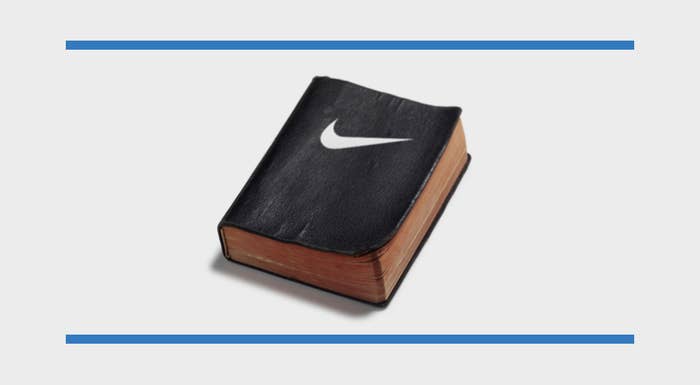 by Brendan Dunne
There's a secret group of Nike devotees, product obsessives, who roam around proselytizing on behalf of the Swoosh. They are one of the oldest Nike outreach squads. They help sell the idea of Nike, even if they don't really have anything to sell. They are the EKINs (that's "Nike" spelled backwards).
The story goes that Nike co-founder Phil Knight was the first EKIN, spreading the good word of Nike and educating retailers and athletes alike as to what it was that made his sneakers the pinnacle of sportswear. The EKIN program was officially created in 1981 to ensure that the passion for product that Nike's old guard had would be passed on to future generations.
Donald Katz helped introduce the EKIN tribe in his 1994 book Just Do it: The Nike Spirit in the Corporate World. There, Katz called the EKINs "Nike's circuit riding technical experts" that spent their time traveling to stores across the country preaching about product. The role lives on today, with an ever-growing team of global EKINs and even an alumni association that keeps former members of the group together.
2.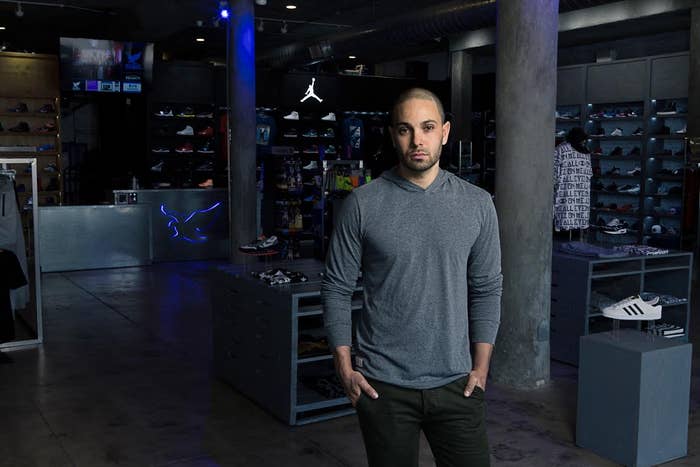 "It's a sales and marketing support function," explains Matt Fine, a former EKIN and the current president of Shiekh Shoes. "Basically you are a product expert and you're tasked with understanding all the new technologies – understanding who's wearing it, how it's being marketed, how it's being positioned."
Telling stories is a central goal of the EKIN, and an important one for Nike at large. The brand thrives on building an aura around its products, and the EKIN helps out with this. This might include giving a big box store like Foot Locker or Finish Line a breakdown on Nike Basketball technologies, or talking to a boutique about the materials and stories behind the product for an upcoming season.
"There's actually a position where someone refers to themselves as a chief storyteller. Everyone wants to speak to the EKINs," Fine says. "[Nike] wants to impress upon you that storytelling is everything to the brand. That's how they get you to buy in. It definitely is awe-inspiring to hear."
Fine joined Nike in 2002 and spent almost two years as an EKIN during the first part a career with the company that would last over a decade. Prior to working as an EKIN, Fine had an informal internship with Nike via his uncle at the brand's Marina del Rey, Calif. office. There, he was introduced to the sort of activations and marketing efforts that would end up central to his EKIN role.
"I worked on what we called the 'gypsy retail campaign.' We painted out a 1956 ice cream truck all black," Fine said. "There was a basketball court mounted to the side of it and we sold exclusive product from the truck. We also had a 1956 GMC or some sort of old-school limo that was decked out with video games and all kinds of crazy stuff. That was in 2000."

"Everyone tells you that that job will be the best job you'll ever have. For the most part that's true."

Eventually Fine landed back in the Nike fold as a full-on employee when, after college, a planned future in real estate didn't pan out. Fine got ahold of his old Nike contacts after hearing about an EKIN posting, and eventually landed the job via an unorthodox presentation. The EKIN interview, Fine says, involves giving a passionate speech about any given topic. While most might default to a talk within Nike's usual range, Fine went left.
"At the time I was really into chess and I know that most people aren't," Fine explains. "Chess is a really complicated game. In chess, theoretically you can put people in checkmate in four moves. I basically explained how to execute and block a four move checkmate. It doesn't sound that interesting, but if I can make that interesting for you, I can make anything interesting for you."
In his pitch, Fine was able to relay one thing crucial to the EKIN role: passion.
"They're looking for a specific passion," Fine says. "There's a very specific type of personality they're looking for within that role. It's being able to demonstrate a brand passion through disseminating knowledge."
Fine says that, because of this passion, EKINs often end up Nike lifers. The passion is fueled by the orientation that new EKINs receive, where they learn about the long history of the program that traces all the way back to Nike co-founder Phil Knight. There's even an alumni association for EKINs who have since graduated out of the role. Unsurprisingly, a lot of former EKINs can now be found at the top of Nike's ranks running the company, or elsewhere in the sneaker industry, like Fine.
3.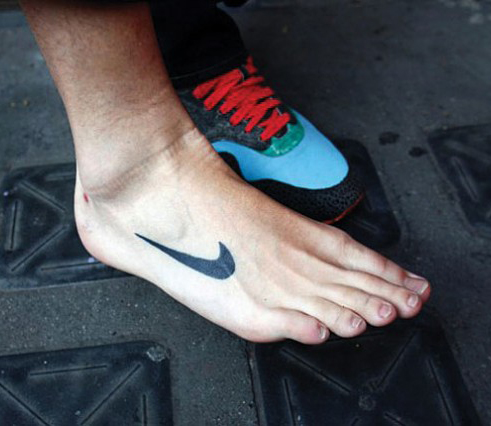 Another token of the EKIN passion is the infamous Swoosh tattoo. Since Katz's introduction of EKINs in Just Do It, there have been tales of its members getting branded with Nike's logo. Fine confirms that the tradition still carries on.
"Plenty of Swoosh tattoos to go around," Fine laughs. "Several of my best friends who were in EKIN classes before me had EKIN and Swoosh tattoos. There's plenty of people walking around around with a Swoosh on their ankle or foot or other random places."
The Swoosh tattoo thing isn't an official policy though, and Fine says that the density of those marks within a particular group of EKINs varies depending on how serious the recruiter is about upholding the traditions. Even without the tattoos though, they are unified by a creed.
"There's a saying in the EKIN world that's 'EKIN for life,' that's pretty true," Fine says.
Fine still feels the pull of his former post. Despite having risen through the ranks at Nike, eventually becoming a cross categorical sales director before leaving for Shiekh Shoes in 2014, he jokes that he'd go back to his EKIN role if only it paid more. He's still able to interact with the younger generation of EKINs when they occasionally show up at Shiekh's retail locations.
"You still see their presence," Fine says. "You give them a nod and you know, but you definitely miss the camaraderie. Everyone tells you that that job will be the best job you'll ever have. For the most part that's true."
What's the biggest takeaway that Fine learned during his time as an EKIN?

"The consumer decides," Fine says proudly. "I love that saying. I think that I carried that with me throughout my career and Nike and I've for sure lived by it at Shiekh Shoes."