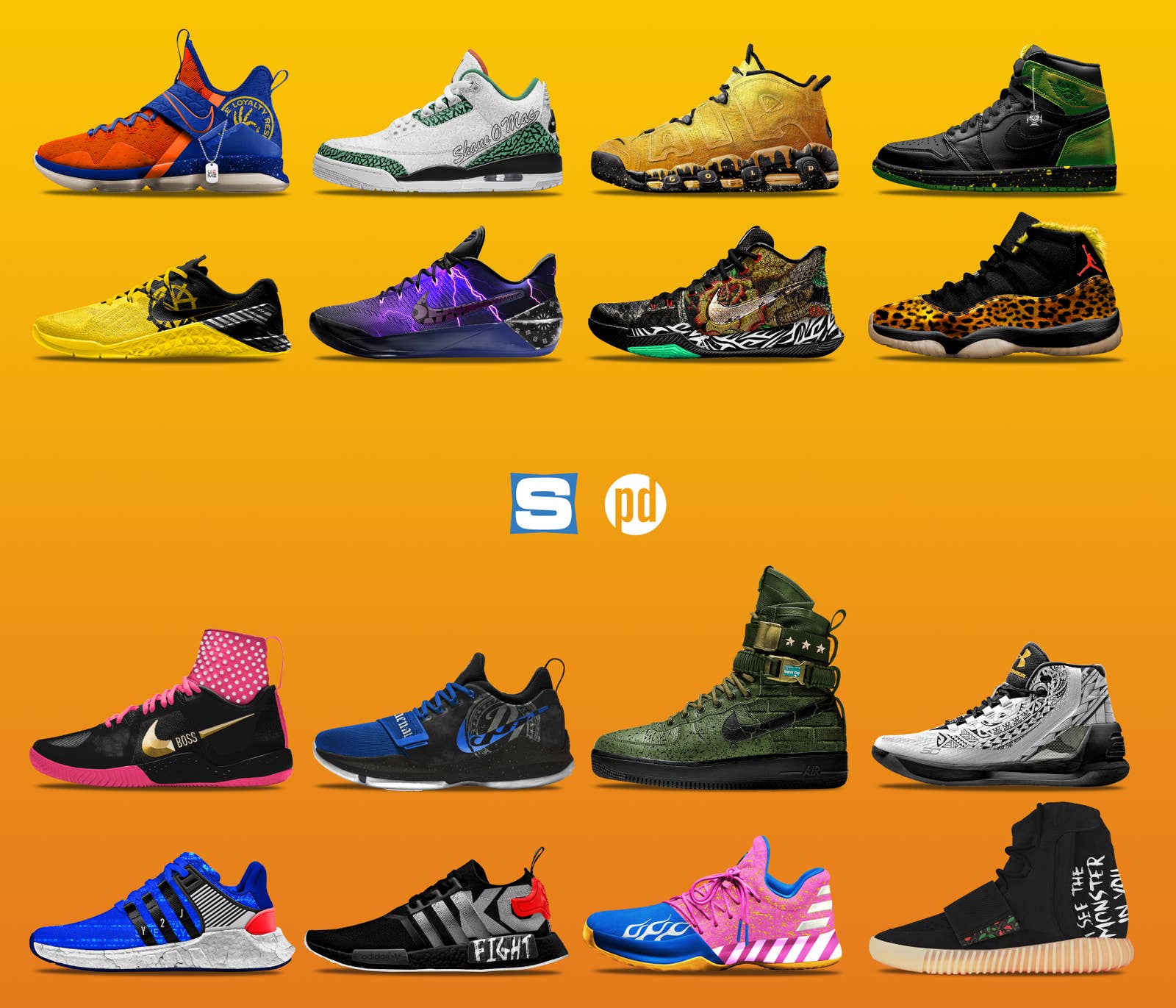 Touted as the Ultimate Thrill Ride, WWE's Wrestlemania 33 will emanate from Orlando, Florida this Sunday. The spectacle is expected to draw more than 100,000 fans from 40 different countries, making it one of the biggest sporting events in the world.
The connection between wrestling and sneakers is stronger than ever. Puma is releasing an official collaboration with the WWE, Enzo Amore went sneaker shopping with Joe La Puma and Complex, Ric Flair is a Yeezy-loving hypebeast, and Shane McMahon is receiving exclusives directly from Jordan Brand. By the year, more and more wrestlers are ditching traditional ring boots for the latest in performance footwear.
In anticipation of this weekend's big event, we teamed up with artist Patso Dimitrov to render sneaker concepts inspired by the stars of Wrestlemania 33. The illustrations take elements of each wrestler's personality, legacy, presentation, and role in the WWE Universe into account. Get the story behind these colorways below.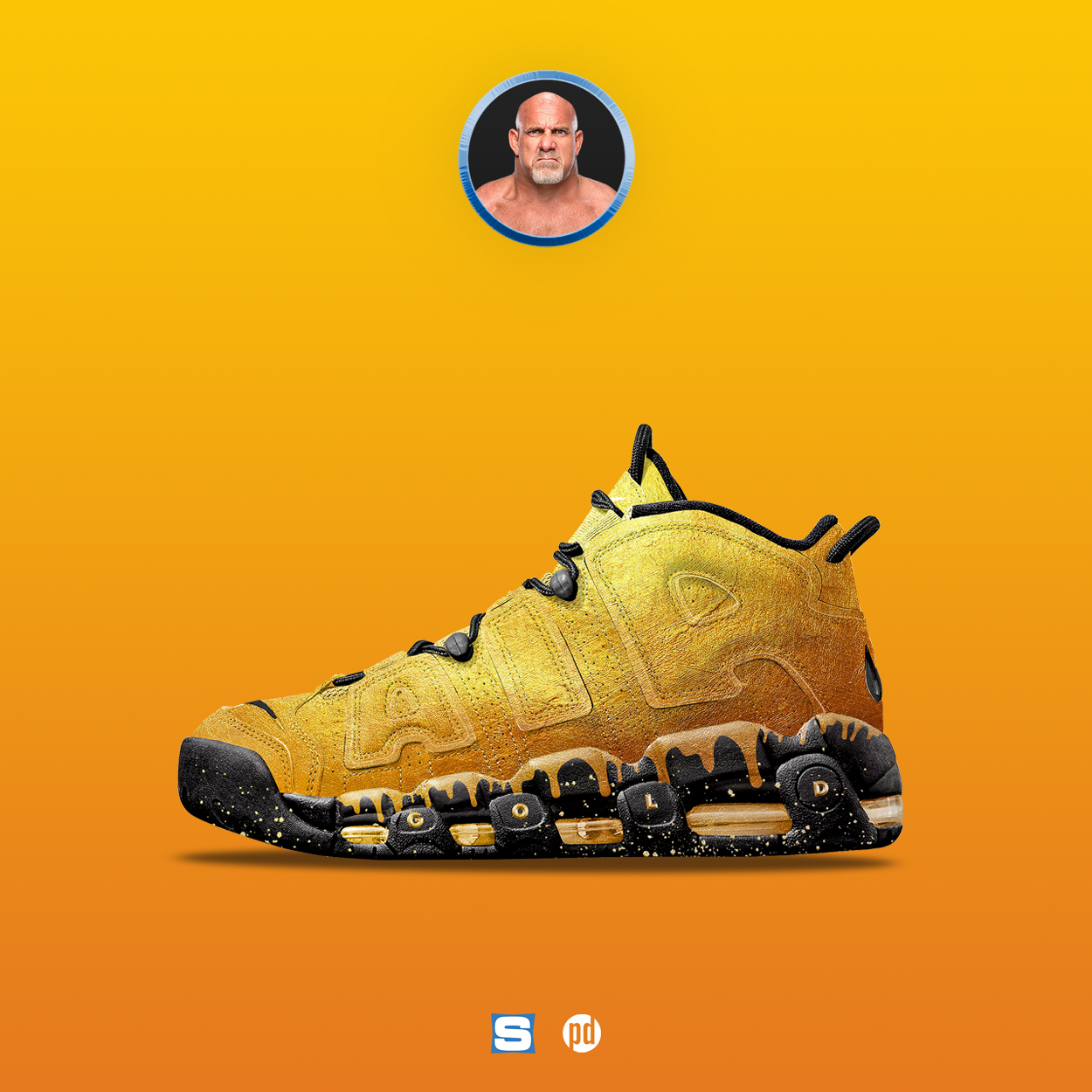 Last October, Goldberg shocked the wrestling world when he returned to the WWE for the first time in 12 years. Now Raw's Universal Champion, he's set to headline Wrestlemania 33 against old foe Brock Lesnar. The former WCW star is likened to the Nike Air More Uptempo, which, like him, is a favorite from the mid-to-late '90s that still resonates well with today's audience. The shoe drips with the color that leads his name and showers him during his epic ring walk.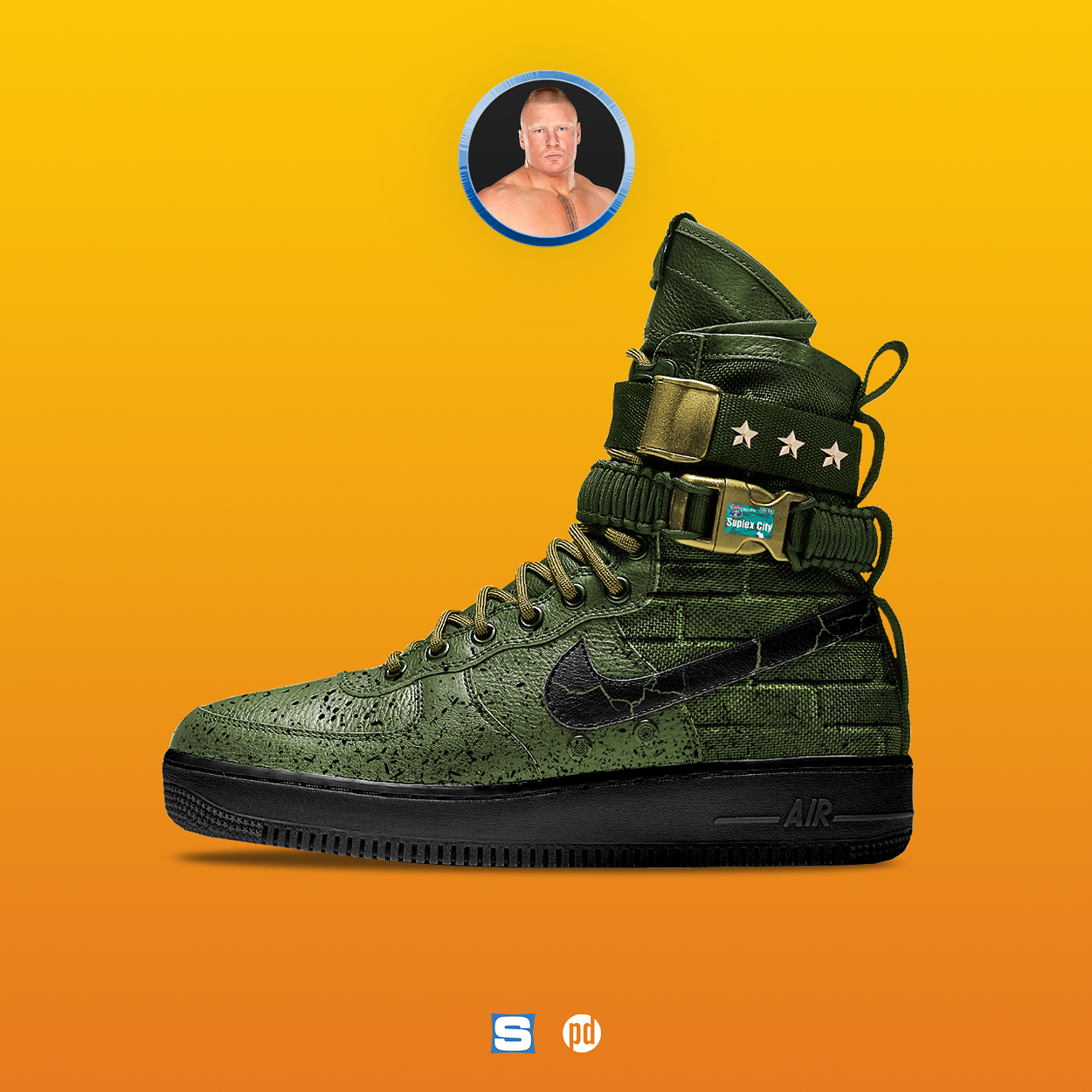 Since ending the Undertaker's storied streak at Wrestlemania three years ago, Brock Lesnar has been a nearly invincible force in the WWE. However, since their first encounter at Wrestlemania 20 in 2004, Lesnar hasn't quite been able to figure out Bill Goldberg. Lesnar, who again lost to Goldberg in 86 seconds at Survivor Series last November, is out to avenge himself against the one true hurdle of his career. The "Beast Incarnate" is built like and operates like a tank, thus he is represented by the combat-ready Nike SFAF1 in army green. Cracked details are symbolic of his path of destruction.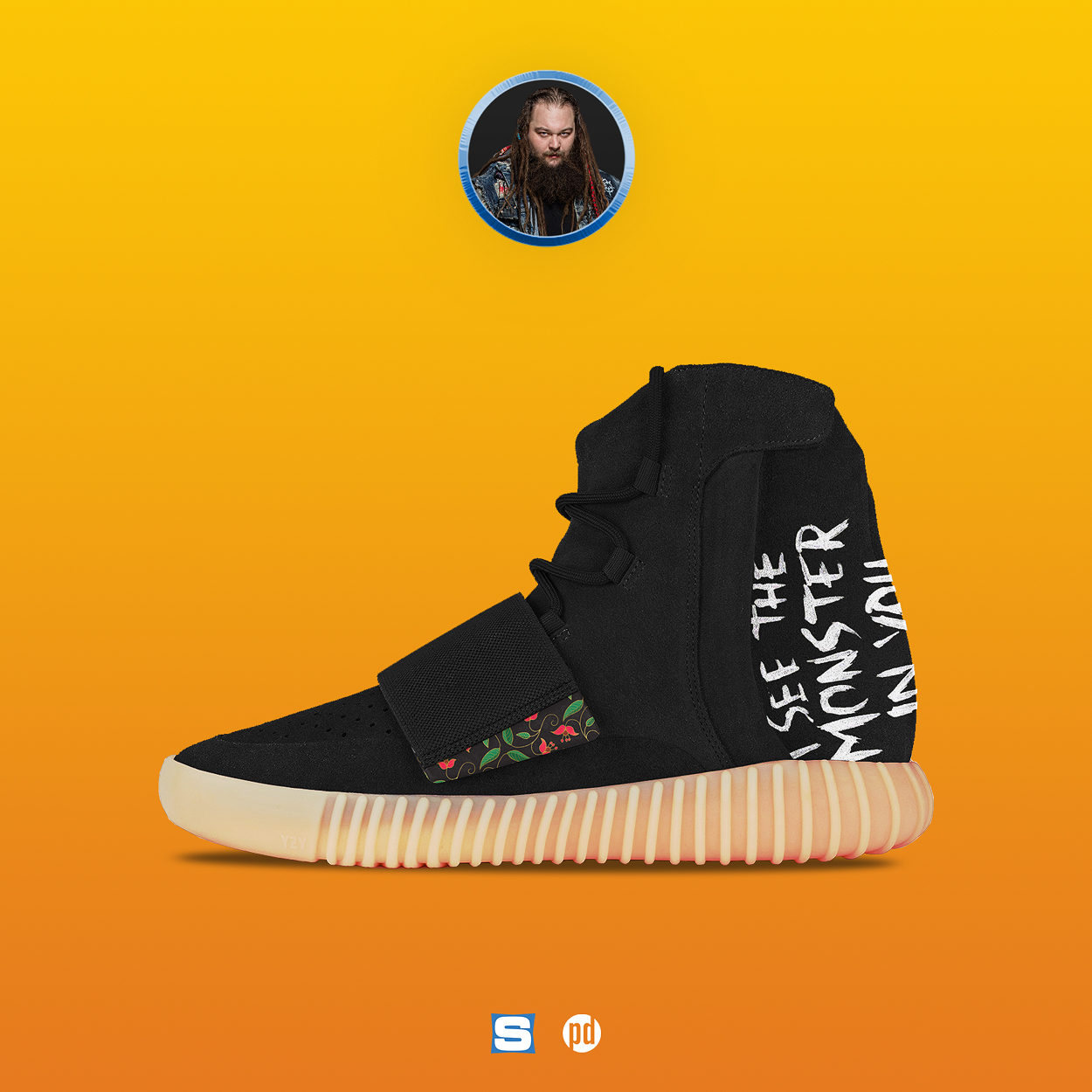 As diabolical as he is mysterious, Bray Wyatt will walk into Wrestlemania as WWE Champion for the first time. On the other side of the ring will be Randy Orton, a 12-time champion in his own right and a recent defector of the Wyatt Family. The Yeezy 750 Boost not only makes sense for Bray Wyatt because he's one of the company's biggest personalities, but it also fits his rugged, Bayou-flavored style.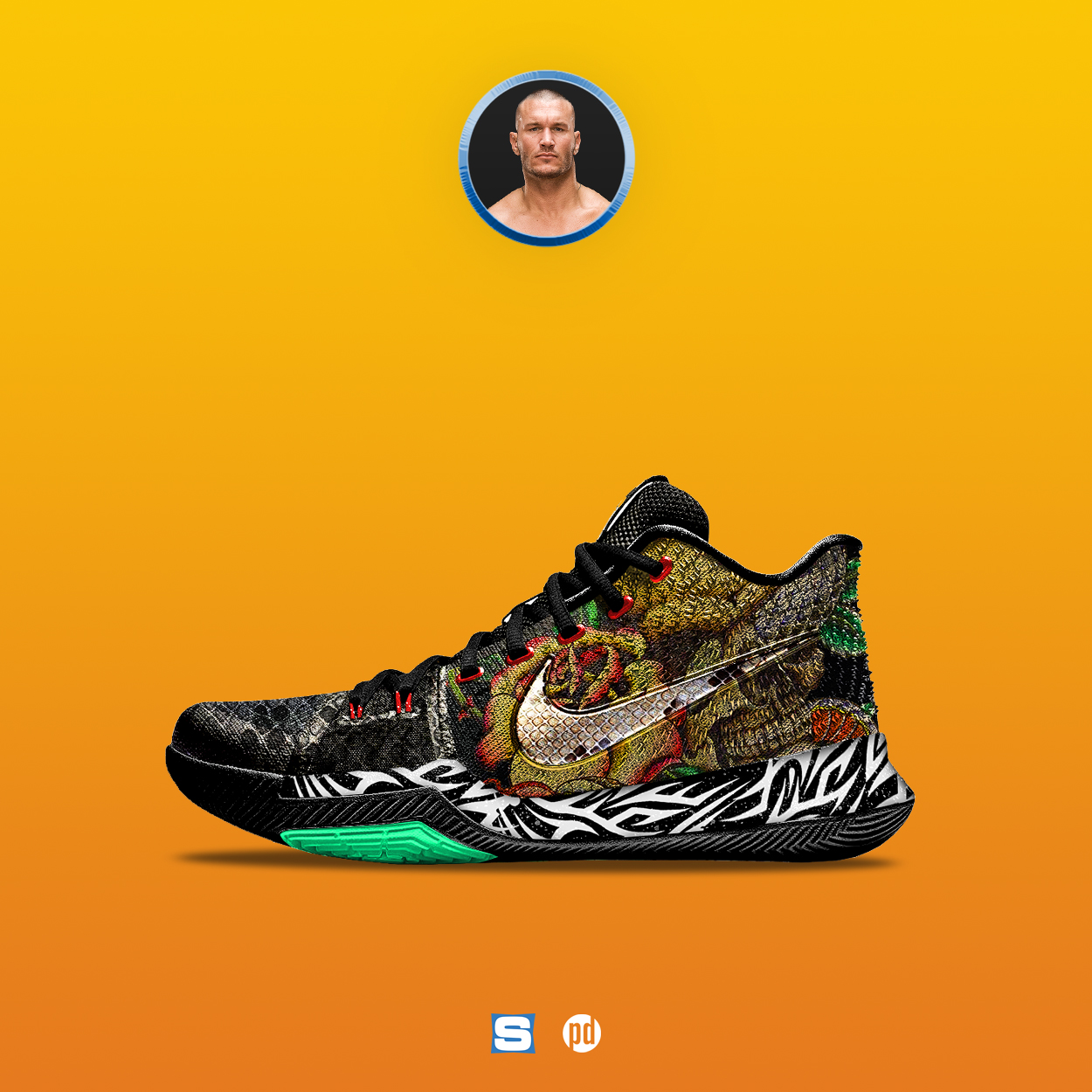 A veteran in the game, Randy Orton returns to the Wrestlemania (co) main event looking to solve the riddle that is Bray Wyatt. As the internet is well aware, Orton's signature move is the RKO, which like a Kyrie Irving crossover he can hit "outta nowhere." So, Orton gets the Nike Kyrie 3, treated in a snakeskin makeover to coincide with his nickname—"The Viper."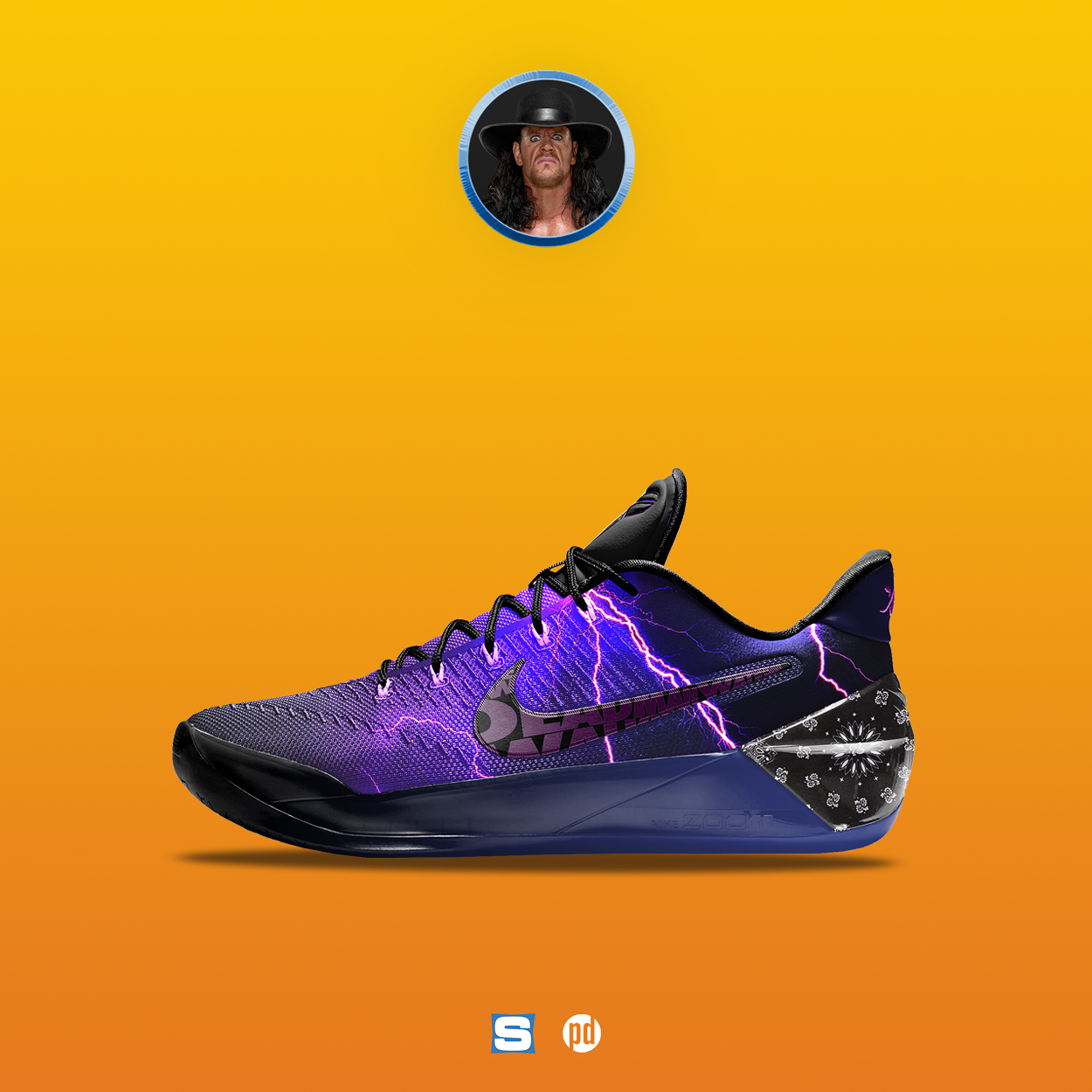 Set to compete in his record 25th match at Wrestlemania, the Undertaker will attempt to fend off the WWE's new "Big Dog," Roman Reigns, clinging to the claim that the squared circle is still his yard. The Nike Kobe A.D. was easy to connect to the Deadman, especially considering that he's at or near the end of his run. The purple and black colorway is a nod to Taker's attire from the '90s, while bandana print on the heel is a subtle nod to his early-2000s stint as the bike-riding "American Badass."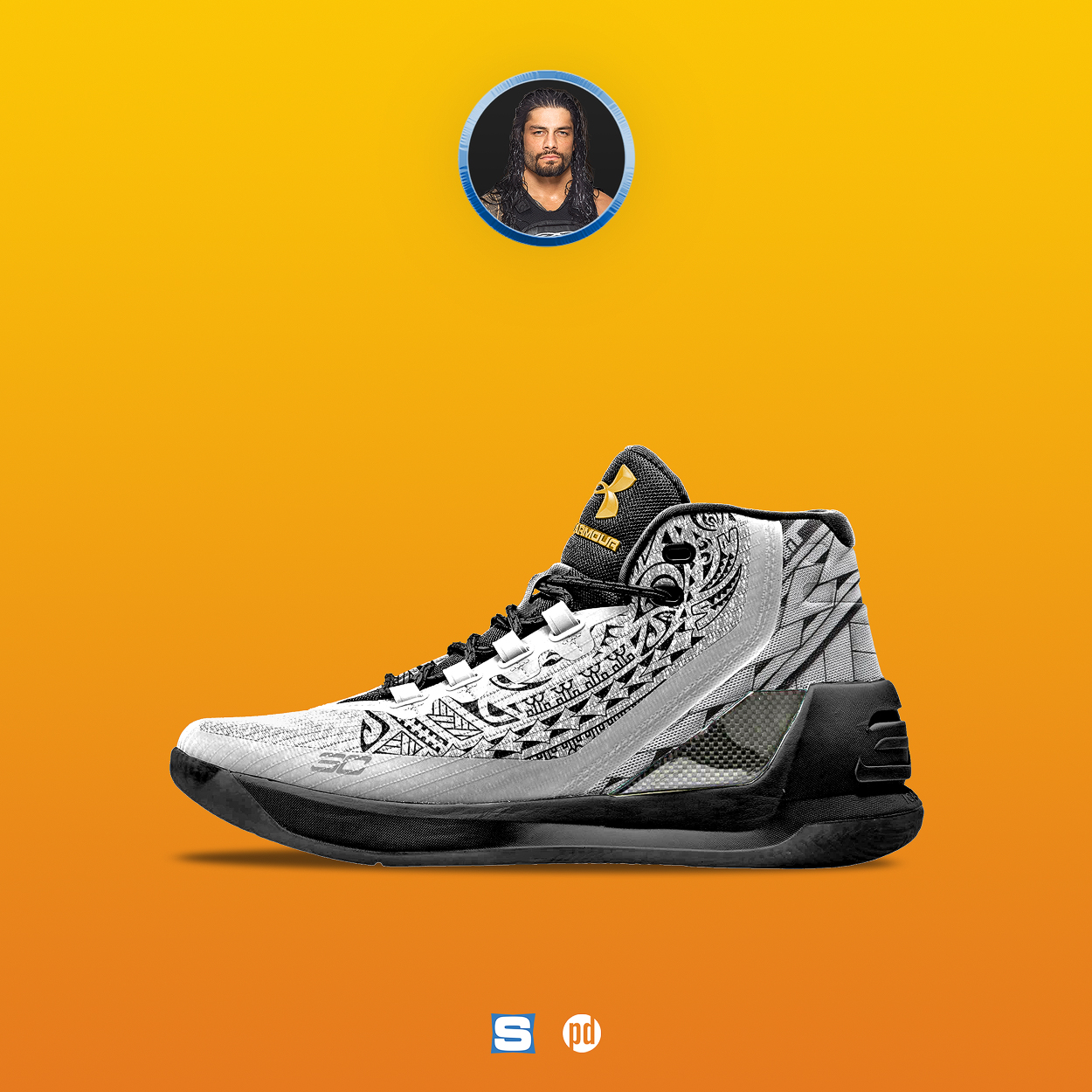 Love him or hate him, Roman Reigns is a legit threat to put the Undertaker out of commission for good in Orlando this Sunday. For Reigns, this is the ultimate show-and-prove moment—defeat the Deadman or lend credence to his very vocal critics. Seen as the WWE's hand-picked golden boy, Reigns went from a fan favorite to an unintentional villain. Back-to-back NBA MVP Stephen Curry can relate, which is why his Under Armour Curry 3 sneaker was the pick here. The Samoan tribal graphics are a reminder that he'd be brandmates with his cousin, Dwayne "The Rock" Johnson.
In his second Wrestlemania match, AJ Styles finds himself in conflict with the authority, Smackdown Live! commissioner Shane McMahon. Styles, who made a name for himself wrestling for companies like TNA, ROH, and NJPW, finally arrived on the big stage last year and has exceeded lofty expectations. There's some symmetry with Paul George's Nike PG1, a shoe that took a while to get to the market, but delivered in a major way once it did—truly phenomenal.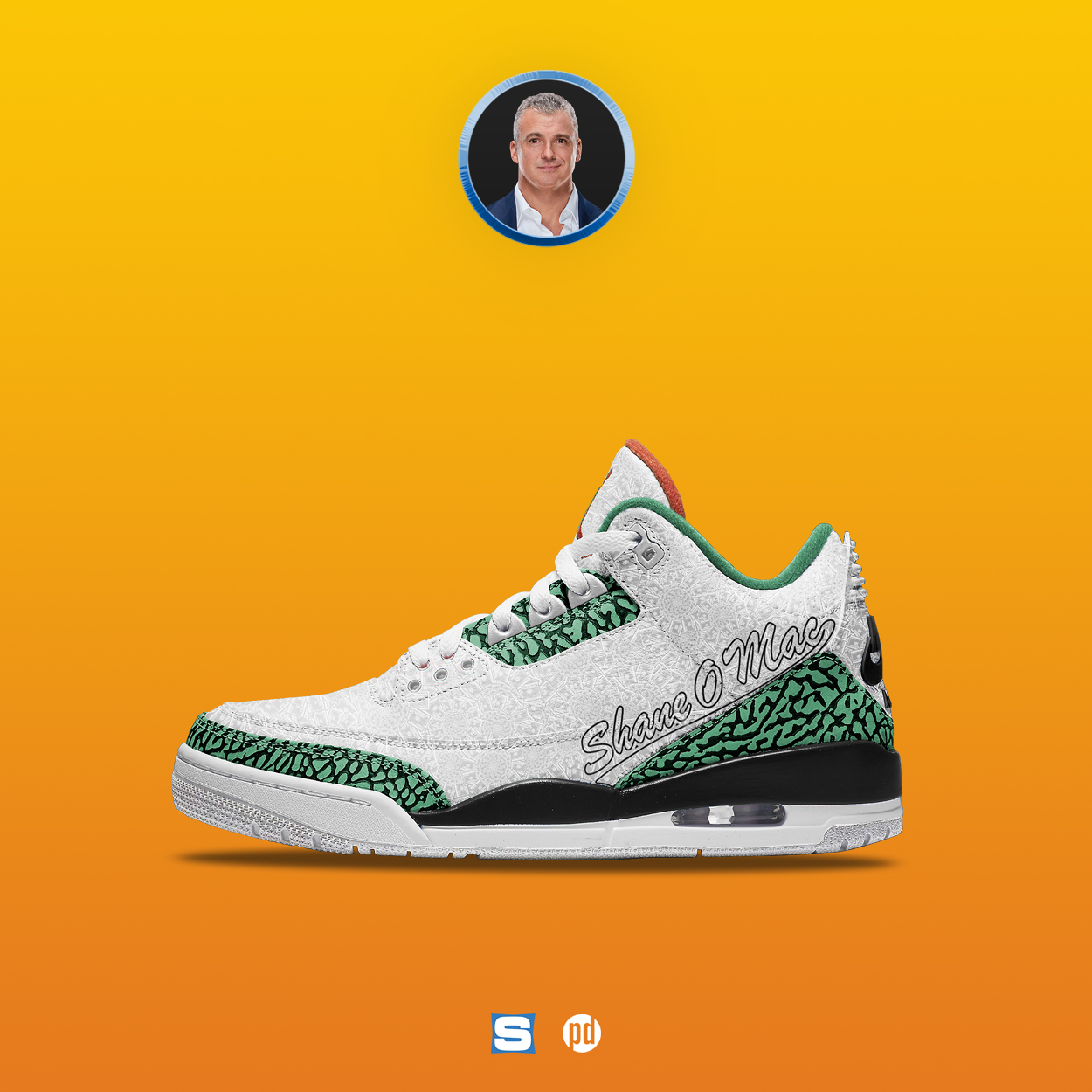 Out to prove that no one man is bigger than the brand, Shane McMahon is stepping in as the unlikely "big-time match" opponent for the best in-ring competitor in wrestling today, AJ Styles. Shane-O-Mac, the OG WWE sneakerhead, is best known for dropping elbows on his adversaries in retro Air Jordans. Here, we took it back to the model he famously wore for some of his biggest stunts in the '90s and 2000s—the Air Jordan 3. Inspired by his theme song, "Here Comes the Money," McMahon receives a clean pair faintly covered in money print, along with money green elephant print overlays.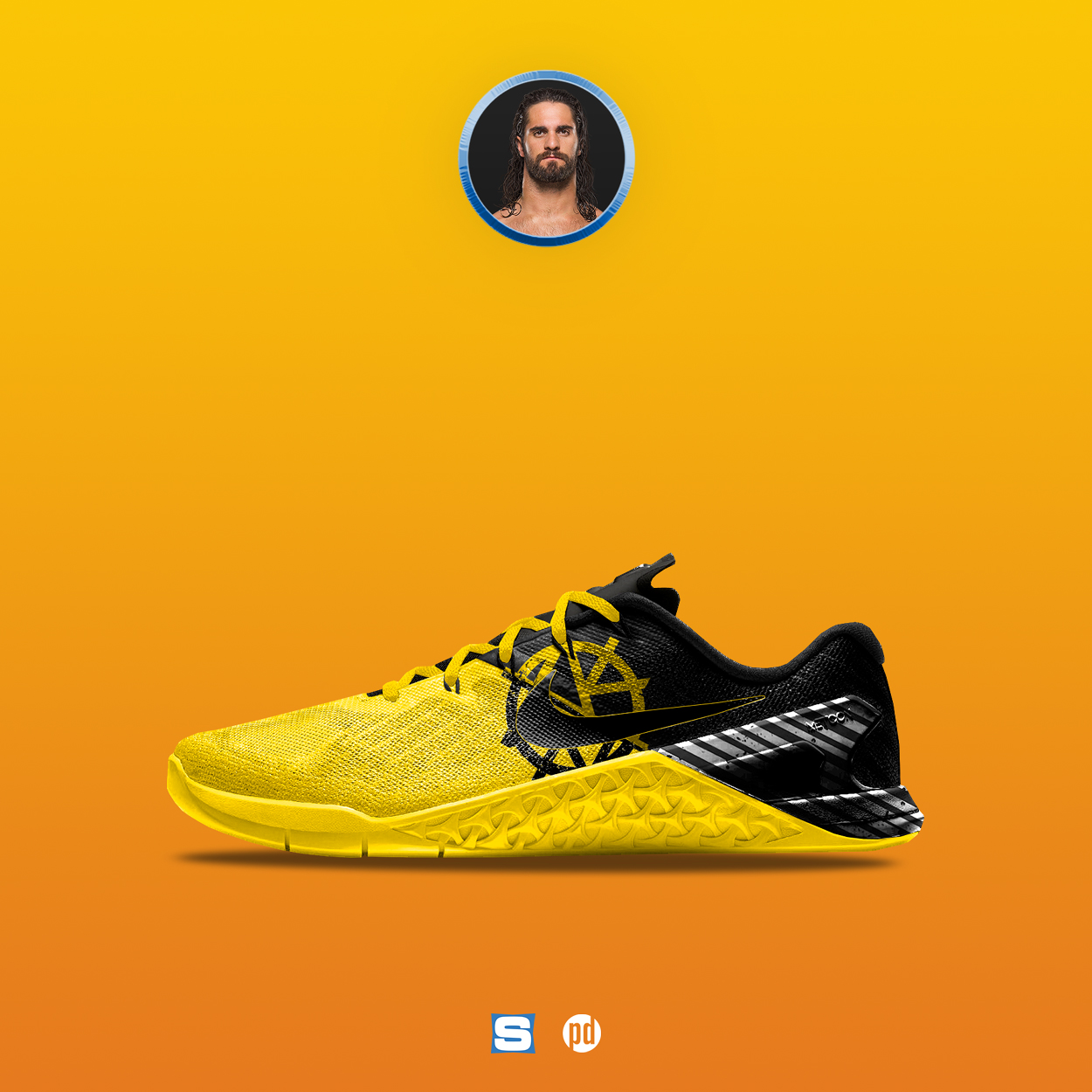 His Wrestlemania threatened for the second-straight year due to a knee injury, Seth Freakin' Rollins signed a Hold Harmless Agreement to battle arch-nemesis Triple H in a non-sanctioned fight at Wrestlemania. Once the hand-picked champion of Triple H's regime, Rollins now seeks retribution for his former mentor's decision to cost him the Universal Championship last August. One of the primary reasons Rollins has been able to recover enough to perform at Mania is his commitment to the CrossFit lifestyle. With that in mind, it's a Nike MetCon trainer in his signature colors for the man affectionately known as "CrossFit Jesus."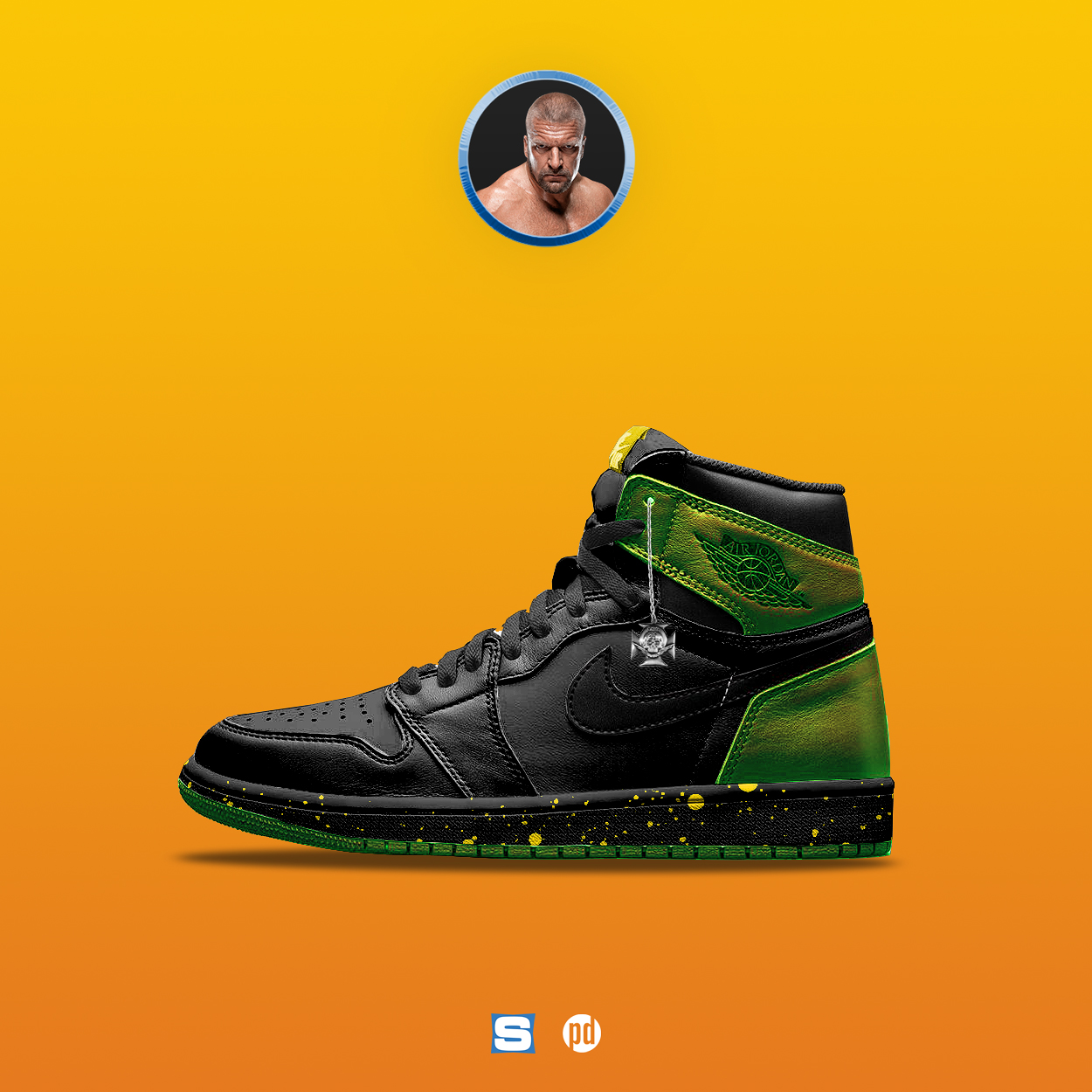 He'll tell you that his actions are only about what's best for business, but Triple H is just as self-serving as a WWE executive as he was as a full-time professional wrestler. According to "The Game," his reluctance to fight Rollins at Wrestlemania was out of fear of what he may do to his hobbled opponent. Now, with the non-sanctioned fight signed, expect Triple H to bring his usual brand of brutality to the sport's biggest stage. The Air Jordan 1 is a legendary model that still commands respect to this very day; the same could be said for Triple H. His pair is "King of Kings" themed, with a healthy amount of green applied in tribute to his days as the frontman of Degeneration-X. A splatter print on the midsole represents his iconic water spitting entrance.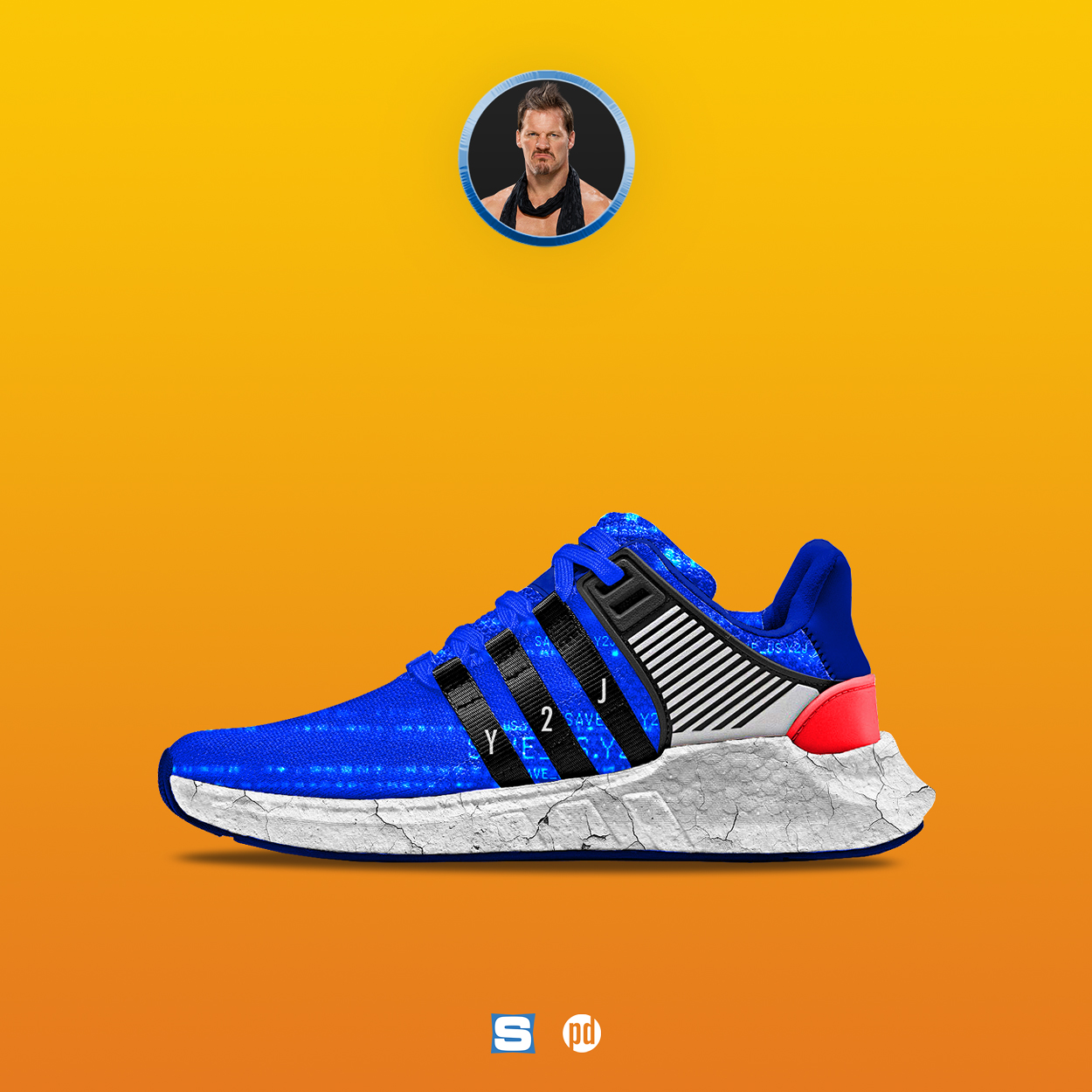 A 27-year veteran of the ring, Chris Jericho is in the midst of one of the hottest runs of his career. His most recent resurgence came in an alliance with Kevin Owens, who emphatically put an end to their friendship when he attacked Jericho on Raw last month. The former BFFs will settle the score in a grudge match with Jericho's United States Championship on the line. Jericho is an underrated, all-time great performer who continues to find relevance by reinventing himself over and over. That's why the Adidas EQT 93/17 was chosen to bear his colors, along with notepad detailing to represent "The List." It's the Shoe of Jericho—try it on, mannnnnnnn!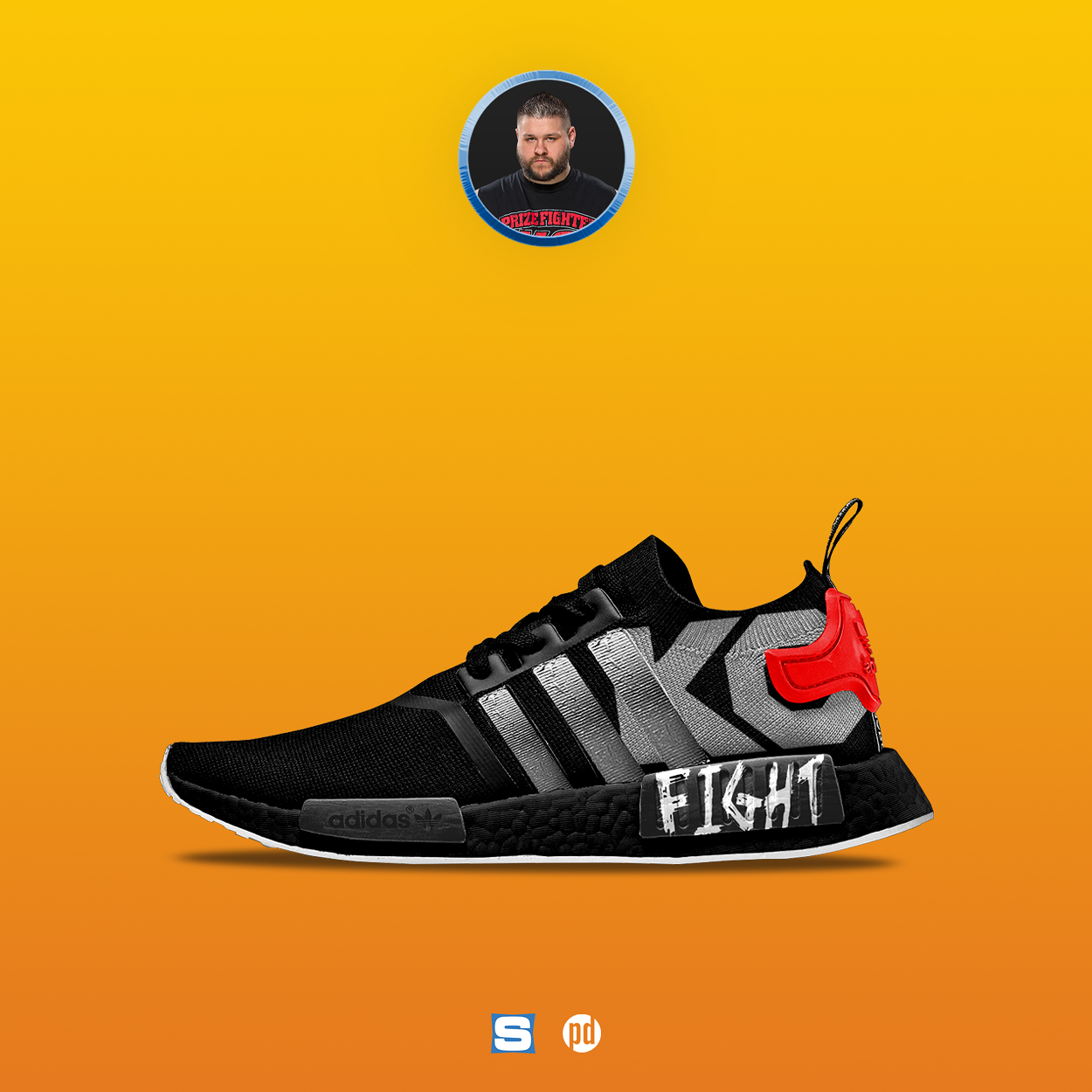 After months of being the WWE's top comedy act with his buddy Jericho, Kevin Owens is back to doing what he does best—fighting. Owens lost the Universal Championship to Goldberg at Fastlane earlier this month after Jericho distracted him with his entrance music. Now, Owens is looking to fill his title belt void with Jericho's United States Championship. Taking a similar path to glory as the Adidas NMD, Owens is a virtual newcomer who exploded onto the scene and exceeded initial expectations. The runner sports his colors and mantra along the midsole.
She's a legit boss and one of four women competing for the Raw Women's Championship at Wrestlemania. Sasha Banks has her eyes set on a fourth reign as champion, but best friend and current champion Bayley, rival Charlotte, and the dominant Nia Jax all stand in her way. It's only right that Banks' signature details cover the Nike Flare—the de facto sneaker of Serena Williams. Both Banks and Williams have changed the way women are perceived in their respective sports and serve as role models to young girls who are poised to challenge convention.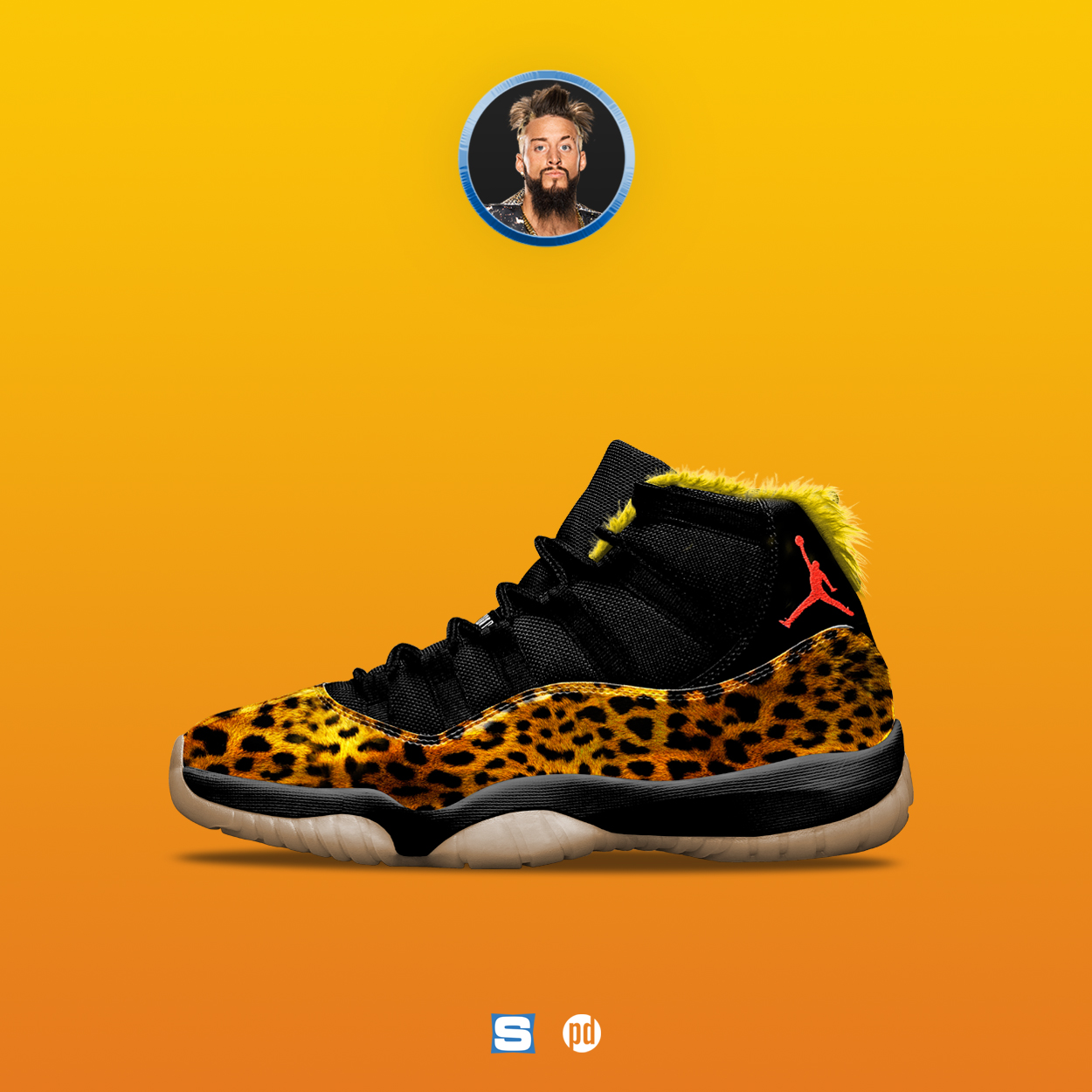 The self-proclaimed Air Jordan of Jargon is best known for energizing arenas with his work on the microphone, but at Wrestlemania he has the opportunity to add Raw Tag Team Champion to his resume. Enzo, along with his partner Big Cass, will compete in a triple-threat ladder match against Sheamus and Cesaro, and champions Luke Gallows and Karl Anderson. A frequent wearer of retro Jordans, there'd be no better way for Enzo to scale ladders than in a personal colorway of the Air Jordan 11. Bright red Jumpman logo. How you doin? Wild fur lining to mimic his crazy hairstyle. How you doin? Leopard print overlays. How you doin? Gum outsole. How you doin? Bada boom, realest shoe in the room.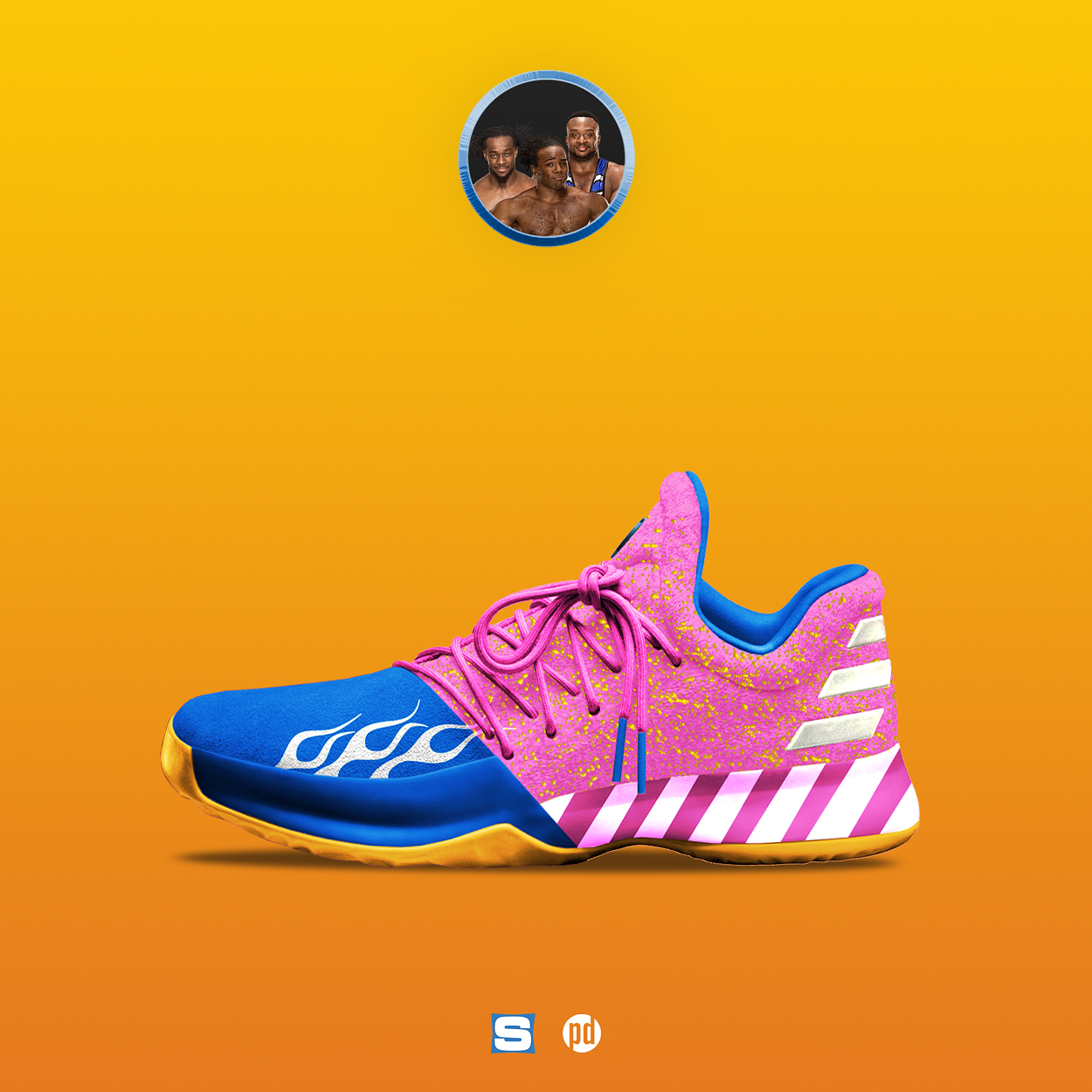 The New Day don't have a match on the Wrestlemania card, but they don't exactly have the night off either. Kofi Kingston, Xavier Woods, and Big E will serve as the event's official hosts. With their knack for entertaining, endless supply of Booty-O's cereal, and New Day Pops, they'll have no problem keeping 100,000-plus fans engaged for five hours. The WWE's preeminent triple-threat, New Day sees its colors adorn the signature shoe of another triple-threat—James Harden. Details from their attire put the design over the top.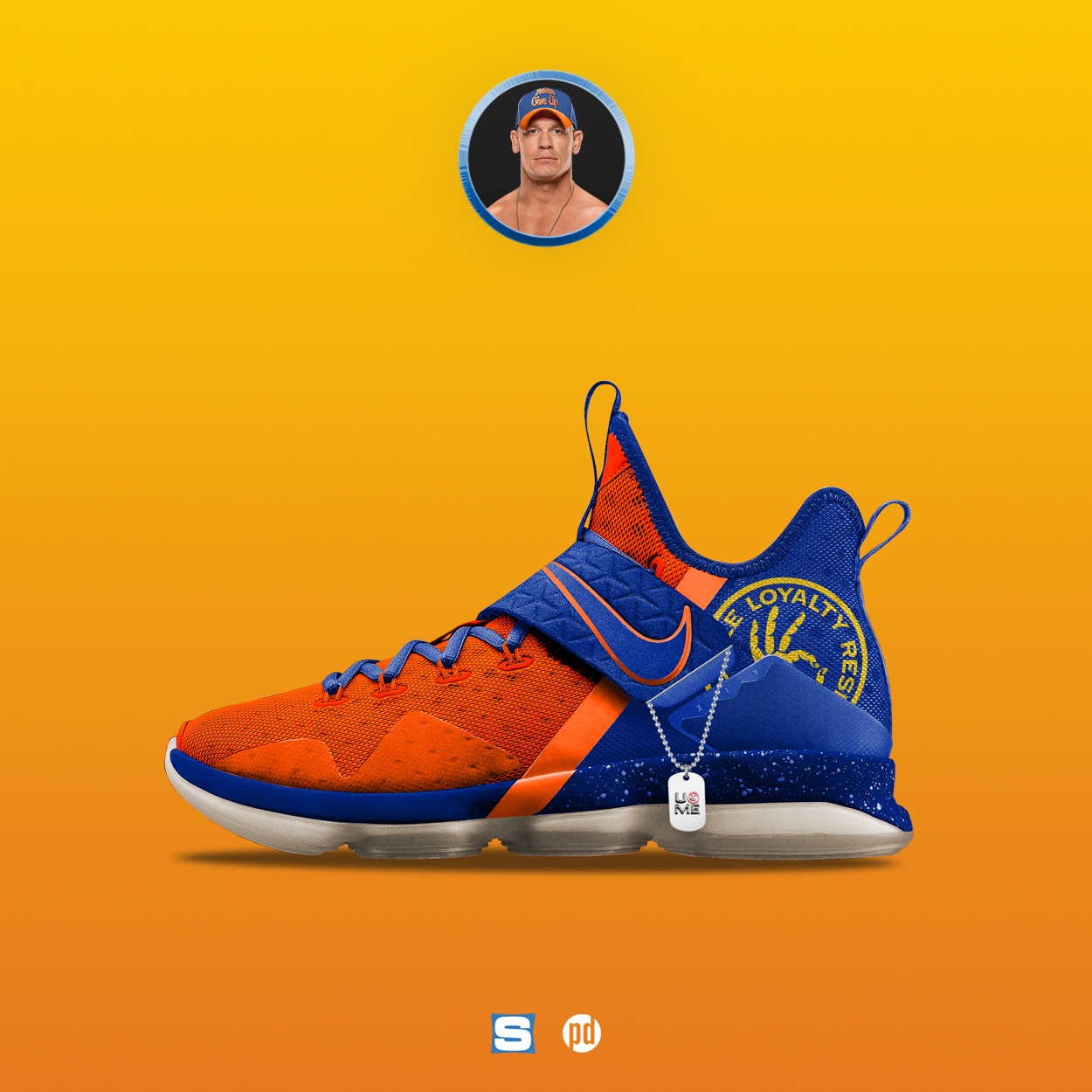 You can't have Wrestlemania, or a Wrestlemania-inspired feature, without the "Face That Runs the Place." John Cena is more of a part-time performer these days, but he had to show up to defend the honor of his girlfriend, Nikki Bella. Together, the couple will take on the Miz and his wife Maryse in a mixed tag team match. For the emotional saps, there's speculation that this match will end with a proposal from Cena and/or a retirement from Bella. Though a lot has changed and new faces are eyeing the throne, Cena is still the company's top guy until proven otherwise. He's the LeBron James of the WWE, so here's the Nike LeBron 14 in Cena's latest merchandise colors. His motto of "Hustle. Loyalty. Respect." is printed on the side and the shoes even come with custom dog tag hang tags.