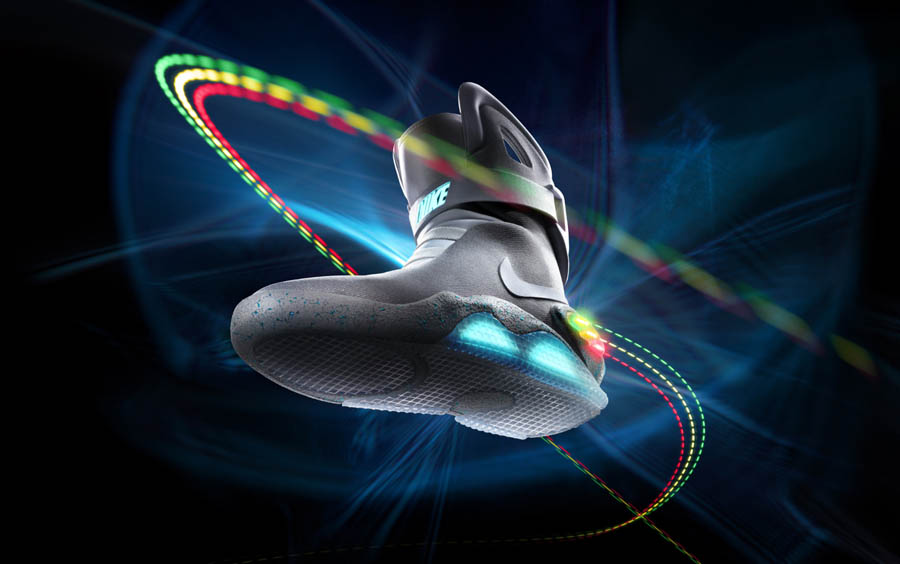 words // Brandon Richard
Once known as the greatest shoe never made, the Nike Mag is now a reality. At an event in Los Angeles this evening, Tinker Hatfield, Mark Parker and a group of Nike representatives will make a formal announcement for the return of Marty McFly's famous power-charged sneakers from the Back to the Future sequel. These bad boys aren't quite ready to self-lace just yet (and we do mean YET), but they do come equipped with the ability to charge, allowing the wearer to walk around with illuminated feet for a duration of five hours with a simple pinch of the ear.
Check out some official press information for the 2011 MAG release courtesy of Nike and stick with Sole Collector for continued updates throughout the night.



The NIKE MAG is no longer the "greatest shoe never made." The mythical shoe that originally captured the imagination of audiences in Back to the Future II is being released – and they're here to help create a future without Parkinson's disease.



1500 pairs of the 2011 NIKE MAG will be auctioned on eBay with all net proceeds going directly to The Michael J. Fox Foundation. Each day for the duration of the ten-day auction, one hundred and fifty pairs of the 2011 NIKE MAG shoes will be made available via eBay's Fashion Vault. The auction starts September 8, 8:30PM PST, and will end September 18. Thanks to a previous 50 million dollar match given to the Michael J. Fox Foundation, all donations will be matched, effectively doubling the contributions from the auction.



The original NIKE MAG was worn by the Back to the Future character Marty McFly, played by Michael J. Fox, in the year 2015. It came alive, lit up and formed to Marty's foot. The 2011 NIKE MAG shoe was designed to be a precise replica of the original from Back to the Future II. The aesthetic is an exact match, down to the contours of the upper, the glowing LED panel and the electroluminescent NIKE in the strap. The 2011 NIKE MAG illuminates with the pinch of the "ear" of the high top, glowing for five hours per charge.



The 2011 NIKE MAG - It's About Time.