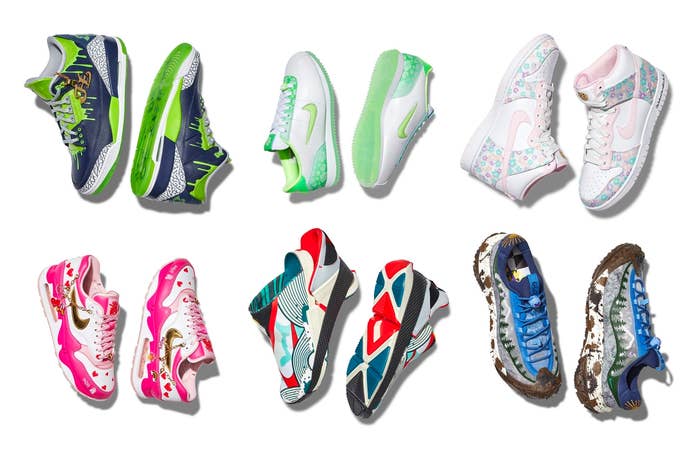 A partnership that extends back to 2004, Nike and OHSU Doernbecher Children's Hospital's Doernbecher Freestyle program has raised more than $33 million for the hospital since its inception. Tonight, six new patients have introduced their designs for Doernbecher Freestyle XIX.
This year's collection consists of the Nike ACG Mountain Fly 2 Low, Nike Dunk High, Nike Cortez, Nike Air Max 1'86, Air Jordan 3, and Nike Go FlyEase. The kids worked alongside volunteering Nike product experts, resulting in sneakers featuring intricate details, hidden messages, and unique colorways that represent their individual passions, life experiences, medical journeys, and relationships.
The first pairs from Freestyle XIX will be auctioned off with a wider release planned for December. All of the proceeds from the shoes and apparel benefit the hospital.
Nike ACG Mountain Fly 2 Low by Garrett Amerson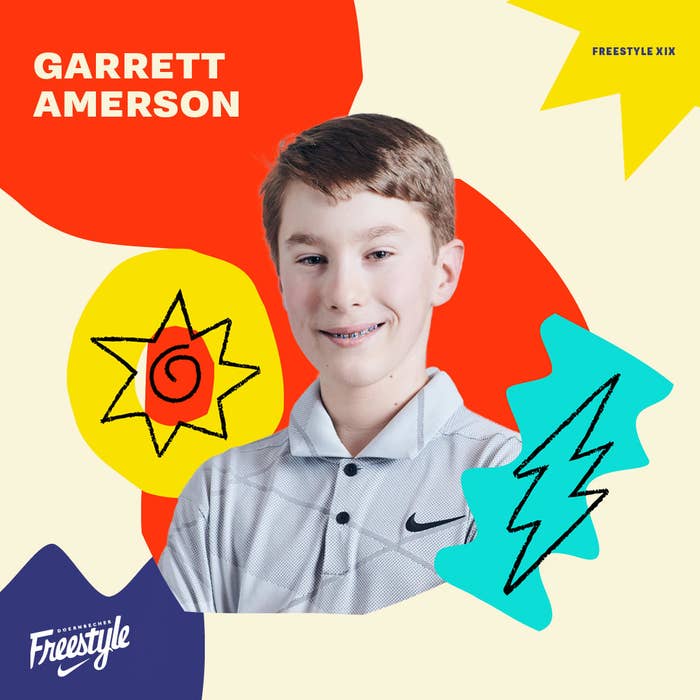 Age: 12
Diagnosis: Extreme prematurity
Shoe: Nike ACG Mountain Fly 2 Low
Apparel 1: Windrunner
Equipment 1: Club Cap
One pound, seven ounces: that's how much Garrett Amerson weighed when he was born 15 weeks early. Fourteen years later, that tiny, tenacious baby has grown into a thriving teen who loves science, plays chess, and collects historic hats. Garrett's shoe is an ode to the Pacific Northwest, with trees, mountains, and a waterfall cascading down the tongue. He even added realistic mud splatters, so you never have to worry about getting it dirty.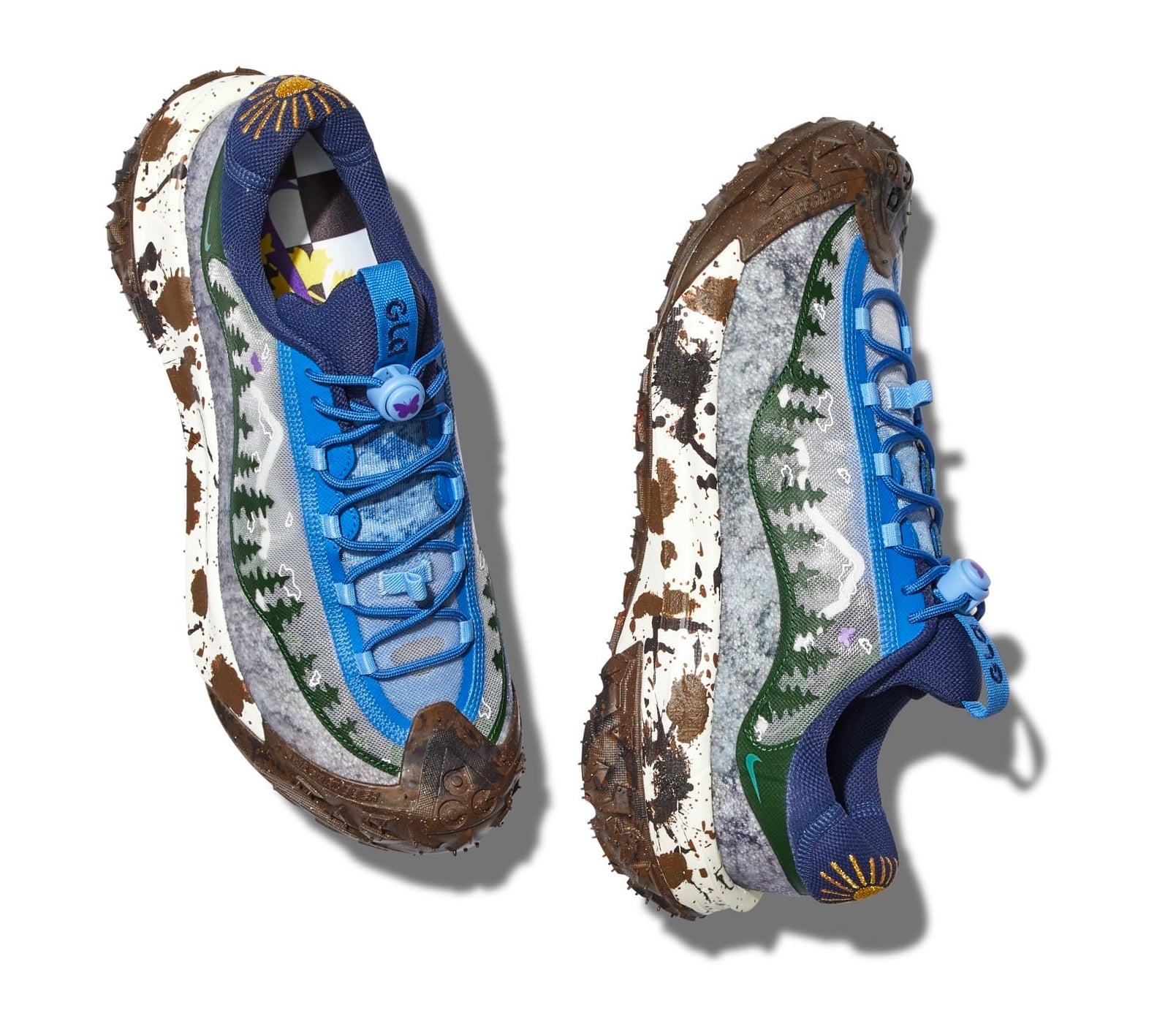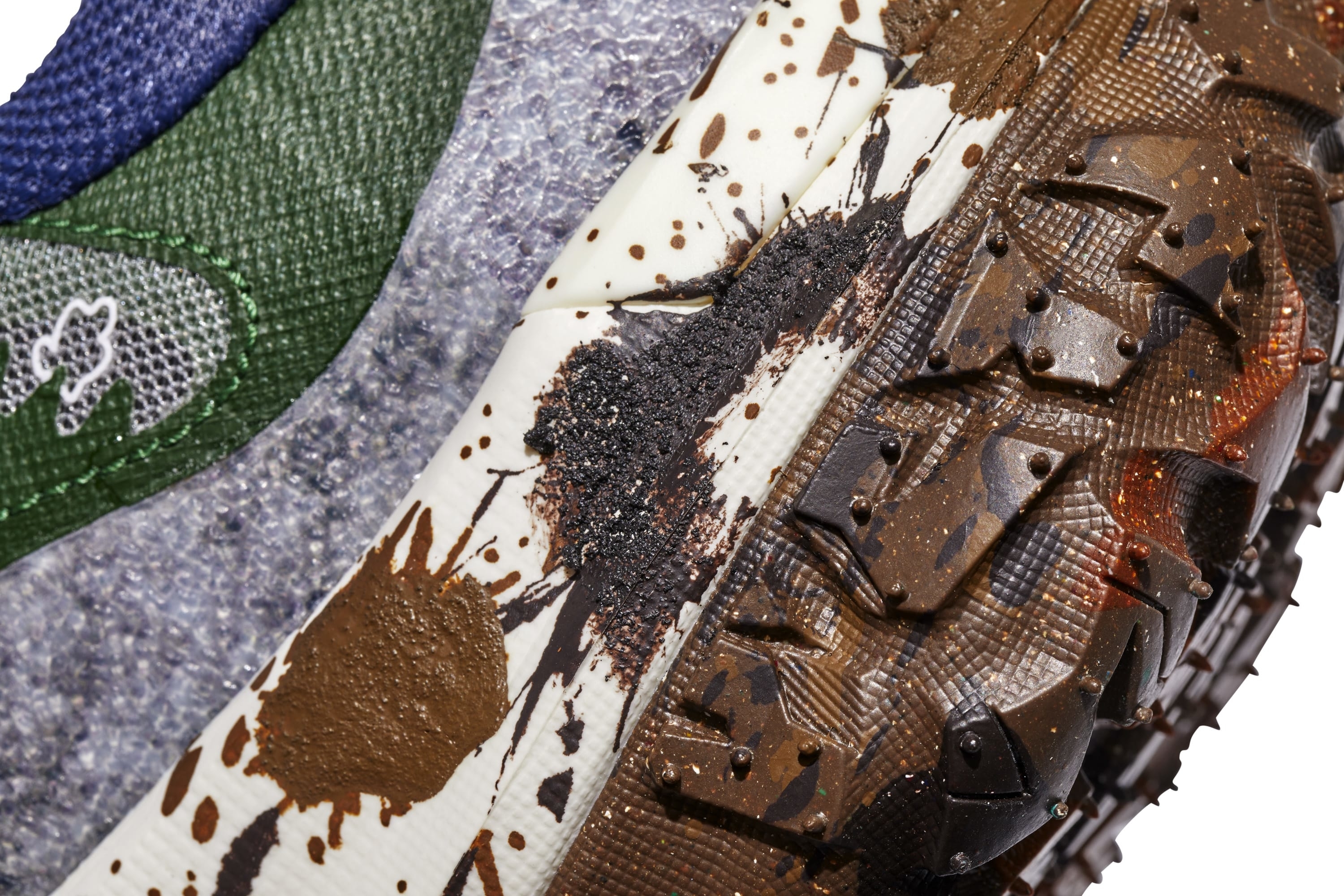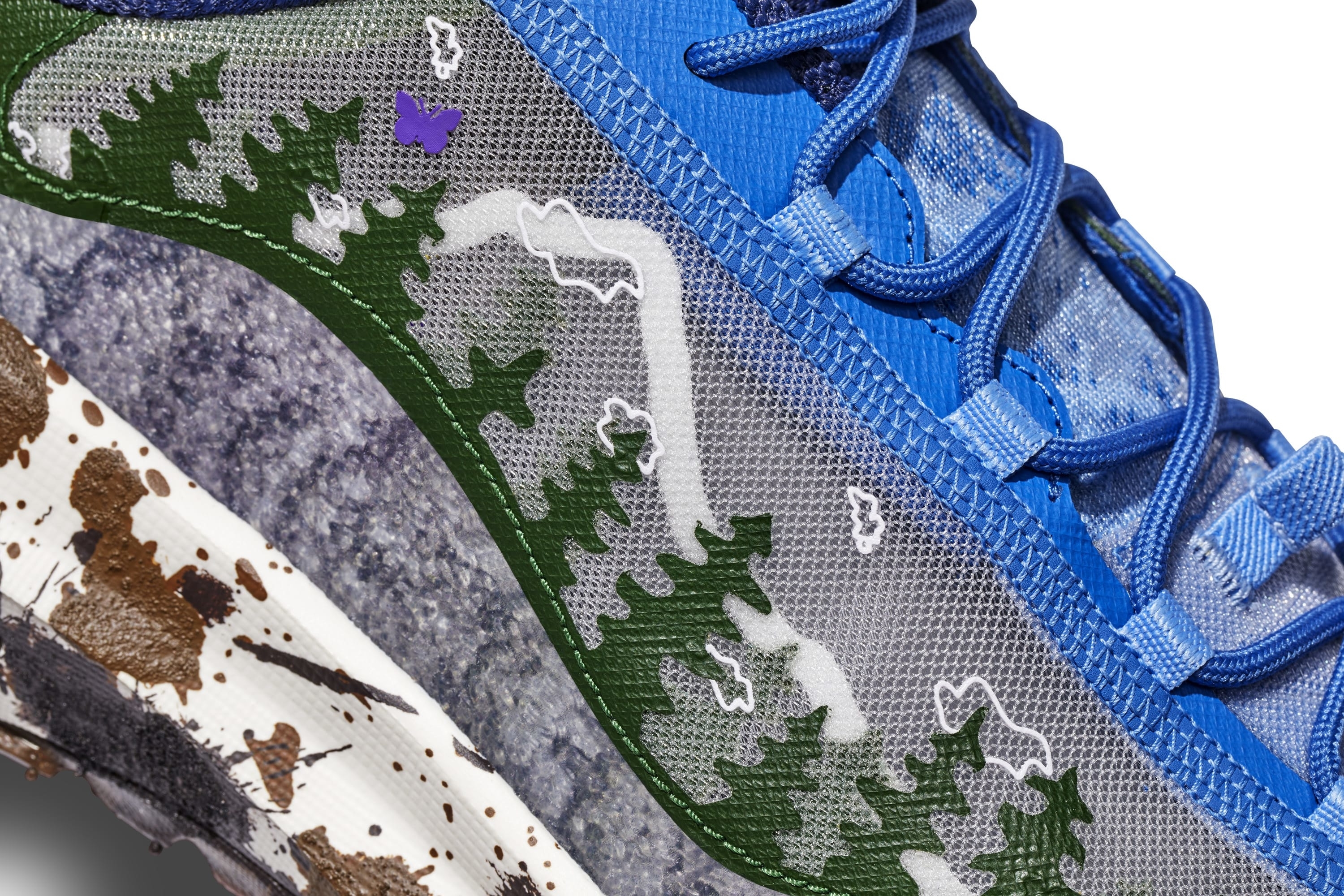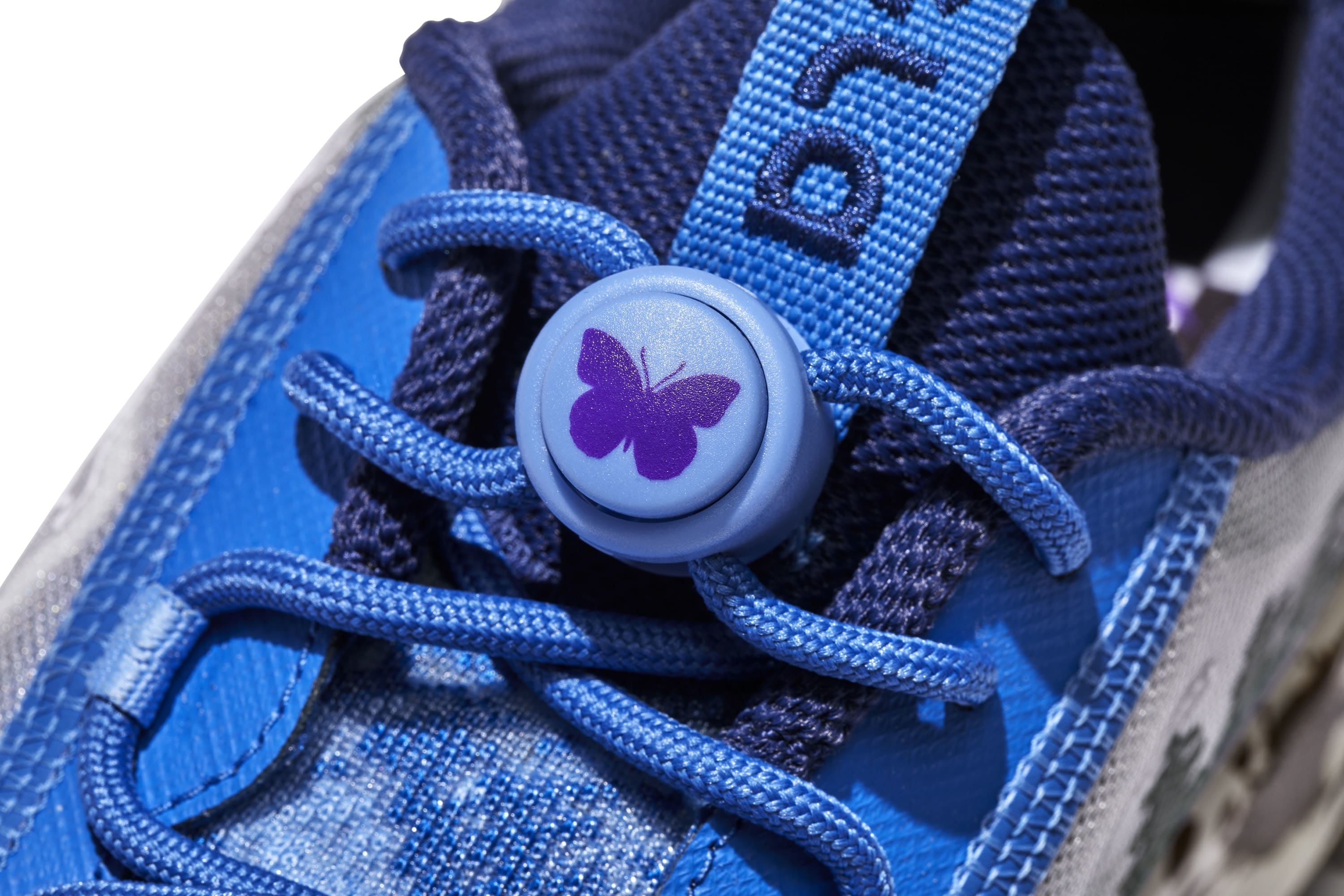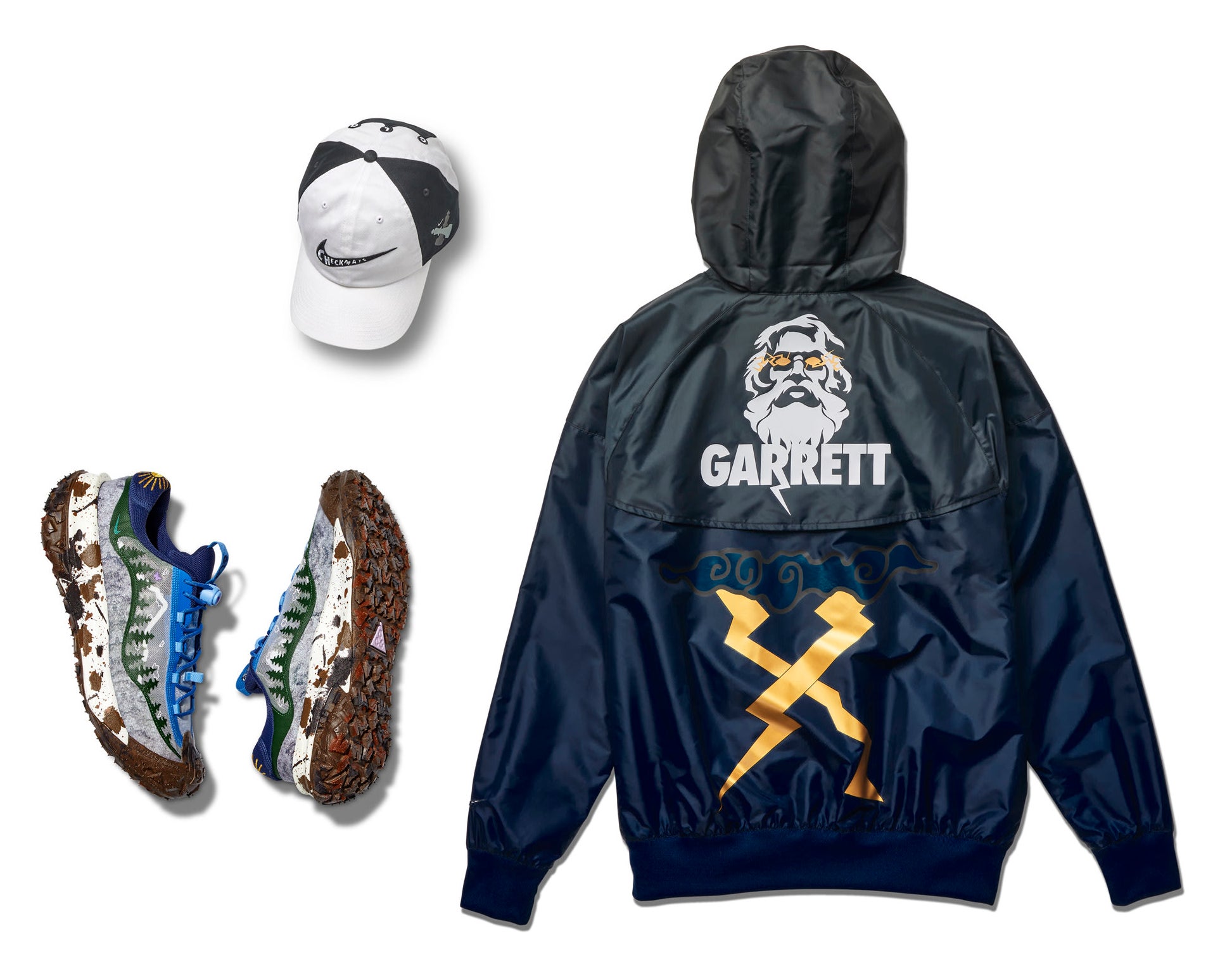 Nike Dunk High by Macey Bodily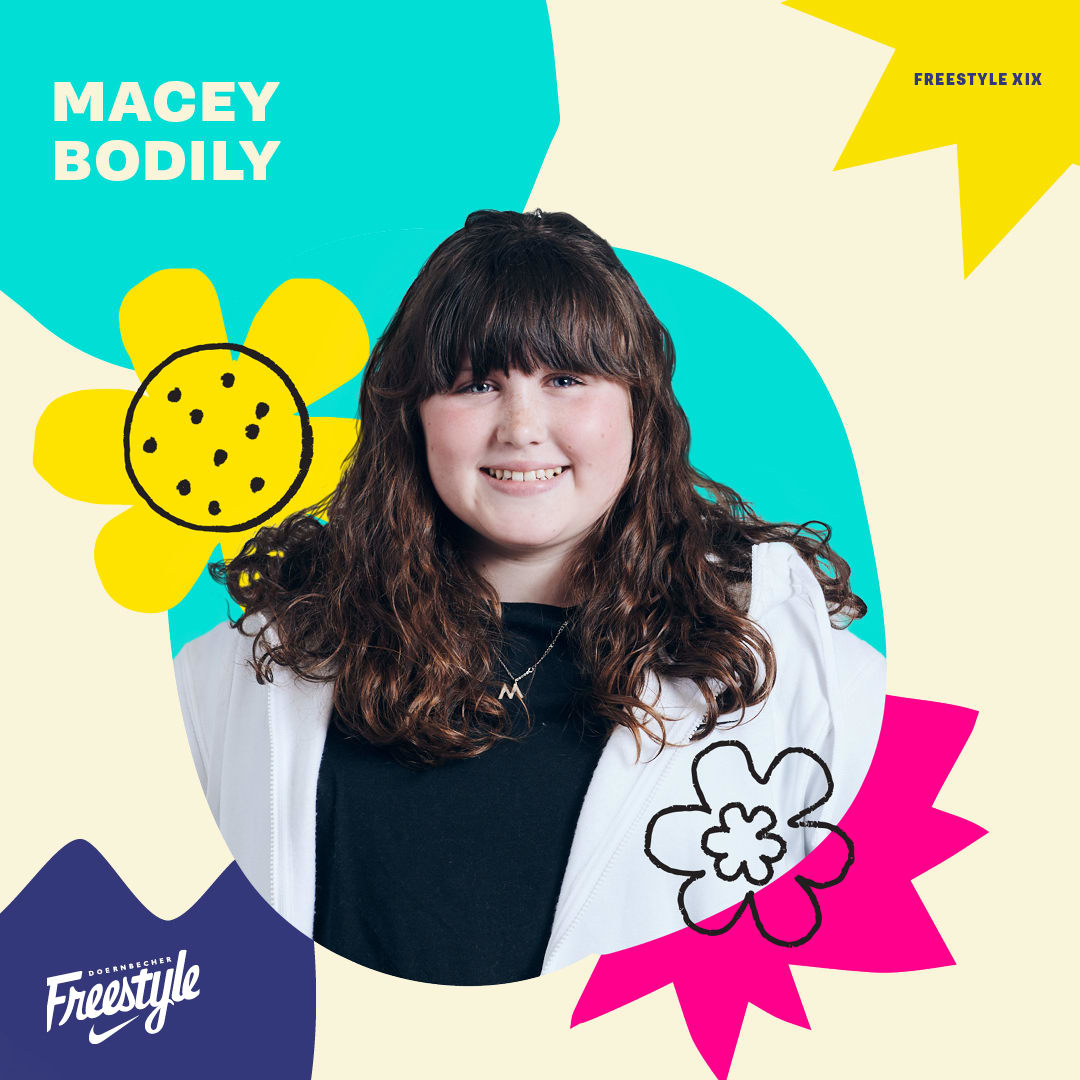 Age: 15
Diagnosis: Brain tumor, narcolepsy
Shoe: Nike Dunk High
Apparel 1: Phoenix Fleece Hoodie
Equipment 1: Elemental Bag (Crossbody)
She believed she could, so she did. That phrase guides Macey Bodily in everything she does, so she made sure to give it a place of honor on her flower-powered shoe. As for the grey ribbon on the upper, that's to represent her status as a brain cancer survivor. This determined young lady loves baking and has a sweet surprise for you—inside her shoe, you'll find the recipe to her world-famous, chocolate chip cookies.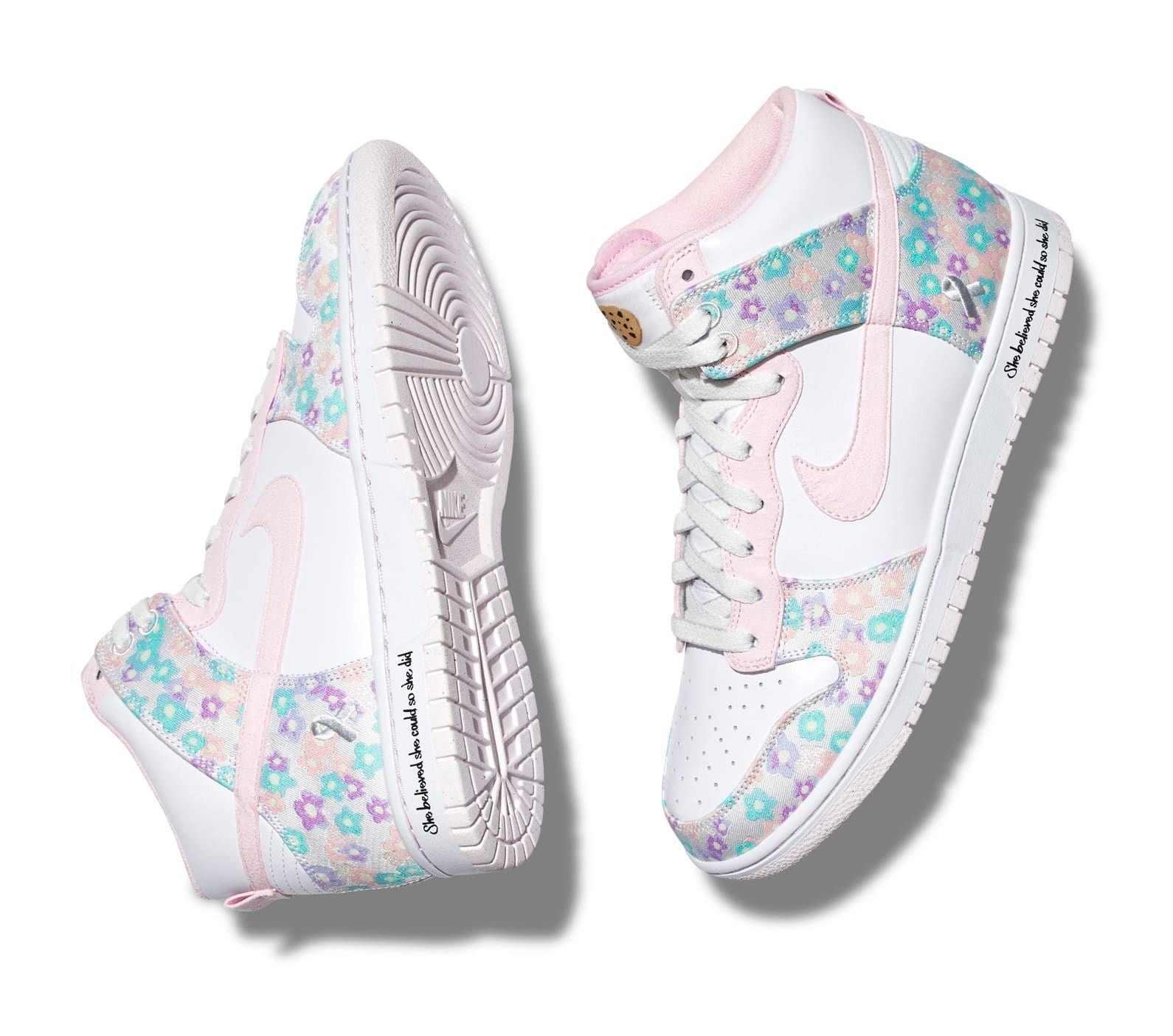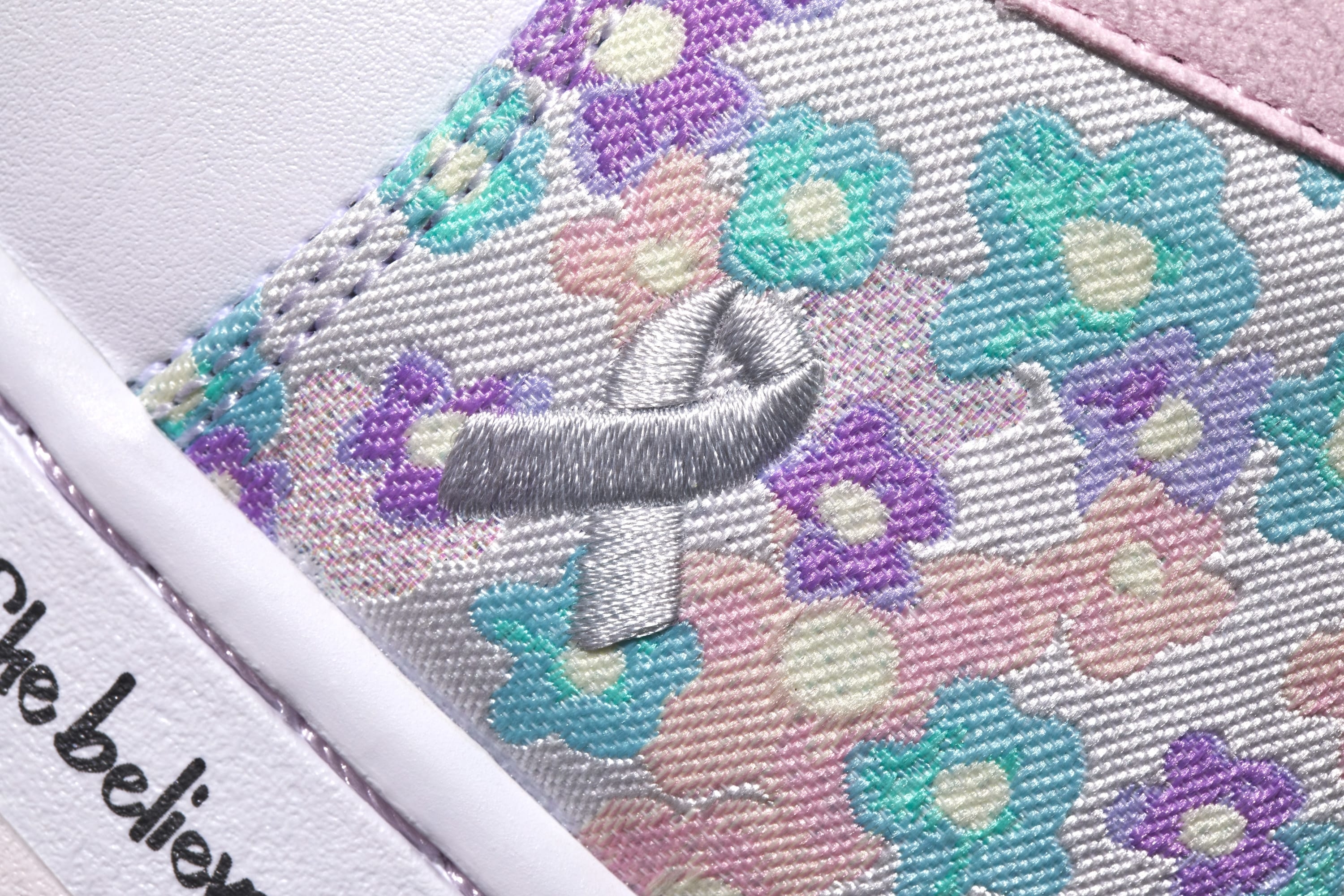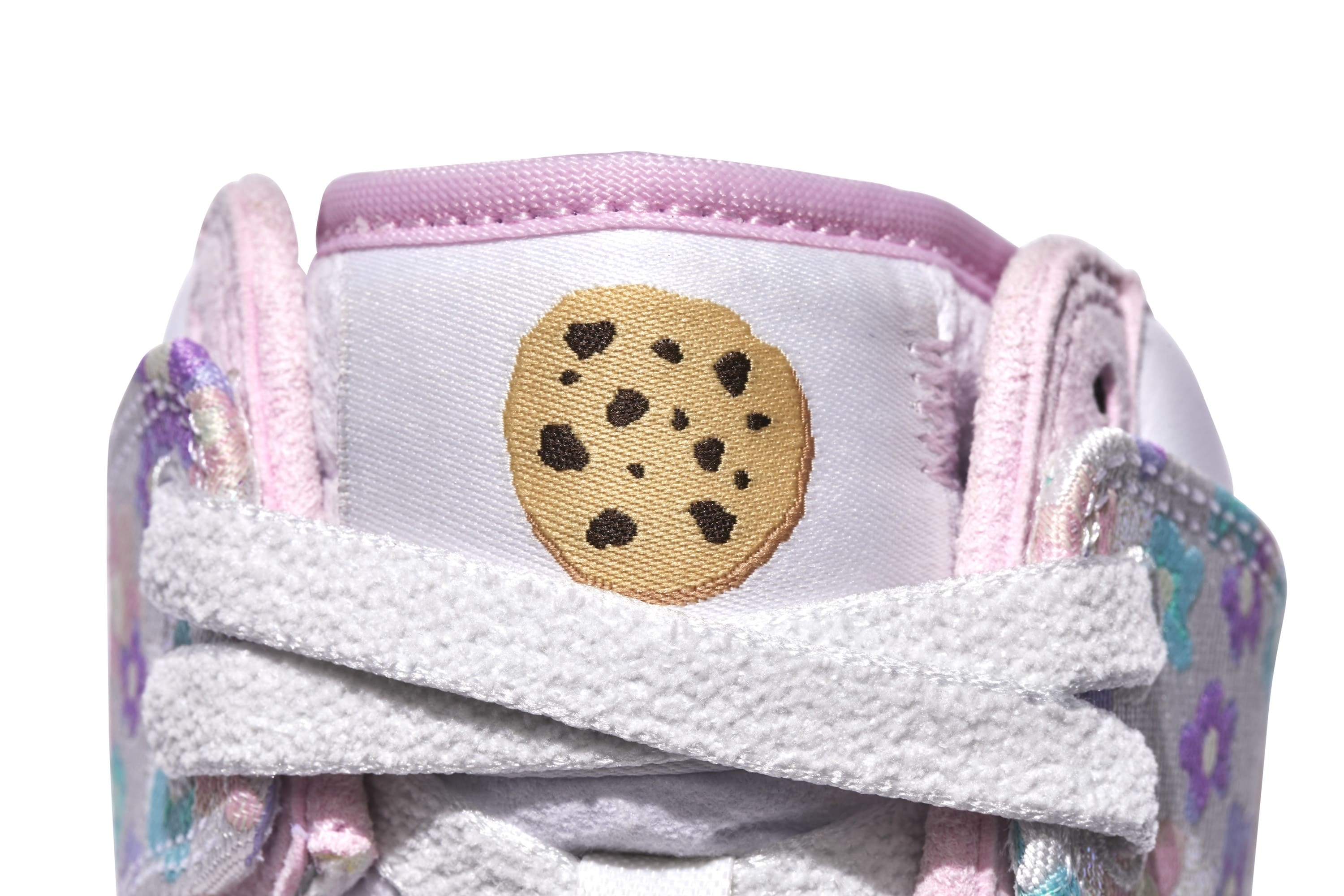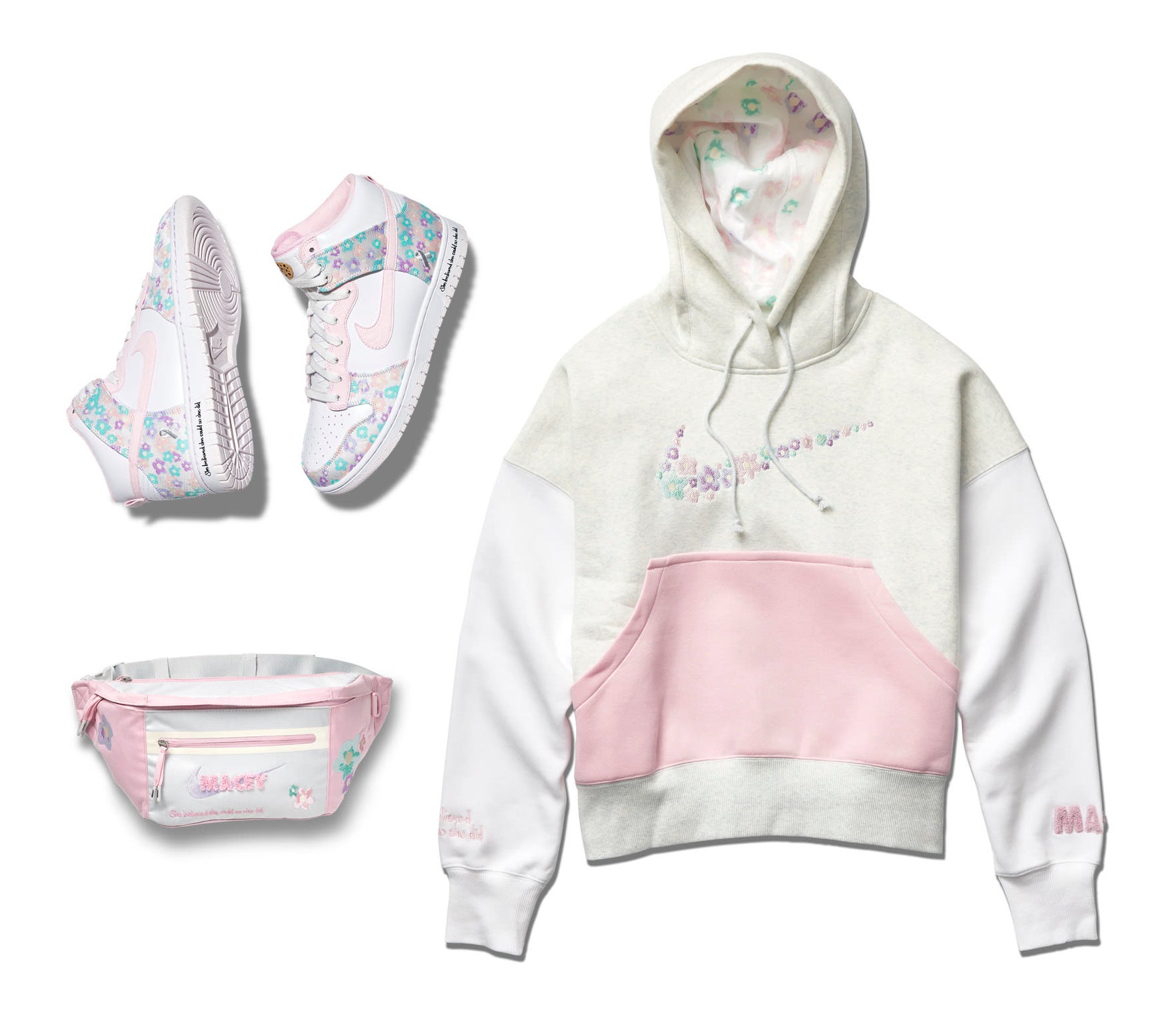 Nike Air Max 1 '86 by Hailey Leyva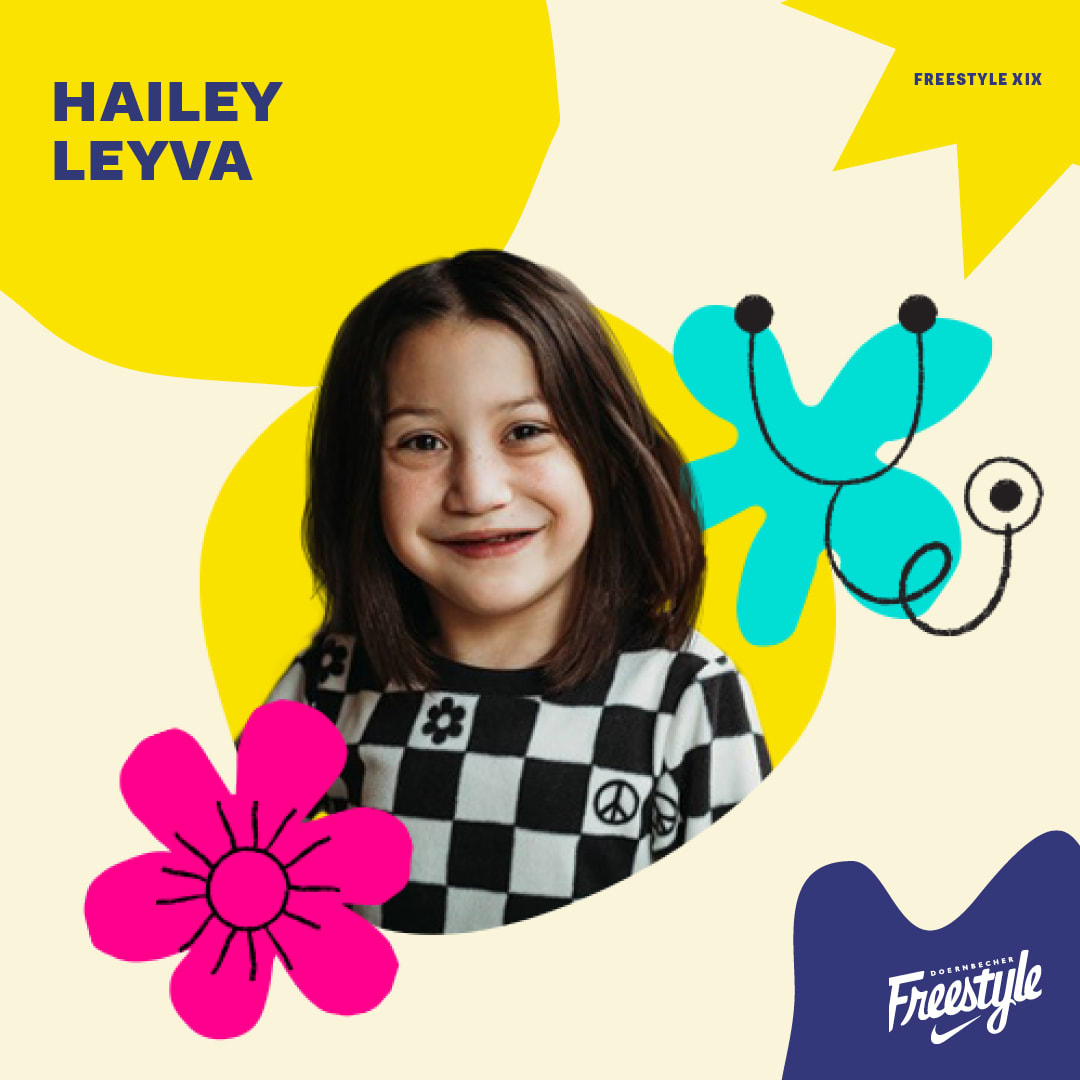 Age: 8
Diagnosis: Congenital cyanotic heart disease
Shoe: Nike Air Max 1 '86
Apparel 1: Club Fleece Hoodie
Accessory 1: Hayward Backpack
Hailey has had five surgeries to fix the valves of her heart, so she decided to honor her medical journey with a special heart-inspired shoe. The logo on the tongue and sockliner is a drawn replica of her one-of-a-kind heart, while shiny gold accents reflect her sparkly personality. Added bonus: Hailey turned some of her favorite things (like ice cream and rainbows) into mix-and-match charms that you can wear on the shoe or as a bracelet.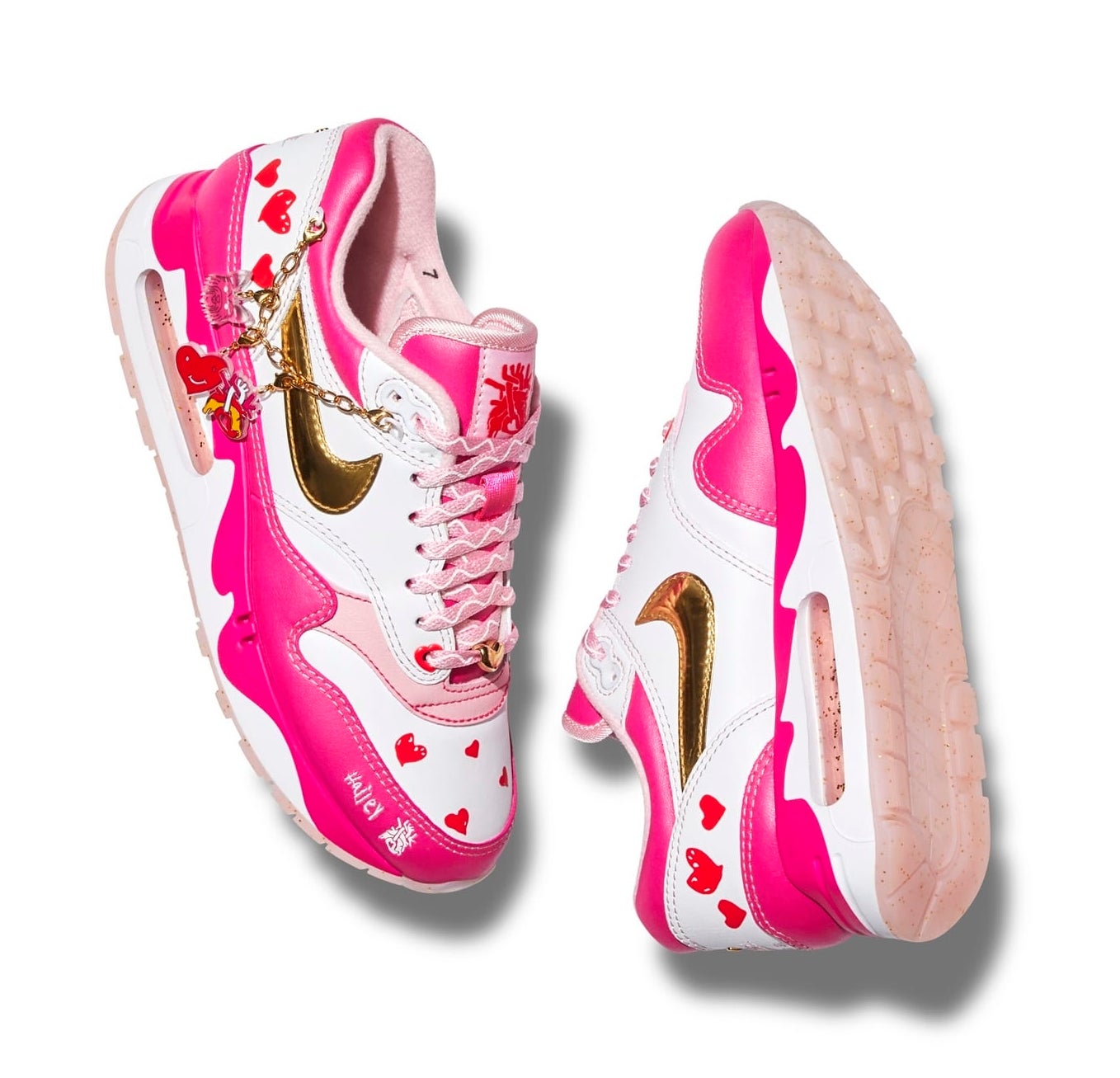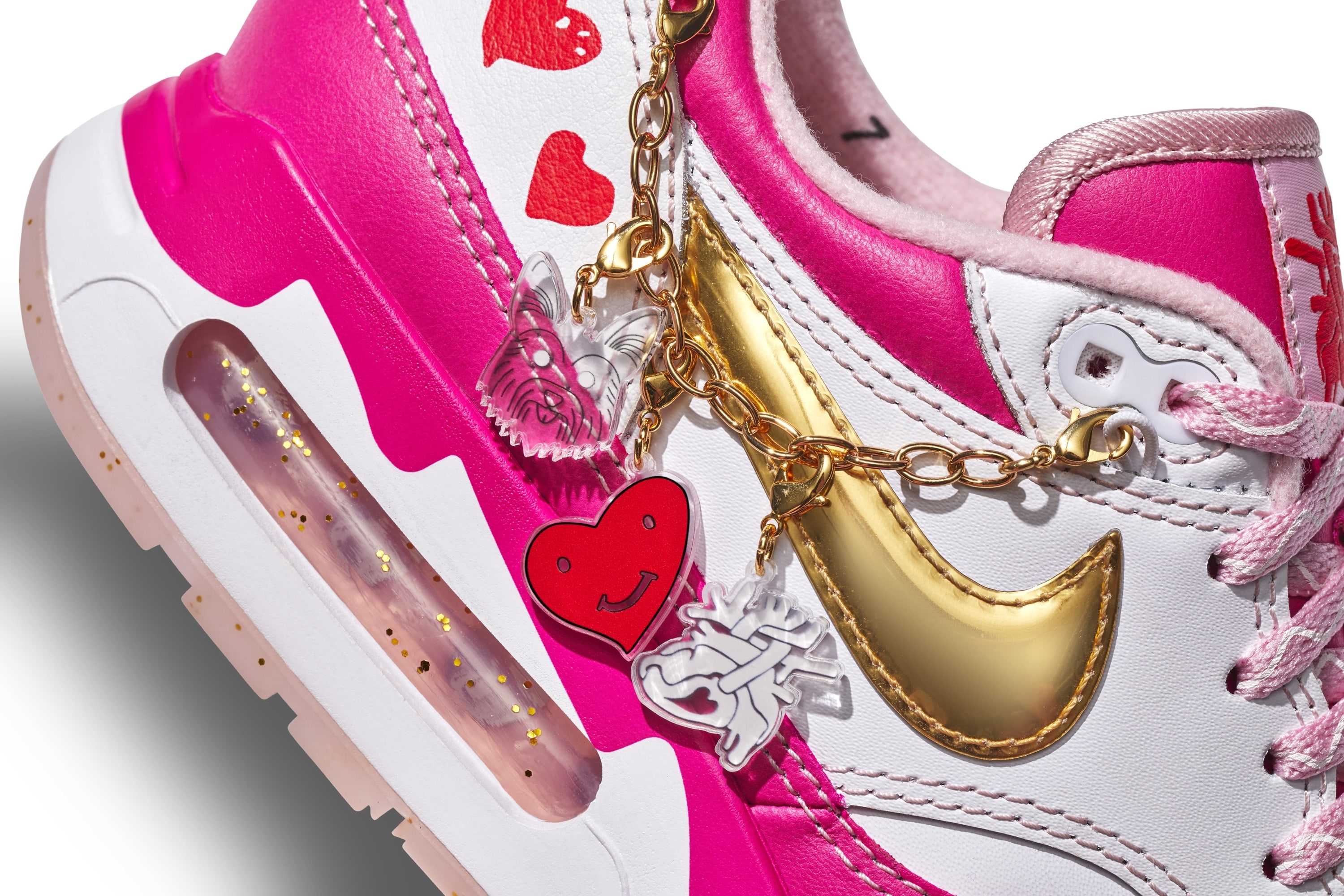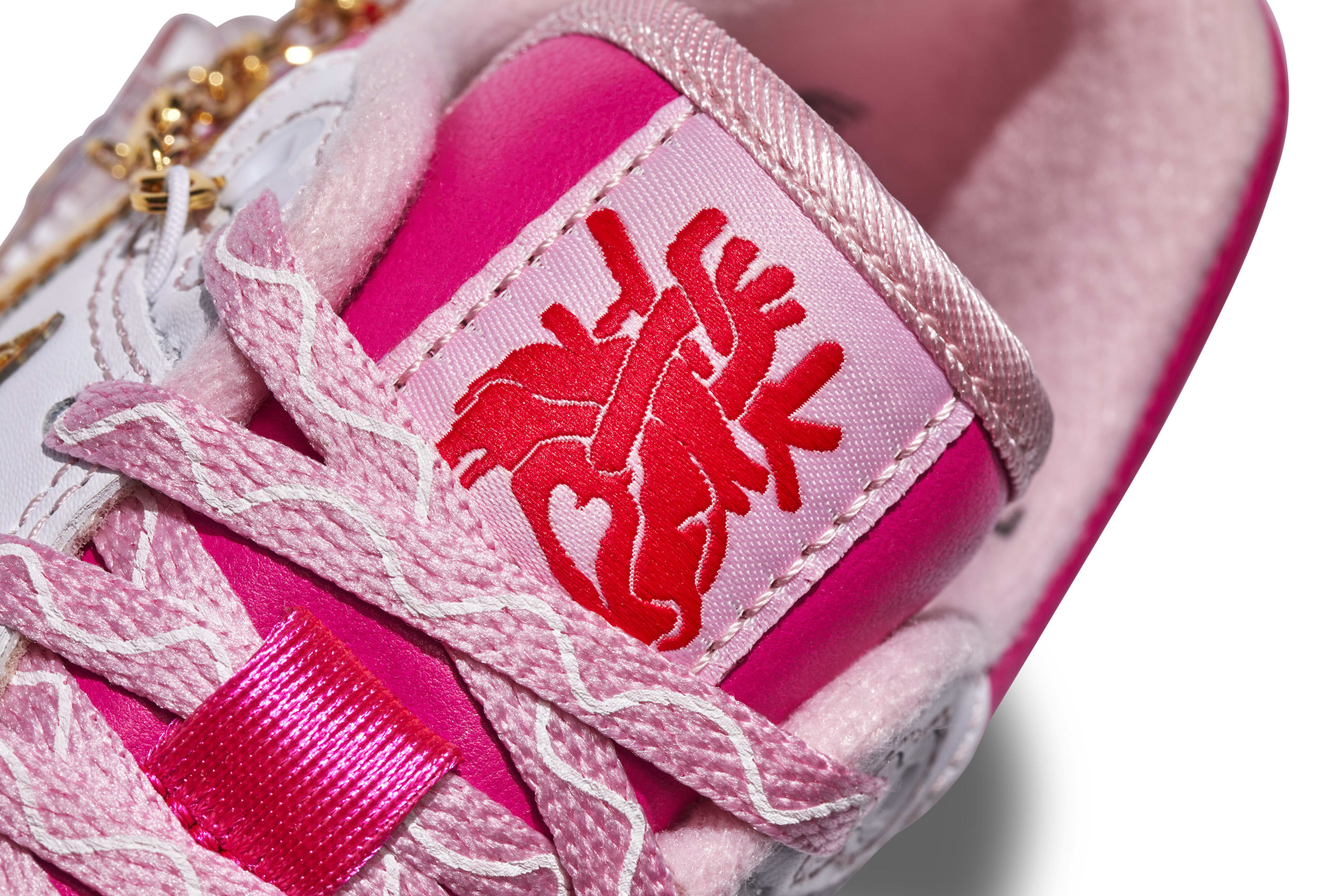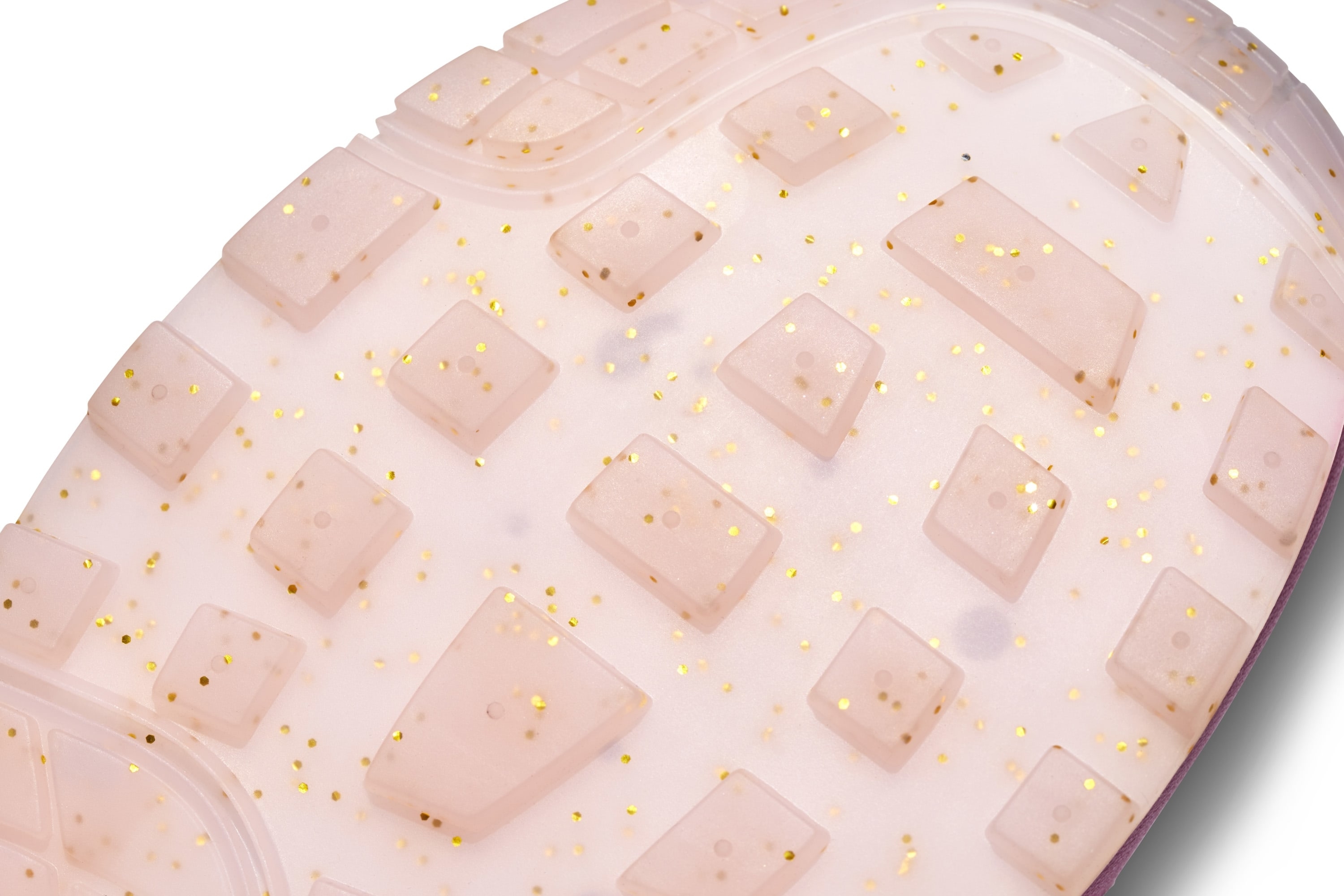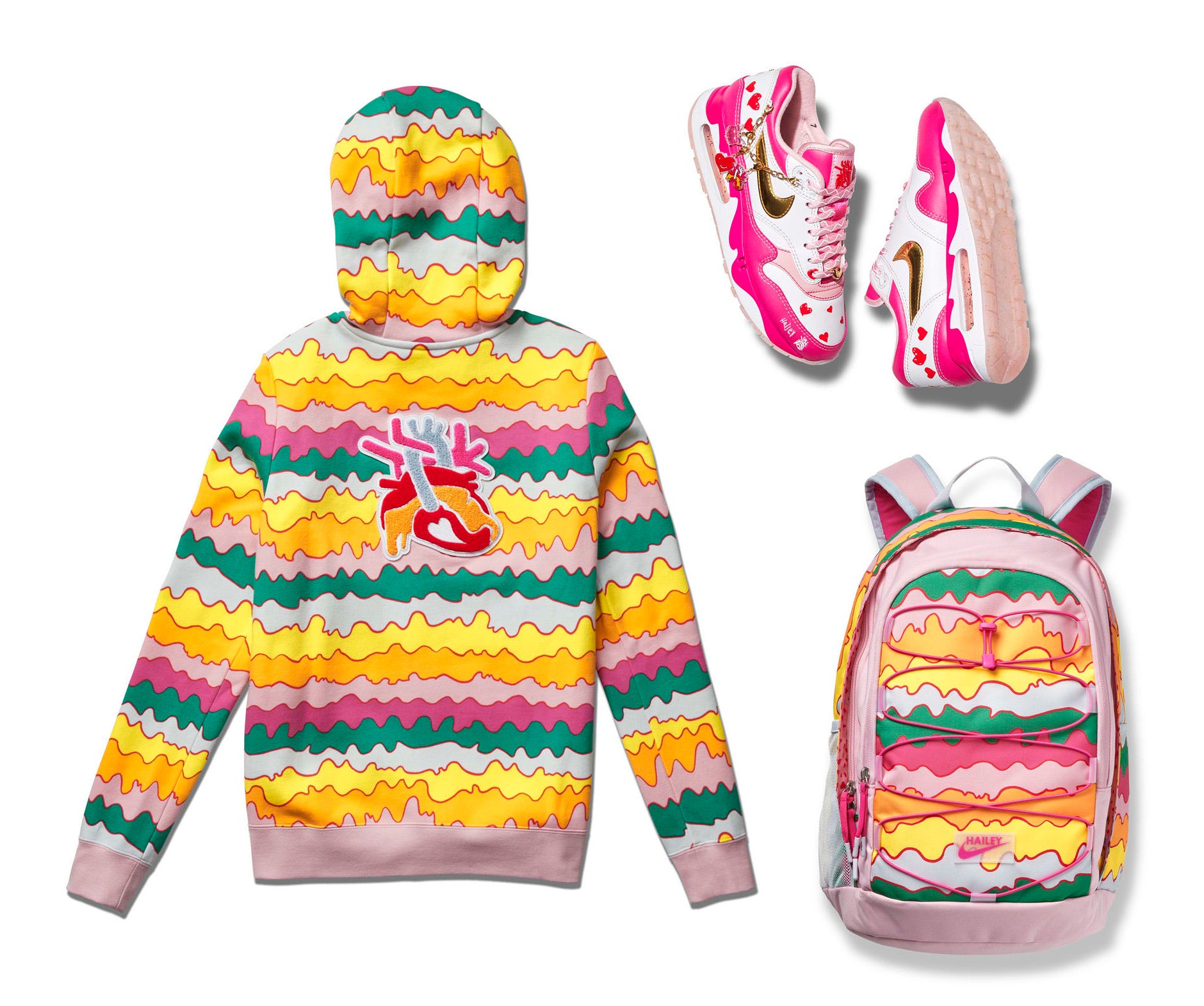 Nike Cortez by Sydney Little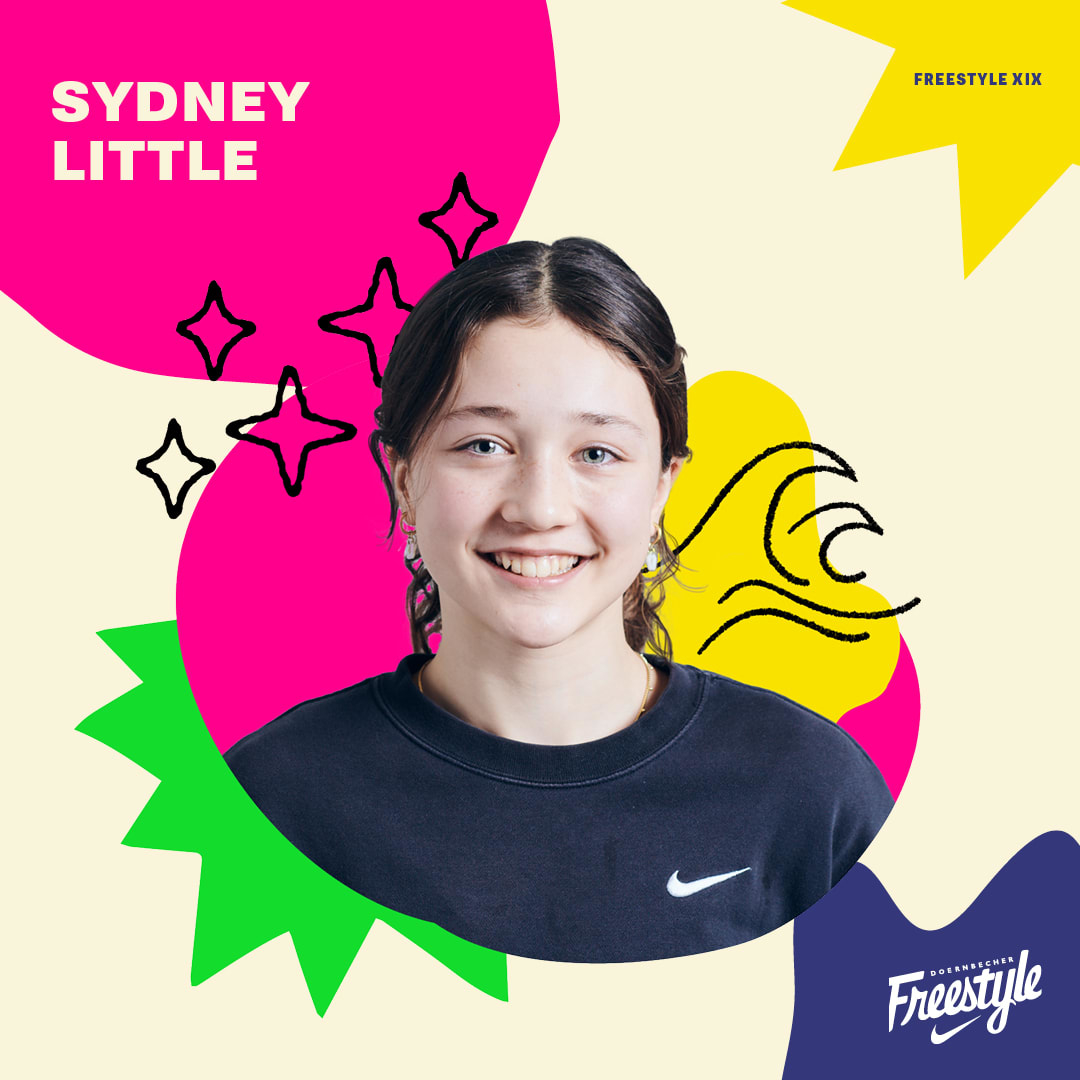 Age: 14
Diagnosis: Juvenile idiopathic arthritis
Shoe: Nike Cortez
Apparel 1: Boxy T-Shirt
Apparel 2: Phoenix Fleece Pant
Sydney Little is a talented artist and competitive swimmer who refuses to let the pain from her arthritis slow her down. Her design is a walking masterpiece filled with her hand-drawn artwork and features interchangeable patches so you can wear it your way on the heel. For her favorite activity, you can find resin dots on the heel that mimics water droplets, along with glow-in-the-dark lines on the outsole that mirrors pool reflection ripples. Sydney hopes her vibrant shoe will brighten your day and has a bit of advice for anyone facing a challenge: "Keep swimming," she smiled. "You'll get through it."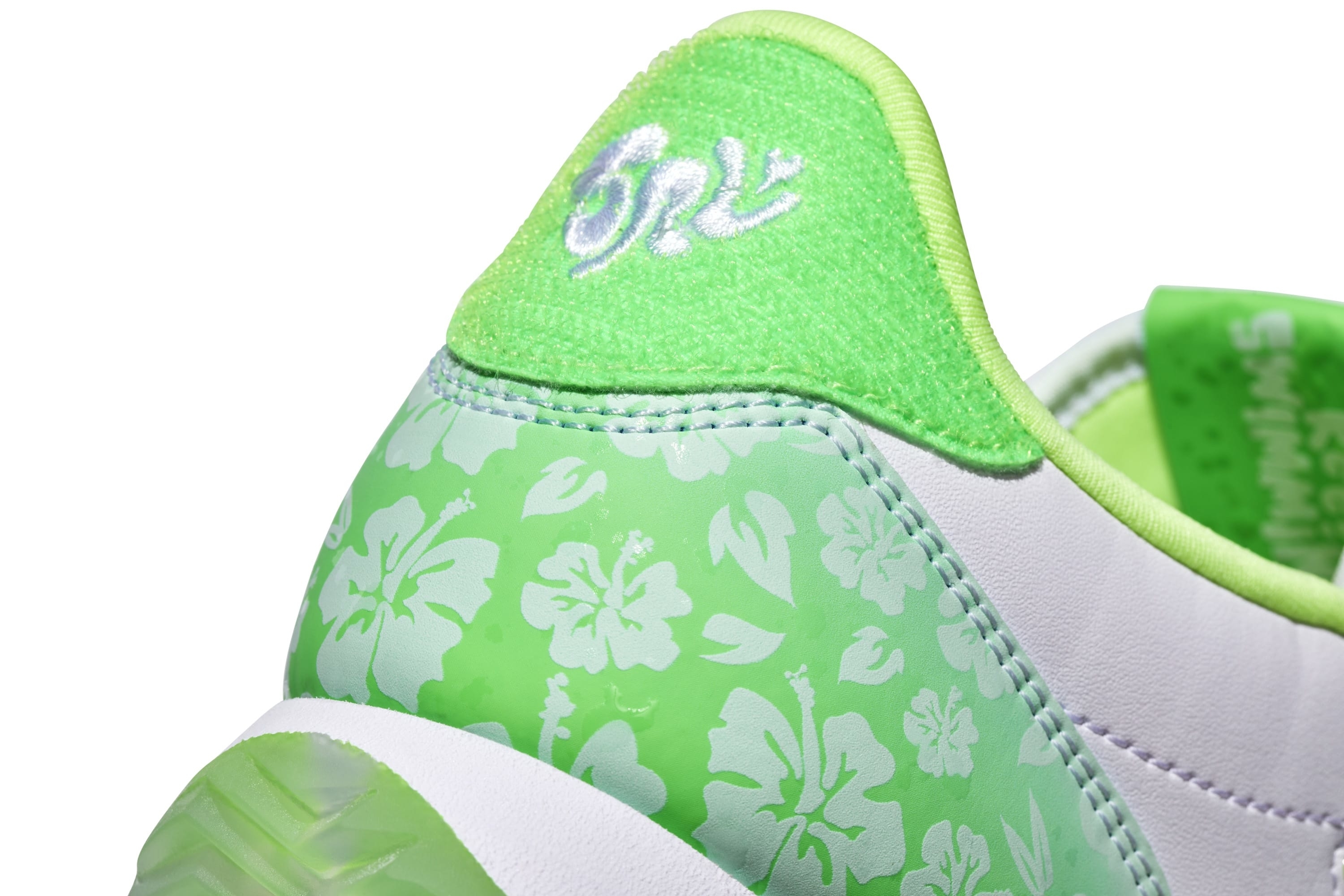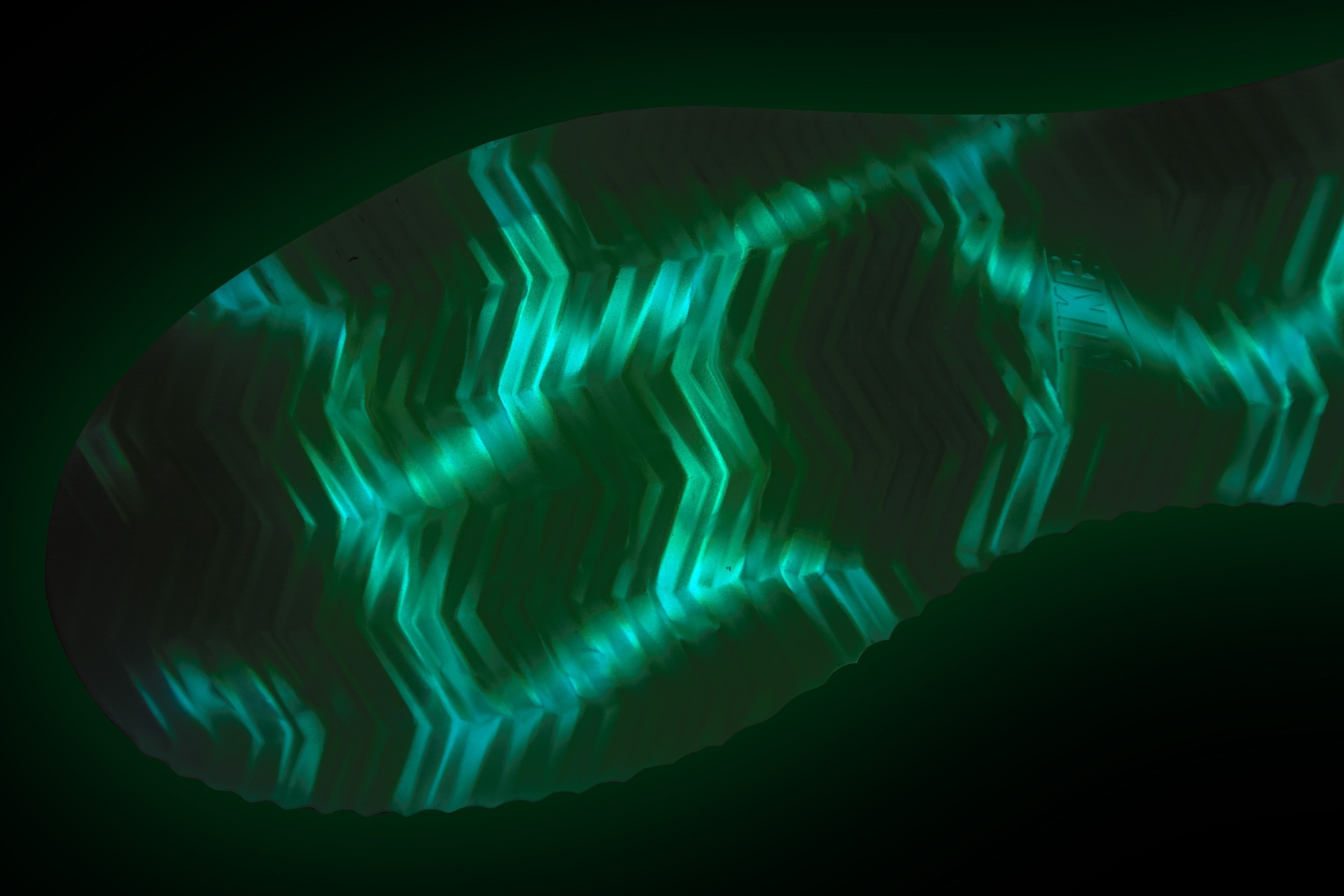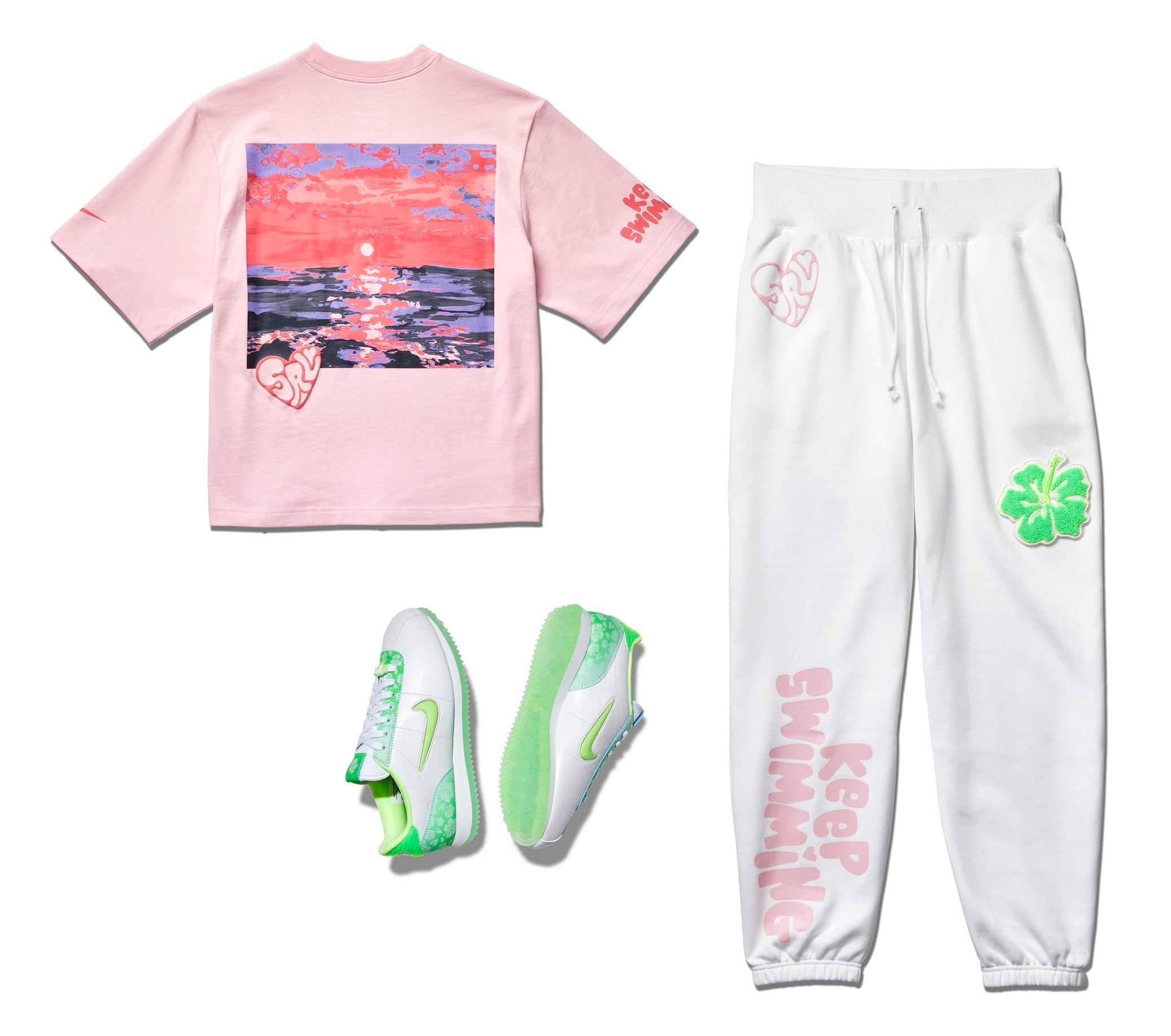 Air Jordan 3 by Hugo Covarrubias Molina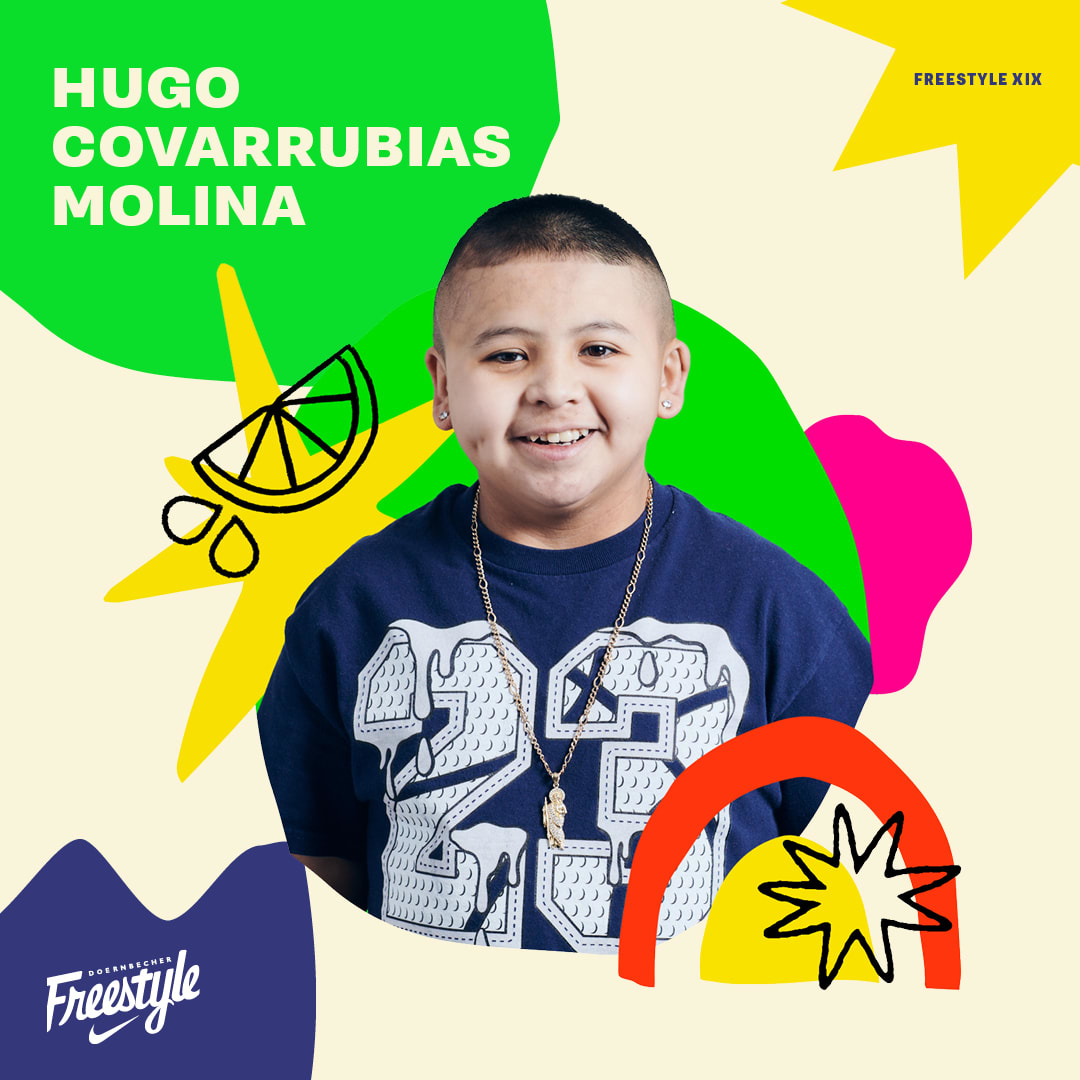 Age: 14
Diagnosis: Klippel-Trenaunay syndrome
Shoe: Air Jordan 3
Apparel 1: Jordan Flight Fleece Hoodie
Apparel 2: Jordan Flight Fleece Pant
Hugo "Juice" Covarrubias Molina was born with a rare disorder that causes one side of his body to grow larger than the other. He used to feel self-conscious about it, but Hugo has learned to embrace his uniqueness and designed a shoe that encourages others to do the same. His style is represented on the shoe with his nickname Juice (which is jugo in Spanish) – with the cool factor dripping over the upper. And because Hugo loves to bring the bling, his custom logo hangtag (which can be used as a pendant) is plated with 24-carat gold. On the outsole, you'll find words to live by: It's okay to be different.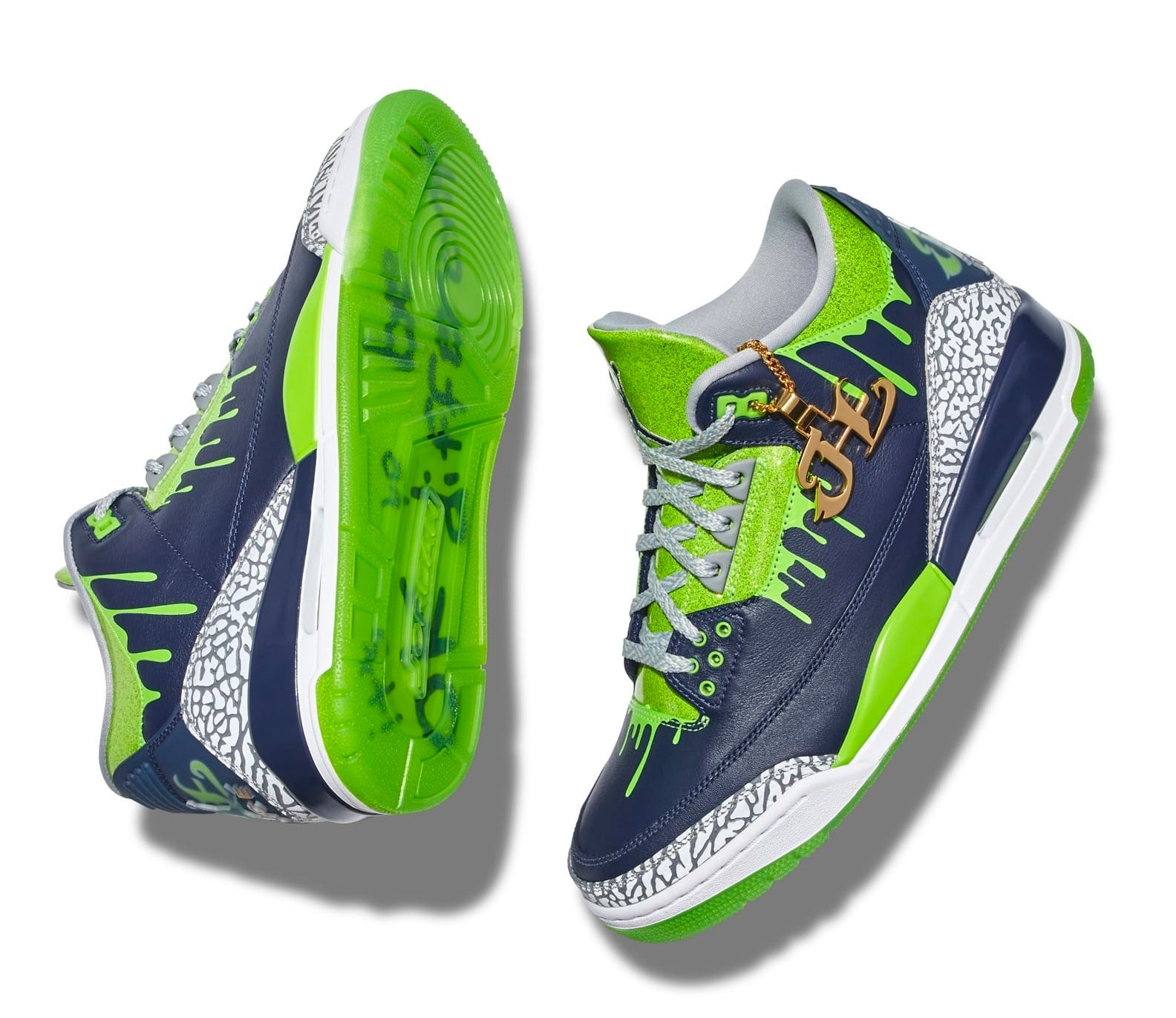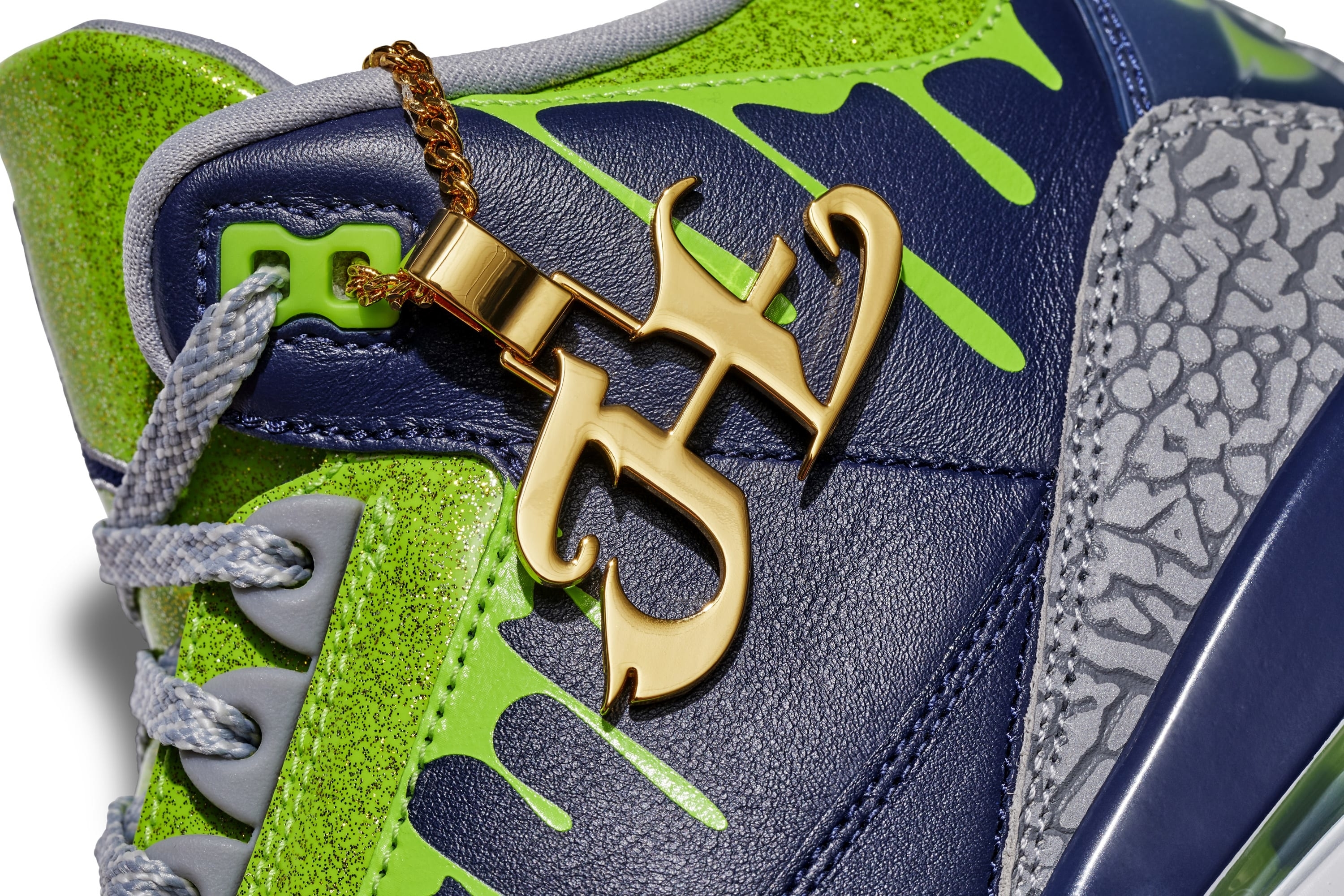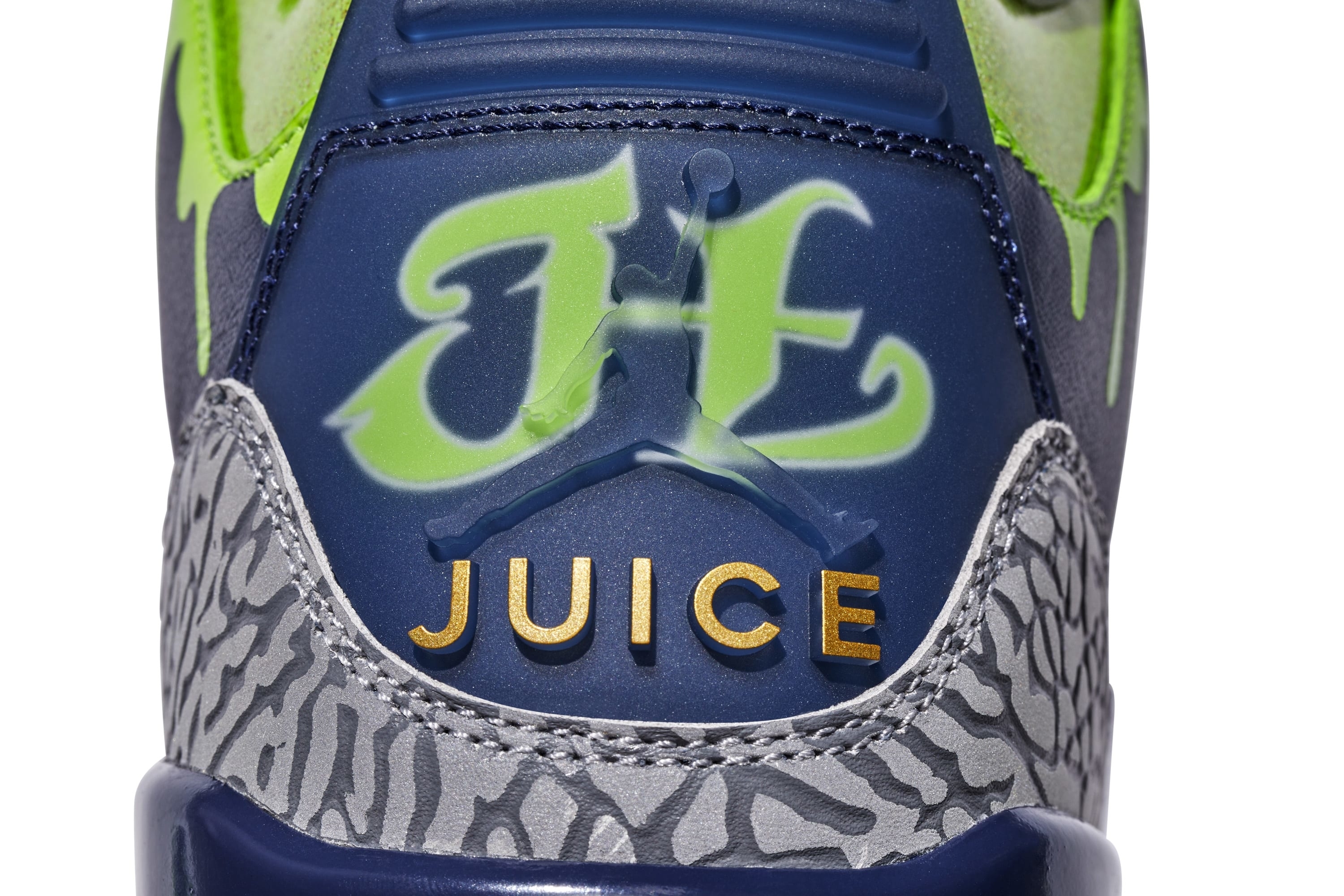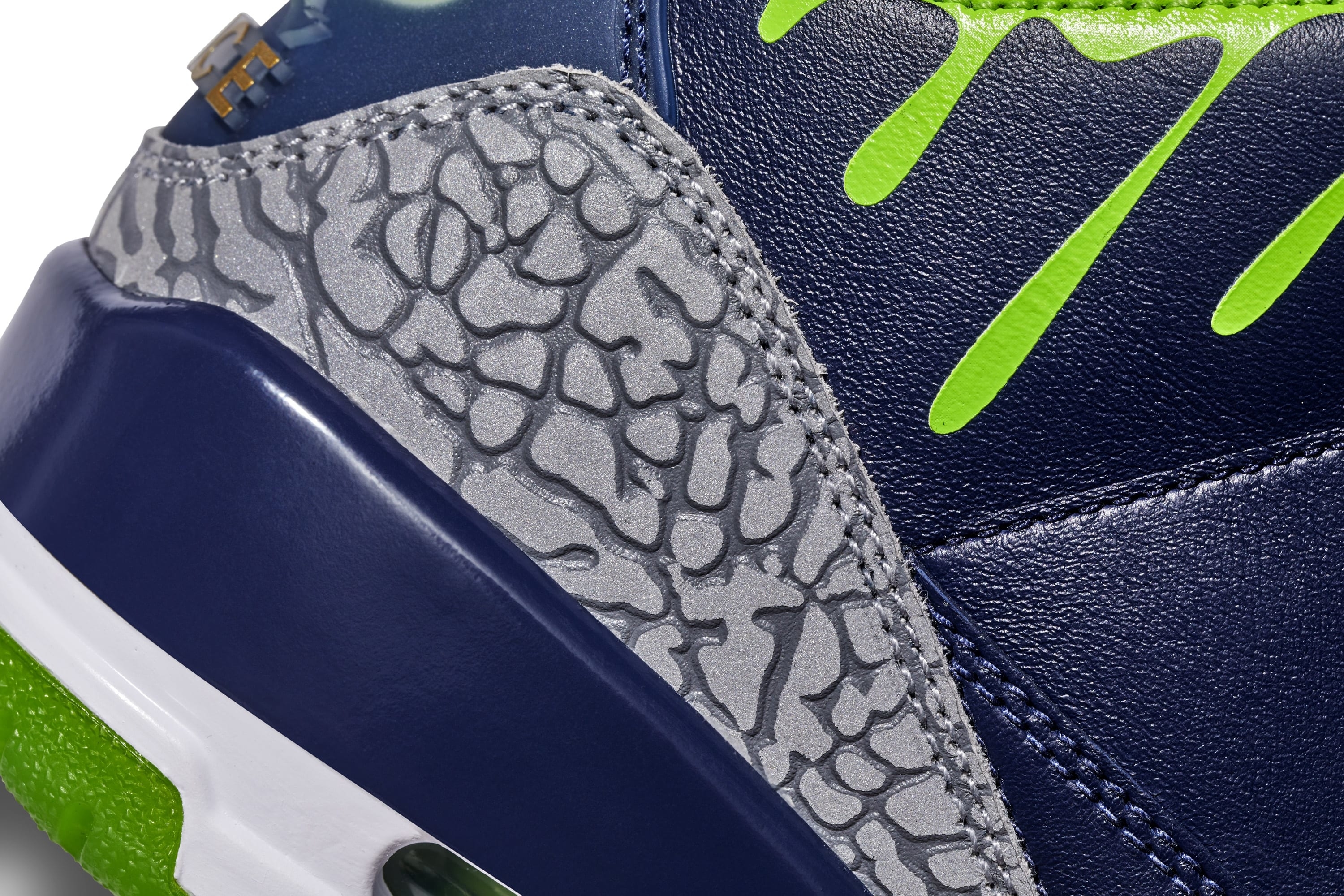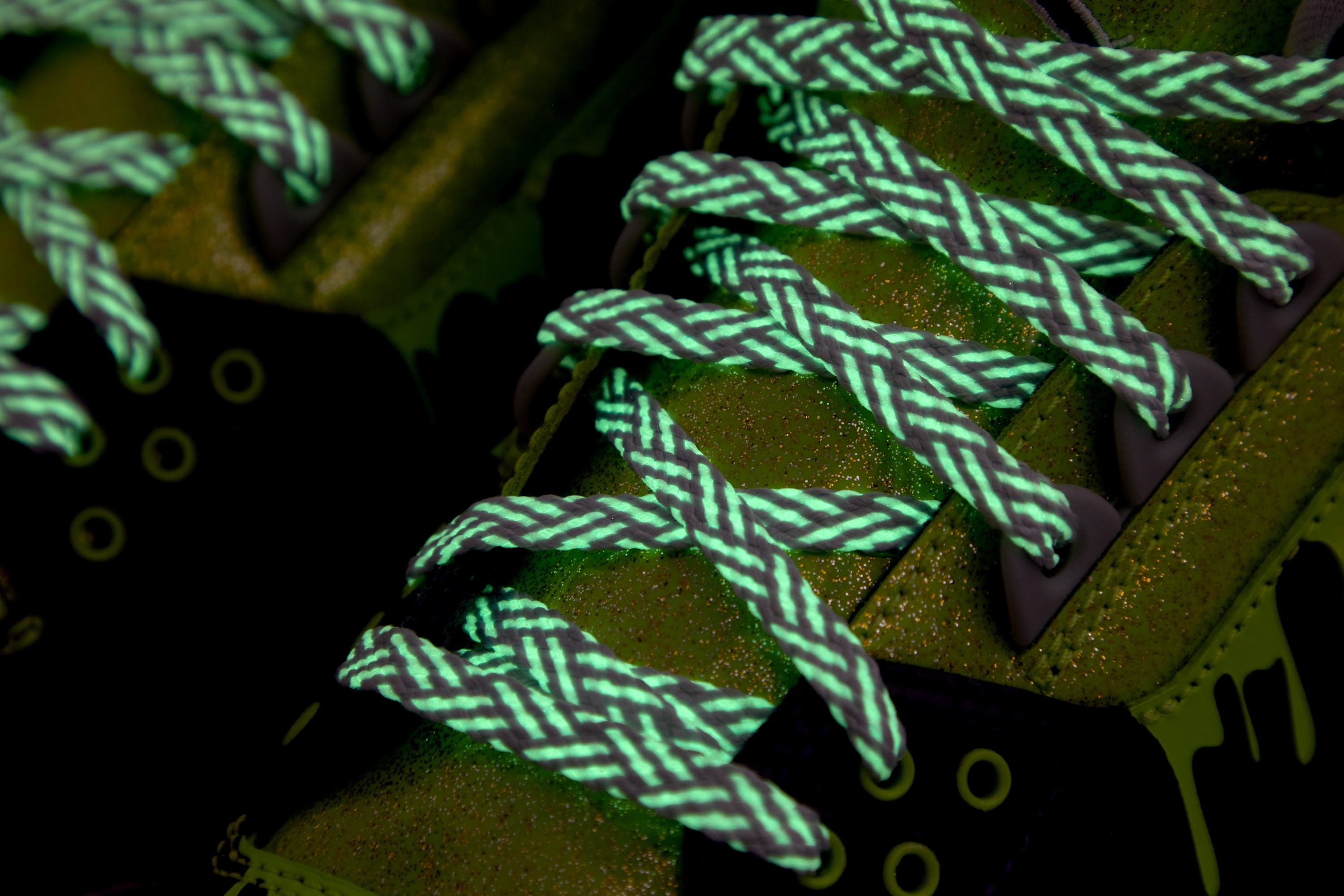 Nike FlyEase Go by Christopher Musquiz Jr.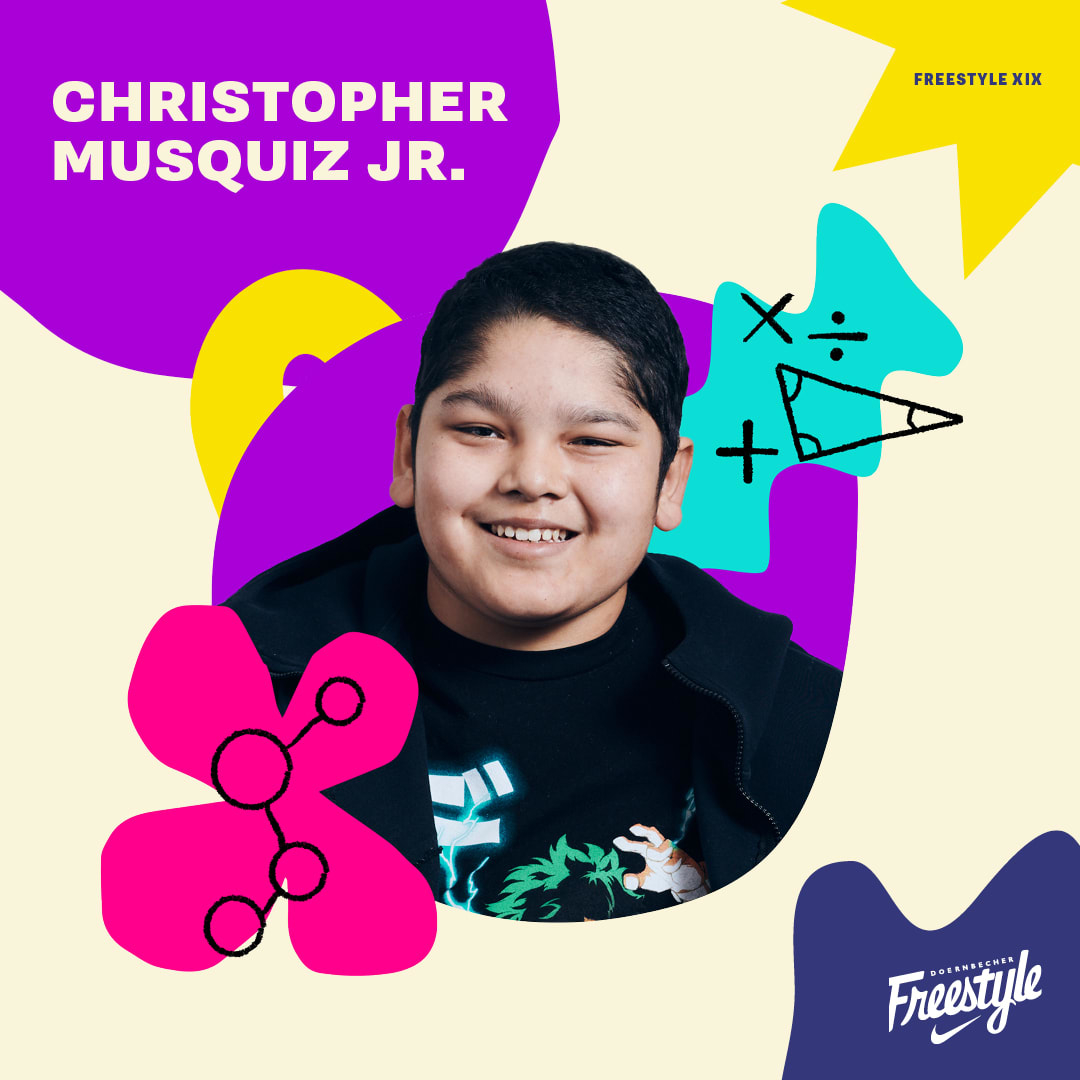 Age: 14
Diagnosis: Traumatic accident
Shoe: Nike Go FlyEase
Apparel 1: Game Jersey
auctioned Nike Pro Cap
Chris Musquiz Jr. was riding his bike to school one morning when he was struck by a car and critically injured. While he lost his leg in the accident, Chris never lost his courage or positivity. His shoe reflects his love of Japanese culture and features a wave pattern akin to classic Japanese art, a kimono-inspired wrap design and a cool graphic of Mt. Fuji on the tongue. Be sure to check out the inside, where you'll find a friendly panda hanging out with Chris on the beach, his favorite animal and happy place.