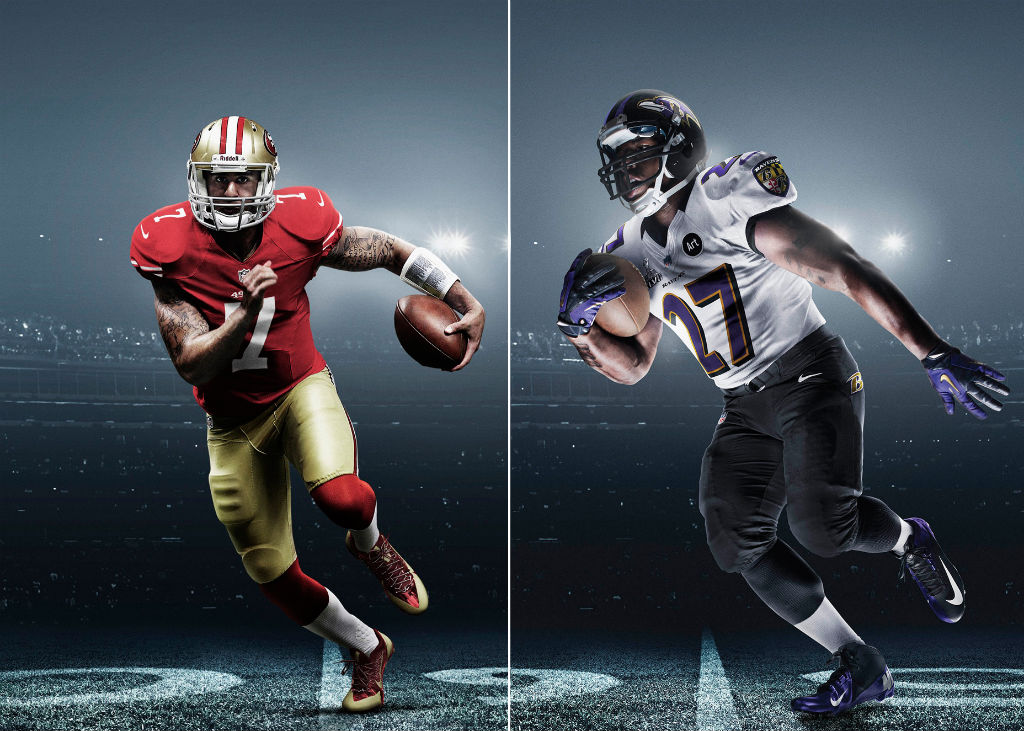 words // Brandon Richard
via Press Release
Nike Football has officially unveiled the Elite 51 uniforms that will be worn by the Baltimore Ravens and San Francisco 49ers in Super Bowl XLVII. Additionally, they've rolled out brand new Alpha Pro cleats and Vapor Fly gloves  for Nike athletes.
The Ravens will suit up in their white jersey and black pant combination, while the 9ers will wear home red jerseys and gold pants. Uniforms feature full Nike Elite 51 innovation including Flywire technology in the neckline to reduce weight and provide a lockdown fit over the pads. Additional innovation includes increased sleeve articulation for better range of motion as well as four-way stretch fabrication to provide a streamlined shrink-wrap fit.
Also featured are strategically placed seams, pads and cooling zones that help minimize distraction and optimize protective coverage. Padding without the bulk offers optimal low-profile impact protection, specifically throughout the crucial "hit zone" between the knees and shoulders.
The Nike Alpha Pro Cleat is designed for explosive speed with an adaptive Nike Flywire support structure that creates an anatomical fit resulting in more stability while locking the foot in place.
Nike athletes on both teams will wear the new Nike Vapor Fly Glove featuring seamless Nike Hyperfuse construction on the back of the hand. It's engineered with no-cuff construction to reduce weight and increase grip coverage. The palm features next-generation Magnigrip material for improved durability and also has a unique tacky grip across a larger surface area on the palm.
Additional inforomation can be found at nikeinc.com.