1.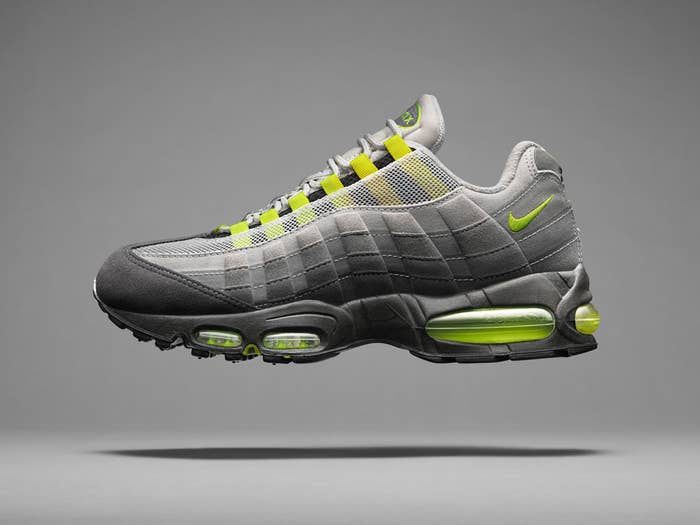 by Brandon Richard
It seems like yesterday that the cutting-edge Nike Air Max 95 made its debut. The runner's wavy pattern and fluorescent pops unlike anything that had hit the market before it. However, it's actually been 20 years since the shoe launched, and Nike is ready to celebrate
The Air Max 95 was the work of Sergio Lozano, then a relatively new Nike designer who had spent his earliest years with the brand working on tennis, training and Nike ACG product. He was approached about designing a new running shoe in 1994, when the category's momentum had stalled and fallen far behind Nike's fast-growing basketball business. The running design team urged him to take a risk with his next project.
2.
"Everyone around me kept saying, 'just go have fun,' said Lozano. "I was still young and a bit naïve, in a good way, and that was all I needed to hear."
Prior to inheriting the running project, Lozano designed for ACG in the Michael Jordan building on Nike campus. His office had a window facing the lake, which he often took advantage of while brainstorming for work. One day, he began picturing the process of the earth being eroded by rain and imagined what a product would look like if it were found underground and was unearthed by erosion.
"From that thought I made a little sketch of a shoe that had striations very similar to what you see on the walls of the Grand Canyon," said Lozano "Layer after layer after layer that are slowly revealed over time. I quickly finished the sketch and stuck it into my idea drawer."
3.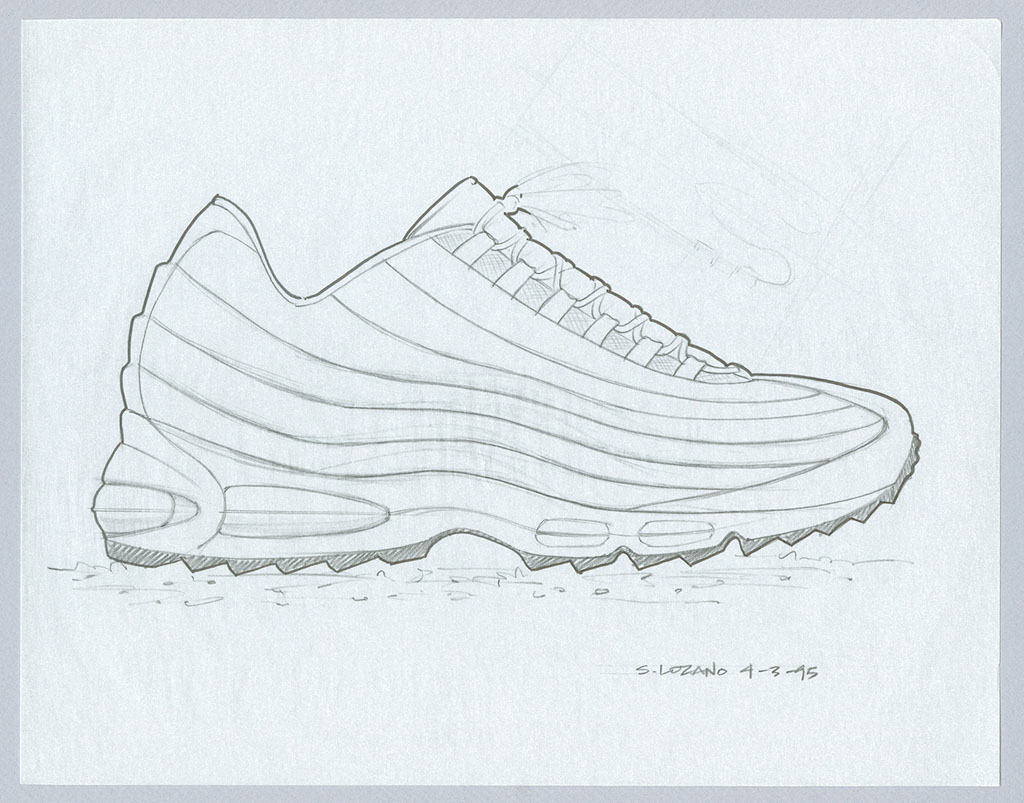 Lozano also recalls picking the brain of fellow Nike designer.
"I remember something Tinker Hatfield used to always bring up while working on other projects, he would say, 'Okay, so that's a great design, but what's your story?' He was always asking 'why,' so I asked myself the same question. I wanted the shoe to guide people through my thought process."
However, not everyone at Nike was immediately on board with Lozano's vision. He was met with resistance during the review phase of the process, mostly due to the shoe's unconventional look. Minimal Swoosh branding, the first ever use of visible Air in the forefoot and black outsole were cited as causes for conern. But Lozano believed in Nike's strong brand recognition and the progressive nature of of his design, which didn't include any Swoosh logos at first. With some compromise, like eventually adding a Swoosh to the heel as a "punctuation," he eventually won over the opposition.
"There were lovers and haters. But you know you're on to something when you get that kind of emotional reaction."
4.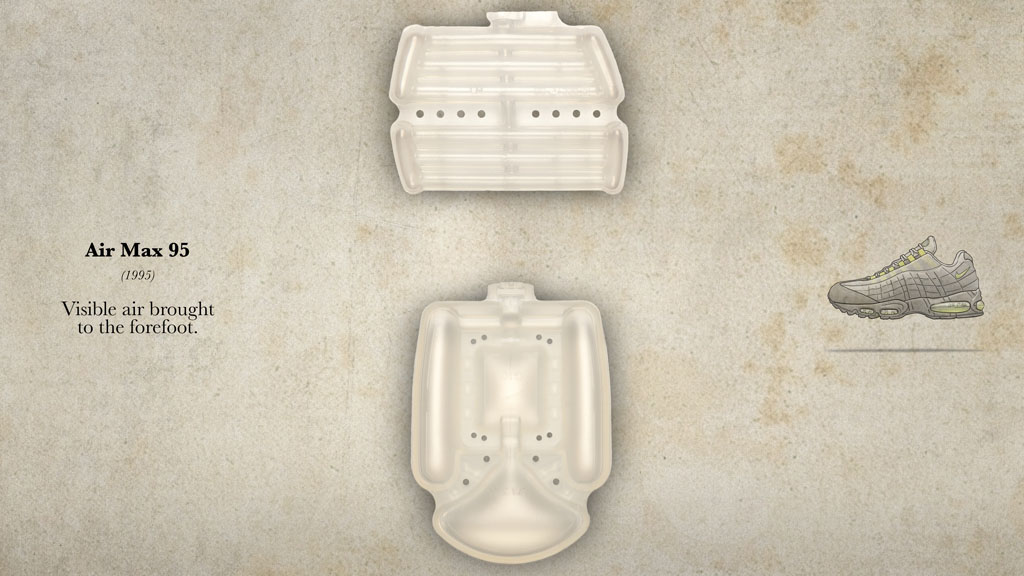 Moving onto production, it was time to select a launch colorway. The Air Max 95 is one of the most stylish sneakers of all-time, and Lozano's primary focus was coming up a look that was equally functional. Again, he found himself having to sell his co-workers on his vision.
"I was told that gray didn't sell and took that as a challenge," said Lozano. Dark Grey and black were used near the base to deal with the area where dirt was likely to accumulate. The incorporation of neon yellow, now the Air Max 95's signature shade, was a nod to Nike's heritage defining racing kit.
Battling through a long series of reviews, Lozano's confidence paid off. The Air Max 95 finally hit production lines and went on to become the defining running shoe of its time. And beyond that, a fashion staple for the past 20 years. At a time when Nike's running category needed to be reinvigorated, Lozano stepped up to the plate with a bold design that changed the industry and continues to inspire 20 years later.
5.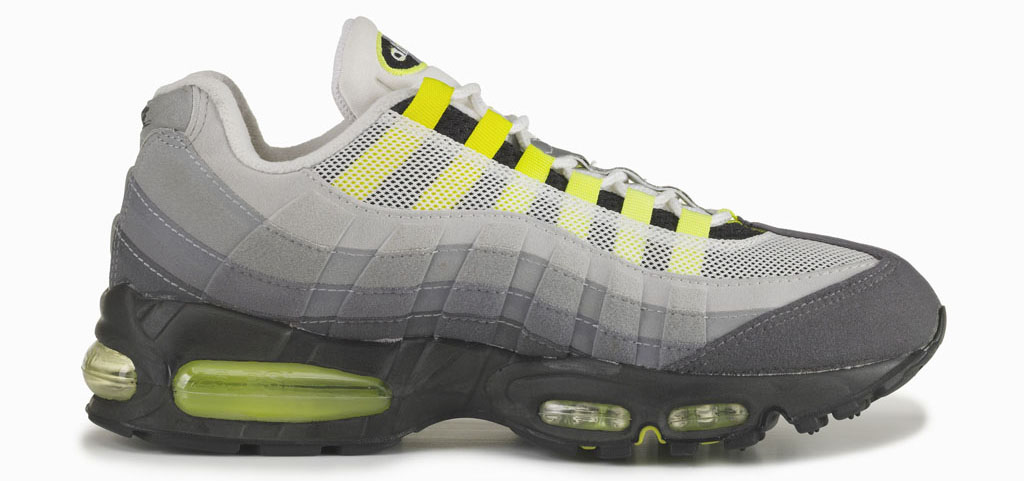 6.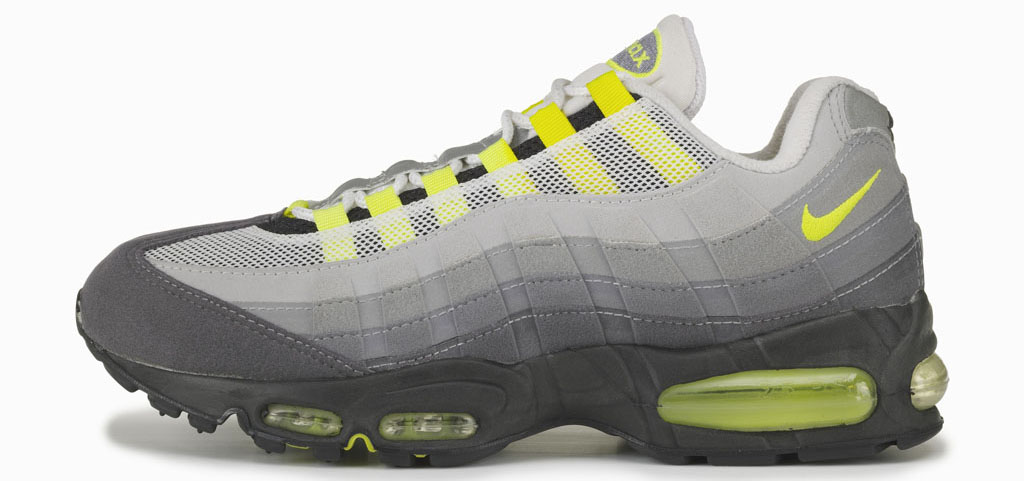 7.

8.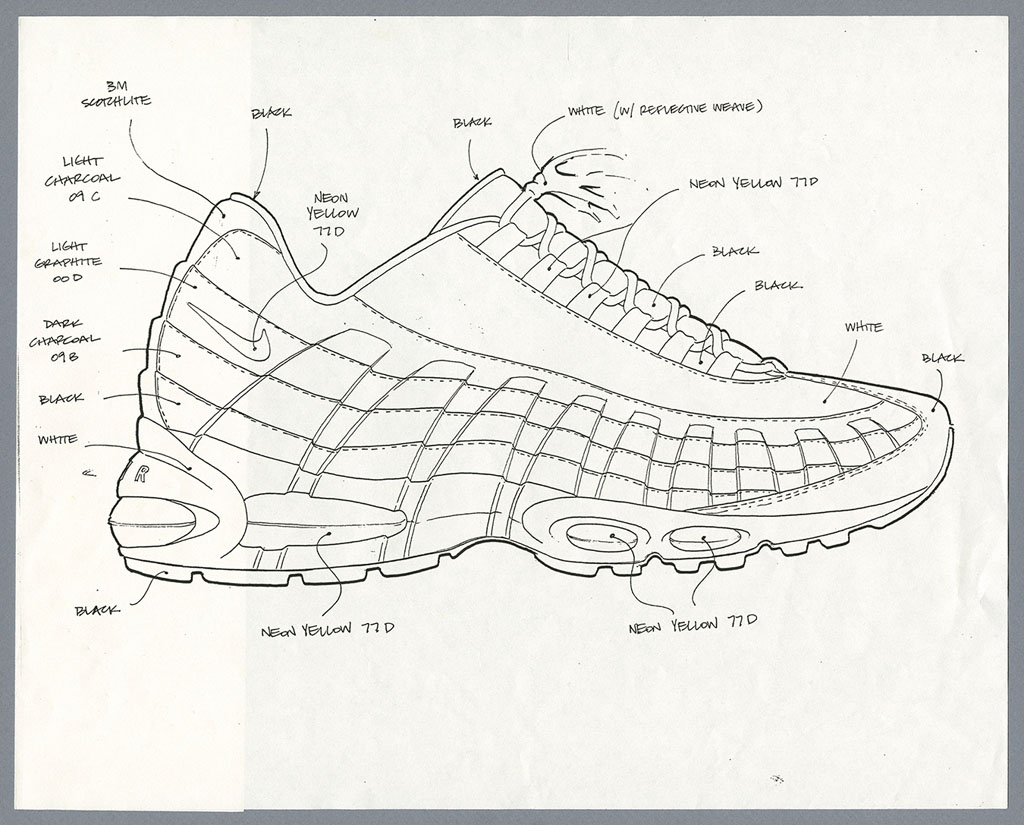 9.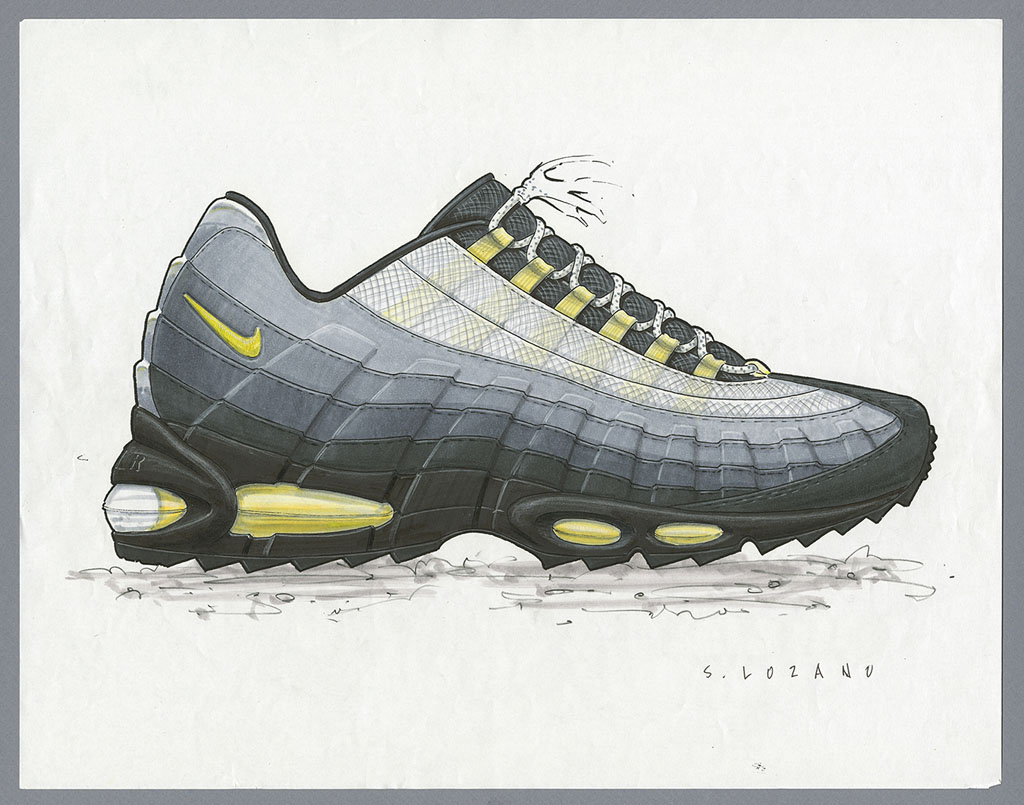 10.