1.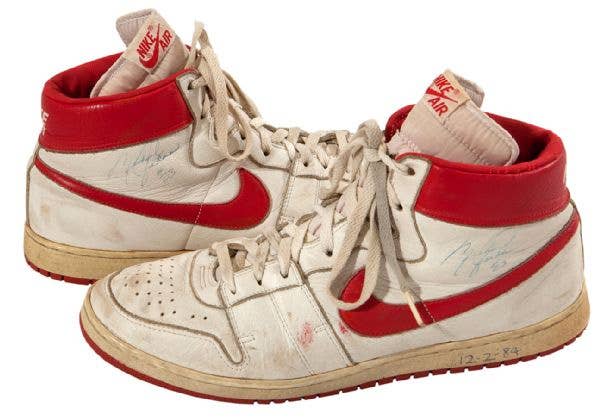 by Brandon Richard
Before there was ever an Air Jordan, there was the Nike Air Ship, the first sneaker Michael Jordan wore as an NBA pro. In fact, our own Marvin Barias debunked the myth of the 'Banned' Air Jordan 1, instead proving that the original banned sneaker was indeed the Air Ship. The shoe carries a lot of history, but has never been re-released. It's definitely on Nike's radar, though.
One big spender won't have to wait for a retro. According to ESPN's Darren Rovell, a pair of Air Ships worn by Jordan will soon hit the auction block. SCP Auctions will host the auction for the sneakers, which are said to have been laced up against the Los Angeles Lakers on December 2, 1984. Khalid Ali, a former Lakers ball boy who is selling the sneakers, said he retrieved them from Jordan in the locker room after the game.
SCP Auctions Vice President Dan Imler told ESPN that he believes bids could surpass $50,000. In 2013, the original 'Flu Game' Air Jordan 12s fetched $104,765 via auction.
The Air Ship auction begins Apr. 8 and runs through Apr. 25.
UPDATE 4/26:  In an update from ESPN's Darren Rovell, the game-worn Air Ship sneakers from 1984 sold for $71,554 earlier today. SCP Auctions spokesman Terry Melia said the buyer wishes to remain anonymous.
This is the second-highest prices paid for game-worn Jordan shoes on the auction block. In 2013, the original 'Flu Game' Air Jordan 12 worn in the 1997 NBA Finals sold for $104,765.
2.