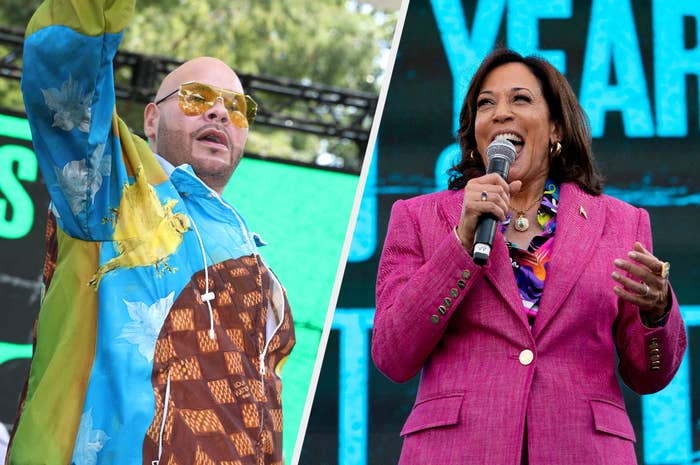 Almost twenty years after his unreleased Terror Squad x Nike Air Force 1 samples first surfaced, Fat Joe is finally releasing his highly coveted collaboration to the public. The shoes carry a significant amount of relevance—prior to his passing, Virgil Abloh reportedly asked Joe if he could design an Off-White x Terror Squad x Air Force 1 collaboration, citing its importance to sneaker culture. Even with that understanding, Joe has been hard at work to promote his release, hand-delivering pairs to everyone from Jennifer Lopez to Mark Wahlberg. Now, the self-proclaimed 'Delivery Man' has taken his shoes to the most famous house in the country.
At Saturday's 50th Anniversary of Hip Hop party in Washington DC, Joe hand-delivered his Terror Squad Air Force 1s to one of the world's most recognizable and influential people—Vice President Kamala Harris. A video of the vice president's reaction to receiving the "Loyalty" colorway was shared by Joe on Instagram.
On a recent episode of the Complex Sneakers Show, Joe explained why he's working so hard to promote his collaboration.
"I'm just a hustler," he said. "I gotta do what I gotta do to bring awareness to the sneaker. To bless the people that I love and their contributions to the art form of hip hop."
Taking his Air Force 1 collaboration to the White House is a full-circle moment for Joe. Originally not authorized for production by Nike, Joe says he paid someone on the side to have pairs made in various colorways. Plans for more ambitious executions were in the works when the unnamed employee was caught by higher-ups, putting an abrupt end to the Terror Squad project. Two decades later, authorized pairs are now being sold by Nike.
Vice President Harris previously made sneaker headlines on the campaign trail in 2020, when she went viral for making the towns in her go-to Converse Chuck Taylor All Stars. She also joined Complex to detail her sneaker history on an episode of Sneaker Shopping.
Following a SNKRS Pass drop at Rucker Park earlier this month, the "Blackout" Terror Squad x Nike Air Force 1 will officially release on September 16, with the "Loyalty" colorway following on September 21.