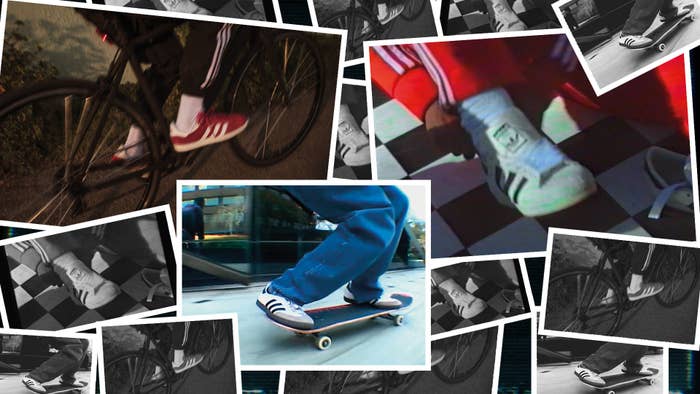 If a sneaker brand is lucky, it will release a handful of classics. adidas isn't just a "lucky" brand. It has a catalog of timeless designs, and this fall, it's highlighting three that transcended sport to become staples of fashion and culture: the Superstar, the Gazelle, and the Samba. These silhouettes—and the athletes and artists who made them their own—helped stamp adidas on the field and beyond.
The Superstar, a basketball shoe, became a fixture in hip-hop thanks to Run-DMC; only a few years later, skateboarders embraced the model, putting its leather upper and rubber toe cap to the test against griptape and concrete. With its streamlined suede upper and gum sole, the Gazelle went from the track to the streets, appearing in countless music videos and fashion spreads. The Samba, meanwhile, crossed over from soccer fields and found favor among skaters and artists, who were drawn to its durable, low-profile silhouette.
To pay homage to the models and the Trefoil that symbolizes the brand, adidas Originals enlisted three directors—Daniel Wolfe, Will Dohrn, and Justyna Obasi—to illustrate their evolution. Peep the videos below, and pick up the sneakers here.
PRICE: $100
Its life began on the basketball court, but the Superstar is equally at home on linoleum floors and waxed ledges. For students of classic hip-hop and skateboarding, the model—which debuted more than 50 years ago—will forever be a go-to.
PRICE: $100

The Gazelle offers classic adidas design flourishes in a lighter-weight track shoe that's been seen on the feet of artists and rock stars for decades. The brand has reworked the shoe many times, releasing it in suede, leather, and innumerable colorways. But whenever it comes out, it still feels new.
PRICE: $100
Over the past two years, the Samba's stayed in rotation with everyone from models to skaters. Even so, the repurposed soccer design stands out wherever it's worn.