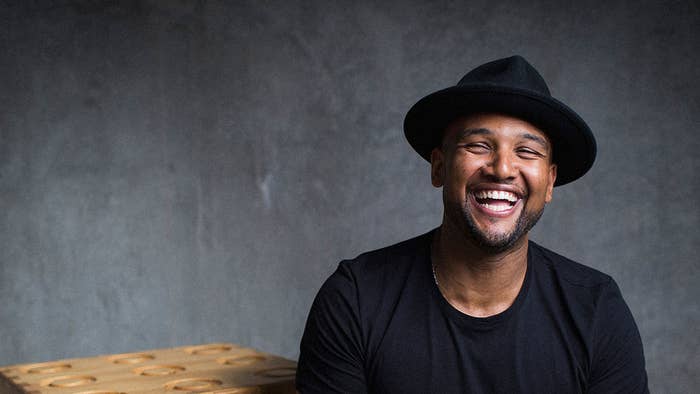 Jason Mayden's love for creation stems from being a comic book reader. As a fan of Batman, he was intrigued by the inventions that were created for Bruce Wayne to help him fight crime, which opened Mayden's eyes up to design at a very young age. His favorite superhero did fly, but not in a fictional city like Gotham. The city was Chicago and growing up on the South Side in the '90s, Michael Jordan was that inspiration to him.
As if the South Side of Chicago didn't present enough challenges, Mayden also battled a health scare at a young age after being diagnosed with a blood infection known as Septicemia. Thanks to a "cocktail of experimental treatments," as Mayden calls it, he overcame the sickness and eventually used the struggle as inspiration for his future career.
Mayden turned his dream of designing MJ's go-to gadget—sneakers—into a reality as he went on to become a senior product designer at Jordan Brand for more than 13 years. His journey to the top of the footwear design world was by no means overnight. Mayden majored in industrial design at the College for Creative Studies in Detroit. At age 19, after years of trying to make his way in, he started from the bottom as Jordan Brand's first design intern.
He credits former Jordan Brand design director and Pensole founder D'Wayne Edwards for helping to pave his way, and it's a favor he intends to pay forward. "D'Wayne made it so that I could take his spot, and I made a big deal to make a big deal for young designers that are killing the game and doing great work, like Ben Kirschner. [Designer of the Jordan Future and Nike SFAF-1.] Super proud of that dude and all that he's overcome."
During Mayden's time at Jordan Brand and Nike, he designed sneakers for players like Carmelo Anthony and Chris Paul, and even the Air Jordan 2009. He also played a huge part in designing the now-extinct Nike FuelBand. While his connection to sneakers is everlasting, his eye for design goes beyond footwear.
Since leaving the Nike umbrella, Mayden has done everything from designing the Vessyl, a smart cup that tracks your hydration, to launching Slyce, a content management system in collaboration with Steph Curry. Now, he holds a position in Silicon Valley at venture capitalist firm Accel Partners where he scouts young innovators in inner cities to infuse great ideas and diversity into the design and tech industries. On top of that, he's launching a new start-up that wants to reinvent the way children play. With work that has made and continues to make an impact on sneaker culture, design, and technology, Jason Mayden is definitely a hero in his own right.
Sole Collector caught up with Mayden to talk about his career, personal mentors, and diversity in the footwear industry.
How did your love for sneaker design come about?
It came about in two different ways. The first one was one of my classmates in fourth grade, she came in wearing a pair of Air Jordan 4s in Military Blue, but back then it was just blue to me as a kid. I loved them because they were different and unique and they kind of told a story about that moment. Growing up as a kid in Chicago, everything that Michael Jordan did gave us hope and inspiration. That was the first piece. Then, my love for comic books was the second. I read a lot of Batman, and in Batman's story there was a person named Lucius Fox who was an inventor. He made all of Batman's gadgets, so that connection between Michael being a superhero and my love for creation led me to believe that I could be like Lucius Fox and design for Batman, but my Batman was Michael. That's what kind of drove me towards loving sneakers as a vehicle for creation.
Were you into collecting and wearing sneakers before you got into designing?
Yeah, 100 percent. I would buy everything from L.A. Gear Catapults to Reebok Pumps to Jordans. My brother worked at Foot Locker and it was right next to my school, so I would always be over there sketching, drawing, and trying to purchase every single pair. It was just what I loved—it was my thing. Some people collected basketball cards and that was their thing, I collected shoes. I collected cards and toys as well, but something about footwear man, it was the one thing that made me feel invincible and included. When you got a new pair of shoes, for that week and a half or two weeks before a new colorway, you felt on top of the world. At least for me, it helped me escape from anything I may have felt about myself growing up on the South Side. It gave me a little bit more confidence.
When did you decide that you wanted footwear design to be your career choice?
At the age of 9. A lot of it came from being on my death bed at the age of 7. I had a lot of time to really reflect on what I wanted to do with my life and how I wanted to create. It's a reason why I stayed so close to Doernbecher Children's Hospital on those projects because I was in the hospital as a kid and I remember people talking about me as if I wasn't going to make it. I remember clearly playing with children that were terminally ill that weren't going home and seeing them wheeled to and from surgery and chemo treatment. I knew I was going home because they figured out what was going on with me and I just realized, "Man, I don't have time to waste. It's something I love. It's something I believe in. I gotta go for it." I love shoes, so that's what I went after and I haven't looked back.
"I used to call and write letters and they turned me down three times."
After college, you became the first Jordan Brand design intern. How hard was it to secure that position?
It was nothing short of a miracle from God, to be honest. I wrote a bunch of letters to get internships. NikeTalk was still early as a blog and it was deep with people who were loyalists and purists, so there was no opportunities coming to NikeTalk for jobs, it was just guys talking about culture and sneakers. I did what anybody would do. I figured out how to get in touch with the main campus. I used to call and write letters and they turned me down three times. Then finally, in my junior year—I didn't know you had to be a junior to be an intern—I got an internship initially with Nike Basketball. They came across my portfolio that was left in a conference room by accident, someone found it and forwarded it to the recruiter. She calls me and says, "We love what you're doing, we very rarely get students with a background and a passion for shoes. Normally, it's people who come from cars or other disciplines, but you've created your own major. We would love to offer you an internship." As luck would have it, they lost the budget–called me back about a month later and told me they no longer had the headcount for Nike Basketball, but there was this part of the company that was growing and becoming its own brand and getting bigger and they wanted me as the first design intern. She said, "How do you feel about Jordan Brand?" I literally almost passed out. I was in a movie theatre in Detroit and I'm not a small dude. I'm a pretty tall and big guy. I stood up and I started screaming like, "Ahh man!" You know, if you scream in a movie theater in the dark in Detroit, people will leave. So, the movie theatre cleared out, but I was full of elation, thankfulness, and joy because all the sacrifices, all the things I did that went unseen, the sacrifices of my parents, the people from my community that never had a chance to do anything. I felt it all that moment, that this was my shot and I wasn't going to mess it up. Creativity became my jump shot. It was my way out and I finally had my ticket to leave.
What were your biggest challenges while trying to break into the industry?
It was several. There was a lack of examples of people like me. I often felt like I didn't have a place that I could fit into. I was a very creative kid, but I was also extremely analytical and good at school in an environment that wasn't necessarily praised all the time. Where I'm from, you get your reputation for throwing hands, not getting As. I had to choose between being intelligent and being tough in a lot of ways. I had to fight that inner battle. That was the largest battle I fought. My own insecurities, my own inner voice that would cast doubt on my abilities, my own fears of being viewed as not adequate or good enough. That was always lurking in the back of my mind. What helped me persist was my belief that somebody had to do it, why not me? Nobody just woke up and walked into a gig. Everybody has to earn it. So I made a point to earn my spot.
The lack of role models was tough, but then getting into corporate America at the age of 19 as an intern, that was even difficult because there's certain language they use that can be confusing to a person who grew up in the inner city. Our language is very clear. We have the same language as entrepreneurship, but we call it hustling. When I got into corporate, it took me some time to basically develop my internal thesaurus to translate what they were telling me from what I had already knew in my heart. That was the biggest lesson, but also the biggest blessing. I realized that I wasn't any less qualified or intellectually inferior. I just didn't have the same vocabulary because I didn't have the same origin story. I quickly developed a vocabulary through great mentors like Mr. Jordan, Mr. Larry Miller, and Mr. Howard White. They ultimately encouraged me to continue to pursue my education in business and language and that's what led me to go to graduate school at Stanford. I wanted to eliminate the way people can tell me "no" versus trying to seek a "yes." That was always and continues to be my strategy—be prepared and eliminate the "no" by addressing my weaknesses before anyone else does and turning my weakness into a strength.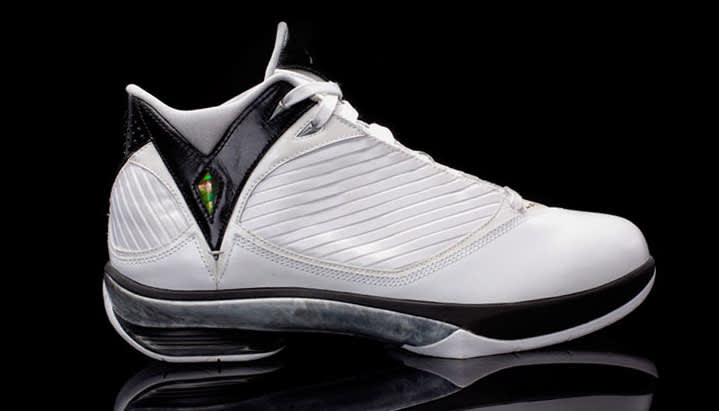 What's the best piece of advice Michael Jordan gave you as a mentor?
"Don't F up." [Laughs] Literally, that's exactly what he told me and I took it to heart, man. When I first met him, I told him my whole life story. I grew up in the Wild 100s, literally in the same neighborhood his wife came from. My parents went to highschool with his ex-wife. I didn't know any of this at the time, so I didn't have a hookup or nothing. It just kind of all came out. He knew the neighborhood I came from and the likelihood of ending up [at Jordan Brand] and how it was a low probability. So after I told him my story and asked him, "Mr. Jordan, what can I do to be successful?" He looked me in my face and dead up told me, "Yo, don't F up." It sounds funny to hear, but with that phrase, I took it as: "Jason, you have a great opportunity to represent for you and anybody else you believe should be here. Don't squander this moment. Don't blow it. Don't think you're not meant to be here. Don't waste a second of it. Get after it. It's bigger than you." At least that's what I heard. When I left to go to business school, I wrote a letter to him and he wrote one back. To sum it up, he said, "You did it. You did it right with hard work. You didn't F up. You did exactly what I told you to do." That meant a lot because he remembered it and reflected back on it in his personal letter.
There are plenty of Black people involved with the footwear industry when it comes to athletes and celebrity endorsements. How does that compare to the design side of the industry?
I would say we're severely underrepresented from the creation side. It's reflective of anything when you look at industries that monetize on melanated culture. There's very few people in the front office of the NBA of color, there's very few people in the head offices of record labels of color, very few people who can greenlight television shows of color. If you look at industries where we're in front of the camera, there's very few people behind it. It's the same with footwear. When you look at the people on the court and field, it's predominantly us, but the people in the boardroom don't look like us. That was always something I was aware of, that was always something that I used to fight battles even when I was tired and wanted to quit. I knew I couldn't because I had to stay in there to maintain that voice and that balance. It led me, once again, to figure out ways to eliminate how they can tell me, "no."
There's opportunities for projects for the ability to recruit and maintain a consistent pipeline of talent from schools like CCS, coming from places like Pratt Institute in Brooklyn or Art Center in California. It drove me. It's one thing to be an observer of culture and it's another thing to be a creator of the culture. You need to have a balance of people who are creators and people who are observers to make an informed decision. If there's a room full of observers who appropriate or misrepresent the origins of where something came from, it starts to look watered down, commercial, and opportunistic. Nike prides itself on having the voice of youth culture reflected within its employee base, so people like myself and D'Wayne Edwards and a host of others—we fought to make sure that was true. Nine times out of ten, it was. Then there was the instance that it wasn't, but that's the nature of corporate America. At large, I think Nike as a company tries its best to seek out diverse talent and really put people in positions of power and authority to have a voice when they can.
"Those people at retail don't have a pathway towards the front office because there isn't an intentional program to get them out of Niketown or Adidas stores to get to corporate."
How do you think companies can promote more diversity behind the scenes?
The way that you promote the diversity is to mandate the inclusion. What that means is, it's one thing to put out diversity numbers and say, "60 percent of our employee base are people of African-American descent." These aren't real statistics, I'm just making it up for example. But you look at those numbers and realize that most of that are people at retail. Those people at retail don't have a pathway towards the front office because there isn't an intentional program to get them out of Niketown or Adidas stores to get to corporate. So, I would say be honest about where the employees are being included and be intentional about how you develop talent. Be open about having people who don't come from those traditional schools that you want to recruit from to come into your pipeline. If you go to Stanford, you're going to get the same type of people that go to Stanford. If the school has a diversity issue then the pipeline will have a diversity issue. If you go to Cincinnati in Ohio, they have a robust student body, you're going to get diverse candidates. It's companies who need to celebrate diversity and need to amplify inclusion. Be open and honest about where your people currently are and figure out a way to get them to where you want them to be.
The employee has every right to tell the employer that they have to find a way to keep them versus the company putting it on the employee to find a way to stay. It's a different job market and you have to be more competitive about what you offer to young talent because there's more options. If there's more options, then it's less on the employees to just take whatever's in front of them and more on the company to sell them on a true vision. I think that's what we're seeing in the tech industry right now. Where I sit in Silicon Valley, tech companies are being called out for a lack of diversity and they're scrambling to figure out how to bring in more people of color and women. That's not necessarily the answer because when they come, do they get promoted at the same rate? Are they being compensated equally? It's bigger than just the numbers. It's the environment that needs to feel inclusive. It has to be the whole philosophy of the company.
What are your thoughts on the new Nike Equality ad?
I saw it. It was good. You know, Nike has a good way of putting out these questions every 10-12 years. You have the Maya Angelou one from back in the day, you have the Scoop Jackson one in Chicago saying, "Shoot over brothers, not at them," and now you have this one. They have a long history of putting out statements using the athletes. I would've been more impressed had they used the employees and regular people.
I think LeBron and Serena are dope choices. KD, super dope choice, but the reality is that they're not going to face some of the everyday challenges as the kid who buys the shoes is going to face. They can use their brand as a platform to build awareness and I absolutely think they should, and they're brilliant for doing so. But you have to blend in the everyday person who doesn't get the look, who doesn't get the benefit of the doubt, who doesn't get looked at as special because they're wealthy and famous. There's a person working in the cafeteria that needs to hear that message and should deliver that message. That may be the hero for a kid like, "Hey, this person in my family is the first person to go to college and they have an entry level job at Nike. That person is my hero." That person might have more impact than the athlete because it's tangible. When you talk about the concept of equality, it has to be deliberate in an equitable way by highlighting people who are also not famous, to make it seem like you don't have to be famous to make a statement or impact. You can be in a neighborhood, you can be local, you can be a kid and you can make a difference. That to me would've been a message that wouldn't have had as much backlash.
It was a dope campaign, I love it. I think it was timely. They took a shot at our current president, which was brave, but I would have loved to have seen a reflection of the everyday person. The choices were still exceptional people taking a stand, which is admirable. I'm excited to think that Nike is going to continue this campaign and continue to include more. They never do one thing once. There's usually layers to it and I think that's the first layer and that they will go deeper.
What is your biggest personal accomplishment?
First I would say having a functional, healthy family. Despite what statistics try to tell you—which aren't true—the black father absentee isn't a real thing. I'm very committed. My friends that are black fathers are super committed, so that to me, is something I'm very proud of. I'm able to surround myself with other people that are successful, but also committed black fathers. To me, that's the greatest accomplishment.
Two, looking back over all the lumps and bruises that I took to open up the doors for other designers to come into Nike. I knew I had a great responsibility of being the first Black design intern to not "F up" as MJ told me. To look back to see all the talented design interns who became full-time employees and went on to kill the game and do amazing work at the Swoosh, way better work than I ever did, that's awesome. To be able to say you were a part of finding people that were better than you and stepping back and letting them flourish and shine. Those two things are what I'm most proud of. Nothing that has to do with anything that I've done, even though I'm thankful for even being allowed to do it. It's more about the people I've been fortunate to get to know and learn from.
This interview has been edited and condensed.