1996. Luther Jackson Middle School in Falls Church, Virginia. Michael Yurko. That is the year and the location where I first caught a glimpse of the Air Jordan XI up close and personal, and my teammate who walked into the gym like a king amongst peasants whilst rocking 'em. I was flooded with emotion. The initial amazement and awe in their beauty quickly turned to envy, because he had a pair before I did. And then anger set in, because I knew I wouldn't get them. I started obsessing over how I could potentially make enough money to get my own pair. Wash cars? Ask for extra chores around the house to earn an advance on my allowance? Sell my little brother? I just had to have them, and it hurt so bad when I couldn't seem to get close enough. Sure, there were other Jordans before this. Hell, there were many other shoes I'm sure I felt some type of way about. But the Jordan XI definitely provides me with my first—of many—vivid sneaker memory.
Today, I'm a 34-year-old father who wears my "Concords" and "Space Jams" on a regular basis, because the Jordan XI is in my top two sneakers of all time, and they're not number two. Beyond the obvious design superiority and sensual aesthetics, I began thinking about why I feel like this shoe is so special to me and many others around my age. Then it dawned on me: It is the quintessential Cool Dad shoe, commemorating a very special point in time for anyone old enough to appreciate the mid-'90s era Michael Jordan's Chicago Bulls in all their glory, but still young enough to pull them off without looking like an L7 weenie (sorry, Skip Bayless. That would be you.). This was where the true Millennial sneaker revolution began.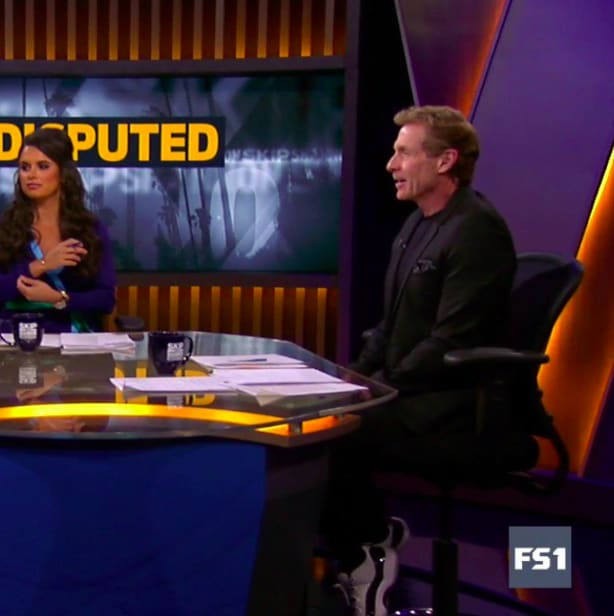 Back in 1996, I irrationally attempted a number of cockamamie schemes to get my paws on those bad boys, knowing there wasn't a chance in hell my parents were going to spend $125 of their hard-earned cash monies on a pair of shoes that I would undoubtedly fuck up. And I don't blame them. I was 10 years old, and I didn't know how to take care of shit. At some point, I would have left them unmanned in a gym I wore them to for the ol' pre-game stunt, and they would get yoinked immediately. Because everyone could identify the shoe and everyone wanted to identify with what the shoe personified: Perceived wealth, a sense of style, and that you were somehow a baller who should be feared. Plus, I was still wetting the bed, because I'd forget I was still in bed versus in the bathroom standing over a toilet. You think I'm going to remember to avoid mud puddles during recess?
But what I did know was that the whole "Be Like Mike" phenomenon had a hold on me and anyone with an affiliation to the game of basketball. The impact Michael Jordan had on everyone alive during that incredible era of basketball is, dare I say, unmatched. And there are few moments as iconic as seeing Jordan lead the Bulls to a record-breaking 72-10 season and NBA Finals championship while wearing the XIs. If you weren't a sneaker lover before then, you became one at some point during that season. It erased all the pain and anguish Jordan caused by racking up all those gambling debts, forcing him to quit basketball and "give baseball a try," whatever the fuck that meant. He more than made up for it by giving us a defining moment in sneaker history and history history, and I was personally lucky to have been old enough to witness and appreciate it all. Just like many other dad-like men were fortunate to experience and ultimately hang onto an old blankie or memorizing every song for every player in the 1990 "NBA Superstars" classic VHS.
So, naturally, much of my love for the shoe revolves around that spark that, that point in time anchored by a patented-leather masterpiece, ignited inside me for sneakers. And while I've stoked that flame like I'm trying to burn the motherfucker to the ground, just seeing it retroed (and re-retroed, and re-re-retroed) does the same for others who may have moved onto to more mature hobbies like cars, erotic massages, gambling or fly-fishing.
That is why we continue to see the shoe grace the feet of middle-aged men that have hit literal and figurative dadhood and who may or may not have hit the "don't care" cycle in their wardrobe, leaving their more stylish years behind them. The shoe's construction, with its mid cut and chunkier midsole, definitely complements the relaxed fit of their clothing, but it still plays into the universal notion that Jordan XI wearers are "in the know." No matter how #NT their denim is. Don't forget that MJ himself wore a pair of XI Lows at the 1996 NBA Championship parade with the biggest lightwash jeans you've ever seen, complete with a tucked-in T-shirt.
So, even if Skip Bayless is amongst the swath of Jordan XI owners—uncool and cool dads, sneaker lovers and sneaker-adjacent enthusiasts alike—deep down, I still want to "Be Like" the 1996 Mike. Jordan and Yurko.