ASAP Rocky just may be the worst footwear endorser. While his bars are still top-notch and his fashion-forward style drip is choice, his gig as a spokesman for Under Armour leaves much to be desired. 
On paper, the union between the Harlem rapper and the upstart athletic brand was ideal. Rocky is the young, millennial-favored MC with certified influencer credentials that make him a conduit to his generation, which just so happens to be the same crowd Under Armour hopes to attract. A co-sign from a legit spokesman for what's "cool" is just what an UA could use to counter any perceptions that the brand is bland. The brand has long been associated with success and winners -- Steph Curry, Tom Brady, and Dwayne "The Rock" Johnson all endorse Under Armour -- but the product tied to them has never been stellar.
Although news of the partnership dropped in July 2017, UA and Rocky officially announced their deal in September 2017.
"I wanted more than a collaboration partner," said Rocky, via a press release, at the time. "The only way to achieve this is with someone who is like-minded. The Under Armour team, and especially CEO and founder Kevin Plank, has a shared vision, enthusiasm, and desire to do the same. I grew up in Harlem and had limited resources to channel my inner-creativity, so I spent too much time on the streets when I should have been more productive. I now have the ability to create a better situation for today's kids so they can go from school to a safe place to create without boundaries."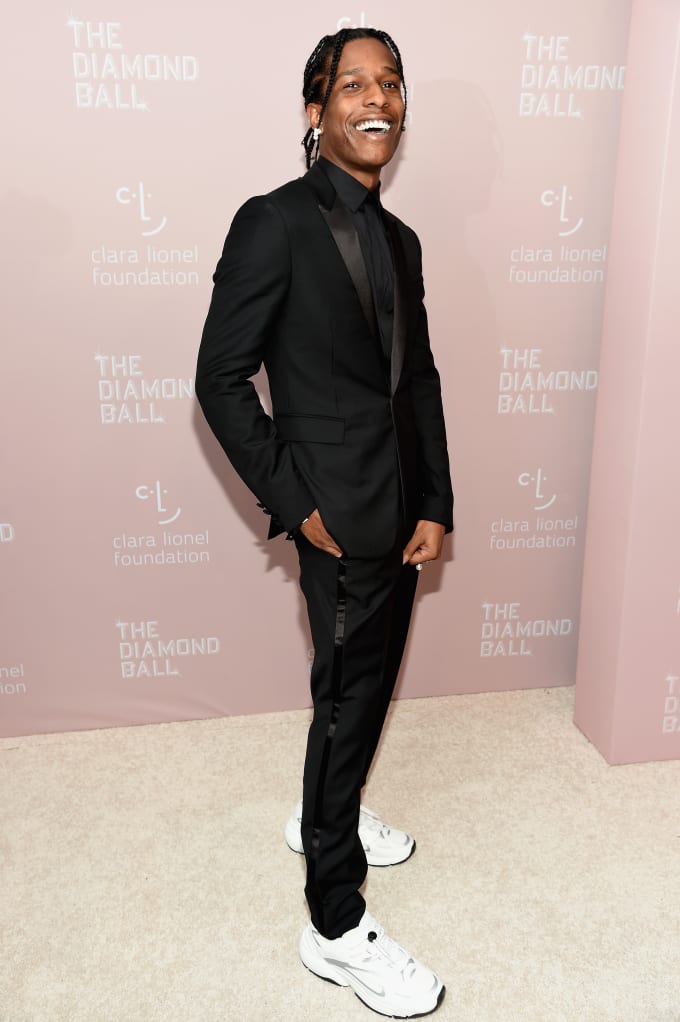 A year later [Sept. 2018], Rocky became the latest non-athlete to get his own signature sneaker. Yes, the shoe in question, the SRLo (Skate, Rave, Lo), is basically a swipe of Dave Mayhew's skate shoe, the Osiris D3, but that's beside the point—the model's chunky silhouette placed it on trend with the Dad-shoe wave. The rapper, born Rakim Mayers, now had his own sneaker to rock—and ideally get his legion of fans to put cash down for their own pair, to figuratively and literally walk in Rocky's shoes. 
But the problem is that Rocky is barely even seen in his own shoe. In the recent video for "Kids Turned Out Fine" from his latest Testing album, he's wearing a pair of the ultra-exclusive Sacai x Nike LDV WAFFLE. Good look for the Swoosh, not so much for UA.
A quick perusal of Rocky's Instagram feed will find glimpses of him in Jordans, Vans, Pradas, and, even occasionally, a pair of Under Armours. His sneakers aren't exactly cheap ($250 at retail), so pulling out all the stops to move those shoes would be ideal. Imagine Michael Jordan wearing Balenciagas while heading to a game in his boot cut jeans, or Pharrell Williams in Pumas? Yeah, would never happen.  
ASAP Rocky isn't exactly without company. Atlanta rapper Future caught a cushy Reebok endorsement deal back in July 2016. Yet, his Instagram was and still is littered with Hendrix wearing couture footwear that damn sure ain't Reeboks, when not in straight up hard bottom shoes or "brunch boots."
 To be fair, Rocky did an admirable job building up the hype around his shoe. For example, he rocked a pair during his Lab Rat performance art piece in NYC back in May 2018. So we'll forgive him for just a month prior while, promoting his then forthcoming Testing album he hit The Tonight Show to perform in a pair of "Banned" Air Jordan 1s. However, the night before he stunted at Rihanna's famed Diamond Ball in a pair of Dior trainers, which he made sure point out to the cameras.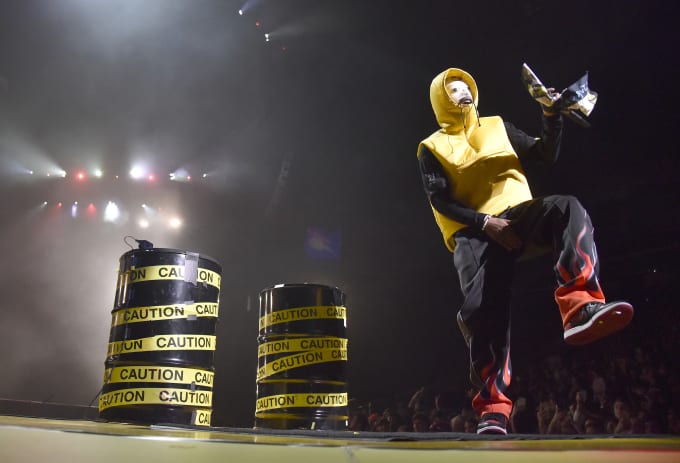 So why the lackadaisical devotion to his brand partner? Rocky is known for flouting the rules, so being restricted to solely one brand just isn't in his DNA. Sure he's just been revealed as a star of a new Calvin Klein campaign, but you can bet you won't catch him rocking only their apparel on any given day. There are just too many options for a clotheshorse like him to limit himself. Or, more likely, the bag wasn't big enough to inspire such devotion. You have got to pay up for such dedication if it's not organic.
The reality is you probably would have never seen Rocky in Under Armour anything unless they paid for the look. This is the give and take of any endorsement deal, but ideally it should be subtle. Like, for example, the spokesman putting a better effort at acting like they'd wear the gear regardless of the check. Brands might want to take this into consideration when vetting potential partnerships. Sure ultimately they're paying for their access, but it helps if the appreciation for the brand at least seems more genuine. In this case it might have been more prudent to ante up more money and make Rocky's deal exclusive, with the often photographed rapper putting more eyes on the Under Armour brand he'd be wearing as a natural consequence.
Smartly, UA didn't flood the market with Rocky's SRLo, so it's not like pairs are collecting dust on discount shelves—a no-no for hypebeasts who fanatically crave rarity. But where is the win if their visibility didn't get a bump in the lifestyle sector beyond a few cameos?
After publication, Anthony Racaniello, who consults with Under Armour, said, "The ASAP Rocky Under Armour partnership was dissolved (by UA at their discretion) a while back. They just didn't make it public knowledge."
Ryan Drew, GM of Footwear at Under Armour, has responded to the story, saying, "We have an incredible relationship to this day with Rocky and his team, and we were both very proud of the SRLo release. The door is open for future work together."