The perception of Roger Federer as a tennis player is much different than his personality off the court. He's a clinical player, dressed conservatively, and a touch reserved. But the Swiss-born star with 17 Grand Slams to his name has another side to him. He loves style, he has fun, and a new collection with NikeLab to show it.
The line features tennis-inspired shirts, bottoms, and sneakers to wear when not playing the game, and also provides a peek into Federer's personal life.
He's been one of the most dominant tennis players ever, and his connection to the sneaker world is a modern version of greats such as Andre Agassi, Stan Smith, and Rod Laver. His signature sneaker, the Zoom Vapor, was designed by Tinker Hatfield, and was reworked in collaboration with Jordan Brand to look like an Air Jordan III. What seemed like an oddball pairing at first was as natural as it could have ever been: He's always been a huge MJ fan.
And like Jordan, Federer has faced controversy in regards to his sneakers. His white-and-orange sneakers were banned at Wimbledon in 2013 because of the bright-colored soles on the shoes. We had the chance to talk to Federer not only about his new gear, but his love for footwear.
With the off-court collection, do you think you get to show more of your personality?
I have the opportunity to do 10 on-court styles, but off-court is different and streetwear is so big. I think it's so cool that I get to do this. We kept it very clean with the first collection, but there is more to come. As I get used to designing more off-court clothes, I think, "What do I like to wear off-court the most? What are the details I enjoy the most in clothes?" Some people don't know, but I like to take chances. I would wear these shoes ["Yellow" Air Max Zeroes], I would wear prints. I love that kind of stuff. I don't know if Nike wants to get there, but I love to do an off-court collection where I can be all about style with crisp, clean details.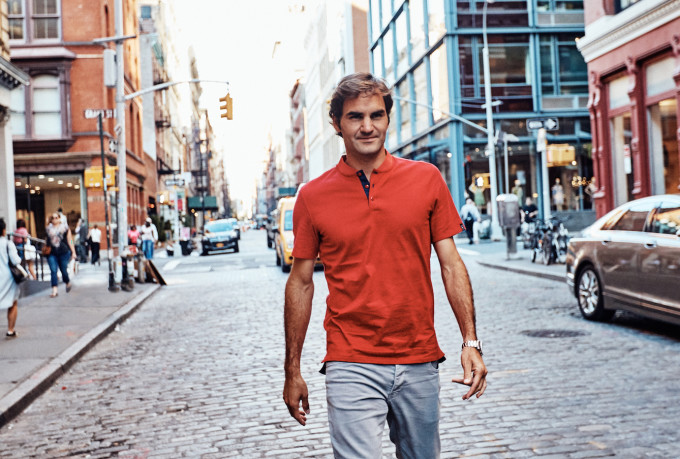 What are your favorite sneakers to wear off the court?
I like Jordans, but I can't tell you which is my favorite or what's my favorite Roshe or what's my favorite jogging shoe. For me, sometimes it's one of the colorful ones. I keep changing them all the time. Right now I'm crazy for these [the Nike Tennis Court Flyknit Ultra], not just because they come out of the NikeLab collection, but because they're so comfortable for the summer. Socks, no socks, they work. Sometimes I go to my closet and say, "OK, it's high-top basketball shoes," and I think what about my look's going to be and where I'm going to be, so I do it that way. I start from the bottom up. I've gotten more into the sneaker thing, too. I follow all the websites, and I call the Nike guys and say, "Is there a chance for me to get that sneaker, too?" And they will say, "OOF, it's really hard, but we'll make that exception for you." I've had them tell me "no" in the past, too, so it's OK. I have the Neymar x Jordan collab, I got those and I was happy about it, so I wore them the other week. I like to support the fellow Nike athletes as well. When LeBron [James] and Kyrie [Irving] won the championship, I wore one Kyrie and one LeBron, left and right, for the day. Because I said, "We've gotta do something, this is so cool that LeBron won with Cleveland." I go a bit crazy sometimes.
Was Nike ever pushing you to dress more daring on the court?
I felt Nike was pushing me to be clean on the tennis court very early in my career, and I fought back. I said "look, I don't want to wear just black or white. I want to wear colorful stuff, I'm willing to try shoes, try clothes, different materials. Let's bring it on, let's see what's out there. You guys are so innovative. Don't put me in the category of an 'elegant tennis player.' I can be elegant, but I can be powerful, I can be speed. We can do so many cool things together. I'm open for it, so don't just waste it." I told them, "I just don't want to play in collared shirts. I want to have the placket, I want to have a tee, I have have the V-neck. I'm easy and open."
I spoke to the right people and they said, "OK, let's utilize that." Then the on-court collection became nicer and nicer, and that's where they got inspired to do an off-court collection, too. It's exciting to say the least.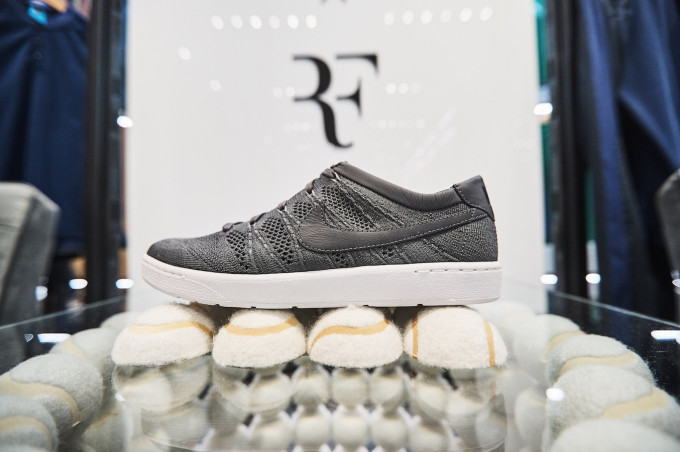 You had your shoes banned at Wimbledon for having orange soles. Was that frustrating?
No, it's OK, rules are rules. Especially at Wimbledon, I'm not going to screw around with the rules too much. They told me I needed a second pair without the orange sole on it. I checked and we had a second pair with the orange sole on it. Still, the story was great, and I wish we could do more colors at Wimbledon, I won't deny that fact. I think it's a pity we can't be a bit more innovative at Wimbledon, but it's OK, because we do the all-all-whites. We can't even do a centimeter of color there. I did the all-black at the U.S. Open at night, the whole Darth Vader thing. I think it was important to push the boundaries a little bit, because we've seen so many cool things come out with [Andre] Agassi wearing denim, Rafa[el Nadal] wearing the capri pants and the sleeveless shirts. They wanted to put me in that way back when. I remember I went to practice with it on and they were like, "What is that look?" And I said, "Uhhhh, I'm just testing something." Then I realized there was no way I could pull that off. I was happy that Rafa looked as cool as he did in that look, and I still regret the fact that he moved away from it. But, of course with age, I understand he couldn't wear it forever.
What was it like to meet Michael Jordan and do the collaboration with Jordan Brand on your sneaker?
That was sick. That was amazing. The cool thing about it was that I had never met Michael before. For me to have the opportunity to collaborate with him was crazy. I had a poster of him in my bedroom as a child. Every Sunday they had recaps on German TV of the NBA, and Jordan was always a major part of that. For me to finally meet him, do this collaboration, it was so cool. It resonated big in the world. Me and him came together and had this cool sneaker and sneakerheads were going nuts, so I think it was very cool for me. Who knows, maybe we can do something again. But now when I see him, I can call him Michael.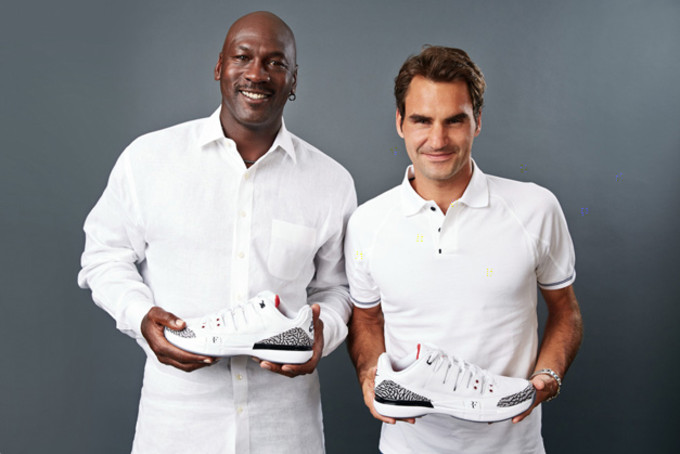 You've gotten to work with Tinker Hatfield on the Zoom Vapor sneakers. What was that like?
He's super inspiring, he's the one who got "RF" off the ground. He said, "I don't care what has been sold to the shops, we're making you go all-black to the U.S. Open. No one can buy it because, unfortunately, we can't get it to the stores. You're going to be the only guy to wear it, and the shops are going to go crazy because no one can buy it. I'm sorry, this is more important: your style, your legacy, your records, we need to celebrate it. We need to start telling your story," and Tinker was a major part of it. Phil Knight was very influential in that as well. He loves tennis, and I can call him a friend of mine. It was cool that I got to work with such important people at Nike. Mark Parker is also behind this whole NikeLab collaboration with RF. It's very important to have the top guys involved. The time I spent with Tinker at the beginning was like being in a candy store with him going on his iPad, designing the shoes, and then all of a sudden it's real. All of a sudden I'm testing it, all of a sudden I'm breaking it out, no one can buy it, I'm the only guy with it. Then after a while, after a year and a half, it finally got to the stores and everyone wanted it. The demand was created and it was a cool story, but that was almost 10 years ago now.
There's a lot of talk today about how awful some athlete logos are, but yours isn't one of them. How much input did you have on making sure it was the right one for you?
I had a lot, actually. I had something of an "RF" logo before, but Nike said, "We can't use it, because it has to be a Nike design." I said, "That's cool." So they came to me and had 25 different "RF" logos and emblems. I looked around and I said, "I like the floating 'RF,' I think it's the best." That's the one we used today, and that's how it started. I thought the one they did was even better than the one I had before because it's Nike. After all these years for the NikeLab collection, we thought, "OK, let's put a little circle around it." Let's make it look like it's not floating anymore. Let's grab it and make it smaller. I'm happy with it and think it's quite beautiful. I'm happy this logo resonates as well as it does and that people can connect with it and that it's very recognizable.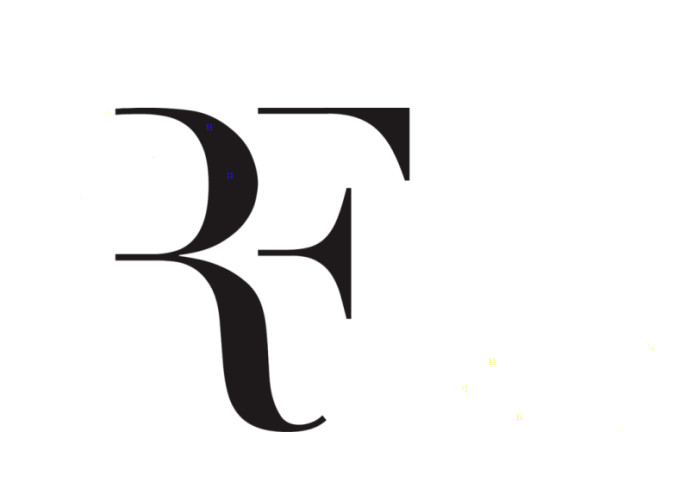 Your sneakers got made into Flyknit. How do you like the change?
Flyknit is very new, so I only changed into the Vapor Flyknits at Wimbledon, so that was new. It took a lot of testing. I need to trust the Flyknit and know the stability of it. I won't change into it if I'm not sure. For me, I'm very particular: The shoes are like the racket. It's what you feel the most. Of course the material and how it absorbs is super important, too, but I feel like the shoes and the racket are very close to a tennis player's feel. Now I have the feel for it off-court and I like how it feels on-court, too. I think what you can do with the Flyknit is cool, too. Right now It's all blue, but we've seen all the colors and I think it's a different type of shoe that we've seen in the past.