In Major League Baseball, the term "sneakerhead" usually conjures up images of Jeremy Guthrie. The Kansas City Royals pitcher is considered a heavyweight in the sneaker community, but other than that, most baseball fans couldn't talk for very long about sneaker choices at the pro level.
Regardless, MLB has shown us a few players who opt for something other than baseball mainstay brands. Back in 2013, Jimmy Rollins debuted a custom Air Jordan XII cleat that he would go on to use during the World Baseball Classic. Relief pitcher Brian Wilson is always bringing out something a little different. More recently, even Toronto Blue Jays third baseman (and current MVP candidate) Josh Donaldson opted for a custom Nike Kyrie 1 cleat.
The latter of those examples was one of many exclusive creations by Custom Cleats. Donaldson had actually gotten the pair from teammate Russell Martin, who was happy enough with his order to purchase dozens more. Martin gifted a pair to his teammate, and he's stuck with them ever since. in fact, he even ordered himself a special custom to use during the 2015 All Star game.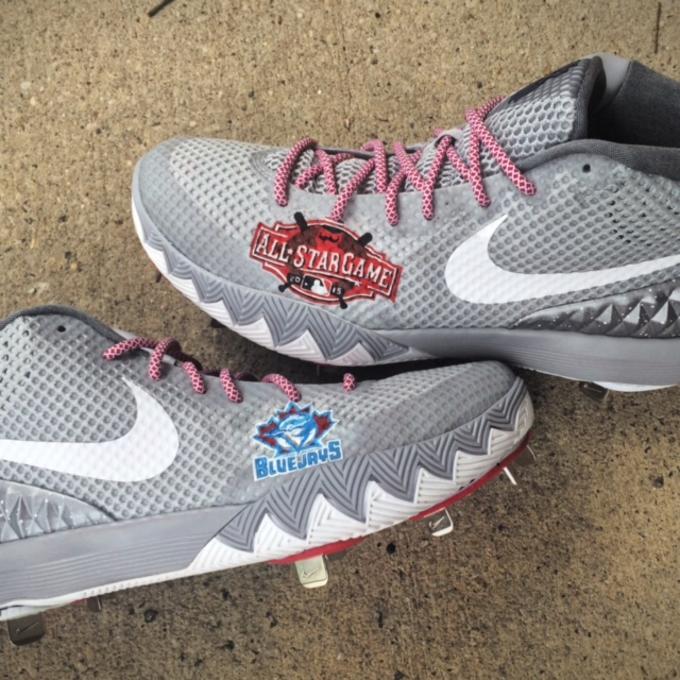 Anthony Ambrosini, founder and owner of Custom Cleats, gets anywhere between 50 and 100 calls on a normal day from folks looking to get some cleats customized. Those people include  pro players, major league team equipment managers, and private clients. "We get all sorts of calls," he says. "Either they've heard of us from a friend or saw our work on Instagram."
Custom Cleats' Instagram is littered with some of the most interesting choices in custom footwear. "Bulls over Broadway" Air Jordan X, "Georgetown" Air Jordan XI Lows, "Infrared" Air Jordan VI, all fitted and customized to be used on the baseball field. There's even pairs of Air Jordan III's in Sport Blue and True Blue, both remade as golf cleats. That's far from the strangest request Ambrosini has gotten. A client in Atlanta, Georgia, called about having a pair of cleats made for his son. He also wanted to get a pair for his wife, who turned out to be a fan of retro Air Jordans—and tap dancing. Ambrosini says with a laugh: "He wanted to convert a pair of retros into tap dancing shoes." Of course, Custom Cleats obliged.
Before starting his company in 2006, Ambrosini was a player in the Montreal Expos minor league system. He noticed that his brother, also an Expos teammate, was ending up on the Designated List for injured players more and more often. The culprit? Stress fractures in his foot. That's when Ambrosini decided to customize a pair of sneakers for his brother, who would go on to spend a lot more time on the field. "Cleats are regularly made pretty narrow. They basically make them for one type of foot," Ambrosini said. That sort of one-size-fits-all design philosophy can understandably lead to some complications.
In fact, even Major League equipment managers have spoken amongst themselves (and to Ambrosini) about the problems with traditional baseball cleats. "They talk about how they can't find proper cleats for their players," he says. "They're just looking out for their guys' health and [a pair of] custom cleats is a way to do that."
That's part of the reason why many major league clients typically order dozens of pairs of the same custom cleats. Aside from sharing them with teammates, there's more practicality to it. "Baseball players, particularly pitchers, end up going through their shoes like it's nothing," adds Ambrosini. Los Angeles Dodgers pitcher Matt Latos is one of those players. Latos has over 30 pairs he's ordered from Custom Cleats, including a special edition "Mother's Day" custom of the Air Jordan I. He wanted to debut the pair last year when one of his starts happened to fall on Mother's Day, but the kicks didn't get to him in time.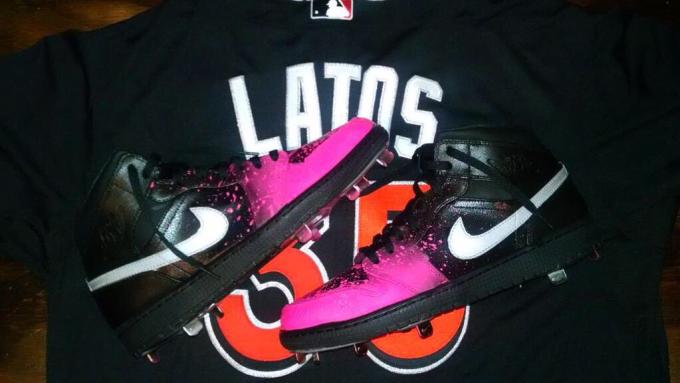 Baltimore Orioles third baseman Manny Machado's "Shattered Bat" Air Jordan VIs, put together by Nomad Customs, was at the forefront of turning retro Air Jordans into baseball cleats. Roly Padron, the company's founder and owner, got a request for the custom from Machado's wife. She wanted to have them made for his birthday.
"His wife happens to be the sister of another player I've done several pairs for, [San Diego Padres first baseman] Yonder Alonso," Padron says. "She gave me a quote and her idea was to somehow incorporate four very personal words from that quote onto his cleats: Humble, Strong, Victorious, and Brave."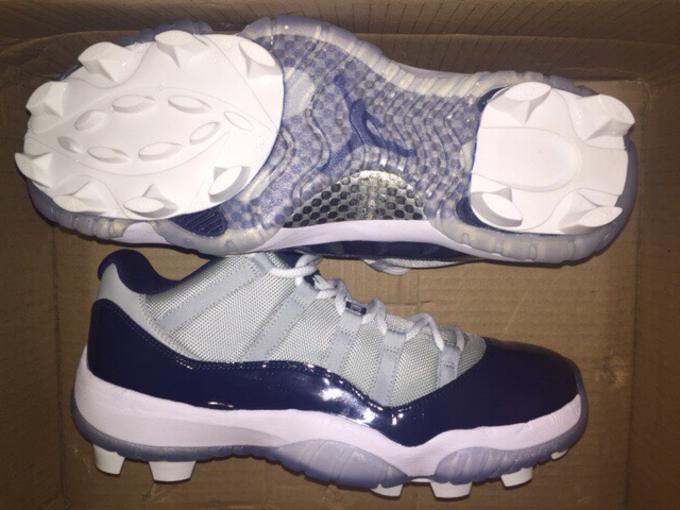 Padron hasn't been in this industry very long-—he started his company in 2013. Before that, he was a property manager for sixteen years, a position that allowed him to provide for his family, at the expense of his own personal happiness. That's when he decided to take advantage of a long held artistic talent and never being content with his own sneakers. Padron had even tinkered with one of his more expensive pairs from when he was in high school, the "Concord" Air Jordan XI.
those cleats are the only ones anyone is ever going to have. —Roly Padron, founder, nomad customs

 
"I bleached the Jumpman on the heel side and painted it blue with a sharpie. painted the white upper with black shoe paint and completed the custom with matching black laces," describes Padron. "I wanted to make my Jordans look like the Space Jams before anyone else had them."
Like Ambrosini, Padron had also been involved with baseball before starting his company, though not professionally. Having played the game since he was four, the Nomad Customs founder developed an understanding about more delicate areas of a baseball cleat. As such, he made sure to reinforce those areas when repurposing a sneaker, to mitigate the inevitable toll a MLB season takes on footwear.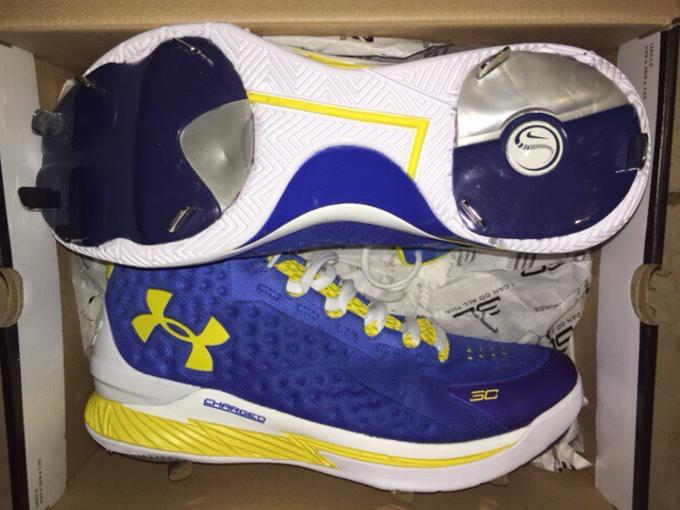 In his experience, though there is an emphasis on the pragmatism of a custom cleat, Padron sees players' choice as a matter of style—and obvious flex. There's an exclusivity that comes with having a one-of-one custom sneaker. That sort of exclusivity seems to go beyond getting the shoes very dirty, very quickly.
"The funny thing is, [players] don't care if their cleats get scuffed up or if paint chips away a little," he says. "Because those cleats are the only ones anyone is ever going to have—and they love that feeling."
Whether it's due to health concerns or aesthetic ones, custom baseball cleats are only gaining in popularity. While the majority of MLB players will likely continue sporting cleats from more established manufacturers (New Balance, Nike, Under Armor, etc.) for the foreseeable future, it wouldn't be a surprise to see more of them start to break necks when they step onto the field.