Kevin Durant texts Leo Chang at midnight sometimes. This a fairly normal part of a relationship between signature athlete and sneaker designer—Nike's Eric Avar has surely been awakened by messages from Kobe Bryant countless times—but Durant and Chang have a unique bond nonetheless. Chang, who joined the Nike Basketball team at the same time as Durant, has designed every one of Durant's signature shoes. Even Tinker Hatfield and Michael Jordan, as close as they became, didn't work together from the beginning.
They're comfortable with each other, and it's readily apparent as they discuss their latest joint project, the KD8. There has been growth on both ends, as Durant has won scoring titles and the MVP award, while Chang has risen to become design director of Nike Basketball. And there have been experiences shared—Chang, on his first visit to Durant's hometown of Seat Pleasant, Md., ran Hunt's Hill, one of KD's workout spots.
Other Nike signature athletes like Bryant and LeBron James seem to look at their sneakers as evolutionary projects that see broad concepts refined through multiple models, but Durant approaches things a little differently. "What's fun with Kevin," Chang says, "is he doesn't want any of his shoes to be the same."
Unsurprisingly then, the KD8 is entirely unlike any previous Durant shoe. It resembles a running shoe more than anything, with its sleek Flyweave upper and segmented Zoom Air bag underneath. Durant's primary instructions, according to Chang, were that "the upper should be light and tight," and it should be "responsive underfoot." Well, and there was the traditional admonishment that "with this shoe we just have to take a step up."
Like Durant, sneaker technology itself has grown in leaps and bounds since 2008. Durant's first signature sneaker was stitched from different leathers in more or less the traditional fashion. This new shoe is jacquard woven, featuring an update of Nike's Flywire support, and sits on a totally re-engineered Zoom Air bag that was designed specifically with KD in mind. "It's smooth and flexible but still has that bounce to it," Chang says. It's a departure from Durant's last shoe, which featured a Velcro midfoot strap and a Visible Zoom bag in the heel, but again, that's by design.
The evolution of Durant's own game and playing style has played a role, too. He's not the same skinny 19-year old who entered the league as a member of the Seattle Supersonics—well, he's still skinny. His early shoes had Zoom Air cushioning only in the forefoot, as he spent nearly all of his time on the balls of his feet. Now, at 26, with more of an all-around game, he requires a plusher, more all-around ride. He's changed, so his shoes should too.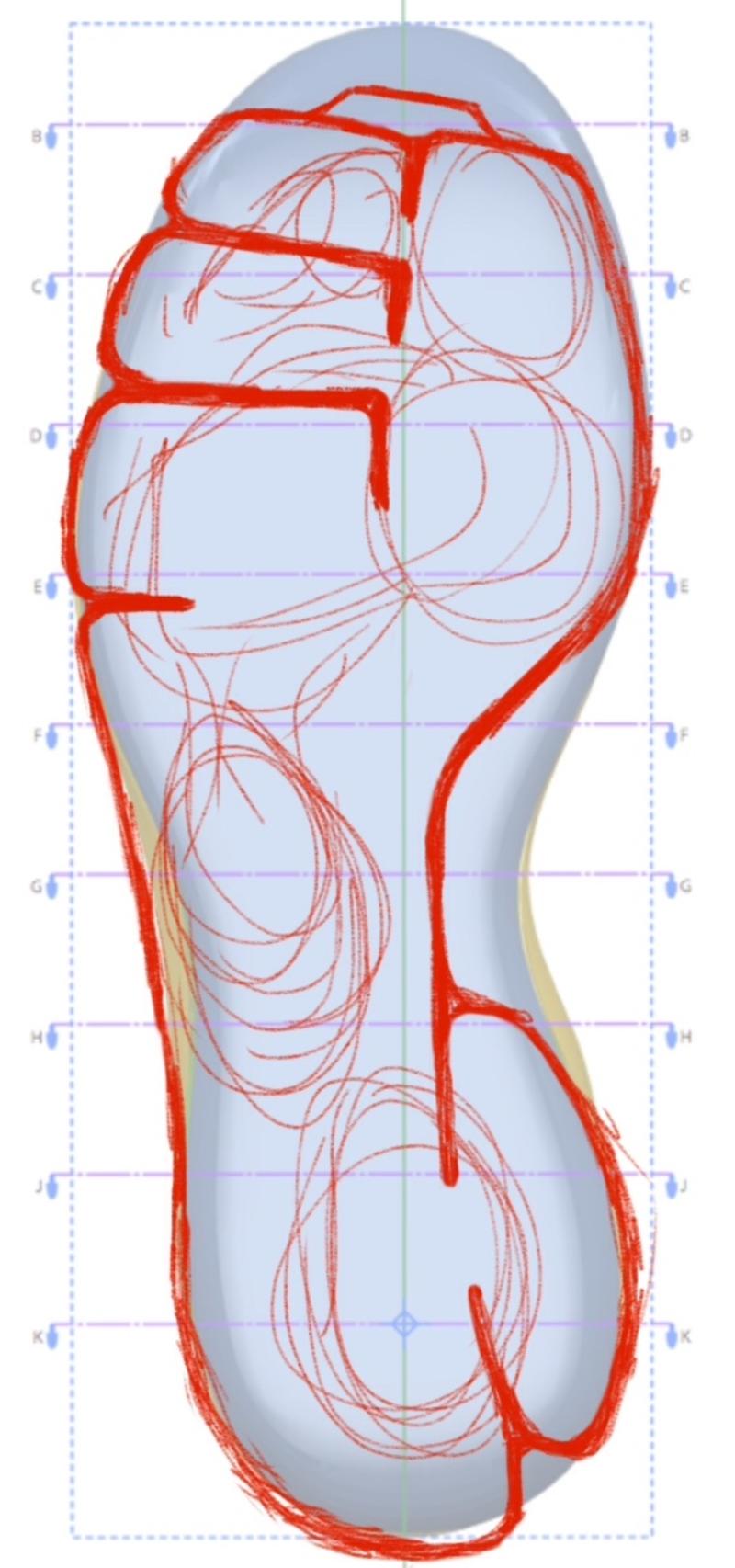 Here's another benefit of complete re-inventions: It's a lot easier to get excited about something entirely new than it is about incremental improvement. When Durant first got a chance to try out the KD8 last year, he was "running up and down the court like a kid." Chang, who was there to witness this, confirms: "He was like, 'I feel like I'm 16 years old again.'" Which isn't to say that the incremental improvement isn't there. Or maybe a little more than that. "We wanted to take it to another level as far as innovation," Chang says.
At the same time, there is a lot of Kevin Durant's life in this shoe as well. From names of family, to numbers, to the red "V8" colorway shown here, which is based on a heavily customized matte red Camaro he once owned, the KD8 is as full of cues and clues as any Dan Brown novel. Turn the shoe in virtually any direction and there's something meaningful.
Take the heel counter as an example. Deep into the design process, Chang had to rethink them, as what he'd come up with was too close to one of Kobe's designs for Durant's taste. Sketching one night, he was inspired by Durant's latest tattoo—a saber-toothed tiger on his right calf. Which, of course, comes back to Durant himself. "Obviously the saber-toothed [tiger] was around in the ice age," Durant says, "and I feel I'm a cold-blooded killer."
It's the one ancient inspiration on what otherwise is a completely digital-age shoe. "We're getting more into these engineered textiles that you can really tune," Chang says. That affects both the performance and the look, as it's possible to produce material of different thicknesses in the same weave, and even create pockets in the weave to add further reinforcement. Add screenprinting, and the graphic possibilities become virtually endless. A Fourth of July makeup actually looks like a firework, "Morning" and "Night" models allude to those Hunt's Hill runs.
Durant's shoes have changed tremendously over the past seven years, his feelings for them have not. Neither has the message he hopes kids who wear them get. "Every time they look at their shoes," he says, "they can think a kid from a small town made it and got his own shoe."
The Nike KD8 releases today (June 23) on NikeID. The first retail release is the "July 4th" colorway in limited numbers on June 27. The "V8" version releases on July 11. Suggested retail is $180.
Y4ZjV0dToLW2sqah7_VIrmga-0o2uMZ1