Full Name: Shinji Kagawa
Club: Manchester United
Country: Japan
DOB: March 17, 1989 (age 25)
Height: 5' 8"
One player at this summer's World Cup who has the potential to really deliver is Japan's Shinji Kagawa. The Manchester United playmaker has endured several seasons of unrest at Old Trafford, with very mixed form, but when it comes to the international stage his displays have been consistently positive. For Japan, he is a true leader who has been relied upon to carve open opposition defenses and be a goal scoring threat. His 19 goals in 57 international games is a solid return for a player that sits behind the front line.
In terms of playing style, Kagawa demonstrated during his time at German club Borussia Dortmund that he has the ability to be a very versatile attacking presence. His ideal position is just behind the striker where he can sit and create opportunities for others while breaking into the box to score goals. He has been rated amongst the top attacking midfielders in the game with one of the cleanest talents for scoring goals. His composure on the ball is another asset that makes him such a unique presence, where he settles the pay before finding the right type of pass – short, long or direct.
It leads one to wonder whether his talents are being undervalued at club level or if it is just a matter of getting a run in the side to change his form. For Manchester United, Kagawa has largely been underused and his role has never really been defined. Twelve months ago, it seemed like he might be given a new lease of life under David Moyes, but his more defensive tactics left Kagawa where no set position to play. There were limited moments of inspiration during that time, but when Kagawa was on the pitch there were always highlights of moments where he impacted the game. It all seemed like he was about to breakout and star, to become a key player and make a direct impact on what was a difficult season for his club, but it just never materialized.
And that is where this summer's tournament comes into play, with Kagawa set to show his true talent on the World's biggest stage. It is almost the perfect platform for him to really set a fresh tone and illustrate his true attacking talent. He goes to Brazil knowing that he has an opportunity to impose his style and set his doubters straight. Playing for Japan, there is relatively little pressure and he can enjoy his role as the teams key creator. Getting out of the group stage would be an extremely positive result for the Samurai Blue and if they are successful, Kagawa is sure to play an impactful role. On a personal level, that can only give him a much needed confidence boost that he can take with him back to club level. Next season, he will be playing under a new coach and a coach that has determined he could be like a "new signing". In Brazil, Kagawa just needs to play to his abilities and demonstrate why he is still regarded as one of the biggest future talents at the age of 25.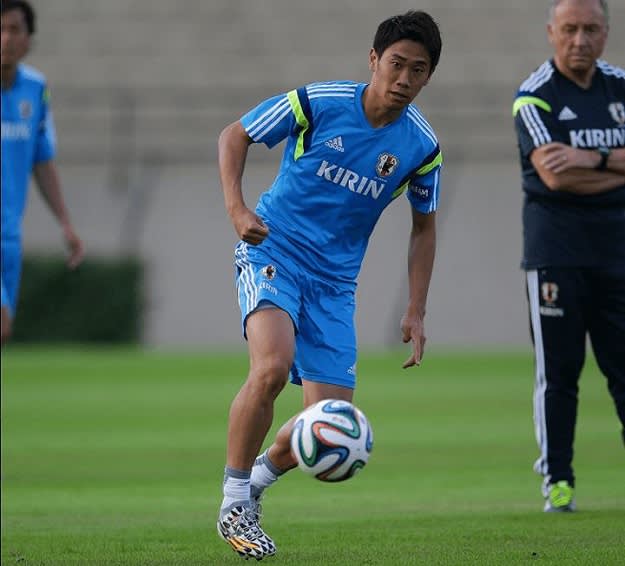 Shinji Kagawa Currently Wears the adidas adiZero F50
Built for speed, the adiZero F50 is not quite the boot choice you would expect to see Kagawa wearing, yet they suit his game very effectively. At 5.8oz, they are one of the lightest boots on the market and ply their trade on the feet of some of the World's best attacking players. In terms of material choice, Kagawa is one of the few players that has frequesntly chosen the leather version in the range, preferring the natural material over the lightweight, synthetic version. This was the case right through the introduction of the boot to market and his first few professional seasons. But of late and heading into Brazil, it seems like he has decided to switch to the latest synthetic Battle Pack version. The introduction of a Hybridtouch upper on the range is the key here and probably explains why Kagawa has altered his choice. The much more natural feeling material offers a cleaner, lightweight touch on the ball in the mindset of Kagawa.
Other boots that could easily suit the mold of Japan's key midfielder just as effectively include the Nike Hypervenom or the Mizuno Wave Ignitus, the latter a boot worn by fellow international player Keisuke Honda. But in the F50, Kagawa has a boot that allows his to effectively use his pace and creative abilities for impacting with full attacking effectiveness.