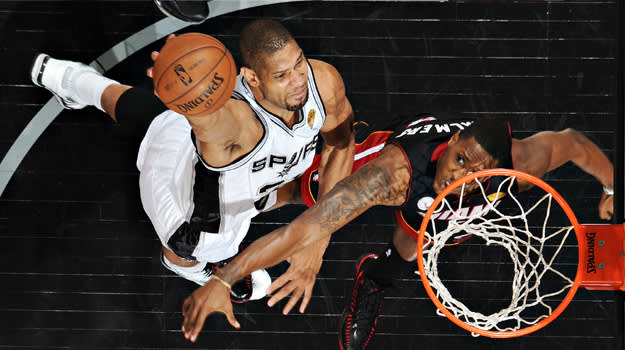 Year after year, season after season, he's asked the same question. And time and time again, Tim Duncan shrugs off retirement talk as if it just doesn't apply to him. The 38-year old is currently in his 17th NBA season, the San Antonio Spurs all-time leading scorer, and tonight, he'll play in his 233rd NBA Playoff game.
To give you some perspective, that's more postseason appearances than teams like the Miami Heat, Indiana Pacers, and Washing Wizards have had in franchise history. Duncan is the definition of a battle-hardened veteran, and somehow, unlike the majority of players his age, he's showing no signs of falling off. He's still liable to go off for 20+ points and 10+ rebounds, and although the San Antonio Spurs have a strong and diverse supporting cast, there's not much debate over who their leader is.
So how does Duncan do it? One major factor of longevity has been his ability to avoid serious injuries. A lot of big men will have their careers cut short due to knee or back issues from the high impact landings they must endure. But not Tim Duncan. Somehow, someway, the 14-time NBA All-Star almost seems to improve with age.
From a sneaker enthusiast's point of view, it makes us wonder if his choice in shoes has anything to do with it. For bigger-sized players, it's crucial to find a pair of shoes with plenty of impact protection to allow for safe, cushioned landings. Starting from Duncan's early days with Nike to his current run with adidas, he's always opted for a well-cushioned shoe, and to celebrate his unparalleled run, we take a look back with Like a Fine Wine: Tim Duncan's 10 Best Sneaker Moments.
Riley Jones is a freelance writer from Charlottesville, VA and a contributor to Sneaker Report. With an unshakable affinity for basketball and all things pop culture, he can be found on Twitter @rchrstphr.
RELATED: The Shoes That Won Last Night: Spurs Knock off Heat in Miami
RELATED: SPOTTED: Tim Duncan Topples Heat in the adidas adiPure Crazyquick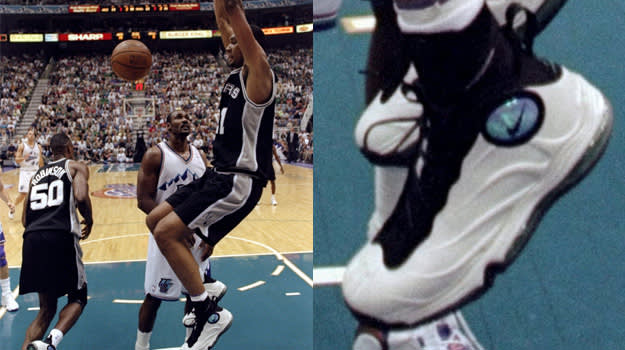 Sneaker: Nike Total Foamposite Max
Year: 1998
It didn't take long for Duncan to acclimate himself to the NBA Playoffs. After claiming the '97-98 Rookie of the Year honors, Duncan and David Robinson led the Spurs to the Western Conference Semifinals where they eventually fell to the Jazz. Before the loss, Duncan made sure to posterize Karl Malone a few times in the ultra-rugged Total Foamposite Max.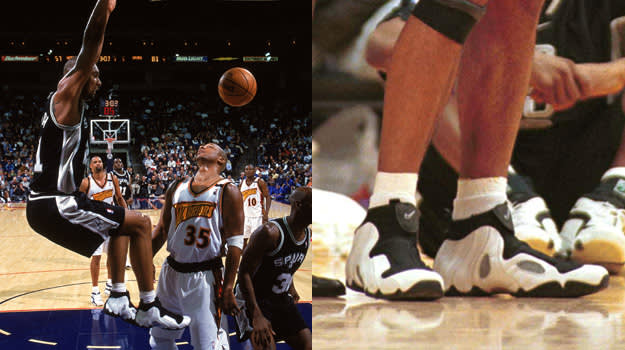 Sneaker: Nike Air Flightposite
Year: 1999
From Foamposite to Flightposite. After a monumental debut season, Duncan outdid himself during '98-99 and led the Spurs to their first NBA championship, earning the Finals MVP honors along the way. During this breakout season, he favored the Nike Air Flightposited, a sleeker, lighter version of the original Foamposite model.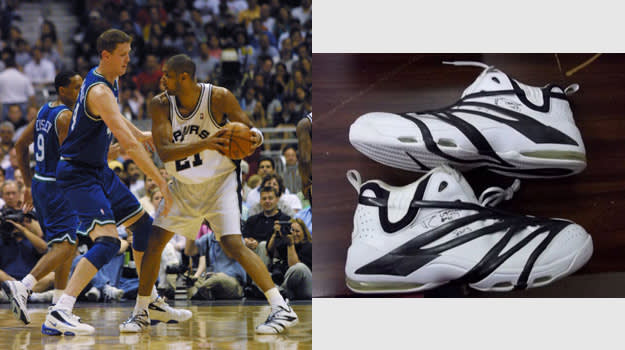 Sneaker: Nike Air Max Duncan
Year: 2001
It didn't take long for Duncan to receive his own signature shoe, and by 2001 he was laced in the Nike Air Max Duncan. Over time, the model has become obscure and even forgotten in some cases, but we attribute that to the signature line's brief lifespan and not the sneakers themselves. With cage-like overlays and plenty of sturdy, visible Air Max cushioning, the Air Max Duncan was reminiscent of the Alpha Project designs from years before. Although Duncan's moved on from the Swoosh, we've seen Nike Sportswear successfully repackage signature models from the likes of Kevin Garnett, and we'd love to see this one again.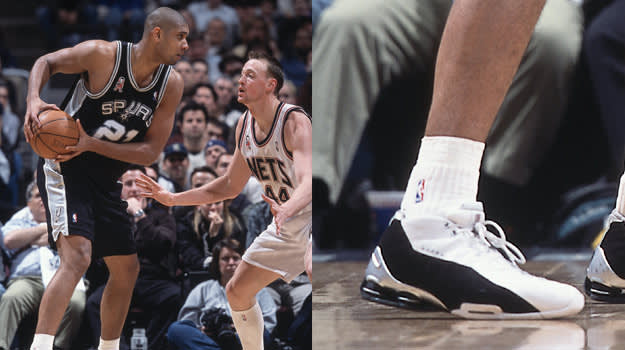 Sneaker: Nike Shox BB4
Year: 2002
Although it's more commonly associated with Vince Carter's high flying slams, Tim Duncan had a nice run in the Shox BB4 as well. The now-extinct cushioning was suitable for big men and speedy players alike, offering a balance of powerful protection and responsiveness.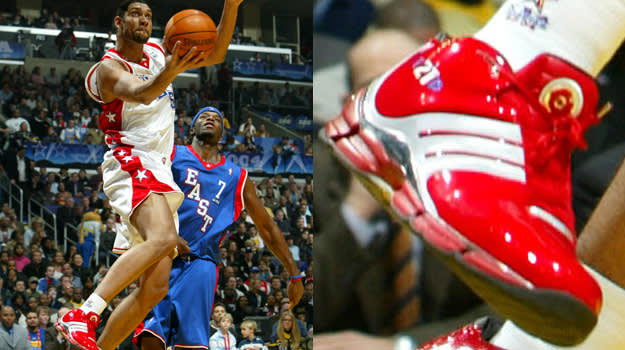 Sneaker: adidas a3 Superstar Ultra
Year: 2004
The adidas a3 Superstar Ultra was one of the first models worn by Duncan after switching to the Three Stripes in 2003, and was also worn by big men like Kevin Garnett. Seen here in his sixth All-Star game, the 2003-04 season was especially notable for Duncan as he stepped up in the absence of David Robinson as San Antonio's team leader.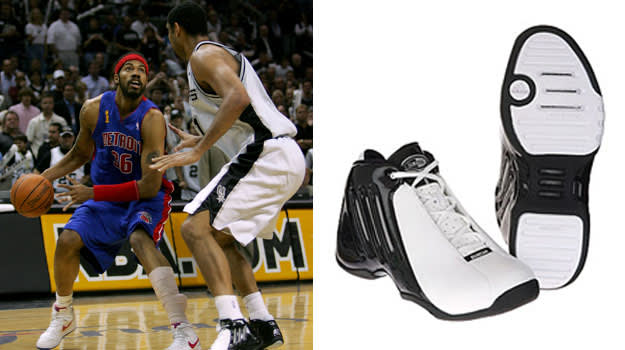 Sneaker: adidas D-Cool
Year: 2005
The adidas D-Cool featured a carbon fiber heel cup and plenty of support for the (at the time) 2-time champion, and 2005 proved to be yet another banner year for Duncan and the Spurs. He led them to their third NBA title and snagged his third Finals MVP award, cementing himself as the league's premier power forward/center.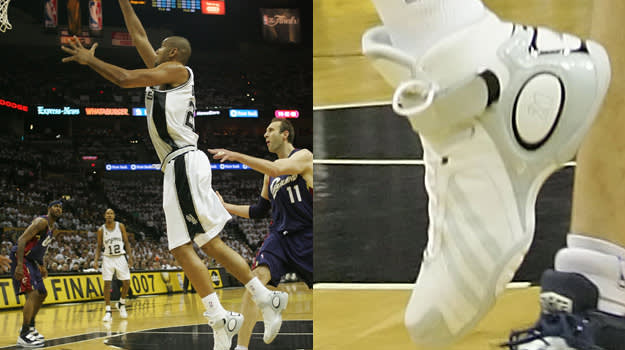 Sneaker: adidas Stealth CC
Year: 2007
With a bulky build and heel lockdown strap, the adidas Stealth CC was anything but discreet. Still, its supportive setup and sturdy tooling proved to be just right for Duncan, who led the Spurs to their most recent NBA title while wearing them. Streetwear/sports culture brand UNDRCRWN even got in on the fun with a limited edition version for Duncan himself.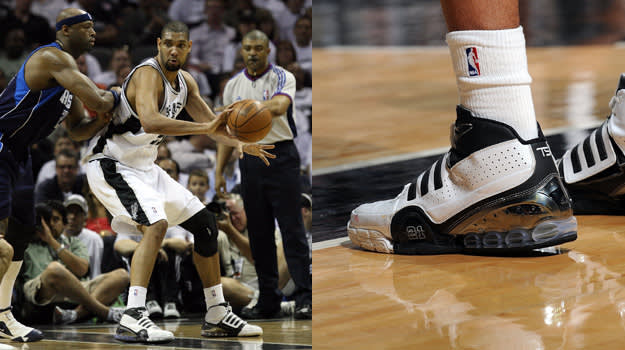 Sneaker: adidas TS Bounce Commander
Year: 2009
The Spurs' wars with the Dallas Mavericks have become legendary, and in 2009, the Mavs were able to top San Antonio in the Western Quarterfinals. Along the way, Duncan wore the TS Bounce Commander, a model which featured cushioning that might as well have been tailor made for his play style. Although they weren't a true signature model, Duncan wore several player exclusives you couldn't find on store shelves.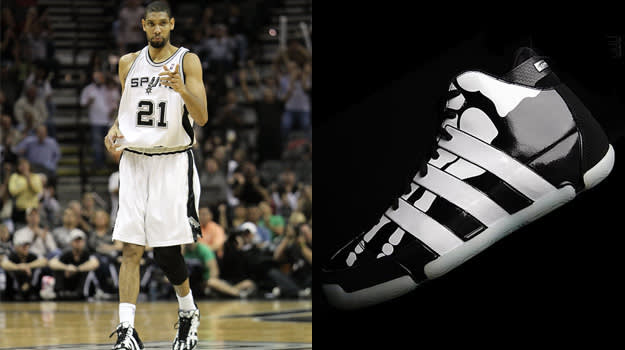 Sneaker: adidas TS Commander Lite
Year: 2010
In 2010, Tim Duncan reached the 20,000 point milestone, and he did it in one of his most memorable sneakers. The adidas TS Commander Lite was originally introduced around Halloween and was emblazoned with a skeleton print. While players like Dwight Howard moved on from the spooky print after the holiday, Duncan stuck with it, resulting in the design (and sneaker) becoming synonymous with TD.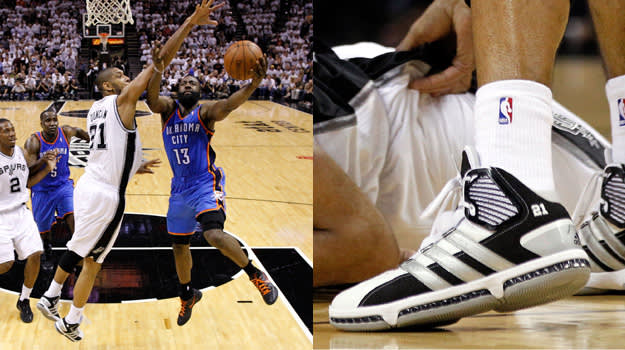 Sneaker: adidas Misterfly PE
Year: 2012
In 2012, the Spurs fell to the Thunder in the Western Conference Finals, but not before Duncan put up a fight in the adidas Misterfly PE. This model shared many elements in common with Duncan's signature Big Fundamental model, which he also wore around the same period.
Riley Jones is a freelance writer from Charlottesville, VA and a contributor to Sneaker Report. With an unshakable affinity for basketball and all things pop culture, he can be found on Twitter @rchrstphr.
RELATED: The Shoes That Won Last Night: Spurs Knock off Heat in Miami
RELATED: SPOTTED: Tim Duncan Topples Heat in the adidas adiPure Crazyquick